Arrieta earns WC start with Cy-worthy year
Righty, who finished season with 20 quality starts, posts 22-6 record, 1.77 ERA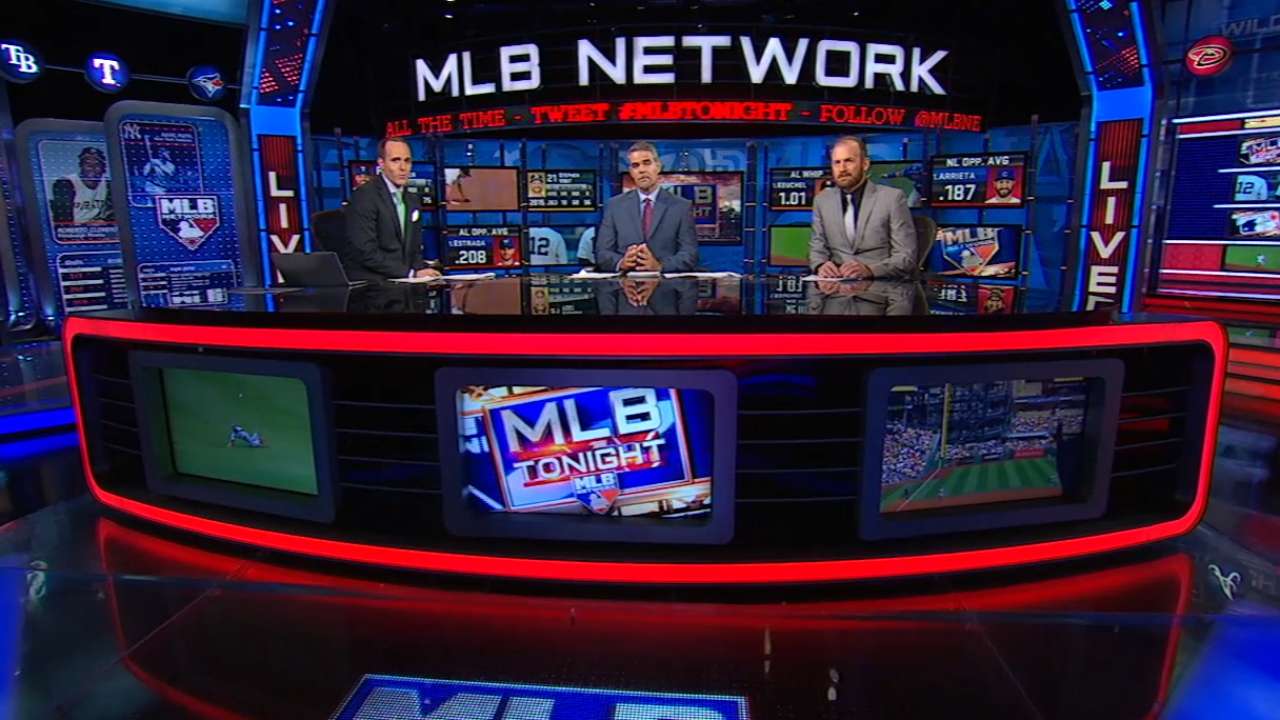 CHICAGO -- He's being mentioned along with pitchers such as Sandy Koufax and Bob Gibson. His manager would readily cast his National League Cy Young Award vote for him. And his catcher isn't always sure what he's thinking in terms of sequences of pitches.
"If it's hard to think along with him [as a catcher], I can't imagine the hitters," Miguel Montero said.
• Shop for Cubs postseason gear | Postseason schedule
Jake Arrieta, 29, may be the most interesting Cubs pitcher in the world, and not just because he likes kale and wearing tank tops. A few hours before winning his Major League-leading 22nd game on Friday in Milwaukee, he was just "dad," playing with his kids. But when he's on the mound, the right-hander known as "Snake" has some nasty stuff.
Now it's time to take it to the next level. Arrieta will start Wednesday when the Cubs face the Pirates at PNC Park in the National League Wild Card Game presented by Budweiser at 7 p.m. CT on TBS.
The Cy Young Award ballots have been cast by the voting members of the Baseball Writers' Association of America, and no, Joe Maddon doesn't have a ballot. Here are some numbers they had to consider:
• Arrieta posted a 22-6 record and 1.77 ERA to become the fifth pitcher to win at least 22 games with no more than six losses and a sub-2.00 ERA since the earned run became an official stat in 1913. He joins Koufax ('63), Denny McLain ('68), Ron Guidry ('78) and Dwight Gooden ('85). All of those four pitchers were unanimous Cy Young Award winners in their respective seasons.
• Arrieta is the first pitcher in Major League history to finish with 20 consecutive quality starts since the earned run became an official stat. In those 20 starts, he was 16-1 with a 0.86 ERA, walking 27 and striking out 147. The only loss came July 25 when the Phillies' Cole Hamels no-hit the Cubs at Wrigley Field.
• In 15 starts after the All-Star break, Arrieta compiled a 0.75 ERA, giving up nine earned runs over 107 1/3 innings. That's the best post All-Star break ERA in Major League history.
• Opponents batted .185 against Arrieta, tops in the Major Leagues, and his 1.77 ERA was second behind the Dodgers' Zack Greinke. Arrieta's .507 opponents' OPS is lowest in the Majors (tied with Greinke) and his 0.86 WHIP is nearly tied with Greinke's (0.84).
• Arrieta is 3-1 with an 0.75 ERA in five starts this year against the Pirates. His outings included seven shutout innings on Sept. 27 at Wrigley Field. Arrieta has limited the Pirates to a .151 batting average, and all five starts have been quality outings. And Arrieta is 13-1 with a 1.60 ERA on the road, so playing at PNC? Not a problem.
What makes Arrieta so effective? His unpredictability.
"Every pitch he has is plus, nasty," Montero said. "You don't know what he's thinking. As a catcher, it's been hard to know what he's thinking. I do call the pitches. But sometimes I call pitches thinking what I want. That doesn't mean he wants it."
From Maddon's view from the dugout, he can't believe the explosiveness, the movement or the consistency of Arrieta's pitches.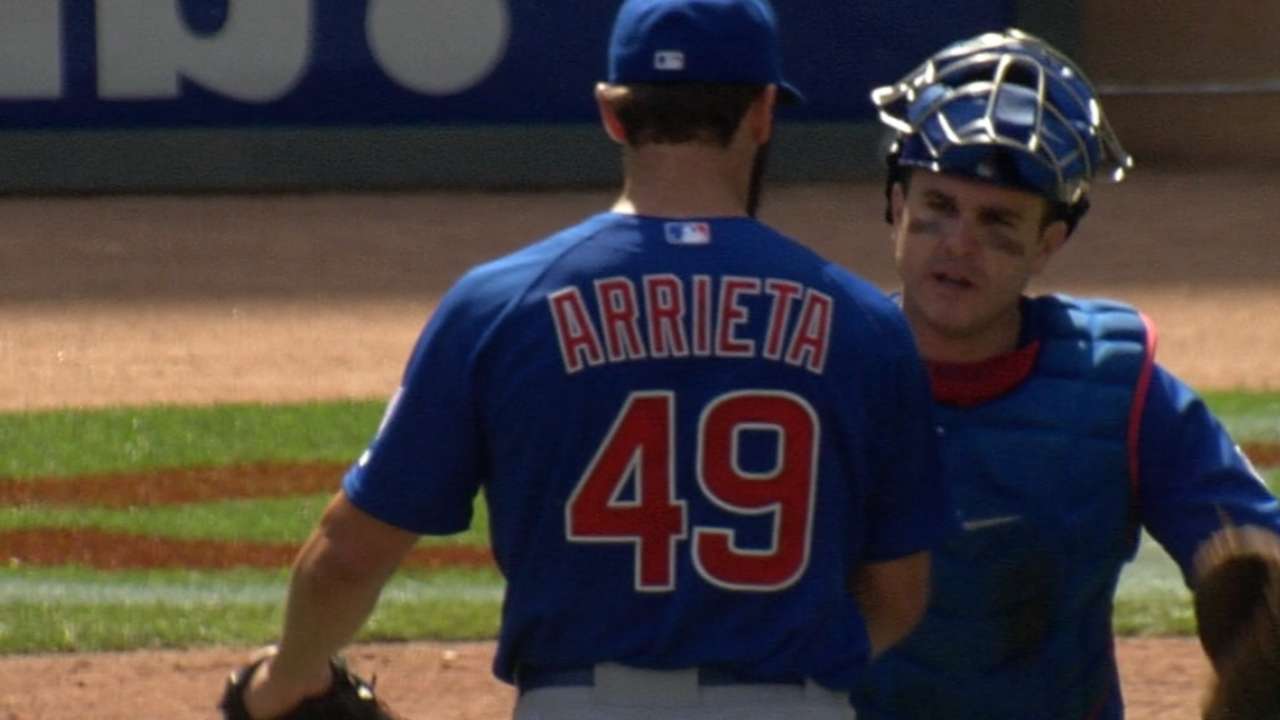 "He's taken everything to another level this year," Maddon said. "I know he pitched well last year. I saw the potential. The way this season started, he wasn't nailing it down the way he could. The seminal moment for him was the game in Minnesota. He threw 120 pitches, and it looked like he took off from there."
That was June 21 in an Interleague game at Target Field when Arrieta gave up four hits in his first complete game of the season, throwing 122 pitches. He did not walk a batter and struck out seven.
"His stuff is different, just the way the fastball moves, the velocity," Maddon said. "I love his curveball, and he doesn't even throw it that often."
Maddon has emphasized that once Arrieta established command of his fastball, he was able to mix in his secondary pitches more effectively.
"He's figured out how to only break out the other goodies when it's necessary," Maddon said.
The June game against the Twins was very good. Arrieta was great on Aug. 30 on a perfect night at Dodger Stadium when he threw his first no-hitter, and the 14th in Cubs history. He walked one and struck out 12, and he did so efficiently, throwing 116 pitches.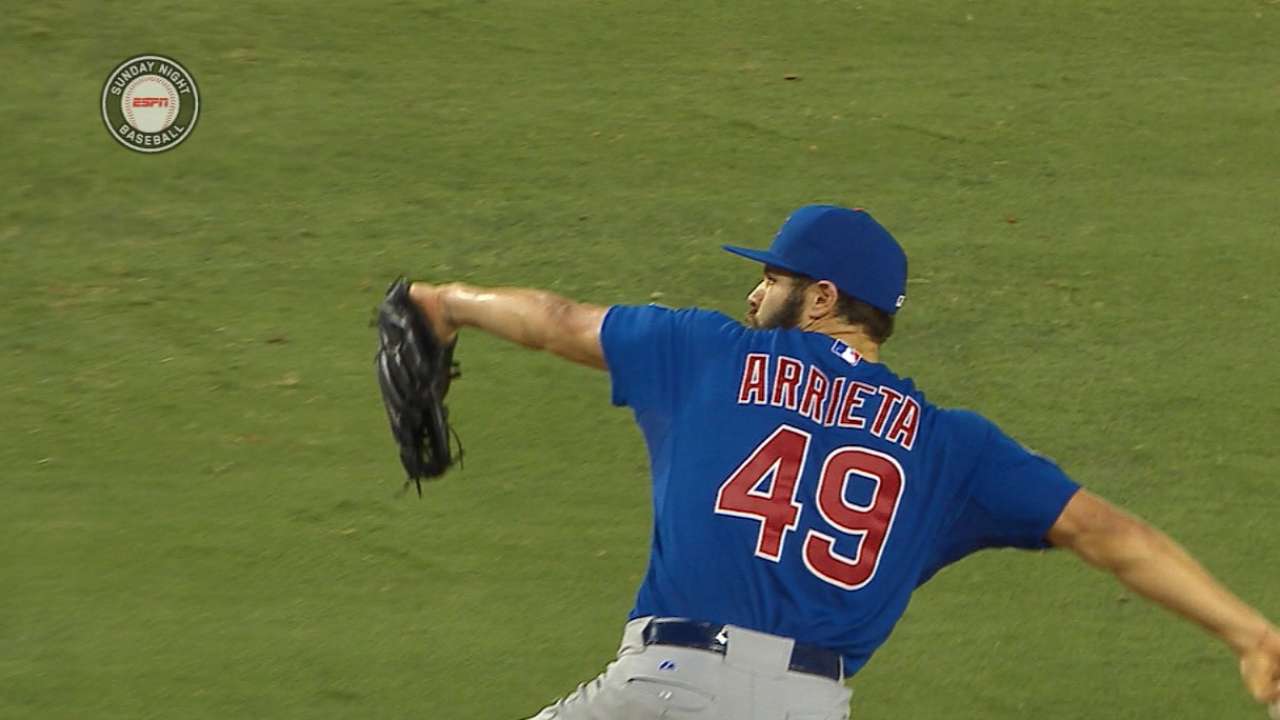 But what also sets Arrieta apart is what he does before he steps onto the mound. He adjusted his workout routine this offseason, and now he has other pitchers and players shadowing him in the clubhouse. They just can't keep up.
There is now a Pilates machine at Wrigley Field for Arrieta, but he said that's a small aspect of his training.
"One of the main components is a lot of functional movements, a lot of primal movements like crawling and hanging to stress the joints and to strengthen the joints," he said. "A lot of the movements I do are the way we moved as kids on the playground -- hanging from monkey bars, climbing ropes, moving in ways that can affect the entire body, rather than pinpoint one small specific area.
"These are ways that people should train who don't even play sports if they want to live a long life without soreness. Mobility and strength in your joints is the most effective way to stay healthy. Weak joints will equate weak muscles and fatigue and essentially, it can lead to premature injuires."
His routine includes kettleball workouts, push ups, off-balance push ups and other exercises that use one's body weight. If you get to Wrigley Field early before one of his starts, Arrieta is usually doing his push ups on the field.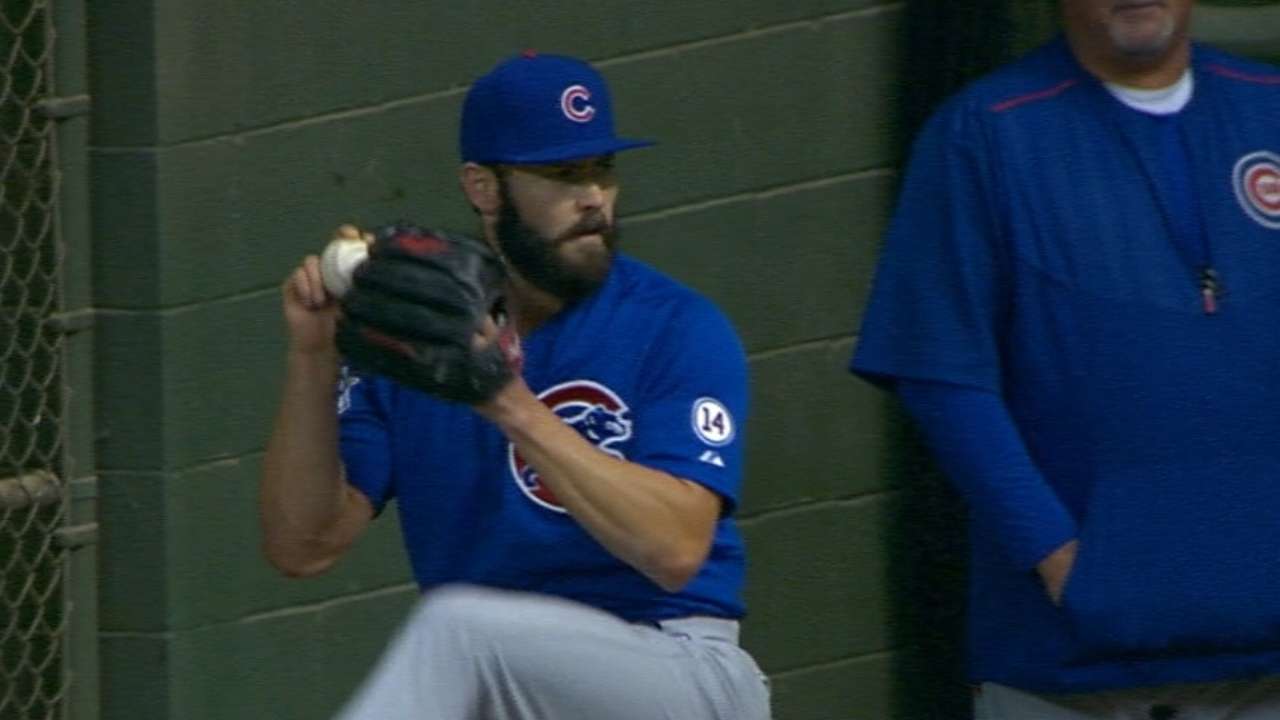 "It's something I'll continue to evolve with," Arrieta said. "I'll add things to my training regimen this offseason that I didn't do last year, because there are things I feel I can incorporate that will help me over the course of my career. That's the way I always am, just trying to find new ways to be better."
Maddon tried to do some of Arrieta's routine, and he couldn't keep up.
"It's not easy," Arrieta said. "It requires a lot of stamina and a lot of cardiovascular endurance. It's a way for me to strength train and get my cardiovascular training at the same time without wasting any time."
On Wednesday, all the hard work will be tested again. Arrieta has shrugged off talk about the NL Cy Young Award, saying the Cubs still have things to accomplish this year.
"I pick him," Montero said about the Award. "I know wins don't really matter, at least that's what people say. I think they do matter. Every time he pitches, he gives us a chance to win. It should matter a lot more than what people think. It's not like he just wins and gives up a lot of runs. That's not the case.
"I don't want to take anything away from [Clayton] Kershaw and Greinke," Montero said. "I think they're unbelievably good as well. I just go with my guy."
Carrie Muskat is a reporter for MLB.com. She writes a blog, Muskat Ramblings. You can follow her on Twitter @CarrieMuskat and listen to her podcast. This story was not subject to the approval of Major League Baseball or its clubs.