Full day of drama cements postseason picture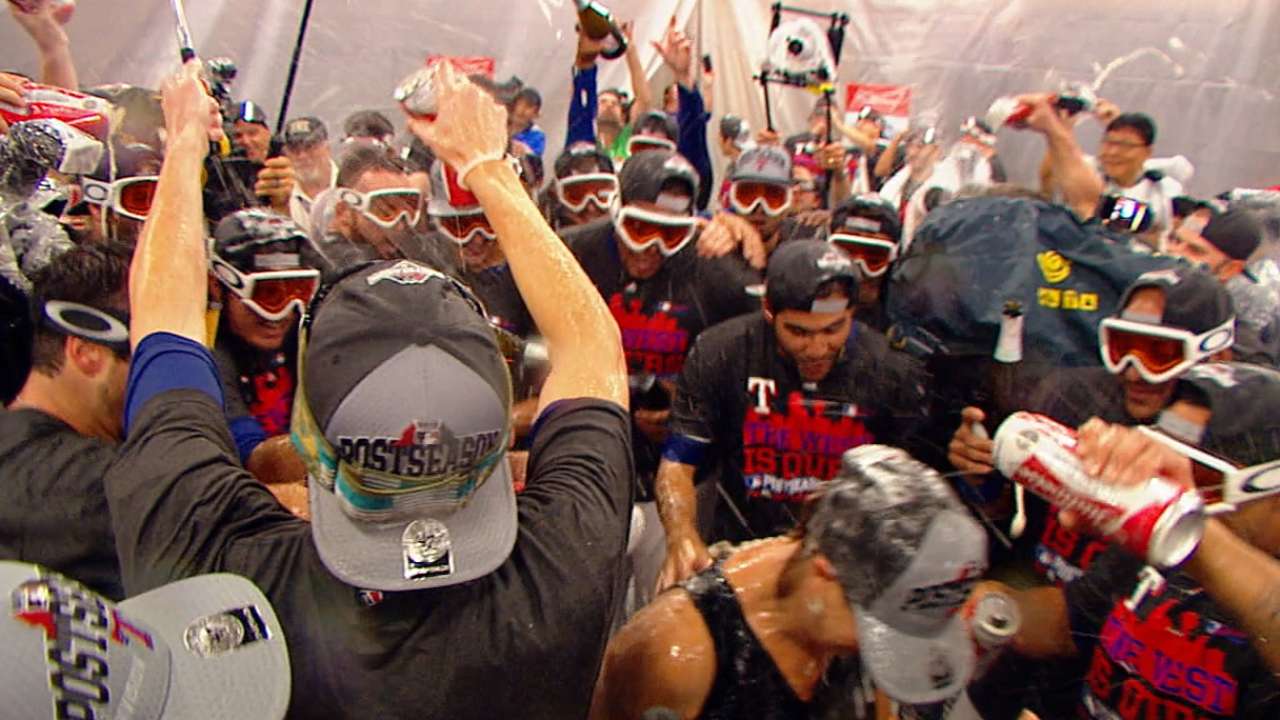 Taking a look at the tidy matchups for the 2015 Major League Baseball postseason on Monday morning, one might think that everything was all neatly wrapped up by the time #Game162 was even played.
But that was definitely not the case going into a wild and wonderful final day of the regular season that culminated in champagne parties, delirious crowds and one heck of an October main course to look forward to.
Sunday featured seven games with postseason implications, and all seven began with first pitches at 3:10 p.m. ET. The permutations and possibilities were percolating with every pitch for several hours, and when the smoke cleared, we had our long-awaited final 10 teams to battle it out for a World Series title.
Here are the results:
AL Wild Card Game presented by Budweiser: Astros at Yankees, Tuesday, 8 p.m. ET on ESPN
ALDS: Astros-Yankees winner at Royals
ALDS: Rangers at Blue Jays
NL Wild Card Game presented by Budweiser: Cubs at Pirates, Wednesday, 8 p.m. ET on TBS
NLDS: Cubs-Pirates winner at Cardinals
NLDS: Mets at Dodgers
(Note: American League champion owns home-field advantage in World Series by virtue of AL's 6-3 victory over National League in All-Star Game.)
And here's how it went down:
The Rangers win the American League West
This game ended up being the biggest of the day because Texas had its destiny in its own hands. All it had to do was beat the Angels in Arlington and it would wrap up the division, knock Los Angeles out of contention, and relegate the Astros to the AL Wild Card Game presented by Budweiser, which will air on ESPN on Tuesday night at 8 p.m. ET.
And that's exactly what the Rangers did, taking a one-run lead over the Angels in the fifth inning on an Adrian Beltre home run and then exploding with a six-run seventh inning to win, 9-2, and put the division and the Angels away.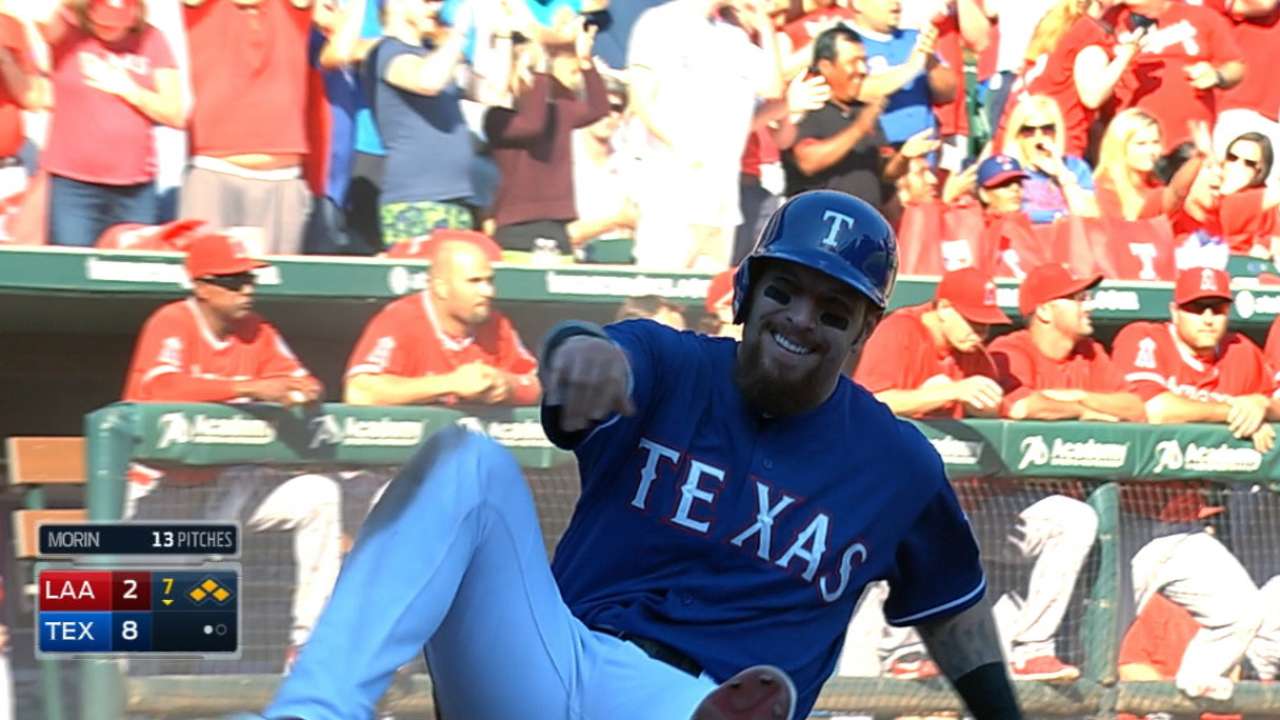 Now Texas, counted out by so many at the beginning of the year after enduring a rough 2014 and losing Yu Darvish for the season back in Spring Training, is back in the postseason with a division title to boot.
"This is a special time of the year," Rangers slugger Mike Napoli said. "We've got something to play for. We got a nice win today, we're going to enjoy it tonight, and then get out there again. It's all about winning."
The Rangers are headed to the ALDS against the Blue Jays, and their series kicks off on Thursday in Toronto.
Astros go Wild, head to Big Apple
The Astros hung in against the D-backs in Arizona early on Sunday, but by the time that game hit the middle innings, Texas had pulled away from Los Angeles, so the only thing Houston was playing for was possible home-field advantage in the AL Wild Card Game, especially considering the fact that it needed to win and have the Yankees lose to Baltimore to get the Wild Card Game in Minute Maid Park, and New York was down big early to the Orioles.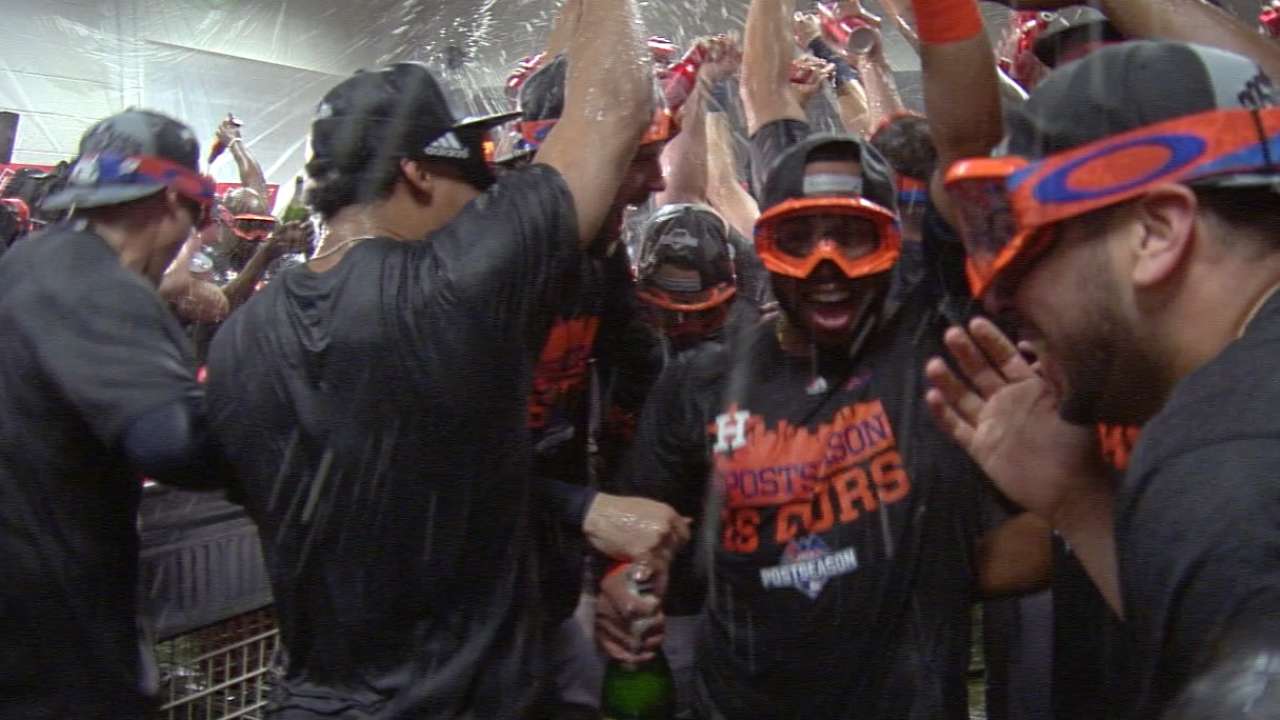 And then Paul Goldschmidt struck. The perennial MVP candidate and Arizona first baseman slugged a two-run homer in the seventh inning to power Arizona to a 5-3 victory. Regardless, the Astros are postseason-bound again after a 10-year hiatus, and they're understandably proud.
"There was a moment there where we knew we were behind but we also knew we had made the playoffs," Houston manager A.J. Hinch said. "You allow yourself a little bit of a celebratory smile. You still want to win the game.
"Home field was at stake, but it was a sense of relief there that we were going to play again and knew we were going to be one of the few teams that were left standing, and we earned every one of these 86 wins."
Dallas Keuchel will take the ball for Houston on Tuesday night in the Bronx, facing off against Masahiro Tanaka. Keuchel, who pitched on Friday night, will be going on three days' rest for the first time in his career.
• Keuchel to face Yankees on short rest
Royals lock up home-field … all the way
Kansas City had a simple task on Sunday: beat Minnesota and guarantee home-field advantage throughout the entire October slate as long as it stays alive.
The Royals entered the day with a record of 94-67 and a one-game advantage over the AL East champion Blue Jays (who began Sunday at 93-68) for the best record in the AL, so all they had to do was win and they would book their very own Kauffman Stadium as host venue for their Division Series against the Wild Card Game winner, a possible AL Championship Series, and the World Series, since the AL earned that right by beating the NL in the 2015 All-Star Game in Cincinnati in July.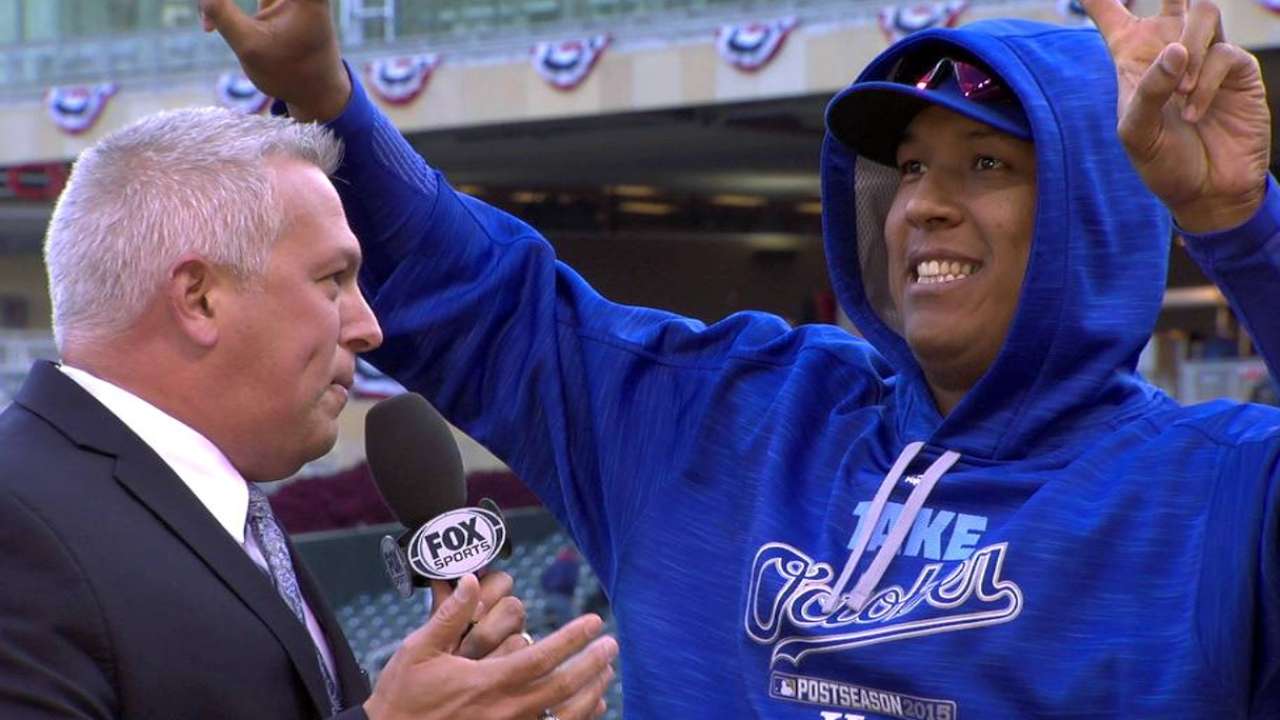 The Royals accomplished a potential all-of-the-above Kauffman party with a convincing 6-1 win over the Twins, who might have seen their beloved outfielder, Torii Hunter, play his final Major League game.
It ended up not mattering what Toronto did on Sunday, but it had to make the Royals feel a little bit more comfortable to see the Blue Jays never really in Sunday's game against Tampa Bay, eventually losing, 12-3.
Now Kansas City gets back on its home turf, where it came so close to winning the World Series a year ago.
"It means a lot, because we're built for our park," Royals first baseman Eric Hosmer said. "And our fans make it tough for opposing teams."
The Royals will host the winner of the AL Wild Card Game in the ALDS, which begins on Thursday.
Pirates hold court, will play Wild Card host
All Pittsburgh needed to do was beat the Reds at home on Sunday to make sure, for the third consecutive year, that the Pirates' own PNC Park would be the site of the NL Wild Card Game presented by Budweiser, which will air on TBS on Wednesday at 8 p.m. ET.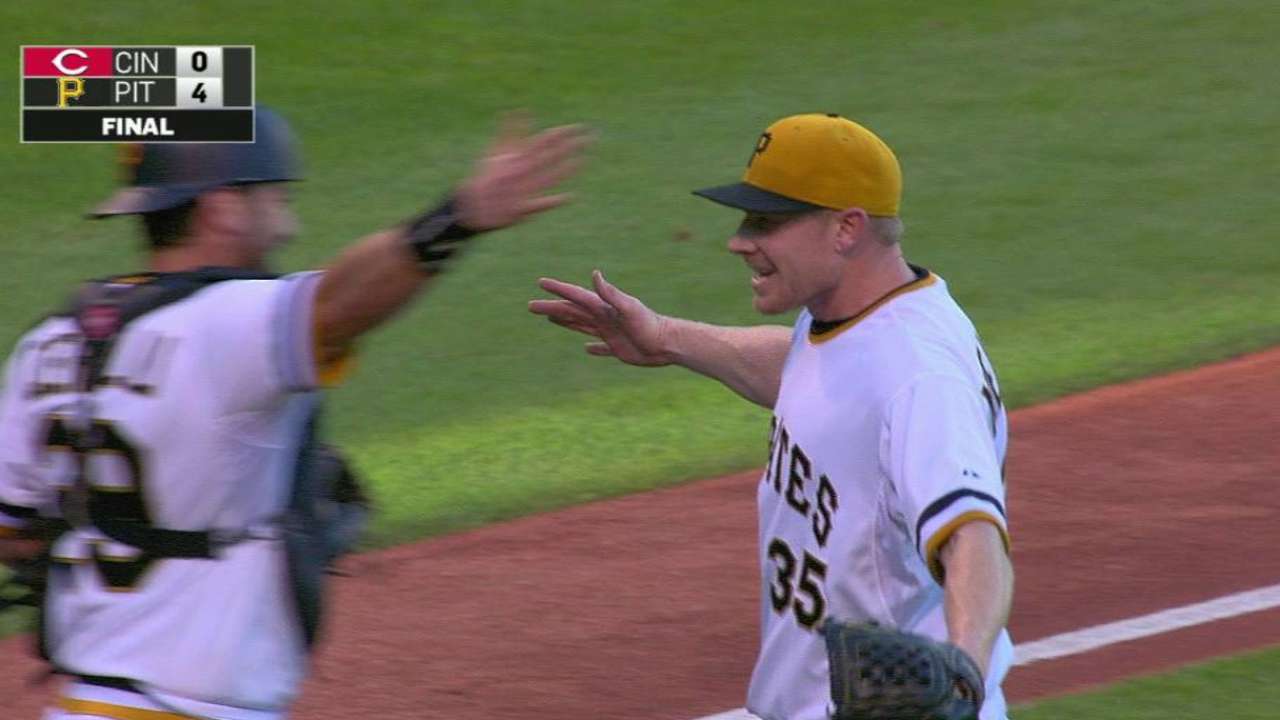 Since the Pirates entered the day with a record of 97-64 that was one game better than the Cubs' 96-65, Chicago needed to take care of Milwaukee and have the Reds beat the Pirates to swing the NL Wild Card Game to Wrigley Field based on the Cubs winning the season series between the two clubs, 11-8.
The Cubs held up their end of the bargain, beating the Brewers, 3-1, but when Bucs closer Mark Melancon closed out the Reds, 4-0, it was time for the PNC faithful to celebrate another joyous #Game162 and get ready for a very familiar happening: a home game in the Wild Card round.
"We love playing at home," Pirates manager Clint Hurdle said. "We love it when our fans show up. They should be loud, and they should be proud. Our men are looking forward. We're really looking forward to the opportunity. We've earned it."
Doug Miller is a reporter for MLB.com. Follow him on Twitter @DougMillerMLB. This story was not subject to the approval of Major League Baseball or its clubs.