Bridich, Weiss to discuss Rockies' future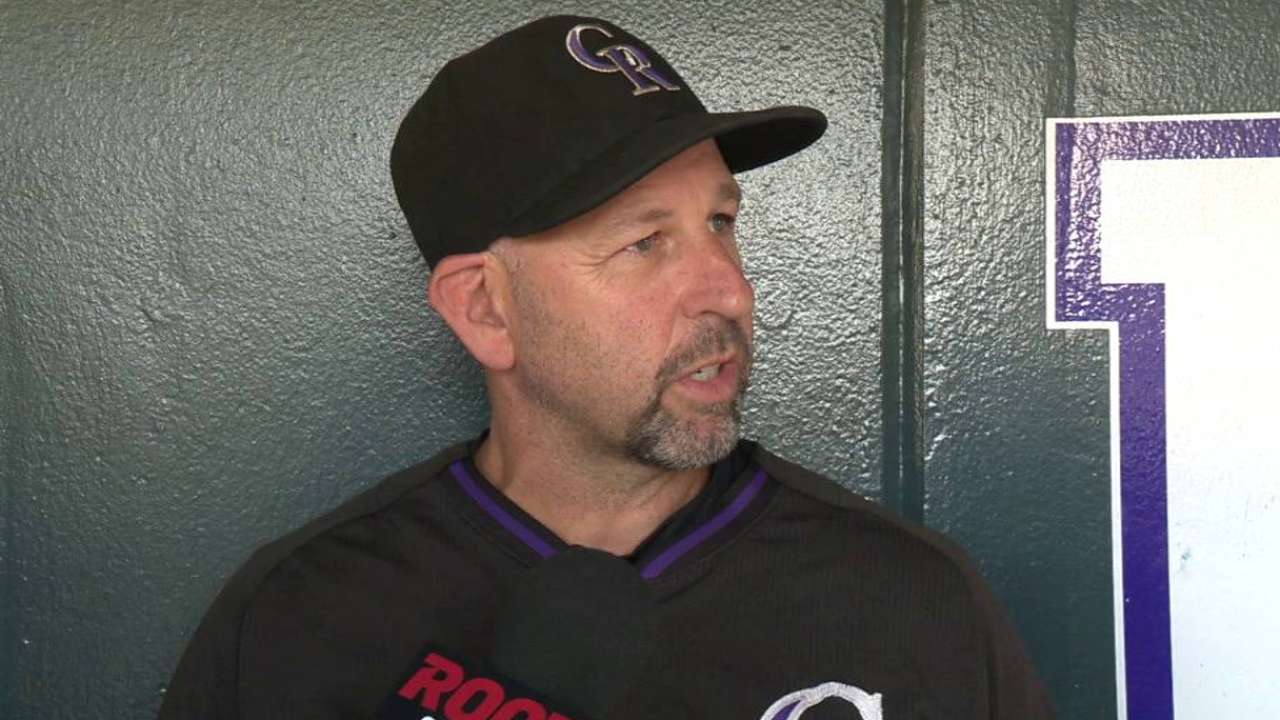 SAN FRANCISCO -- Rockies manager Walt Weiss is tentatively scheduled to meet Tuesday with general manager Jeff Bridich for an end-of-season discussion, during which Weiss' future status could be determined.
Weiss' contract runs through next season. His status became a subject of speculation when MLB Radio recently asked Bridich if Weiss would be back next season, and Bridich said that would not be determined until after the season. Bridich and Weiss each said in subsequent interviews that nothing should have been read into the statement. Weiss said the status was not a distraction, and he reiterated Sunday that he wants to return.
"I'm signed up, man," he said.
Bridich said he had no intention of sparking speculation.
"It is semantics," he said. "I think the way I said it was, 'Everybody knows that he's got a year left.' But what I also said was that we are going to sit down, like any other year, and we are going to review ourselves. What's gone wrong? What's gone right? What do we need to work on?"
Regardless, Weiss and Bridich will have to address a team that has finished fifth, fourth and -- this season -- fifth in the National League West in Weiss' three years at the helm. Bridich became GM last offseason, replacing an unusual two-headed system with Dan O'Dowd and Bill Geivett.
The Rockies changed pitching coaches last season, going with Steve Foster as pitching coach and Darren Holmes as bullpen coach, after a two-headed coaching system with Jim Wright and Bo McLaughlin. The makeup of the 2016 staff figures to be part of the upcoming meeting.
The Rockies are the same as in many struggling seasons past. They entered Sunday's season finale with the Giants leading the National League in runs, home runs, triples and slugging percentage, and second in on-base percentage. But they also were 15th in ERA and at or near the bottom in many key categories.
With the Rockies' record not much different from last season, Weiss said the improvement could be seen in individual accomplishment and development.
"Our young players have taken a big step and they're starting to establish themselves -- guys like [DJ] LeMahieu, [Charlie] Blackmon, [Corey] Dickerson, and [Nolan] Arenado has established himself as a star," Weiss said. "That's been a big part of our growth this year, guys that were looked at as rookies aren't rookies anymore. They're guys.
"It's hard to say where we've slipped. We always have our focus ahead. We don't look in the rear-view mirror. These guys prepare very well, work very well. We have to continue to get better, continue to get more consistent. We talk about playing the game hard, playing the game right. You've got to do both. You've got to be tough and you've got to be smart."
Thomas Harding is a reporter for MLB.com. Follow him on Twitter @harding_at_mlb, and like his Facebook page. This story was not subject to the approval of Major League Baseball or its clubs.