MLB.com Columnist
Paul Hagen
Phillies ready to move forward after tough 2015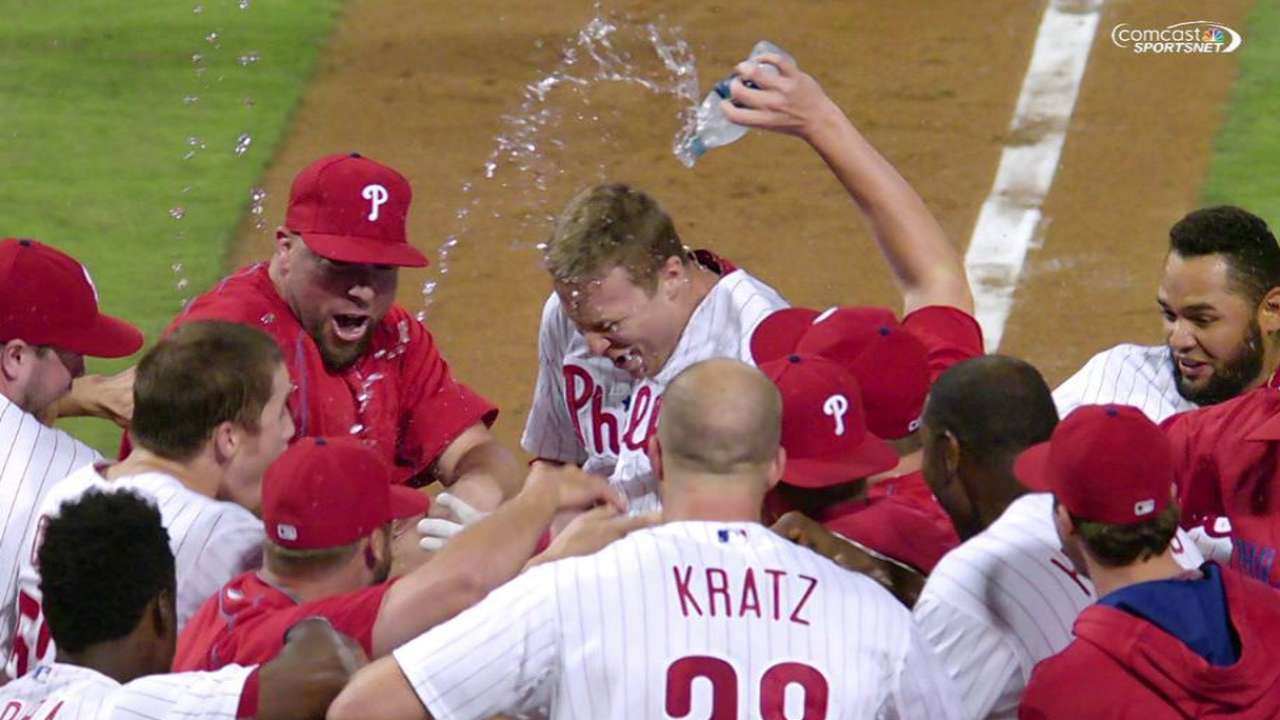 PHILADELPHIA -- If your favorite baseball team trades a franchise icon, it just might have fallen on hard times. If three are moved in one year, feel free to plan a vacation in October.
If the manager abruptly hands in his resignation in the middle of the season, there's a pretty good chance things aren't going according to plan.
If the general manager is let go before the final game is played, that's probably not a good sign.
If there's a wrenching transition at the very peak of the organizational chart, there just may have been better days.
If a team finishes with the worst record in the Major Leagues, well, you get the idea
And if all of that happens to the same team in the same year, you've got your 2015 Phillies, who finally pulled the curtain down on one of the longest seasons in recent memory Sunday with a 7-2 win over the Marlins at Citizens Bank Park.
At least that allowed them to avoid losing 100 games in a season for the first time since 1961.
Change can be unsettling. Change can be tumultuous. Change can also be necessary and, in the long run, helpful. Which is where the Phillies are now, hoping all they've endured has prepared them to begin turning around what has been a breathtaking plunge since winning 102 games just four years ago.
Just a year ago, when the Phillies closed out a last-place finish with a 2-1 home loss to the Braves, the public posture of the front office was still that they hoped to be a contender each and every year. Some of what has happened since could have been anticipated then. Much couldn't have.
Jimmy Rollins, the best shortstop the franchise has ever employed, was traded to the Dodgers a week before Christmas. That was the signal that the rebuilding process was beginning. Cole Hamels, arguably the best left-handed starter the team ever developed, went to the Rangers at the non-waiver Trade Deadline. A few weeks later, their best second baseman ever, Chase Utley went to the Dodgers.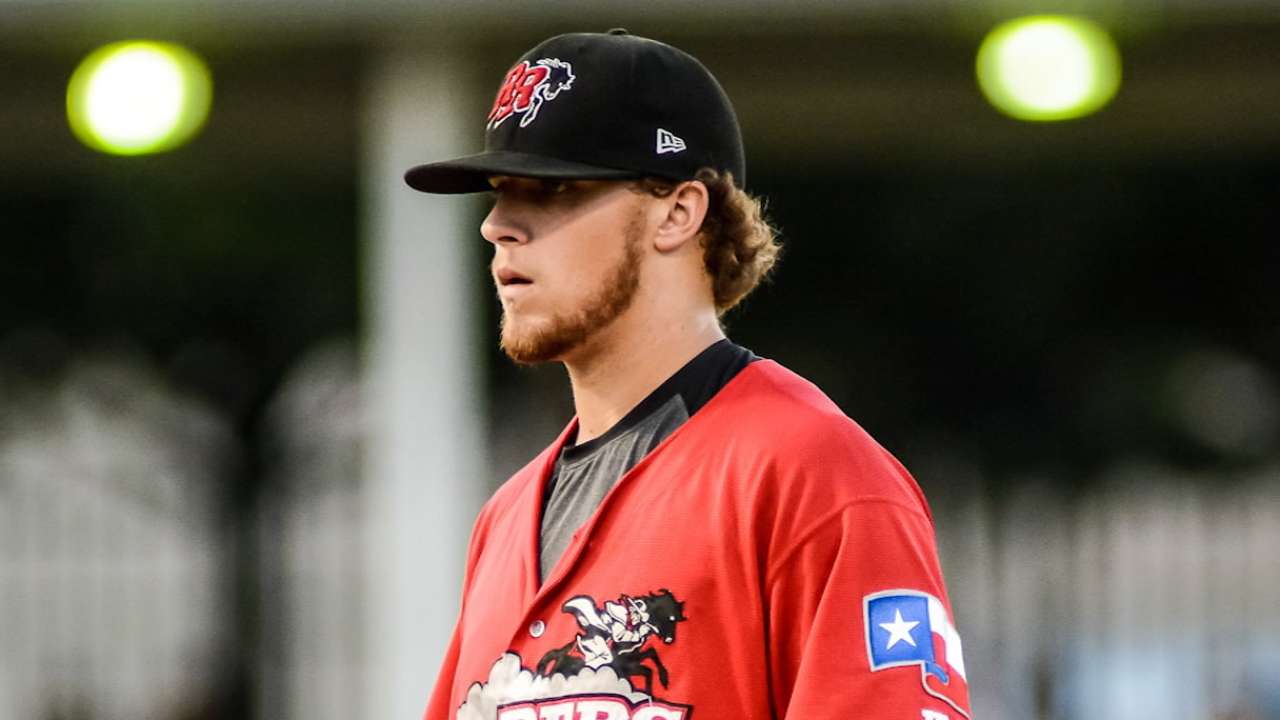 Ryne Sandberg's decision to step down as manager in June was shocking. The decision not to extend the contract of general manager Ruben Amaro Jr. wasn't ... except for the part where Amaro was widely praised for the haul of prospects he was able to get in return for trading his veterans. The hiring of Andy McPhail as club president returned stability to the upper echelons of the power structure. So did John Middleton's emergence as the strong, clear voice of the ownership group.
Long-term predictions are a Hail Mary pass at best. But here's a look at three areas that should get a lot of attention before pitchers and catchers once again report to Clearwater, Fla., next Spring Training.
• Clubhouse chemistry. When Pat Gillick was general manager, he always tried to talk to a player face-to-face before trading for or signing him as a free agent. The Hall of Fame executive wanted to gauge whether the guy's personality would be a good fit.
In recent years, the Phillies seemed to drift away from that approach. Talent often appeared to trump other concerns. Which is not to suggest that signing Jonathan Papelbon, to name one example, is the only reason the Phillies struggled. But when the tide turned, his response too often was to complain that he hadn't come here to lose or to make a lewd gesture in response to being booed. Not exactly the kind of guy you'd want in a foxhole with you. Amaro did McPhail and the next general manager a huge favor by convincing the Nationals to take Papelbon at the deadline.
Conversely, that's a great reason to bring outfielder Jeff Francoeur and infielder Andres Blanco back.
• Officially, the front office hasn't ruled out the possibility of a Ryan Howard and Darin Ruf platoon at first base next season. Just looking at the numbers, especially Ruf against left-handed pitching, it makes sense.
Realistically, however, it's time to move on. Howard obviously wasn't happy splitting time this season. And even if he bounced back and put up huge numbers, so what? He turns 36 next month and the Phillies need to search for long term solutions.
• For starters. If the 2016 season started tomorrow, the only two starting pitchers currently employed by the Phillies who could be penciled into the rotation with some assurance are rookies Aaron Nola and Jerad Eickhoff.
That's why interim general manager Scott Proefrock said Sunday that signing at least a couple veterans was a priority, along with adding bullpen depth, and that he expects to have some payroll flexibility to accomplish that. "Pitching is first and foremost," he said. Interestingly, he didn't rule out the possibility of adding an upper-tier starter, if the right guy is available, to take pressure of the youngsters.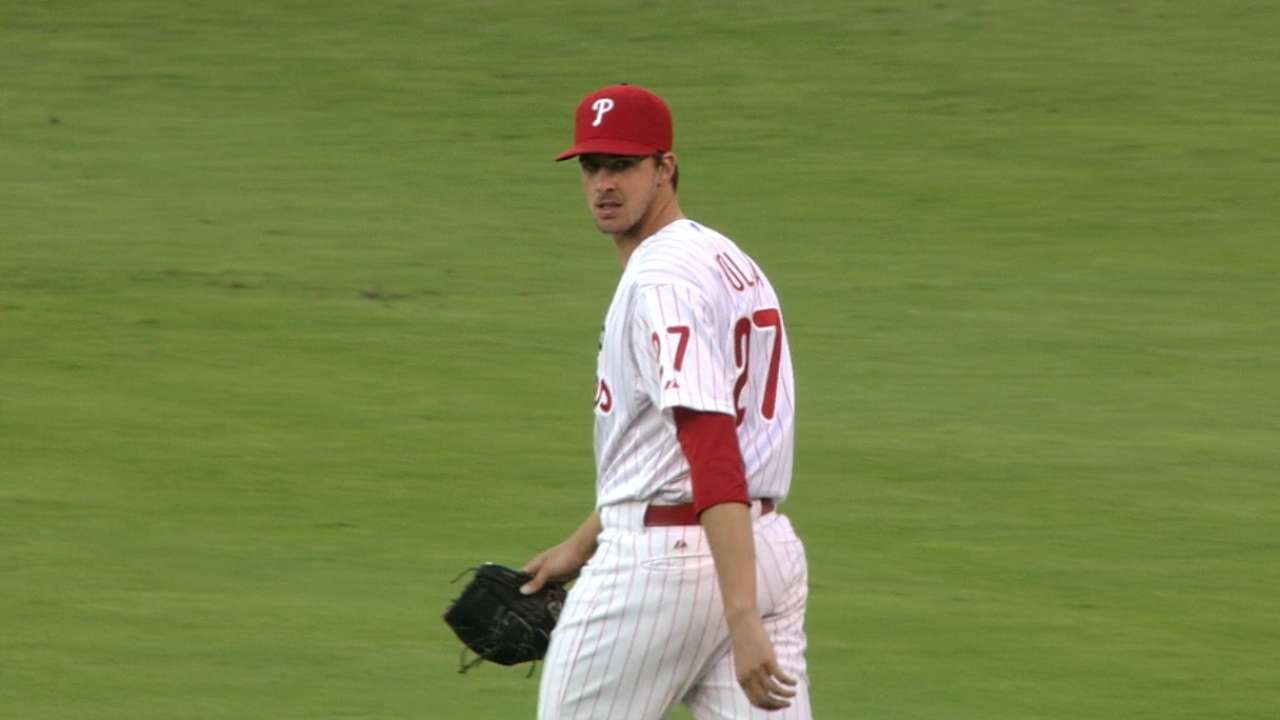 It's been a tough season. But that doesn't mean it was a wasted one. Opportunities were presented to unproven youngsters and many impressed. Rule 5 draft pick Odubel Herrera. The double-play combination of Freddy Galvis and Cesar Hernandez. Catcher Cameron Rupp. Outfielder Aaron Altherr. Ken Giles seamlessly replaced Papelbon as closer. Nola and Eickhoff.
Top prospects such as shortstop J.P. Crawford and catcher Andrew Knapp are also progressing through the system.
Against that backdrop, manager Pete Mackanin was asked if there was any way he could view this season a success.
"No. We don't want to lose. We want to win," he said. "But there are a lot of positives that came out of this."
A lot went awry during the season that ended Sunday in Philadelphia. Now the Phillies have to try to build on the things that went right.
Paul Hagen is a columnist for MLB.com. This story was not subject to the approval of Major League Baseball or its clubs.