MLB.com Columnist
Jonathan Mayo
Constructing a winner: Dodgers
How Los Angeles used the Draft, trades, free agency and international signings to build its playoff team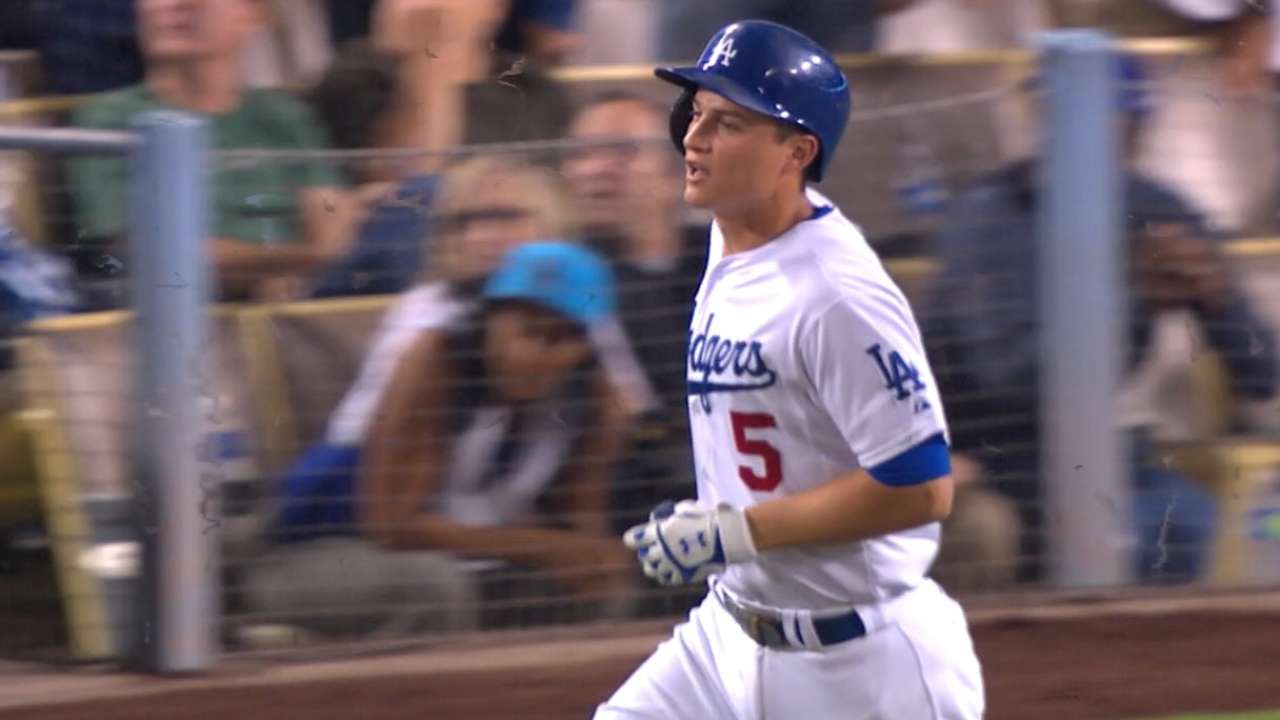 MLBPipeline.com is breaking down how each of the postseason teams was built, looking at the composition of Division Series rosters.
The Los Angeles Dodgers are National League West champions for the third straight season. While there are many holdovers from that first winner in 2013 -- around 10 were on that team and on the Dodgers' 2015 postseason roster -- there have been plenty of changes made to keep the NL West title in Los Angeles.
Once again, the Dodgers have by far the highest payroll of any team in baseball, but perhaps the most significant acquisition came to the front office during the offseason. In October, not long after the Dodgers had lost to the Cardinals in the National League Division Series, Andrew Friedman joined the organization as the president of baseball operations. The Dodgers were banking on Friedman's ability to duplicate the success he had with the Tampa Bay Rays, especially with much greater financial resources at his disposal.
Friedman quickly added Farhan Zaidi as general manager and Josh Byrnes as senior vice president of baseball operations. Whether this Friedman-led braintrust did enough to build a team that can make it to the World Series, where the Dodgers last played in 1988, remains to be seen, but they have the team headed to the postseason for the third straight season.
"We didn't necessarily set out this winter to improve upon a 90+ win team from the year before. We set out to maintain that level while improving our flexibility and runway of talent in 2016 and beyond," said Friedman. "This group is very capable of doing some really special things this October, and we also feel we are better positioned to sustain success in future years as well."
HOMEGROWN
Player, how acquired, year
Pedro Baez, Int'l sign, 2007
A.J. Ellis, Draft, 2003 (18th)
Yimi Garcia, Int'l sign, 2009
Kenley Jansen, Int'l sign, 2004
Clayton Kershaw, Draft, 2006 (1st)
Joc Pederson, Draft, 2010 (11th)
Yasiel Puig, Int'l sign, 2012
Corey Seager, Draft, 2012 (1st)
It might be filed as a "it goes without saying" kind of deal, but no conversation about homegrown talent in Los Angeles can be had without at least mentioning Clayton Kershaw. The No. 7 pick in the 2006 Draft saw five pitchers taken ahead of him in that Draft. One last pitched competitively in Japan in 2014 and the other four are relievers.
Complete breakdown of how this year's 10 @MLB #postseason teams built their rosters: http://t.co/6739SMacE6 pic.twitter.com/MRTg8nAnrw

— MLB Pipeline (@MLBPipeline) October 5, 2015
The Dodgers have long been active on the international front as well, and that's represented on this roster. That doesn't even include big Cuban signee Hector Olivera, who was sent to the Braves in the big three-team deal at the non-waiver Trade Deadline. The bullpen in particular has a distinct international feel, with closer Kenley Jansen, setup man Pedro Baez and contributors like Yimi Garcia all coming through the Dodgers' international scouting efforts. The Dodgers were aggressive again on the international market this past July, though the international scouting department was overhauled in August.
The key homegrown talent to talk about, however, has to be Corey Seager. Debates over when, not if, the Dodgers should call him up started back in June. Though he didn't join the Dodgers until Sept., his impact has been immediate. Most agree he belongs in the lineup somewhere daily and the Dodgers' unwillingness to include him in any trade for one of the big fish available is now quickly bearing fruit.
TRADES
Player, year, acquired from
Luis Avilan, 2015, Braves
Carl Crawford, 2012, Red Sox
Andre Ethier, 2005, Athletics
Adrian Gonzalez, 2012, Red Sox
Yasmani Grandal, 2014, Padres
Chris Hatcher, 2014, Marlins
Enrique Hernandez, 2014, Marlins
Howie Kendrick, 2014, Angels
Joel Peralta, 2014, Rays
Jimmy Rollins, 2014, Phillies
Justin Ruggiano, 2015, Mariners
Chase Utley, 2015, Phillies
Alex Wood, 2015, Braves
They didn't deal Seager or top pitching prospect Julio Urias, but Friedman and company sure were busy at the Deadline. Showing a penchant for three-team deals -- the Dodgers worked with the Marlins and Angels to bring Howie Kendrick to the Dodgers while sending Dee Gordon to the Marlins and sending lefty Andrew Heaney from Miami to the Angels during the offseason -- Los Angeles picked up a boatload of players from the Braves and Marlins (again) in return for Olivera and others.
That deadline deal hasn't been a perfect one, as starter Mat Latos fizzled and veteran Jim Johnson didn't throw particularly well down the stretch. But lefty Alex Wood stepped into the rotation and could impact the postseason considerably, while the Dodgers are pleased they have him under control for several more years. Reliever Luis Avilan also came from the Braves in that trade, while the Dodgers also picked up veteran Chase Utley to fill in while Kendrick was hurt.
Not everyone in LA was thrilled with the deadline efforts, feeling that the Dodgers could have more actively pursued some of the bigger targets. Friedman, however, wanted to be sure to help the team win now while not completely mortgaging the future.
"I have tremendous respect for the passion fans have for the team," Friedman said just prior to the Deadline. "We all share the same goal, to win the World Series. Everything we've done since [my hiring in] mid-October is with that goal in mind. But it's also not about winning just in 2015, it's about creating something that can be sustained for many years and hopefully have a number of championship banners up. We're perfectly aligned in that and everything we're doing is working towards that."
FREE AGENTS
Player, year
Brett Anderson, 2014
Zack Greinke, 2012
J.P. Howell, 2013
Justin Turner, 2014
Even with the ability to flex financial muscles, the Dodgers were relatively quiet in the free agent market this past offseason. The big addition back in 2012, Zack Greinke, put together a Cy Young Award worthy season. Perhaps it's no surprise that Greinke has been a Dodger for three years and the club has won the division in each of those three seasons. He's pitched well in the postseason to boot.
The Dodgers' one modest signing for the 2015 season was lefty Brett Anderson. Seen as a risky contract for $10 million because he hadn't thrown over 100 innings in a season since 2010, the Dodgers felt his injuries were more bad luck than indicative of being injury prone.
"If you look at the last three years, you could say he is -- quote -- high risk," Zaidi said at the time of the signing. "With the information we have on him, we think he'll be a big part of our team. He's proved when he pitches he can be effective and he's going to be motivated on a one-year deal, so I'm sure he'll want the ball every fifth day."
That's turned out to be prescient and particularly important, especially with the loss of fellow free-agent signing Brandon McCarthy (elbow) and Hyun-Jin Ryu (shoulder).
Jonathan Mayo is a reporter for MLBPipeline.com and writes a blog, B3. Follow @JonathanMayo on Twitter. This story was not subject to the approval of Major League Baseball or its clubs.