Murphy: Didn't get 'chance to be me' in 1st year
Interim skipper won't be considered for managerial role next season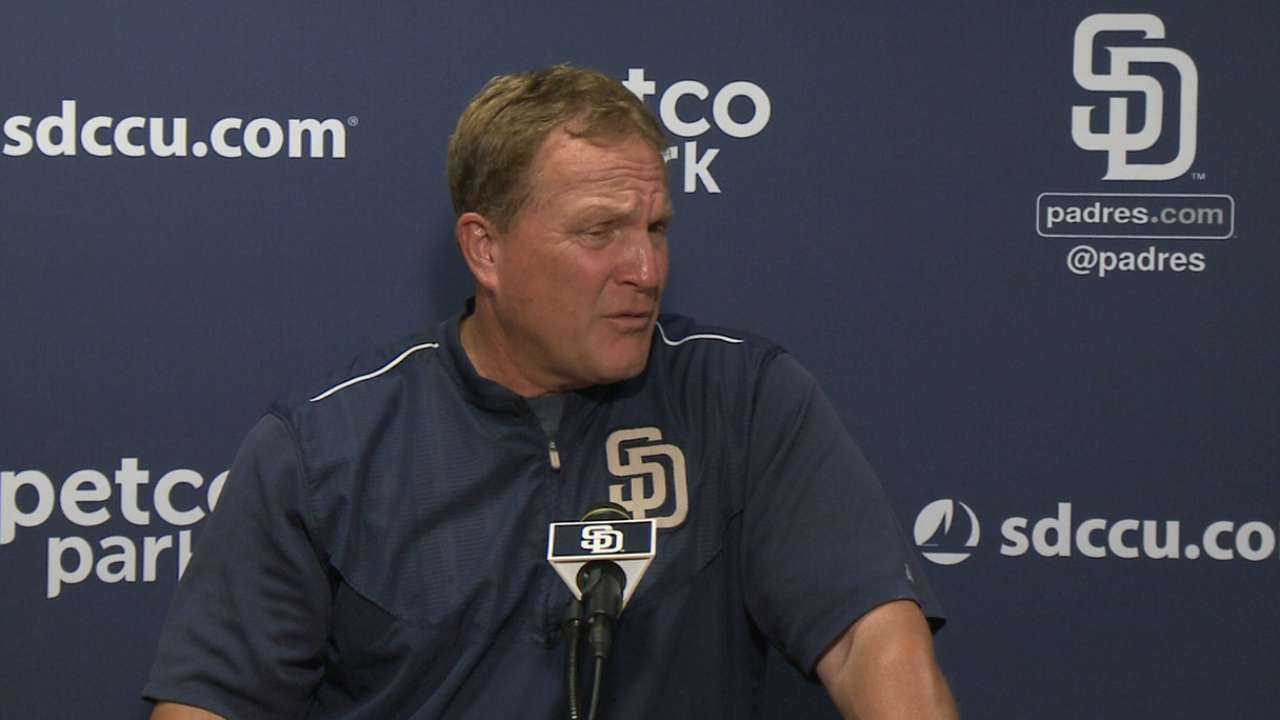 LOS ANGELES -- At some point next week, Padres general manager A.J. Preller and his baseball operations staff will discuss the most imminent order of business that awaits them this offseason: deciding on a manager for 2016.
Pat Murphy, the team's interim manager since June 16, won't be a part of that conversation.
After Sunday's 6-3 loss to the Dodgers, the team announced that Murphy would not return in the same capacity.
Murphy, who finished his tenure with the Padres with a 42-54 record, had said as recently as late last week that he wanted to return. Last week, he talked about the challenges of serving as the interim manager -- and the biggest regret he had about the entire experience.
"I'm grateful for the opportunity to have experienced this, but at the same time, the competitor in me wishes that I could have had more impact at a deeper level in how we play, the mentality."
Part of this, of course, had to do with when Murphy arrived. He wasn't already on the staff, as he was managing Triple-A El Paso. So, in a sense, he parachuted into a difficult position.
Not in just taking over a team that had already fallen short of expectations, but also replacing a well-respected manager in Bud Black. The Padres were just 16-23 in the first 39 games that Murphy managed.
And though Murphy had already managed some of the players on the roster in the Minor Leagues, he found it problematic to come in and put his stamp on a mostly veteran group from the first day.
"It was just such a shock and so new, and by then they were so ingrained in what they were doing and I didn't build that trust up yet to change things the way I wanted to," Murphy said. "I believe managing is about dealing with people ... helping people find their better self."
To be sure, this was much different than managing in the Minor Leagues, Murphy said.
"The game is so much different, the players are so much different. ... Their needs, what they think about, what their lives are about," Murphy said.
In the end, Murphy isn't sure the outcome of the Padres season might have been much different had he managed the team since the start of Spring Training. But he would like to think it would have made some difference.
"With the injuries and the newness of the players [playing] together, I don't think it would have changed the outcome that much," Murphy said. "But it might have moved the needle a little more."
Corey Brock is a reporter for MLB.com. Keep track of @FollowThePadres on Twitter and listen to his podcast. This story was not subject to the approval of Major League Baseball or its clubs.