Santana pushed through back issues this year
Switch-hitter still turns in valuable season for Indians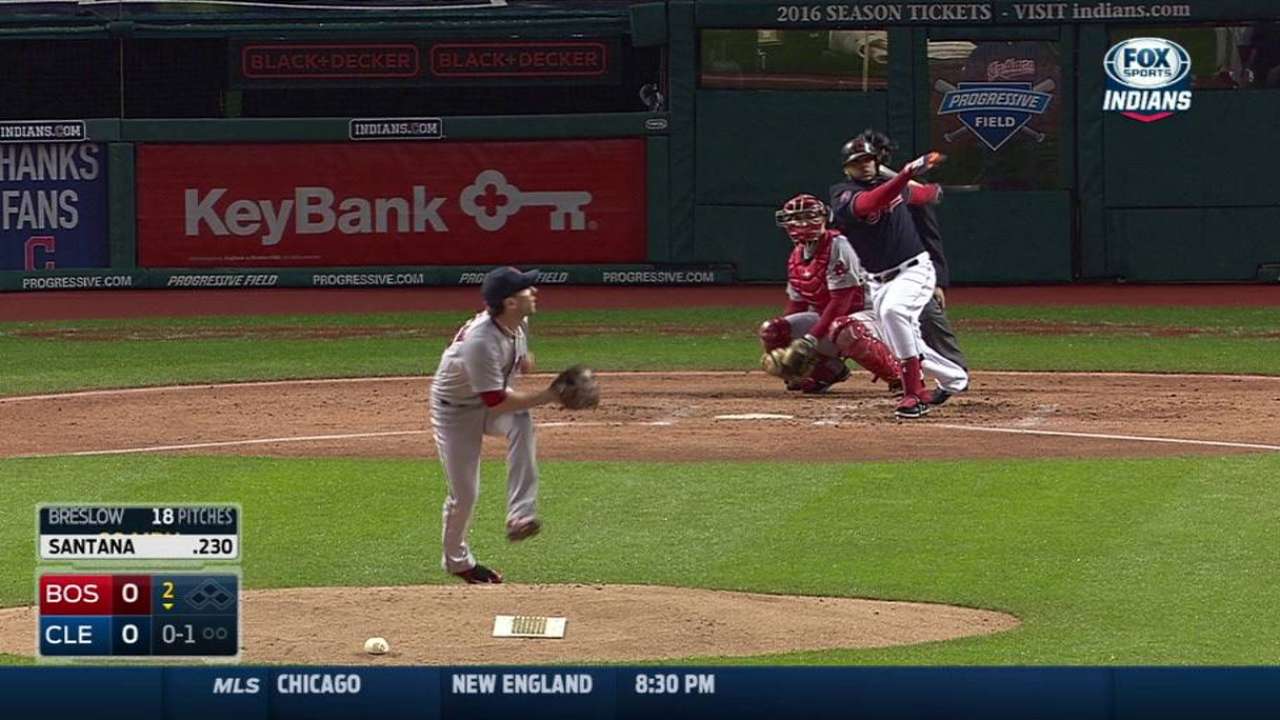 CLEVELAND -- Not once this season did Carlos Santana mention to reporters that he was bothered by a back issue that was plaguing his offensive production. A few hours before the Indians' final game of the year on Sunday, the first baseman admitted that the ailment was a persistent problem.
Throughout this season, Santana even asked Indians manager Terry Francona not to make it public.
"I don't know what to really say," Francona said before Cleveland's season finale against the Red Sox. "[It was], 'Don't tell the media. Don't tell the media,' then he tells the media. So I don't quite know how to respond to that. I think he's had some back tightness, for sure. He just didn't want me to tell anybody. I guess he took care of that.
"I will say this, looking at all the questions we had to answer about the batting average and things like that, he wants to play. And anybody that plays as much as he does, you're not going to feel good every day. This kid will play."
Heading into Sunday's action, Santana was sporting a .232/.358/.397 slash line to go along with 19 homers, 29 doubles, 72 runs, 85 RBIs and 107 walks. His overall showing was not far off his production from last year, though his home run total (27 in 2014) and slugging percentage (.427 in '14) took a hit.
Santana said his low average and drop in power were partly due to this health woes.
"It's not a good season, with what I was thinking," Santana said of his numbers. "I worked in the offseason to make it a good season. Everybody in here knows that I was a little hurt -- my back. But, I like to play, so I tried to play every day. I wasn't 100 percent with my body."
Santana still managed to turn in a season that had value to the Indians.
The first baseman's 16.2 walk percentage ranks fourth overall in the Majors, trailing only Joey Votto (20.5), Bryce Harper (19.1) and Paul Goldschmidt (16.9). Santana's 110 wRC+ (weight runs created plus) suggests that -- despite his low batting average -- he has performed 10 percent above a league-average player this season.
Santana, who is under contract for $8.25 million next season, said he has no plans of playing winter ball this offseason. Instead, the switch-hitter will rest and train in an effort to build on the strides he made in the second half.
"People worry about average," said Santana, who noted that his back felt improved after the All-Star break. "I know I have talent, and I know I can hit better than [I did this season]. This is what happened, but I'll try to get ready for the next year and try to help my team."
Jordan Bastian is a reporter for MLB.com. Read his blog, Major League Bastian, follow him on Twitter @MLBastian and listen to his podcast. This story was not subject to the approval of Major League Baseball or its clubs.