Phillies interim GM discusses offseason plans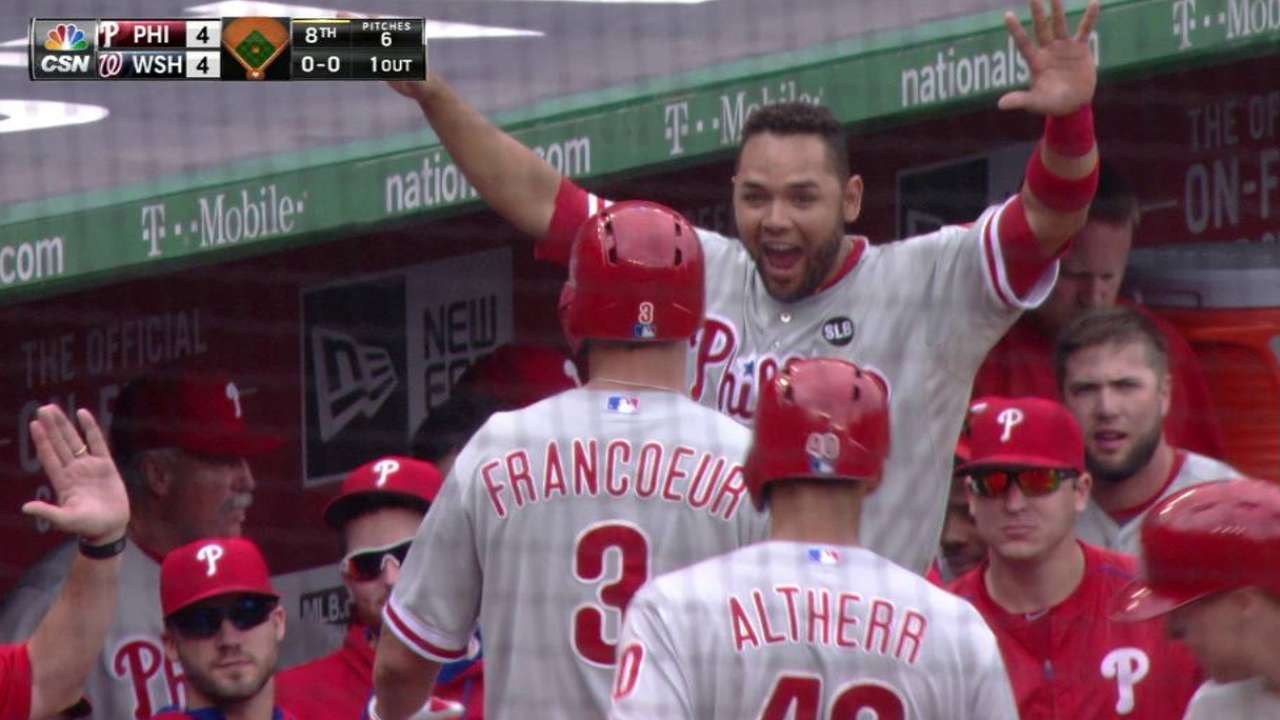 PHILADELPHIA -- Phillies interim general manager Scott Proefrock and manager Pete Mackanin reemphasized a few points with reporters before Sunday's season finale against the Marlins at Citizens Bank Park:
• They plan to focus on pitching in the offseason, but do not expect them to pursue the top-tier free agents. That is something Phillies president Andy MacPhail made clear in Miami a couple weeks ago. Instead, expect the Phillies to pursue mid-level starters like Doug Fister, J.A. Happ, Bartolo Colon and others as well as a veteran relief pitcher or two. The Phillies want pitchers who can stabilize the pitching staff and bridge the gap from a rebuilding team to a potential postseason contender.
"I think we're definitely looking for some veteran starting pitching," Proefrock said.
• If Ryan Howard returns he is expected to platoon at first base with Darin Ruf. Howard declined to speak with reporters Sunday.
• Carlos Ruiz is expected to return, despite the worst season of his career.
"Chooch had a difficult year, but he was a great presence in the clubhouse, as was Ryan, and I think they're both guys our young players can benefit from being around going forward if they're still here," Proefrock said. "A lot of things can happen in the offseason, but if they're here we expect them to provide that type of leadership and productivity."
• If the Phillies value positive influences in the clubhouse then it makes sense for them to bring back Jeff Francoeur, who has said he would like to return next season. Francoeur entered Sunday's season finale hitting .261 with 13 homers, 45 RBIs and a .727 OPS in 118 games.
"On a young team like this where we're trying to groom them to become hardnosed, everyday players playing professionally I think a guy like Frenchy is an ideal-type candidate," Mackanin said. "Same thing with [Andres] Blanco, same thing with Chooch. They play the game the right way and they communicate with their teammates very well and I think it's huge to have leaders by example."
But will the Phillies try to resign Francoeur before they hire Ruben Amaro Jr.'s replacement?
"I think if we feel like we want to move forward on something, obviously Andy can make that call," Proefrock said. "We have an exclusive negotiating window with those guys until they declare free agency. So if we decide organizationally we want to pursue them, we'll still have time to do that. We're having organizational meetings at the end of October so a lot of those things will be discussed at that particular point."
Biddle scheduled for Tommy John surgery
The Phillies announced Triple-A left-hander Jesse Biddle will have Tommy John surgery on Oct. 14.
Biddle, whom the Phillies selected in the first round of the 2010 MLB Draft, went a combined 9-6 with a 4.95 ERA in 24 starts this season with Double-A Reading and Triple-A Lehigh Valley. He posted a 6.25 ERA in nine starts with the IronPigs.
Todd Zolecki is a reporter for MLB.com. Read his Phillies blog The Zo Zone, follow him on Twitter and listen to his podcast. This story was not subject to the approval of Major League Baseball or its clubs.