To a man, Angels proud of fighting to finish
ARLINGTON -- There would be no such ninth-inning rally on Sunday afternoon. No back-to-back home runs, no string of four consecutive two-out singles, no magic. One day removed from the five-run explosion that saved their resilient season yet again, the Angels went down compliantly in the regular-season finale, producing three harmless grounders to seal a 9-2 loss to the Rangers and put an end to their playoff hopes on the final day.
It was the final snapshot of their 2015 season, but it would not define them.
"They were incredible," Mike Scioscia said of his 16th Angels team, which finished with an 85-77 record. "They left their hearts on the field, and it was an inspiring group. I was inspired by these guys. The bleaker it looked, the brighter they shined, and it was fun to watch."
Entering the final day, the Angels needed a win and an Astros loss to force an AL Wild Card tiebreaker from Minute Maid Park in Houston on Monday. The Astros lost, 5-3, in Arizona, but the Angels got only an Albert Pujols two-run homer against Cole Hamels and couldn't recover from the six runs their shorthanded bullpen gave up in the seventh inning.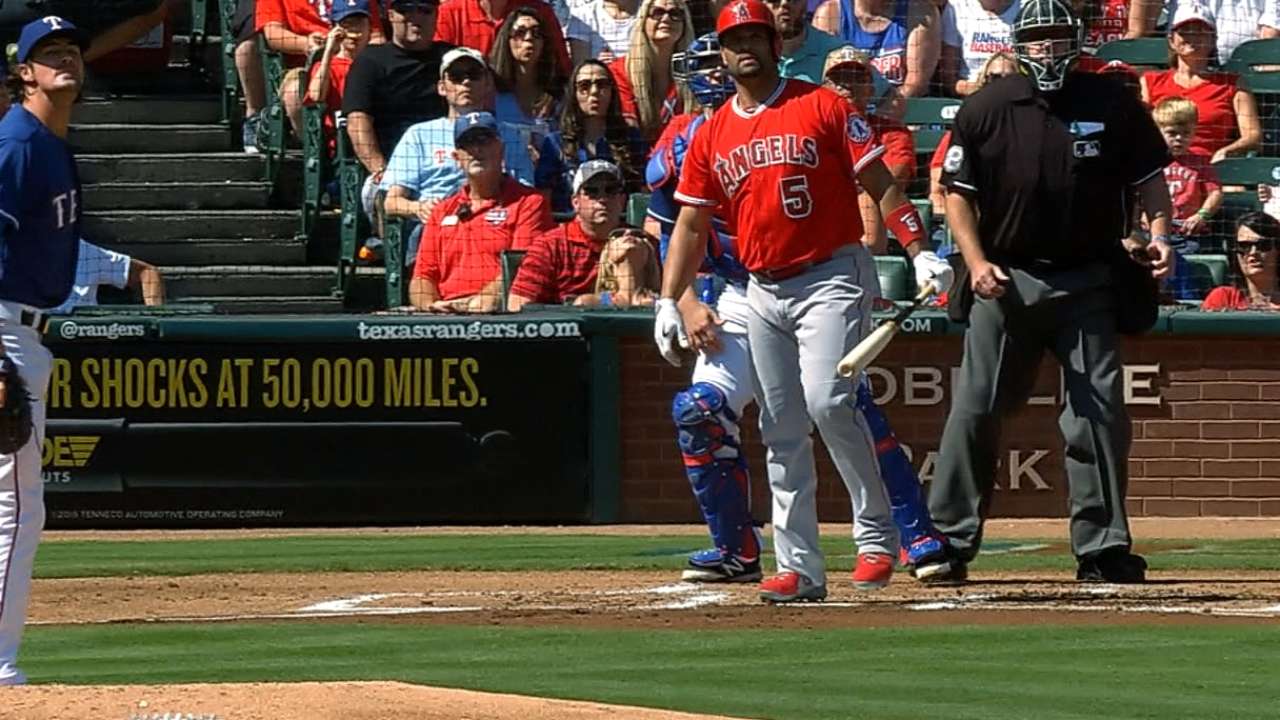 "We had one job today, and it was to win," Angels second baseman Johnny Giavotella said. "It didn't happen, but it's not going to put a damper on our season."
In the end, the Angels missed out on the playoffs for the fifth time in six years, unable to follow up on a 98-win 2015 season which ended in an AL Division Series sweep by the Royals, and watched the Rangers celebrate a division title in the regular-season finale.
"It's obviously disappointing," Mike Trout said, "but we fought right to the last game. I can't say how proud I am about this group. We fought."
From the start of Spring Training to the end of April, the Angels played with Josh Hamilton's status up in the air before he was dealt to Texas. On the first of July, their general manager, Jerry Dipoto, resigned amid ongoing tension with the Major League staff. And then, suddenly, the Angels took off, winning 17 out of 20 to vault into first place by late July.
Then came a 19-loss August that put them 7 1/2 games behind the Astros in the AL West and 3 1/2 games behind the Rangers heading into September.
"We could've put our heads down, easily, in August," Trout said. "But we gave ourselves a chance."
The Angels gave up five ninth-inning runs to the Astros on Sept. 13, allowed seven unearned runs to the A's on Wednesday, lost the opener of this four-game series, watched their closer, Huston Street, and setup man, Joe Smith, go down with injuries late.
But they refused to die.
They began September with seven wins in 10 games, won series in Minnesota and Houston, notched seven consecutive victories up until the middle of this week and, all told, won 12 one-run games over the final 25 games.
They fought until the final day; until the final inning.
"A lot of people counted us out at a certain point in the season, and to come back and battle the way we did, it was fun to be a part of," longtime Angels ace Jered Weaver said.
"We all love each other," third baseman David Freese added. "Unless you're in a clubhouse, you don't fully understand it, but that matters. There aren't too many teams that can get to October or close to October and do some damage without caring for each other. We pushed. We pushed."
Alden Gonzalez is a reporter for MLB.com. Read his blog, Gonzo and "The Show", follow him on Twitter @Alden_Gonzalez and listen to his podcast. This story was not subject to the approval of Major League Baseball or its clubs.