Banister: Hamels gave Rangers big start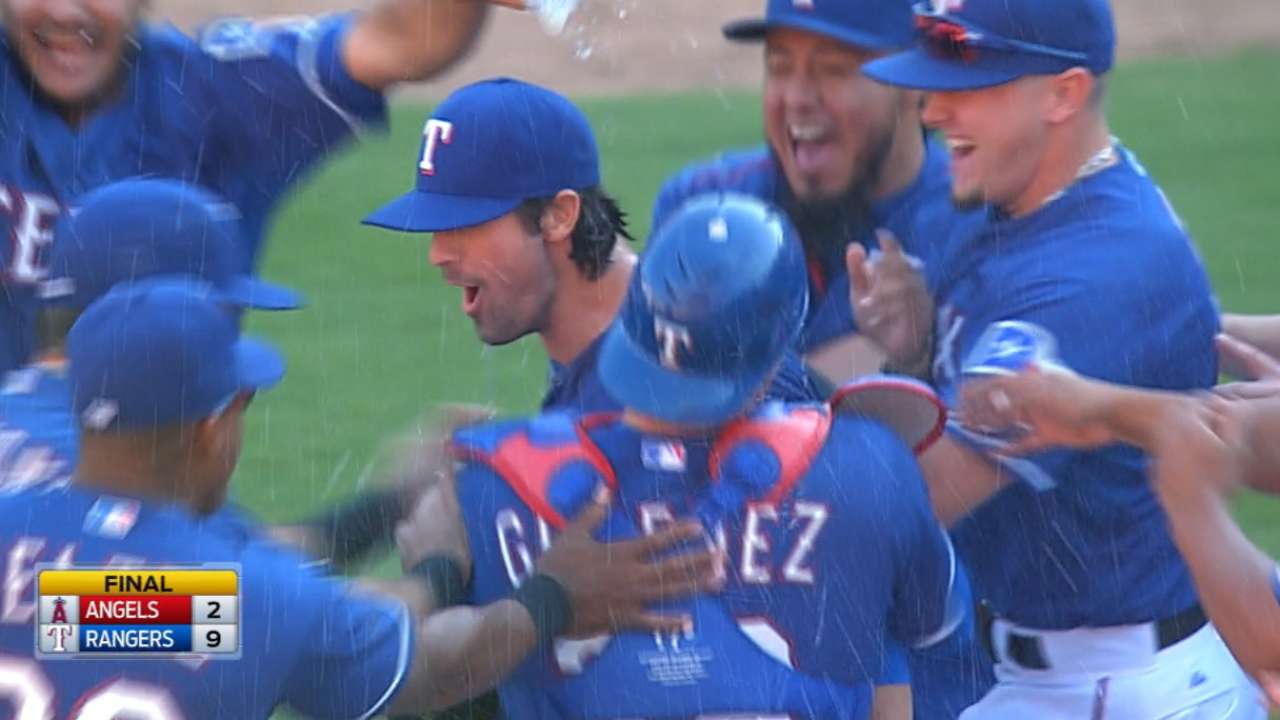 ARLINGTON -- Rangers left-hander Cole Hamels delivered in a big way on Sunday afternoon with a performance that seemed to come straight from heaven.
"Yeah, there were a lot of bended knees in the last 18 hours," manager Jeff Banister said after the Rangers' 9-2 victory over the Angels on Sunday afternoon.
Hamels wasn't perfect. He did give up a double to Mike Trout and a two-run home run to Albert Pujols in the first inning. But a second-inning double by Shane Victorino was the last hit by the Angels on the afternoon as Hamels delivered a complete-game performance that allowed the Rangers to clinch the American League West title and end the Angels' postseason hopes.
"You know what, big players step up in big spots," Banister said. "That's why we got him and why we started him in the last game. He did exactly what the team needed. He got nicked in the first inning, stayed strong and stayed rock solid."
• Gear up for the Rangers' postseason
The Rangers were hoping to have clinched before Sunday so that Hamels could pitch Game 1 of the AL Division Series on Thursday in Toronto (2:30 p.m. CT on FS1). That assignment likely will go to either right-hander Yovani Gallardo or left-hander Derek Holland, with Hamels available on four days' rest for Game 2 on Friday.
But this performance was badly needed, because the Rangers' bullpen was on empty Sunday. Relievers Shawn Tolleson and Sam Dyson had pitched in five straight games, and Keone Kela has been dealing with a sore elbow. The Rangers called up Spencer Patton on Sunday to help out and had Holland in the bullpen, if needed.
As it turned out, the Rangers did not have one reliever warm up with the intention of going into the game. Backup starter Nick Martinez did some throwing briefly but that was for his own benefit. This was Hamels' game from the beginning to the end in a performance that ranks up there as one of the biggest ever by a Rangers pitcher in the regular season.
"Going into the game, I understood the situation, so I just tried to stay in the zone," Hamels said. "I felt comfortable and confident, make my pitches and grind away. I knew if I kept grinding it out, the team would score."
The Rangers got one run back in the first on an RBI single by Prince Fielder. Adrian Beltre's two-run home run put them ahead in the fifth, and by then, Hamels was on a roll.
"That's why he's an ace," Trout said. "He's pitched in big games before, knows how to handle himself. We scratched some runs against him early and just fell short."
After the Victorino double, Hamels allowed just two walks and one hit batter the rest of the way. He ended up striking out eight, finishing the regular season 7-0 with a 3.21 ERA in his last 10 starts. The Rangers won all 10.
"He showed what he is made of," pitching coach Mike Maddux said. "Fabulous outing. He fell behind early but was on a mission against a team that was on a mission. A great performance. It was fitting that he was on the mound at the end."
The Rangers couldn't afford it to be anybody else.
"This is why we train," Hamels said. "This is what we do in the offseason and Spring Training. This is how I play the game of baseball. It's to win and it's to play into October and November. This is fun. To be able to do it on the last day, this is a true enjoyment."
T.R. Sullivan is a reporter for MLB.com. Read his blog, Postcards from Elysian Fields, follow him on Twitter @Sullivan_Ranger and listen to his podcast. This story was not subject to the approval of Major League Baseball or its clubs.