Rockies need to bolster pitching staff for 2016
Offense primed for another big season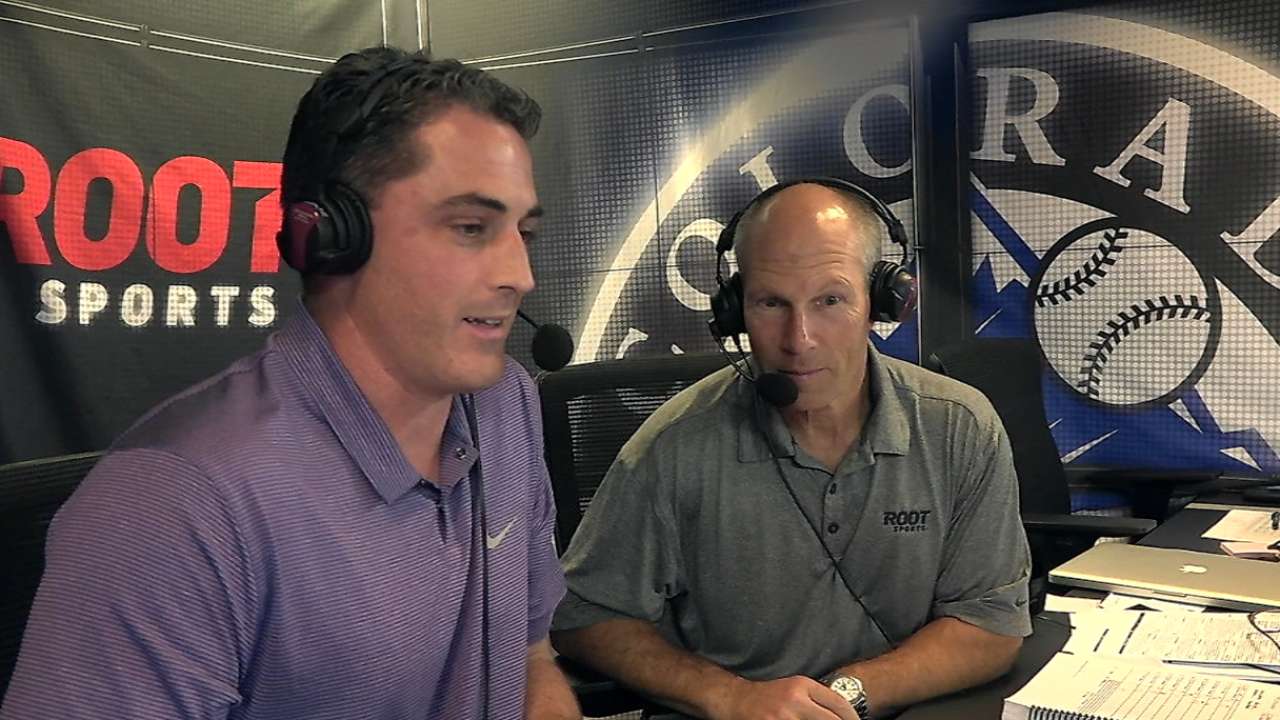 DENVER -- Despite trading the game's best two-way shortstop, Troy Tulowitzki, to the Blue Jays in July, the Rockies will enter 2016 with one of the Majors' best lineups and a solid defense.
But still, the story hasn't changed. The need for frontline starting pitching screams, and the lack of it could once again leave the Rockies possessing a top-tier offense but occupying the bottom of the National League West.
• Arenado's breakout year paces 2015 Rockies
Third baseman Nolan Arenado has joined right fielder Carlos Gonzalez -- whose emergence could make him a key cog in 2016, or could get him traded for pitching -- in the star category. Center fielder Charlie Blackmon and second baseman DJ LeMahieu also have All-Star pedigrees, and a healthy Corey Dickerson in left hits like there's an All-Star Game in his future.
But it comes down to the Rockies' willingness to upgrade the starting pitching. There is youth and talent, but learning at the big league level is difficult -- more so if there isn't an experienced star at the front of the rotation to set the example.
Arbitration eligible: Wilin Rosario, John Axford, Jordan Lyles, Adam Ottavino, Blackmon, LeMahieu, Arenado, Brandon Barnes, Rex Brothers.
Free agents: Justin Morneau, Kyle Kendrick.
Rotation: Despite the presence of recent high Draft picks, the Rockies can count on just two pitchers for next year's rotation -- lefty Jorge De La Rosa, who battles through slow starts and nagging injuries but annually is solid, and righty Chad Bettis, a 2010 second-round pick who has a solid pitch mix and the ability to control a game. Beyond them, the question is whether there is depth or merely a lot of guys.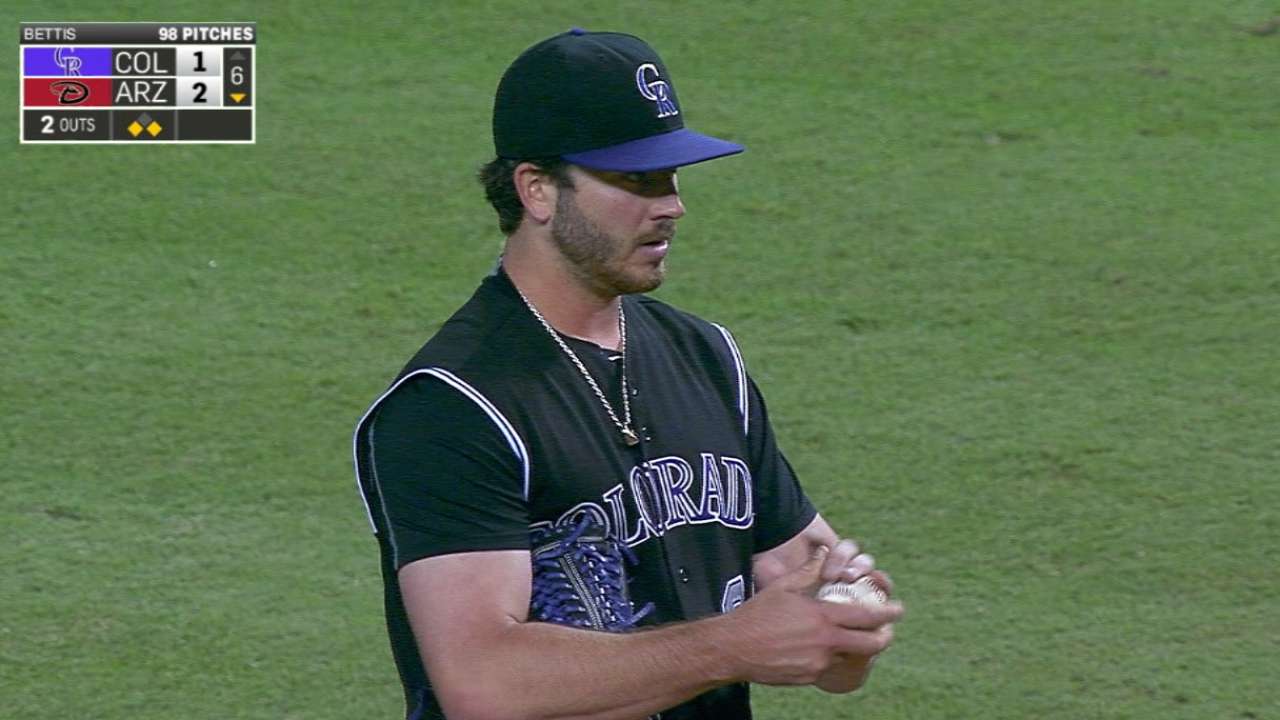 Two right-handers will be coming off injury. Tyler Chatwood didn't pitch in the Majors at all while recovering from Tommy John surgery, and Jordan Lyles suffered a season-ending left big toe injury in May. Chatwood and Lyles are considered talented, but they have to prove it and stay healthy.
The recent high picks will have to show growth. Righty Jon Gray (first round, 2013), who debuted in August under pitch and innings restrictions, will have to figure out how to be as electric at home as on the road. Righty Eddie Butler (supplemental first round, '12) will have to make in-game adjustments to give his high-level stuff a chance, and righty David Hale (Braves third round, '09) will have to avoid injury and poor location.
Lefty Chris Rusin, a waiver pickup from the Cubs at the end of 2014, hurled two complete games at Coors Field -- one a shutout -- but next year must avoid being hit hard, early and often. Lefty Yohan Flande should add depth to the rotation and bullpen.
There will also be opportunity for righty Jeff Hoffman (Blue Jays first round, 2014), who recovered from Tommy John surgery and looked electric at times in Double-A with the Blue Jays and Rockies.
Bullpen: Ottavino is expected healthy from Tommy John surgery, and Axford will be there for insurance just in case Ottavino needs to ease back into the closer's role. The progress of Jairo Diaz, Scott Oberg and Miguel Castro will determine how other roles shake up for the right-handers. Christian Bergman is solid in the long role.
Questions abound from the left. The best of the crew may be Christian Friedrich, who struggled with fatigue at times during his first full season as a reliever but showed growth. Boone Logan has struggled with injury and un-sharp performances for the first two years of a three-year, $16.5 million deal -- the richest in club history for a reliever. Brothers finally emerged as a Major Leaguer late, but he isn't anywhere near what he was in 2013 when he was part-time closer.
Catcher: The job is in good hands with Nick Hundley, who impressed the Rockies by producing offensively and increasing the team's accountability level. McKenry has been a solid backup the past two years, but he underwent left knee surgery in July. The Rockies could still bring him back at an economical rate to create depth. Next spring there will be opportunity for Dustin Garneau, who impressed late in the year after a long Minor League apprenticeship, or Tom Murphy, who debuted in September and is being groomed to take over as No. 1 at some point.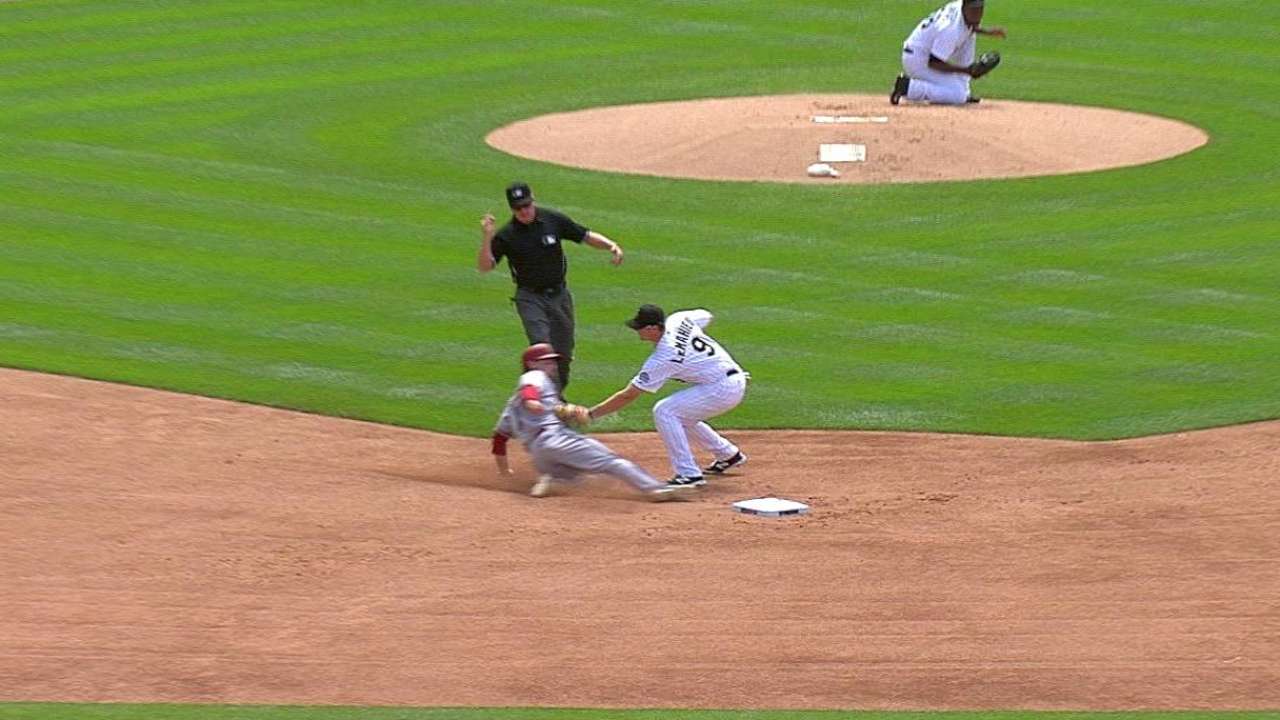 First base: Morneau's injury allowed lefty-hitting Ben Paulsen to shine, though until he improves against lefties, the job likely will be a platoon situation. The righty component bears watching. Rosario struggles defensively and took time adjusting to part-time starts, but he was a solid pinch-hitter. The club tried to ease 2010 top pick Kyle Parker into playing time at first and in the outfield, but he had trouble with Major League fastballs. Rosario, in his second arbitration year, could be dealt or, since he isn't at a premium, could be brought back economically. Right-handed help could be brought in through a trade or free agency.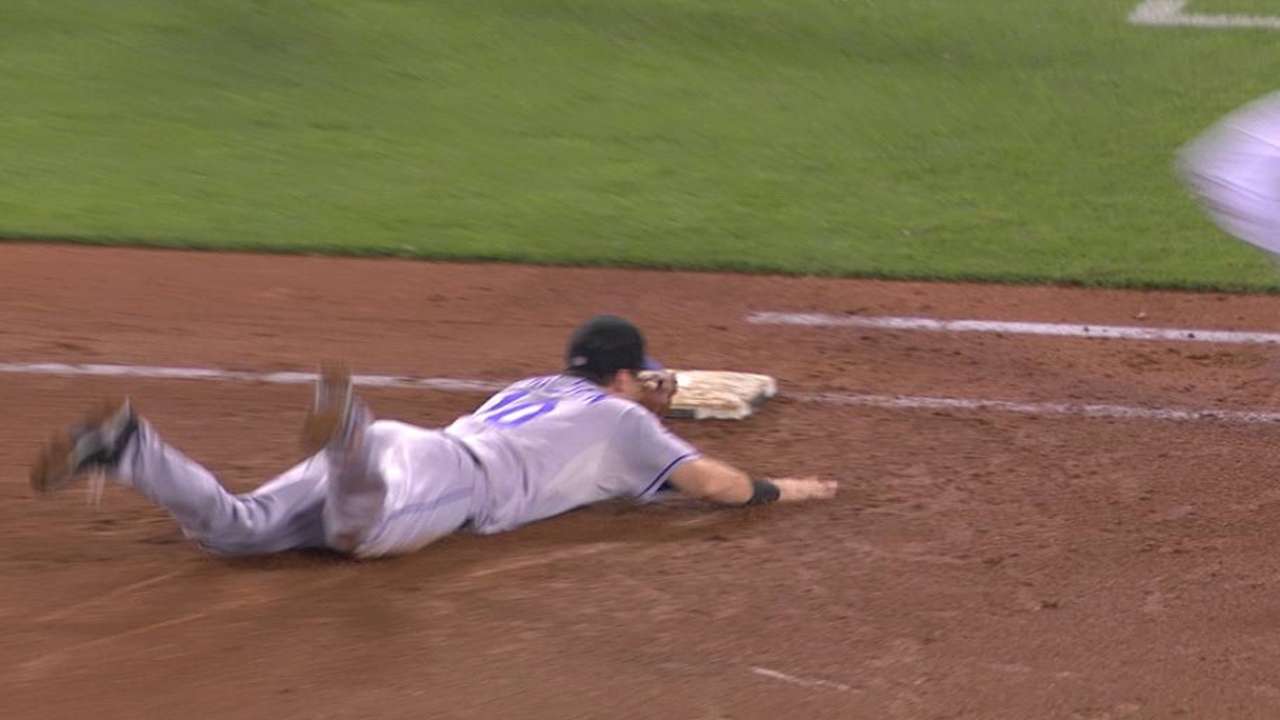 Second base: LeMahieu saw his offense catch up with his Gold Glove defense. The offensive ebbs and flows were dramatic at times, but his overall performance was upper-echelon at the position. Cristhian Adames had a strong Triple-A season at shortstop, but many believe second is his true Major League position. He has a shot at utility at-bats.
Third base: Arenado is one of the game's stars. He's also durable, though his all-out attempts at foul balls in the stands and diving plays could be problematic if injuries occur. But don't worry. Just enjoy. Daniel Descalso, whose contributions at times seem lost on a second-division team, can spell him.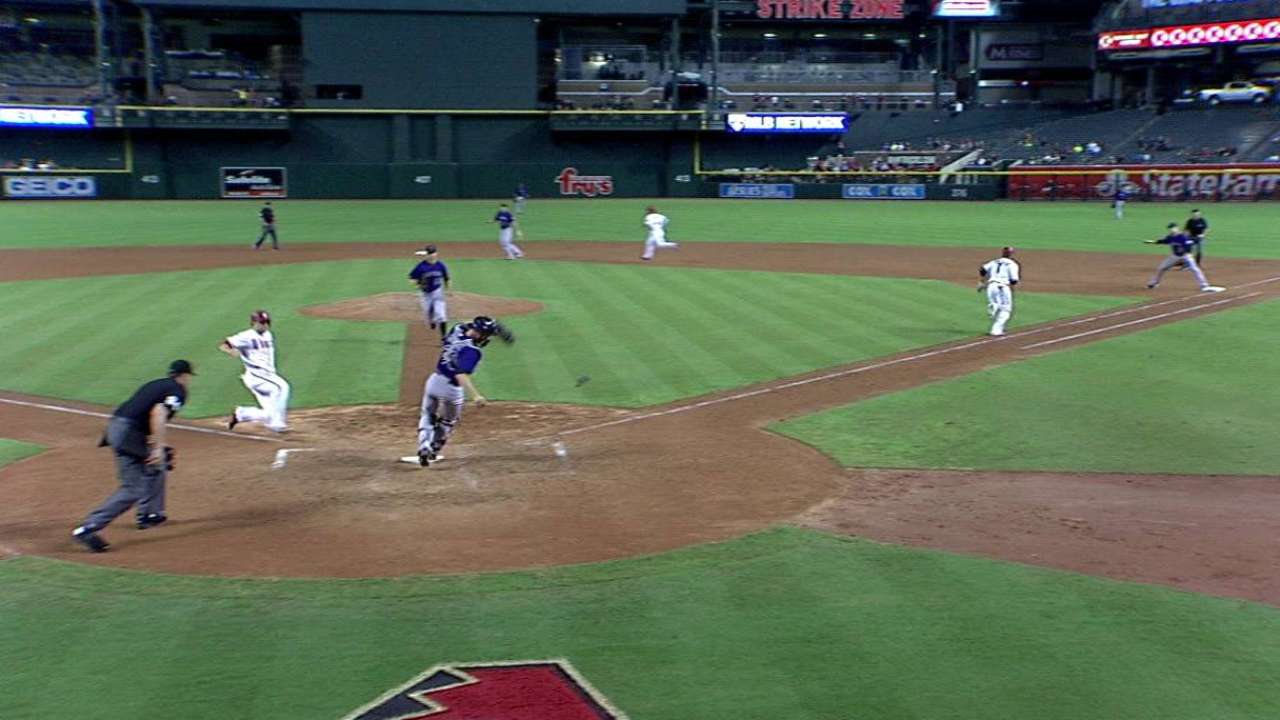 Shortstop: This is where it gets interesting. Can the Rockies find a taker for Jose Reyes and the $48 million he is owed over the next two years? If so, they can speed up the process of finding the shortstop of the future. Descalso gives them veteran insurance while they ease 2011 first-rounder Trevor Story or Adames into the position.
Outfield: By the end of 2016, this group could be the best offensive group in the Majors, provided Gonzalez, Dickerson and Blackmon stay healthy. Gonzalez regained star status by doing just that last season, and Blackmon is coming off two healthy years after battling injuries during his rise to the Majors. Dickerson dealt with chronic left foot plantar fasciitis and a fractured rib in 2015.
Barnes can play all three spots but must take a step forward offensively to become more of a factor. Barnes, additionally, is valuable because he has played center extensively, though Dickerson has filled in at the position on occasion. Parker, a natural outfielder, could work himself into playing time but must quicken his bat. Paulsen can move to the outfield on occasion. Two fast-rising outfield prospects are David Dahl, the top pick in 2012, and Raimel Tapia. Both could register on the big league radar in '16.
Thomas Harding is a reporter for MLB.com. Follow him on Twitter @harding_at_mlb, and like his Facebook page. This story was not subject to the approval of Major League Baseball or its clubs.