Padres looking to retool, compete in 2016
This winter unlikely to be as eventful as a year ago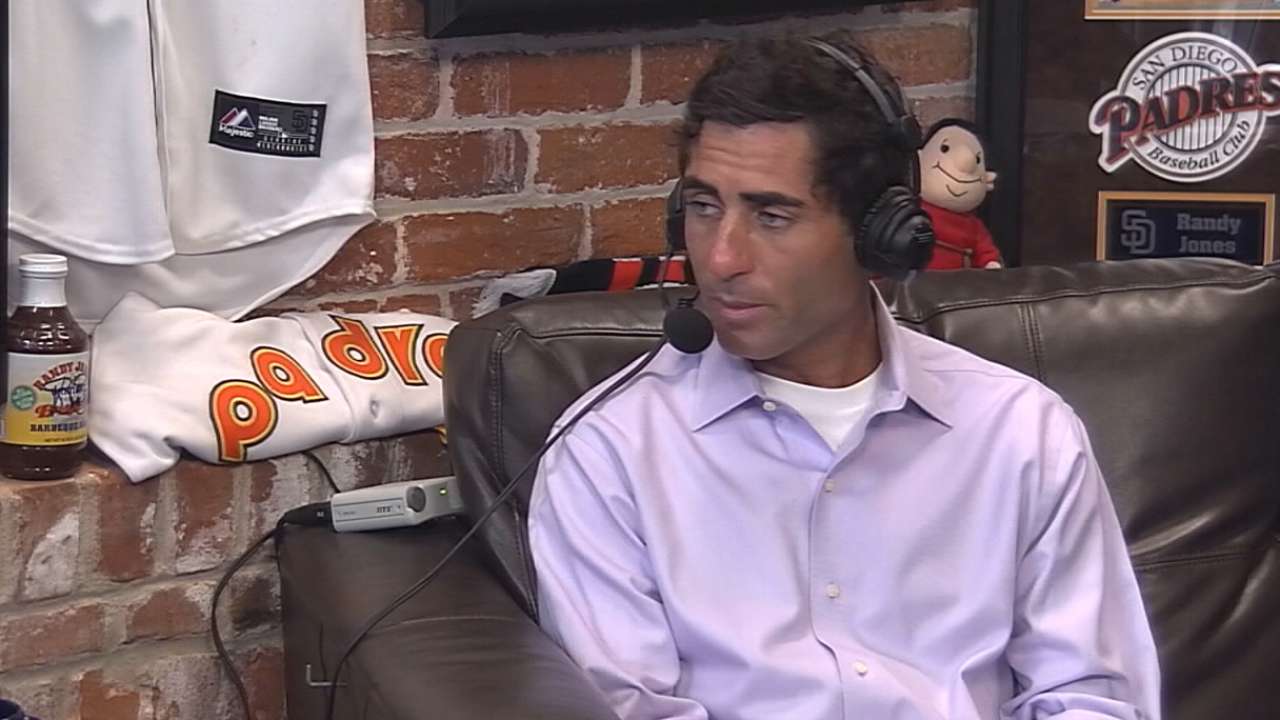 SAN DIEGO -- As general manager A.J. Preller prepares for his second winter with the team, he'll likely have to go about looking for upgrades to the 25-man roster by far different means than he did a year ago. Preller and the Padres took care of one first pressing order of business on Thursday, when they hired former D-backs third-base coach Andy Green as their new manager. Highly respected pitching coach Darren Balsley will also return in 2016.
No more moving top pieces from the team's farm system -- or at least not nearly as much -- as many of those players are gone after Preller seemingly revamped the entire roster looking to build a winner in 2015.
• Amid high hopes, 2015 Padres never fully gel
Does this mean the Padres will have to move assets from the current big league roster to add upgrades for 2016?
"There's all different ways to improve the teams -- free agency, trades. There's six-year free agents. We're going to look at all of those and find a way to get better," Preller said.
"There's a lot that's going to happen in the next couple of months. We have got some key free agent questions with Justin [Upton] and Ian [Kennedy] and some other pieces, but we've got some good pieces coming back that can form a core."
The team must make a call on Upton and Kennedy, though both will likely receive qualifying offers, so if they opt to sign elsewhere, the Padres will recoup Draft pick compensation, a means to help rebuild the farm system.
What could the Padres be looking for? Preller wouldn't talk specifics, though he might have let the cat out of the bag a little.
"Whether that be getting more balance, maybe it's finding left-handed bats, left-handed pitching, maybe a true shortstop, we're going look at all ways to get better," he said.
The right-handed-heavy lineup in 2015 produced the worst batting average in the National League against right-handed pitching.
Simply put, there will be changes ahead. That said, though, team president and CEO Mike Dee likes the core of players who will be returning.
"There's some things we can build upon for next year, [Matt] Kemp's resurgence, Wil Myers being healthy, the new [Jedd] Gyorko is what we call them, give us a solid core as we head into the offseason," Dee said.
"There's not an empty closet."
Arbitration-eligible: Right-handers Andrew Cashner and Tyson Ross, infielders Brett Wallace and Will Middlebrooks, Lefty Marc Rzepczynski, first baseman Yonder Alonso and catcher Derek Norris.
Free agents: Outfielder Justin Upton, righties Ian Kennedy, Brandon Morrow, Shawn Kelley, Bud Norris and Josh Johnson.
Club options: Right-hander Joaquin Benoit ($8 million club option with a $1 million buyout), shortstop Clint Barmes ($2 million club option, $200,000 buyout) and lefty Cory Luebke ($7.5 million club option, $1.75 million buyout).
Rotation: This was a dominant group at times in terms of pure stuff, but it didn't always translate into victories. Ross was better than his 2014 All-Star year. James Shields, the big free agent ticket item, was up and down. Kennedy was hurt early, dominant in the middle of the season and struggled late. Cashner was the victim of poor defense early and struggled to put it all together. This group, collectively, struck out more batters than any other Padres rotation, perhaps as some scouts suggested, taking it upon themselves to try to strike out more hitters instead of allowing balls in play because they were worried about the defense. Rookie Colin Rea was a bright spot, but he won't be handed a starting job in spring. Same goes for Casey Kelly and Robbie Erlin. Kennedy will be a free agent, so the team will have to replace him.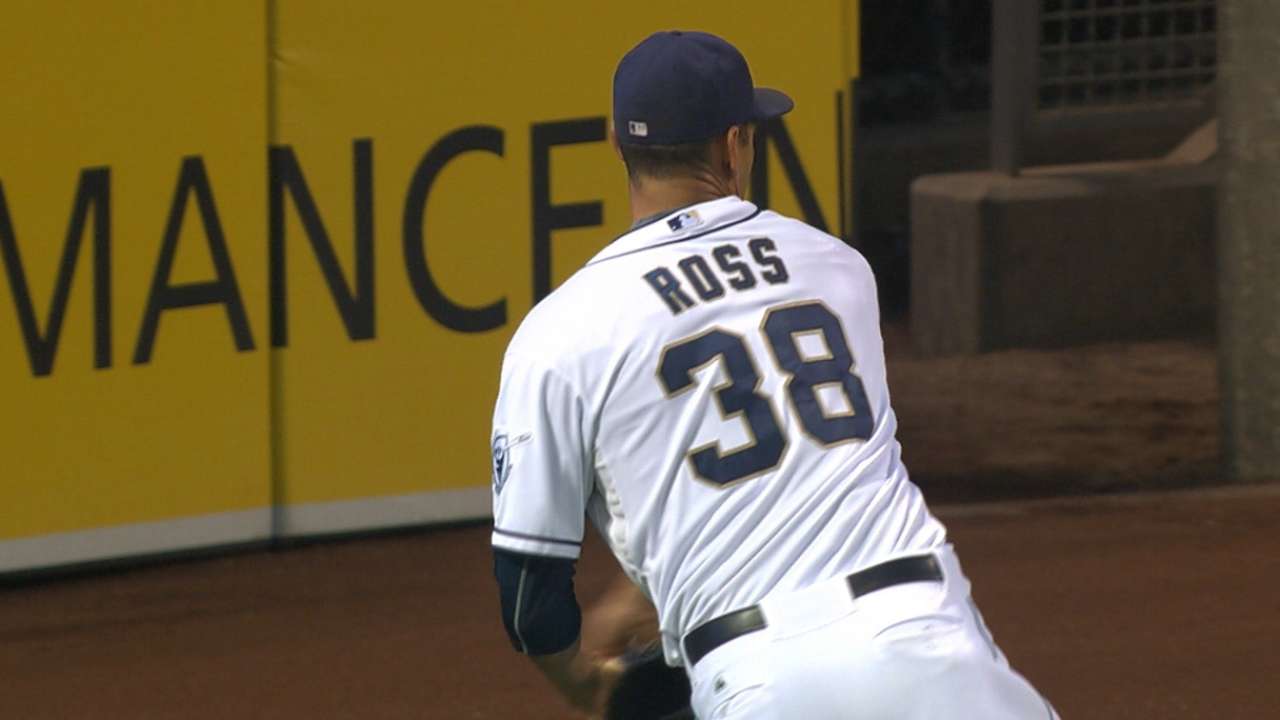 Bullpen: This is the area where the Padres have typically had success, but not as much in 2015. Closer Craig Kimbrel, dominant on occasion, blew four save opportunities and struggled in non-save situations. Set-up man Joaquin Benoit really started to show his age (38), and his stuff slipped. Brandon Maurer proved very good late in games before getting hurt. Kelley was good as well after a slow start, but he will be a free agent. Jon Edwards, acquired from the Rangers in the Will Venable deal, has good, raw stuff and could make an impact next year. Kevin Quackenbush could fill a spot, but the Padres will need a true long man as well as other pieces to help rebuild the bullpen.
Catcher: They appear in good shape here after Derek Norris had big year defensively, leading all of baseball -- and by a wide margin -- in catcher caught stealing (CCS). He made big strides from where he was in Spring Training in terms of pitch framing. The bat played well at times, too, as he had over 50 extra-base hits, though he looked tired in June and July. Don't be surprised if rookie Austin Hedges gets more games behind the plate in order to keep Norris fresh. Hedges is a top-flight defender, controls the running game and frames well. His bat generally got better, though his calling-card is his defense.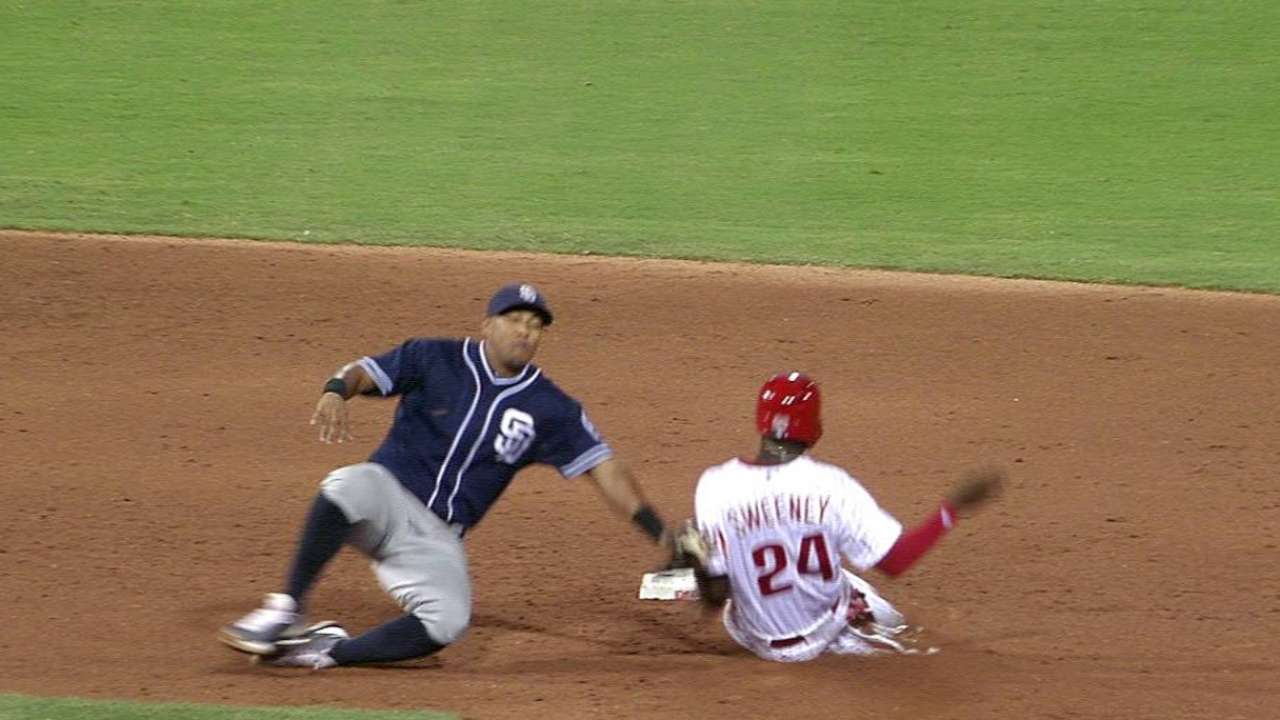 First base: Alonso hit .282 in 103 games, though his season ended early because of a back problem. He's been on the disabled list in each of the last three seasons. This is a spot where the Padres could look to move Myers on a permanent basis in 2016, unless it's left field. The team also allowed Norris to play some here to give him a break from catching and to create some innings for Hedges. Could this be a place where the Padres add a bat this winter, preferably a left-handed hitter with thump?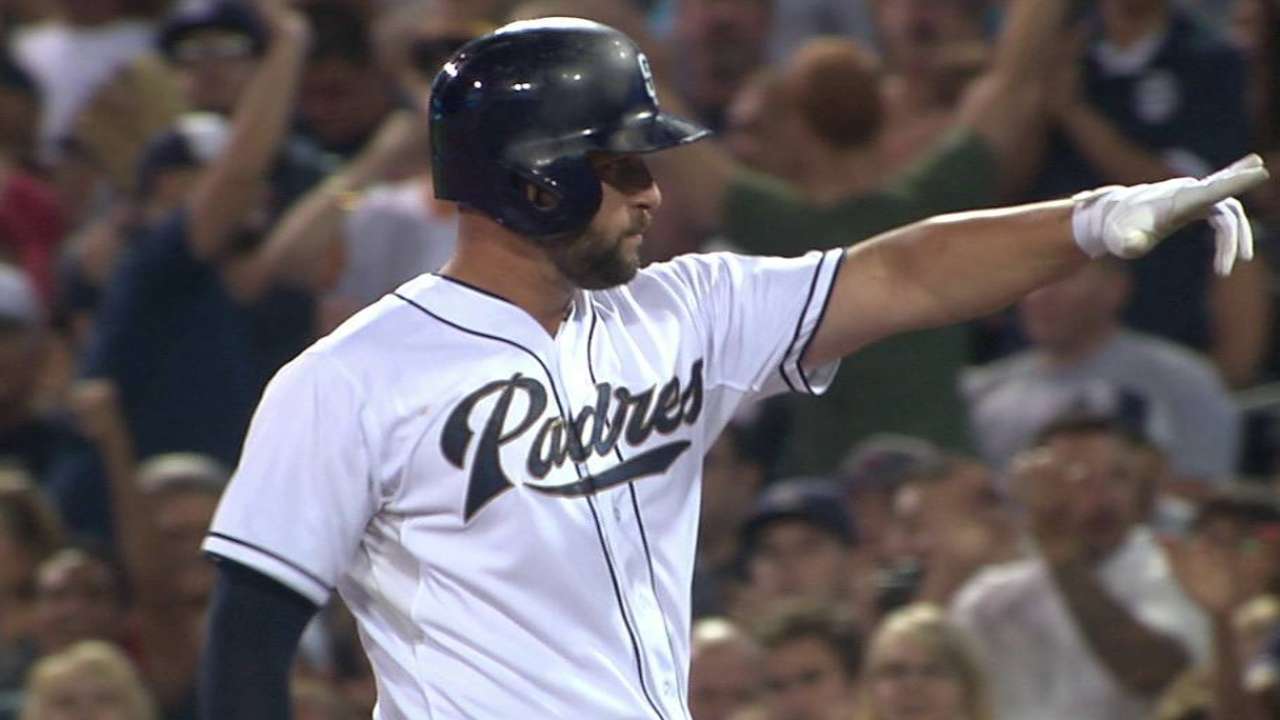 Second base: Jedd Gyorko was the Opening Day starter here, but he later moved to shortstop as the team looked for ways to get rookie infielder Cory Spangenberg in the lineup, liking his impact on the bases and his left-handed bat. Ideally, they would like him to win the full time job in Spring Training (unless the team goes for an upgrade here). He's fine defensively and figures to get better with more time there. He's really the best internal option unless they let Gyorko go back to second base in the event the team adds an everyday shortstop.
Shortstop: Impressed with how Alexi Amarista played late last season as a replacement at shortstop, the Padres gave him the job in 2015. But he didn't hit well, and the team looked elsewhere for help. They didn't have to look far, as the team opted to move Gyorko over to the spot he last played five years ago -- in college. But Gyorko held his own defensively, and his offensive numbers were a lot better after a return from Triple-A. The team could still look for an upgrade here, especially if it's not convinced Gyorko can hold up there defensively all season.
Third base: Middlebrooks, obtained from the Red Sox last winter, got the Opening Day nod at third base, though it quickly became apparent Yangervis Solarte was the right guy for the job -- offensively and defensively. Solarte had a career year at the plate and held his own defensively. A switch-hitter, Solarte made huge improvements from the left side, where he did most of his damage. He proved to be durable, dependable and better still, he's not even arbitration-eligible yet.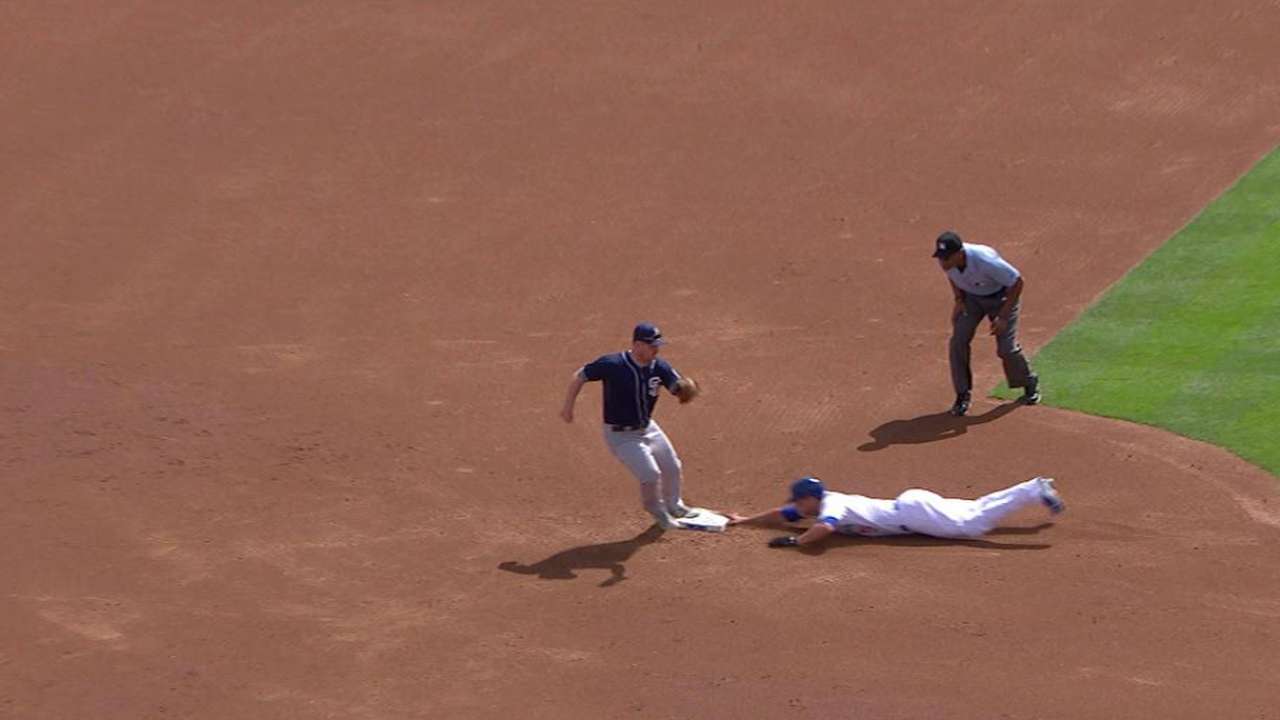 Outfield: The team could be looking at a much different outfield rotation in 2016. Kemp, the incumbent in right field, will return, coming off a big second half. The team will need to find a way to get him going in April and May. Myers, who started in center field on Opening Day, could move to left field when Upton heads for free agency. There's a good chance that Myers could head to first base, too. That means the team could add a left fielder (they would like a left-handed bat). In center field, the team got mixed results from the platoon of Melvin Upton Jr. and Travis Jankowski. While the duo offers plus defense, there will be a question if either can hit enough to justify playing time. Hunter Renfroe, who turns 24 in January, hit .272/.321/.462 in two Minor League stops with 20 home runs. He's won't be ready right away, but could arrive sometime in 2016.
Corey Brock is a reporter for MLB.com. Keep track of @FollowThePadres on Twitter and listen to his podcast. This story was not subject to the approval of Major League Baseball or its clubs.