MLB.com Columnist
Lindsay Berra
Remembering Grampa Yogi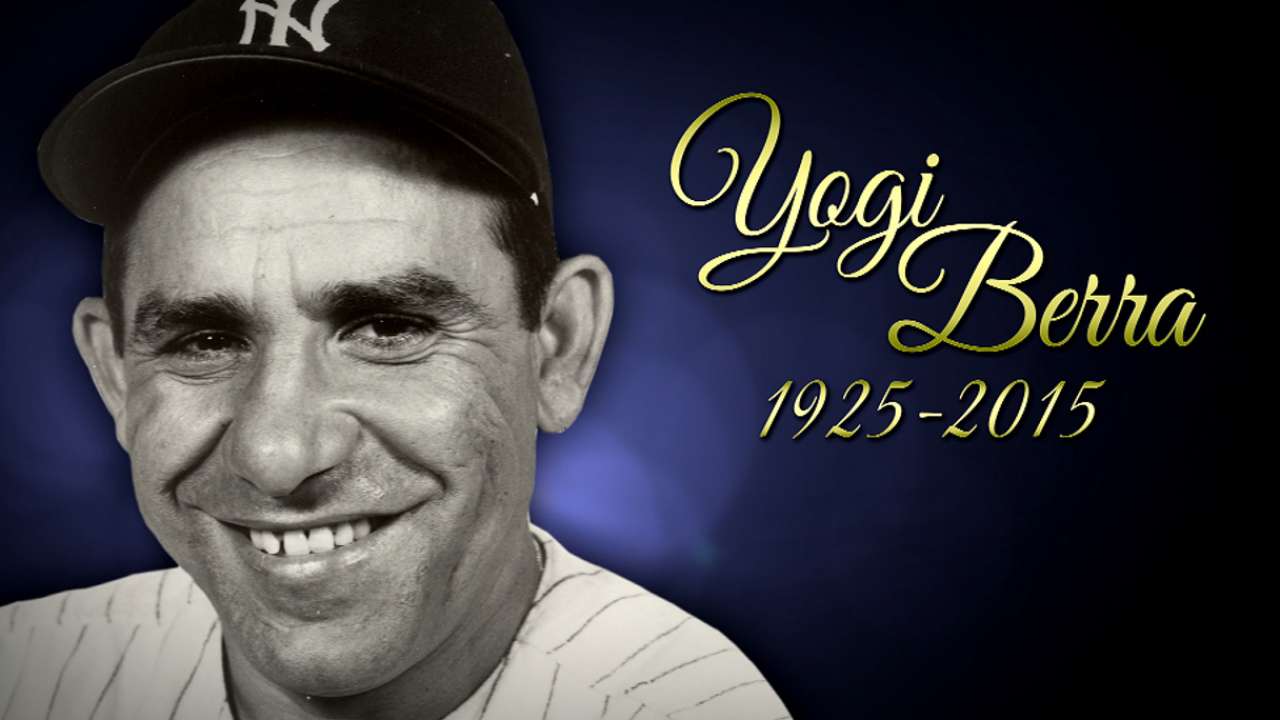 I hated hot dogs when I was a kid. It was weird, because like any good little Italian girl, I regularly ate bitter greens like arugula and escarole, but I couldn't stand the taste of a perfectly charred Nathan's with mustard. So when we went to the ballpark, my Grammy Carmen would fry up a batch of her famous chicken and bring it along in a picnic basket.
This was circa 1984, and I remember sitting on the wall of the old, tan concrete dugout, one leg in and one leg out, with a chicken leg in one hand and my little Spalding on the other, because Grampa wouldn't let me sit in foul-ball territory without a glove. I loved watching Grampa hold court behind the batting cage and longed to know exactly what secrets he was dispensing. I loved Big Dave Winfield and his flip-up sunglasses, and I loved running through the tunnel -- all cool, dark and damp -- into that explosion of green light out on the field. In my head, today, that's what it must have been like when Grampa showed up in heaven.
Back then, I had no idea who Yogi Berra was. Grampa managed the Yankees; that was his job. When he was on the road with the team, I could turn on the TV and wave to him. But when he was home, he was just a normal Grampa; playing ball in the yard, grilling -- or rather, burning -- hot dogs, which became the only way I would eat them, teaching me to play hearts and gin rummy. My brothers and sister and cousins and I watched him, as a father to his sons and a husband to my grandmother, and always knew each one of us was absolutely loved. He would have been a role model for all of us even if he'd never set foot in a ballpark. But it was baseball that brought this wonderful man into the public eye, and gave us the privilege of sharing him with the world. Baseball made him a hero. An icon. A legend.
Now, I'm going to sound a bit like Grampa here. I know all of those things are true, but it doesn't make them any easier to believe. Even now, as an adult, my Grampa -- the guy who always put half and half in his cereal because someone once told him it had half the calories of milk -- and Yogi Berra, National Treasure, don't often meet and shake hands in my mind. We knew we loved him. Fiercely. We knew he was our hero. But I don't think any of us really understood, until he was gone, how many tens of thousands of other folks did, too. And it is an incredible thing to realize that someone you love and admire so much is also loved and admired by so many other people.
What they say about Grampa is true. He was good, decent and humble, proud without being at all prideful. There were no airs and there was not an ounce of guile. It didn't matter if you were the President, his teammate, his waiter or his son, everyone got the same guy. We were just the lucky ones who got to spend the most time with him.
But it didn't take more than a moment with Grampa to realize he was an example for all of us. He truly was a tiny little embodiment of the American dream. He came from humble beginnings in St. Louis as the son of Italian immigrants, defied every naysayer who knocked his looks, size, skill and pluck, and he became an inspiration for his peers and for generations to come.
We've all met so many people who share their own personal Yogi story about how they met Grampa that one time and he made them feel like the most important person in the world. As a board member at Grampa's Museum, the Yogi Berra Museum and Learning Center in Montclair, N.J., I meet hundreds of kids whose fathers are even too young to have seen Grampa play, who say when they grow up, they want to be just like Yogi. It makes my heart so happy to see how all of the love Grampa put out into the world came back to him in spades.
I will always just love, love, love this man. Rest easy up there, Gramp. #RIPYogiBerra #Yankees pic.twitter.com/xgVYY4iR6k

— Lindsay Berra (@lindsayberra) September 23, 2015
I've been asked a lot recently about my grandfather's legacy. I used to say Grampa, Jesus and Shakespeare were the three most quoted men in history, but now I'm convinced those other two are losing ground. And I'm pretty certain no ballplayer will ever again win 10 World Series championships, or step up to home plate 656 times in one season and strike out only 12 times.
Grampa, though, was bigger than all of that. He was a great ballplayer, but he was a better man. Really, he was the best man.
I think it's pretty safe to say that Grampa spent 90 years on this planet, and when he left it, not a single person had anything bad to say about him. Few of us can reach that bar, but it's like he said; if things were perfect, they wouldn't be. He wouldn't expect any of us to be that good. But he would expect us to try. He'd want us to do our best to treat people with respect, no matter who they are. To do the right thing, even when it's the hard thing. To be the best you can be without thinking you're better than everyone else.
And if we all do that, if we all just try to be a little more like Grampa every day, his legacy will be in that effort, and in all of us, and this world will be a better place.
Lindsay Berra is the granddaughter of Yogi Berra and a columnist for MLB.com. This story was not subject to the approval of Major League Baseball or its clubs.