Back with a bang: Franco hits 14th HR in return
Rookie plays for first time since breaking left wrist in August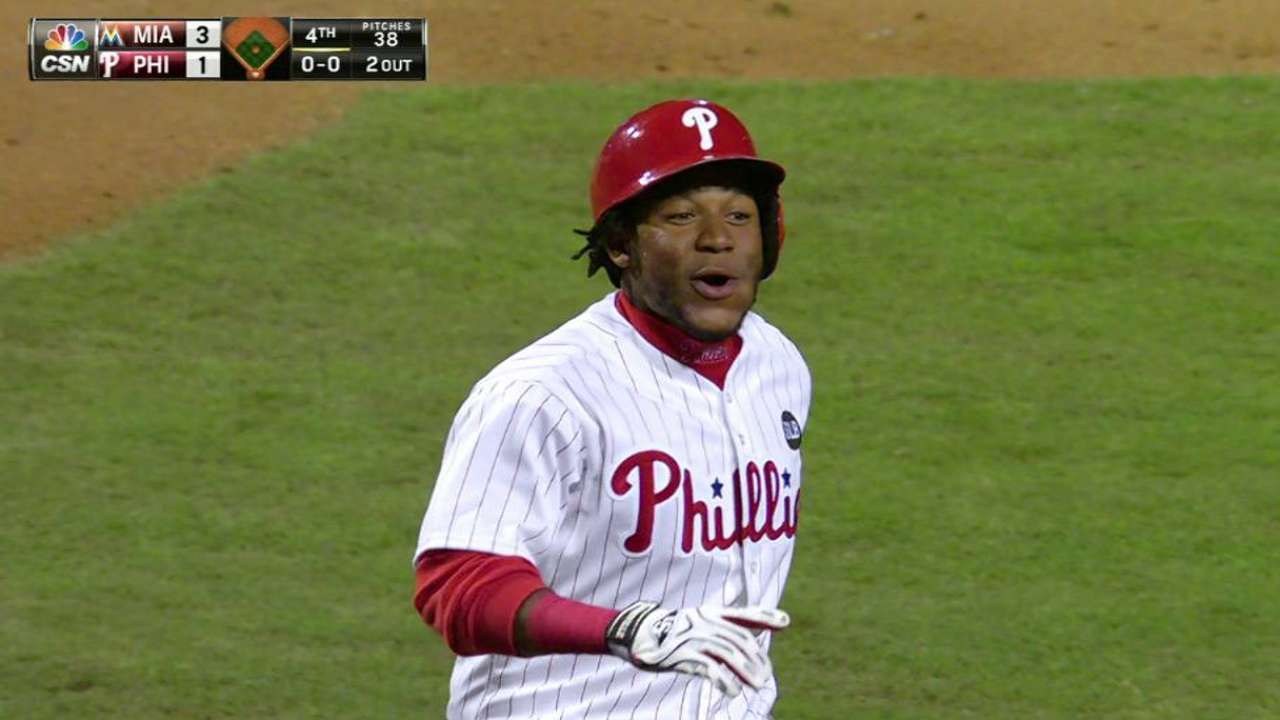 PHILADELPHIA -- Maikel Franco badly wanted to play again this season, and he proved Saturday he was more than ready.
He pinch-hit in Game 1 of Saturday's doubleheader against the Marlins at Citizens Bank Park, a 7-6 loss. He started Game 2, hitting a home run in the fourth inning and singling to score a run in the sixth inning in a 5-2 loss. They were Franco's first games since Aug. 11, when he got hit by a pitch and broke his left wrist in Arizona.
"Oh, yeah," Franco said, when asked if his wrist feels fine.
Some Phillies fans have wondered if there could be a risk to playing Franco, but the Phillies believe there is none. They said Franco's wrist has healed and he played five rehab games in the past week in Clearwater, Fla.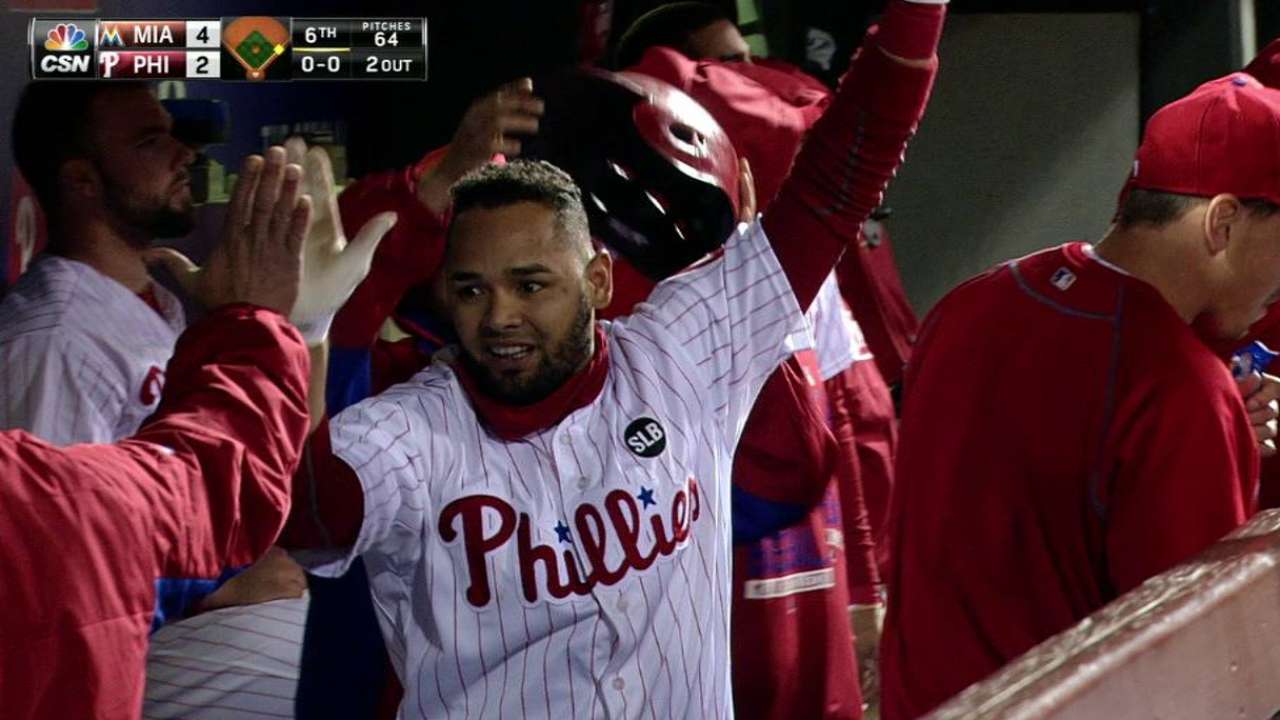 He would have been playing this weekend anyway, either in Philadelphia or Clearwater.
"My view on it is, why not play him?" Phillies manager Pete Mackanin said. "I think he's going to be an outstanding middle-of-the-lineup third baseman for us, but he's not yet a star and he's getting paid and I'm going to play him because he's healthy.
"Just like winter ball, people have made the comment, why would he want to play winter ball? He's still learning. He's not an established Major Leaguer. He's on his way to becoming one, but he's not yet. Every chance you get to play you can learn something and improve, and he needs to do that. What is he, 22? It's good for them to play."
Franco's homer was his 14th of the season, which makes things interesting going into Sunday's season finale.
Not only are the Phillies trying to avoid their first 100-loss season since 1961, but Franco needs one more homer to win a new suit from Phillies right fielder Jeff Francoeur. Frenchy told Franco he would buy him a suit if he hits 15 homers.
"One more, Papi," Franco told Francoeur after he hit his homer to center field, a projected 411 feet, according to Statcast™.
"Yes, one more," Franco told reporters. "I will try the best I can. I will try hard tomorrow."
Todd Zolecki is a reporter for MLB.com. Read his Phillies blog The Zo Zone, follow him on Twitter and listen to his podcast. This story was not subject to the approval of Major League Baseball or its clubs.