Votto settles for club-record-tying streak
On-base stretch ends at 48, but Reds first baseman says highlight was facing Burnett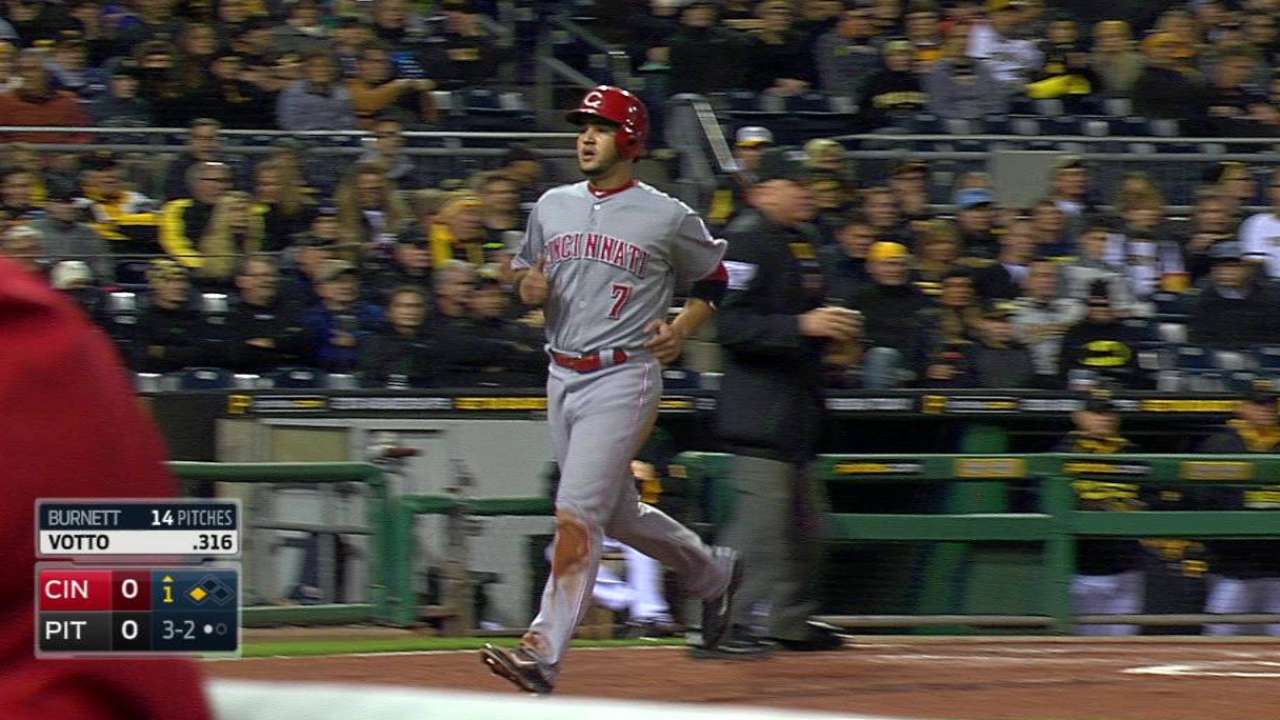 PITTSBURGH -- Two streaks of great length ended Saturday night during the Reds' 3-1 victory over the Pirates. Joey Votto's streak of reaching base safely was snapped at 48 games, and Cincinnati's losing streak finally stopped at 13 games.
It doesn't take an advanced degree to figure out which streak Votto cared more about.
"Neither had anything to do with one another. All I cared about is not playing pathetic baseball, not losing on a consistent basis and coming here and being disappointed every day," Votto said after the 64-97 Reds stopped their longest losing streak since 1945.
• Is Votto #AwardWorthy? Vote now for Best Major Leaguer
Votto went 0-for-4 to end a career-long streak of reaching base that began on Aug. 11. In the first inning against A.J. Burnett, he grounded out to second base but got the RBI when Eugenio Suarez scored to make it a 1-0 game. In the third inning, Votto flied out, and he struck out vs. Burnett in the sixth. In his final at-bat in the eighth against Bobby LaFromboise, he grounded out to the shortstop.
That meant that Votto will share a club record with Pete Rose, who also reached in 48 consecutive games during the 1978 season. Being linked in a record with the all-time hits leader did not carry special meaning, however.
"You know, I just don't look at it that way," Votto said. "I think about my at-bats. I think about my work beforehand and being competitive in the game. I think about what I have to do to perform on a consistent basis. It just so happened that here I am, 48 straight games.
"I meant what I said when I said, 'I don't care.' We were playing really poorly for a while there. That's frustrating. Chasing something like this is not something that matters to me. Today I missed a pitch and hit a ball hard in the middle of the field, that's a good day. It just so happens that nothing came out of it.
"The highlight of my day was competing against -- what's probably his last start -- A.J. Burnett."
In the first inning, Votto tipped his helmet toward Burnett in the batter's box.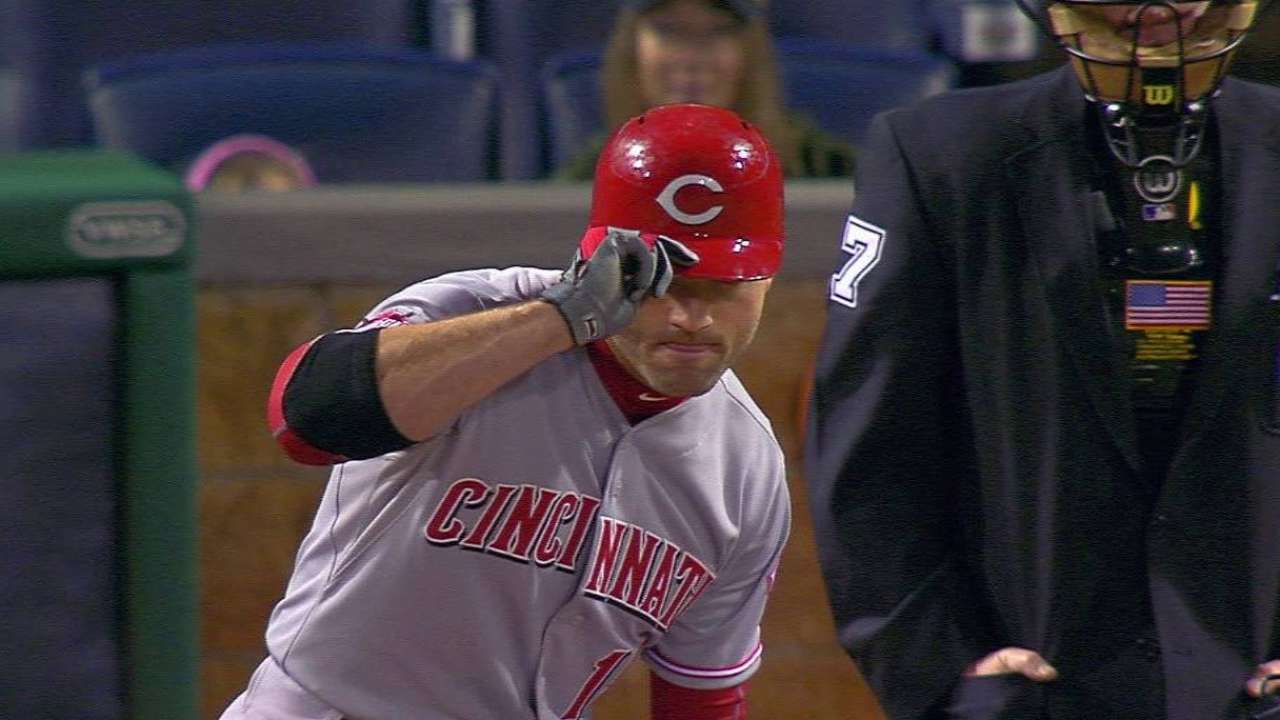 "Heck yeah, he deserves it," Votto said. "What a fantastic career. It better be the end of it, I'm tired of facing him, and I mean that."
Votto's streak was the longest in the Majors since Kevin Millar reached in 52 straight games in 2007.
This season, Votto is batting .314/.459/.542 with 29 home runs and 80 RBIs. He reached safely in 143 of his 157 games played, which is shy of his single-season club record 146 games set in 2013. On Friday, he broke his other 2013 records by reaching base 317 times in a season and having 106 games in which he reached twice.
Mark Sheldon is a reporter for MLB.com. Read his blog, Mark My Word, follow him on Twitter @m_sheldon and Facebook and listen to his podcast. This story was not subject to the approval of Major League Baseball or its clubs.