Freese puts Rangers on ice again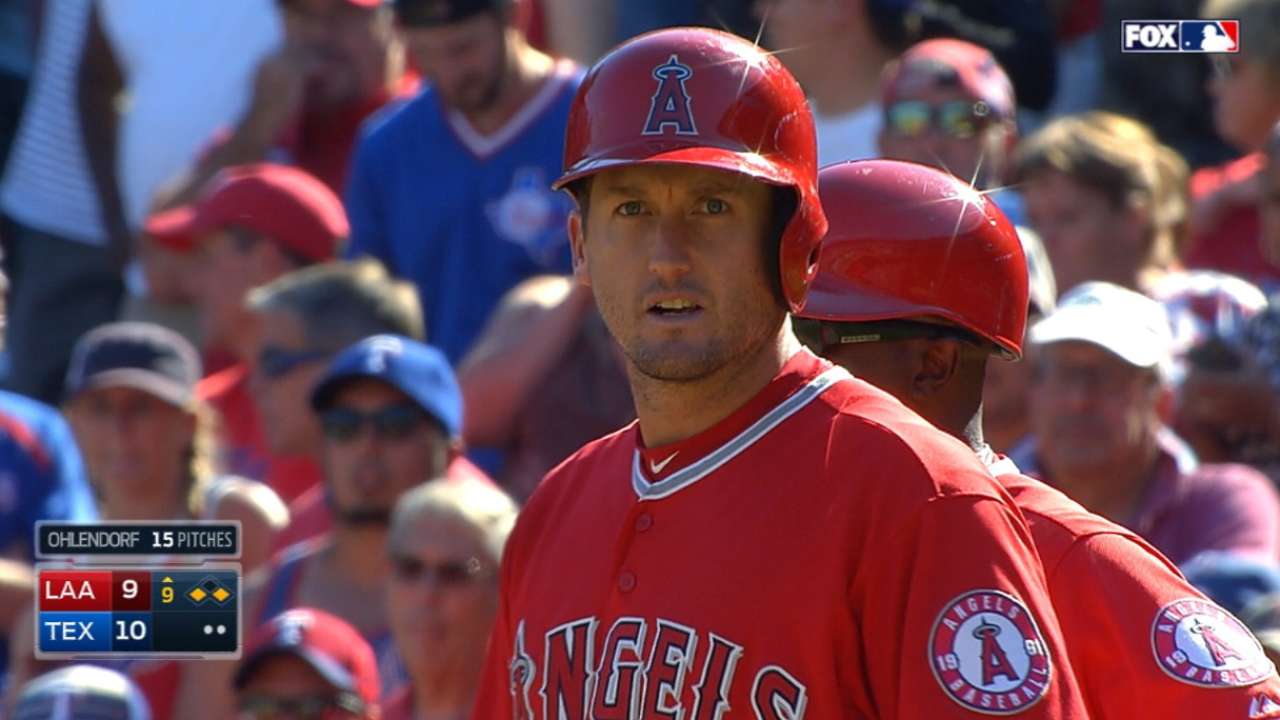 ARLINGTON -- In the middle of the furious ninth-inning rally that gave the Angels an 11-10 win, saved their playoff hopes and led to perhaps the craziest game of the 2015 season was the man who still makes Rangers fans cringe: David Freese.
Four years ago, Freese dashed Texas' championship hopes with a historic World Series performance.
• Explaining possible tiebreakers for postseason
On Saturday his two-out line drive to left field kept the Angels alive, putting runners on the corners and setting up the game's two biggest hits, a game-tying blooper by Carlos Perez and a game-winning liner by Johnny Giavotella.
Freese wasn't thinking about his history against the Rangers when the ninth inning began, though.
"Honestly, no," Freese said. "When you get booed a lot, maybe it crosses your mind, but that inning I was very focused on assuming I was going to get a chance to hit and keeping it going."
Freese is still booed when he steps to the plate at Globe Life Park, for obvious reasons. With his Cardinals on the brink of elimination in Game 6 of the 2011 World Series, he hit a two-out, two-run triple that tied the score in the ninth, then came through with a walk-off homer two innings later on the way to being named Most Valuable Player of the Fall Classic.
Freese's Cardinals were actually the last team to come back on the road despite being four runs down in the ninth inning. That happened on June 25, 2012, when they did it against the Marlins. Freese made the final out of that ninth inning -- a game his team won, 8-7, in the 10th -- and called Saturday "the craziest regular-season game I've ever been a part of."
Rangers fans know about some crazier postseason games.
"When you're a part of crazy games like this, the best games, usually they're pretty sloppy," Freese said of Saturday's game. "Very rarely do you go through games like this and they're clean. That's what makes them great. A lot of things happened."
Alden Gonzalez is a reporter for MLB.com. Follow him on Twitter @Alden_Gonzalez and listen to his podcast. This story was not subject to the approval of Major League Baseball or its clubs.