Allen open to long-term deal with Indians
Tribe closer hoping to avoid salary arbitration entirely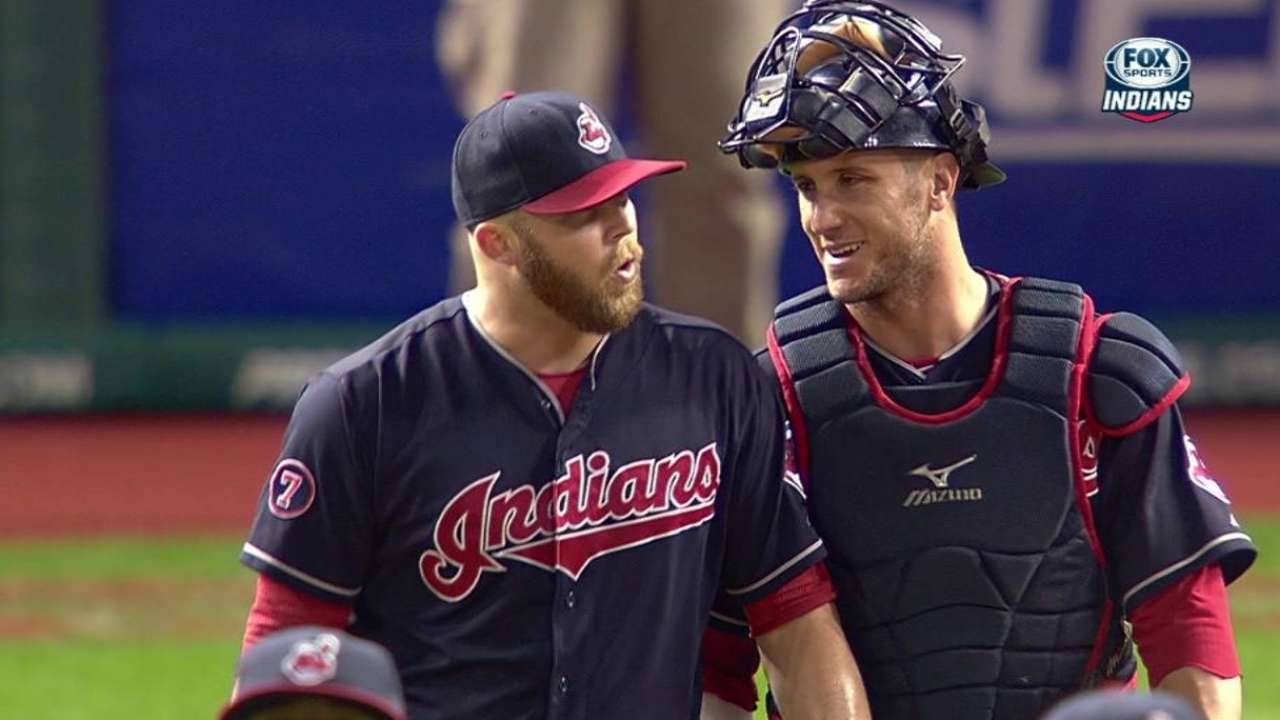 CLEVELAND -- Cody Allen will be eligible for salary arbitration for the first time this winter with the Indians. If it were up to the closer, he would avoid the process altogether.
Before saving the Tribe's 2-0 victory on Saturday night, Allen said he hopes to not only avoid going to an arbitration hearing with Cleveland this offseason, but he is interested in discussing a multi-year contract to skip his arbitration years entirely. The Indians have taken that approach in recent seasons with core players like Jason Kipnis, Michael Brantley, Corey Kluber, Carlos Carrasco and Yan Gomes.
"I would absolutely love to," Allen, 26, said of discussing a long-term contract. "I think anybody in this clubhouse would love to. We have a great staff here, a great group of guys, and the city of Cleveland has treated me very well. I would love to play here for a very, very long time. If that opportunity presents itself, I'd definitely be open to it."
It will be interesting to see if Cleveland is willing to go down that road with Allen, or if the club feels risking a year-to-year approach will make more financial sense with a reliever. The Indians could take steps to control the cost of the closer's arbitration years with a long-term deal, though. An example can be found in Craig Kimbrel, who signed a four-year, $42 million extension prior to his first arbitration year (2014).
Kimbrel had established himself as one of the game's elite closers at the time of his deal. Allen, while lacking the same level of early-career closing success, is coming off a dominant season spent as the Tribe's full-time closer from Opening Day.
Heading into Saturday's action, Allen led all Major League relievers with a 2.5 WAR, according to Fangraphs.com. The next two behind Allen were Reds closer Aroldis Chapman (2.4) and Yankees relief ace Dellin Betances (2.3). Cleveland's closer also ranked first in FIP (1.85), fourth in strikeouts (97) and sixth in strikeouts per nine innings (12.97).
Allen has a 3.03 ERA with 33 saves in 69 games (68 1/3 innings) this season.
"He's had a couple hiccups, especially early," Indians manager Terry Francona said. "But, his strikeouts to innings, he's right there with all those [top relievers]. Career-wise, his strikeouts to innings is silly. And he's still young. He's had probably four or five outings where it's been kind of tough, but other than that, man, he has been rock solid."
Allen said he hasn't spent much time thinking about the arbitration process yet.
"I've tried to not think about it or talk about it until we get to it," Allen said. "Once we get there, if we have to go to arbitration -- hopefully, we don't -- then we'll deal with it. But, it's kind of one of those things where you let it be, play out the season and whatever happens, happens."
Jordan Bastian is a reporter for MLB.com. Read his blog, Major League Bastian, follow him on Twitter @MLBastian and listen to his podcast. This story was not subject to the approval of Major League Baseball or its clubs.