Alexei takes in possible final games with Sox
Team has $10 million club option or $1 million buyout after World Series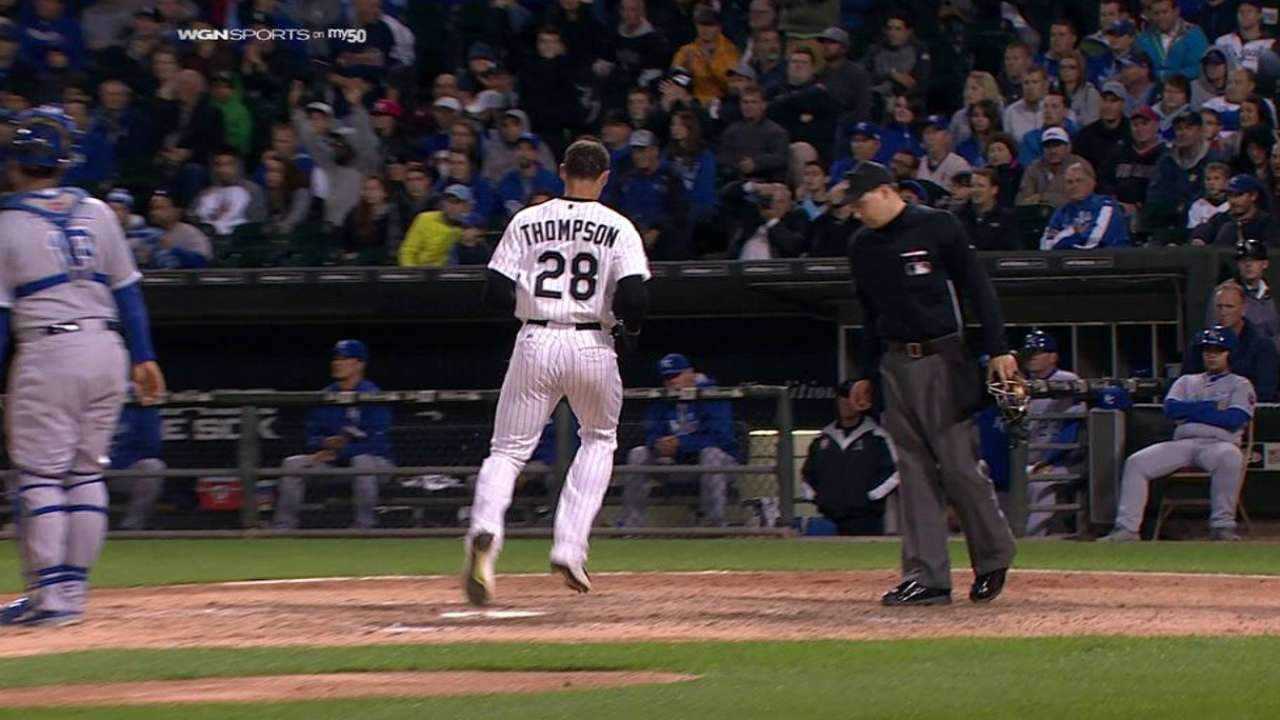 CHICAGO -- Alexei Ramirez was in the White Sox starting lineup in Saturday's 4-3 walk-off win, hitting fifth against Detroit ace Justin Verlander.
Those at-bats and time in the field took up all of Ramirez's weekend focus. But soon, Ramirez will be thinking about his baseball future.
For the first time in his Major League career, that future might not involve the White Sox for the 34-year-old Cuban native. The White Sox have a $10 million club option or a $1 million buyout to execute within three days after the final game of the World Series.
There's no clear-cut, in-house replacement for Ramirez, who has played center field and second base for the South Siders but has been the team's everyday shortstop since 2009. Even in a current down season, where Ramirez has hit .250 and struggled early defensively, he still has played 153 games and driven home 62.
Tyler Saladino has proven his value across the infield and could take over at his natural position if the White Sox decided to allocate the $10 million elsewhere. It's a tough decision for the team -- and a tough waiting process for Ramirez.
"Yes, it's kind of tough because I have been here for eight years and I like this team," said Ramirez through interpreter and White Sox Spanish language broadcaster Billy Russo. "I like all of the people that work here. They're like my family. I don't want to even think about being on another team. I want to be here, and I want to finish my career here.
"I have a very good relationship with everyone here, Robin [Ventura], all the coaches. I enjoy coming here every day and being around all of them because they are very good people. It's always good when you have those kind of people around you that make you feel good and comfortable."
Another huge offseason moment on the agenda for Ramirez is his return to Cuba. Per Ramirez, a Cuban law prevents anyone who left from coming back for eight years. That time period has expired for the veteran shortstop.
An emotional experience awaits on this trip home.
"From the moment I'm on the plane, I'm going to be very excited," Ramirez said. "I don't know how to describe that right now, because I have to live in the moment, but I imagine it's going to be very emotional.
"I'm very anxious about it because I don't know what to expect. I don't know how the people there are going to receive me. I'm excited, but at the same time I'm anxious because I don't know what's going on there."
Scott Merkin is a reporter for MLB.com. Read his blog, Merk's Works, follow him on Twitter @scottmerkin and listen to his podcast. This story was not subject to the approval of Major League Baseball or its clubs.