Chen exits to ovation in what could be last O's start
Lefty, likely headed for free agency, turns in 20th quality outing of season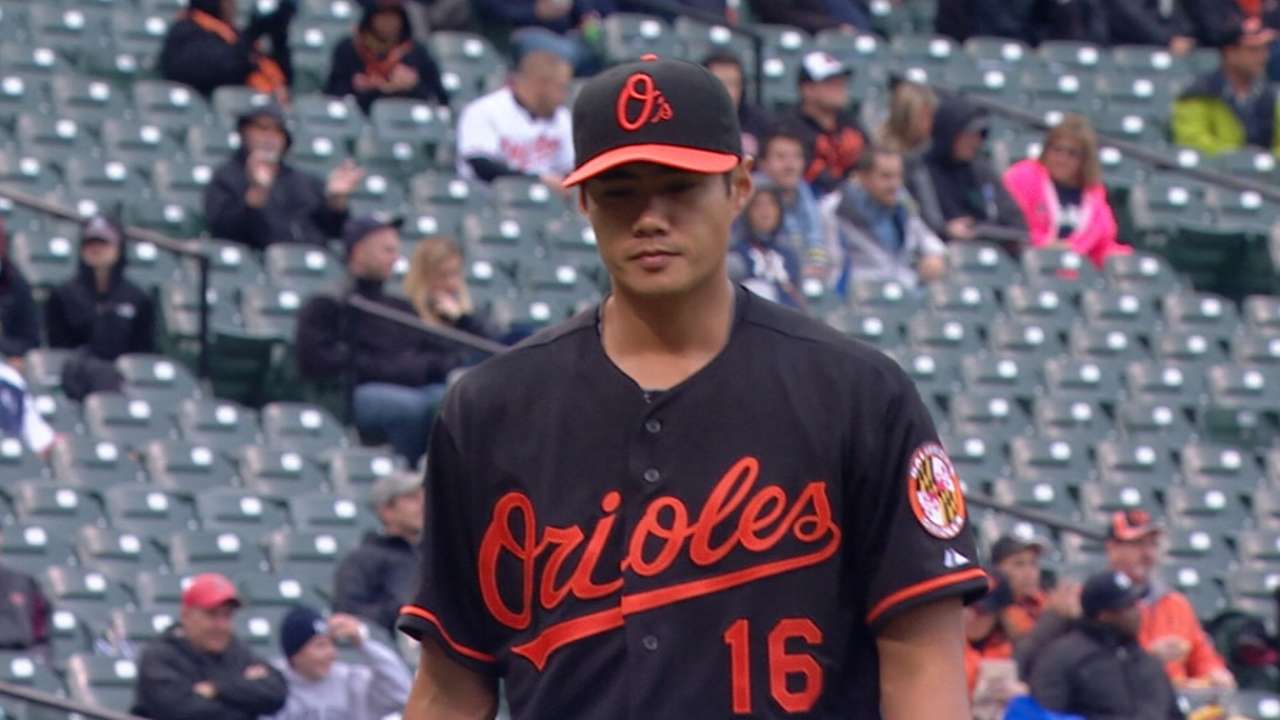 BALTIMORE -- Wei-Yin Chen turned in another quality outing -- perhaps his last in a Baltimore uniform -- as the free-agent-to-be capped a solid four seasons with the Orioles in Game 1 of Saturday's doubleheader against the Yankees.
The 30-year-old Taiwan native gave up two runs in six-plus innings against the Yankees and exited to a standing ovation in Baltimore's 9-2 win.
"Of course I noticed that," Chen said of the ovation he got from the Camden Yards crowd as he walked off the mound. "I really appreciate all the fans treating me so nice here. This is my last start of the season, so I just want to pitch a real good game for all the fans."
There's a good chance it's also his last start in the black and orange, a thought that didn't escape Chen as he left the game.
"It's very tough to say goodbye to all the people here, because during these four years, we played alongside each other. There were ups, there were downs. And when I'm down, they always encouraged me, they helped me a lot," Chen said. "So I think it's really tough to say goodbye to everybody here."
Chen, who ends the season 11-8 with a 3.34 ERA, has pitched at least 185 innings in three of his four seasons since signing with Baltimore out of Japan. He recorded a team-high 20 quality starts in 31 games this year, and he has been a bargain signing for the Orioles, going a career 46-32 with a 3.72 ERA in 117 games. Chen was signed to a three-year deal with an option that netted him approximately $15 million.
"No, you can't sum it up that body of work in one sentence or whatever," Orioles manager Buck Showalter said of Chen. "He's been solid. He made the adjustment to the big leagues. He was a guy who hadn't pitched every fifth day, and you all saw how we kind of moved around. I think he was pitching on six days again today.
"You get to know him, he got to know us. He's a quick learner. Our guys made his path easier. He speaks better English than I do now, which is not saying a whole lot. I'm real proud of him. Anytime you go to another country, you realize how challenging it is for them, so you try to have some real sympathy for that, and he handled it real well. I see how he interacts with all our players. He's been a great competitor for us."
Chen, represented by agent Scott Boras, said these past four years "exceeded" his expectations, and he was proud that he was able to prove he belonged in the Major Leagues. The lefty is expected to get a nice payday and a multiyear deal this offseason.
"I would be happy if I was given the chance to come back here," Chen said. "But sometimes as a professional player, it's inevitable that you have to change teams and adapt to a new environment. I don't know where I will pitch next year, I just know I will do my best to pitch [in] each game."
Brittany Ghiroli is a reporter for MLB.com. Read her blog, Britt's Bird Watch, follow her on Facebook and Twitter @britt_ghiroli, and listen to her podcast. This story was not subject to the approval of Major League Baseball or its clubs.