Trout gives Angels wings with late surge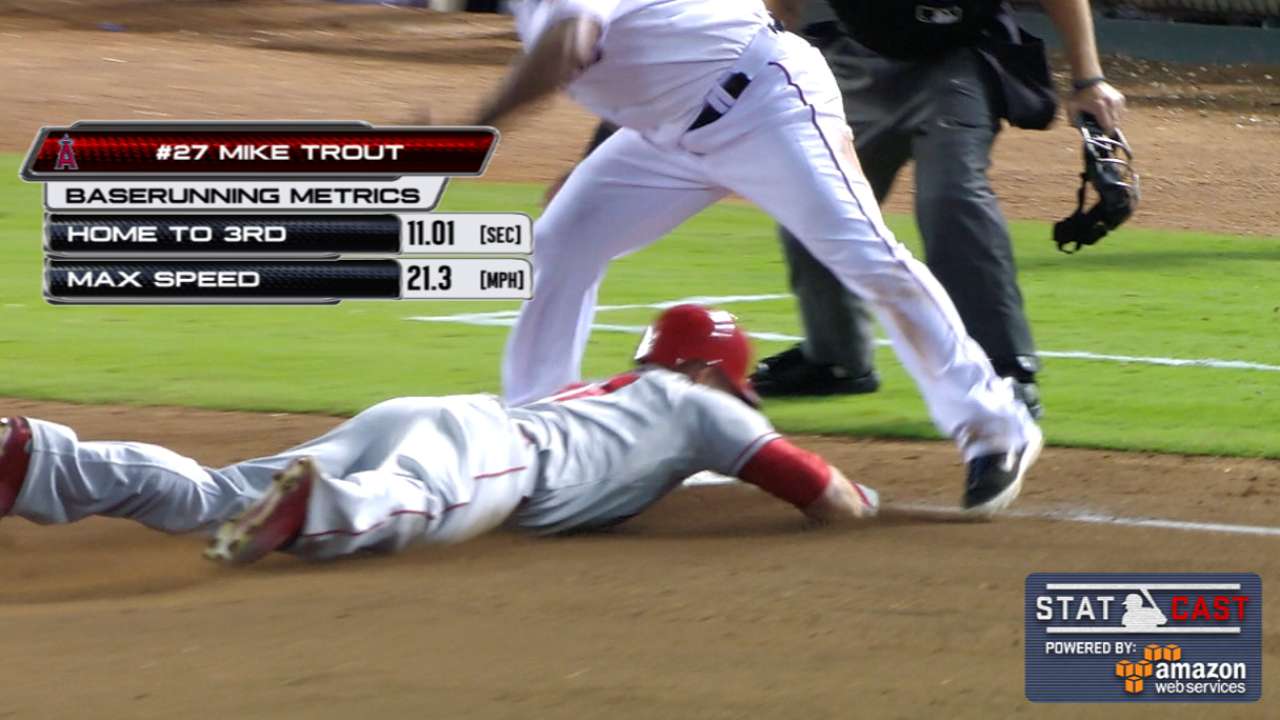 ARLINGTON -- "Let's go!" Mike Trout roared late Friday night, with his left hand on third base and his right hand balled up in a fist, swinging through the air after leading off the ninth inning with a swift triple. And then, on Trout's cue, the Angels went.
Albert Pujols lined the next pitch into a vacant center field for the go-ahead RBI, Joe Smith pitched a clean bottom half and the Angels lived to fight another day, their 2-1 win over the Rangers keeping them right behind the Astros for the second American League Wild Card spot with two games to play.
The Angels have come alive since the start of September, winning 19 out of 29 games after a back-breaking, 19-loss August.
And it's no surprise that Trout has, too.
"He's our leader," second baseman Johnny Giavotella said. "When he's going good, it's hard to stop him. And in that situation, he came up big for us."
Three innings earlier, Trout was robbed of an extra-base hit by an impressive play by Rangers right fielder Shin-Soo Choo, who ranged well to his left to turn in a lunging catch.
By the time Trout led off the ninth, his Angels had only one hit over seven innings, and the Astros were pulling away from the D-backs in Arizona. The Angels needed a spark, and Trout provided it, jumping on an outside-corner fastball from Rangers closer Shawn Tolleson and driving it to deep right-center, flying around the bases at a top speed of 21 mph, per Statcast™, to leg out his sixth triple of the season.
"That's big-time," bench coach Dino Ebel said. "It pumped up our dugout."
Immediately following the worst month of his career -- an August in which he posted a .689 OPS -- Trout has come on strong. He started practicing off a breaking-ball machine, got back to getting his front foot down early and learned to slow down the rest of his body.
Since the start of September, he is batting .304 with eight home runs, 15 RBIs and 21 walks in 28 games.
"I'm seeing the ball good, just trying to help the team as much as I can," Trout said. "Obviously, August was a rough month for me, just trying to do too much. You have to go up there and take every at-bat like it's your last. We're fighting. That's all you can ask for."
Trout's slash line is now .297/.400/.587, numbers better than those of Blue Jays third baseman Josh Donaldson, who's batting .301/.375/.575 and has long been considered the favorite for the AL MVP Award.
Based on FanGraphs Wins Above Replacement, it's close.
Donaldson is at 8.8. Trout, who almost singlehandedly won a game by robbing Jesus Montero of a three-run homer last Saturday, is at 8.7.
Unlike Donaldson, Trout won't finish on a first-place team, and he won't amass 100 RBIs, but that's merely a byproduct of his surroundings.
"We see Mike every day," manager Mike Scioscia said when asked to weigh in on the debate, "and there's nobody in the league who is doing more for a team than Mike Trout is doing for our team."
Alden Gonzalez is a reporter for MLB.com. Follow him on Twitter @Alden_Gonzalez and listen to his podcast. This story was not subject to the approval of Major League Baseball or its clubs.