New front office to pick up with Phils' rebuild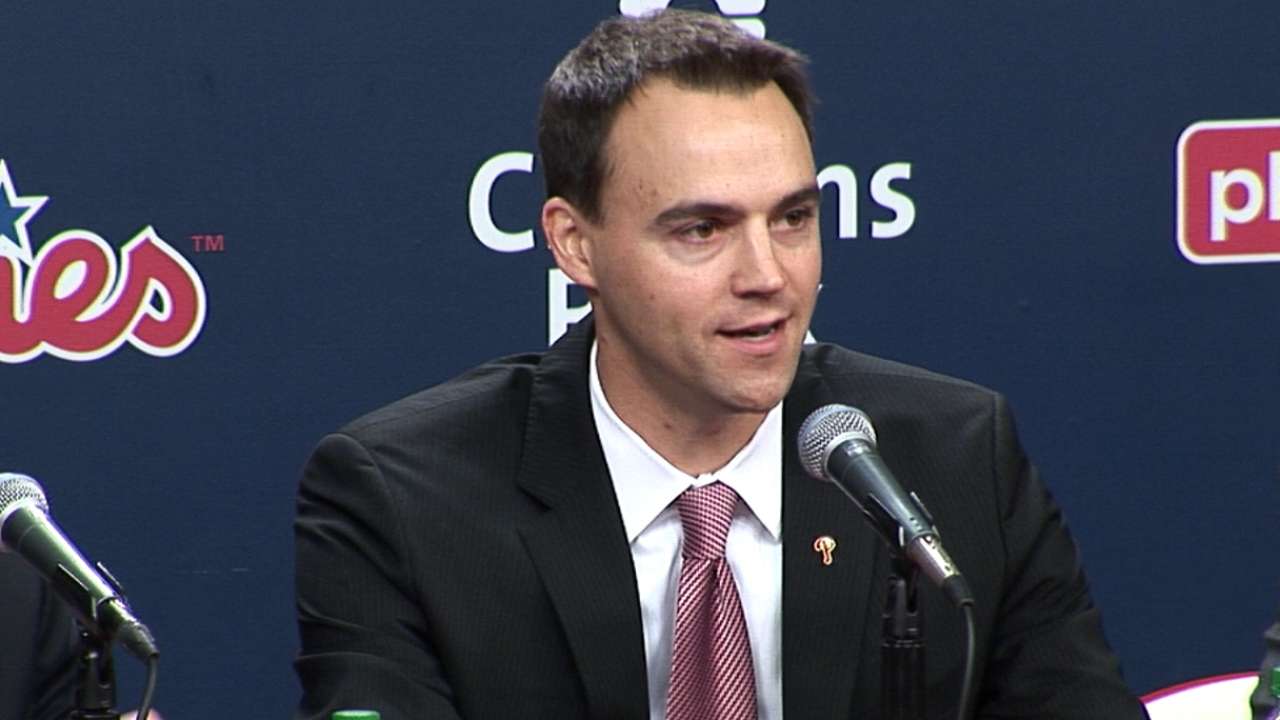 PHILADELPHIA -- A little less than a month ago, the Phillies finished their worst season since 1972, but in a way, they hope history repeats itself. The '72 Phillies hit rock bottom, but the organization had a talented farm system and talented young players already in the big leagues when it happened.
They eventually formed a core that made the postseason six times from 1976-83, including winning the 1980 World Series championship.
The Phillies hope they hit the floor in 2015, but they expect improvement in '16, with the idea they can compete for the postseason as early as '17.
• Phillies begin look into future in 2015
But first things first. Phillies president Andy MacPhail and general manager Matt Klentak have plenty of work to do.
Here is a look at what the team might look like when Spring Training opens in February:
Arbitration eligible: infielders Andres Blanco and Freddy Galvis; and right-hander Jeanmar Gomez.
Free agents: right-handers Chad Billingsley, Aaron Harang and Jerome Williams; left-hander Cliff Lee (club option); and outfielder Jeff Francoeur.
Rotation: The Phillies need some serious rotation help. Free agents Billingsley, Harang and Williams are not expected to return, and Miguel Alfredo Gonzalez might not pitch again for Philadelphia, considering his checkered health history. It means the Phillies will need to find at least a couple veteran starters to fill out the rotation. Do not expect the Phillies to commit to big-money contracts. It is too early for that. Instead, expect them to pursue starters like J.A. Happ or Doug Fister, potential placeholders until the team knows it truly has a core to reach the postseason. Of course, the Phillies will fill the rotation with internal pieces, too. Aaron Nola and Jerad Eickhoff are heavy favorites to win jobs. Adam Morgan has a line on one. Matt Harrison, Alec Asher, David Buchanan and others will have the opportunity to win jobs.
Bullpen: The bullpen struggled at times this season, with the exception of Jonathan Papelbon (traded in July) and Ken Giles. Gomez, Luis Garcia, Elvis Araujo and Dalier Hinojosa put together solid performances. Justin De Fratus struggled, which is why the Phillies outrighted him last month. It seems likely Philadelphia will sign at least one veteran reliever to stabilize the bullpen. But once again, do not expect them to pursue the highest-priced free agents on the market.
Catcher: It would not be a surprise to see both Carlos Ruiz and Cameron Rupp back. If so, Rupp is the likely candidate to start Opening Day as Ruiz endured the worst season of his career. Ruiz turns 37 in January, but he has value as a backup. (Not to mention he will be paid $8.5 million.) Chooch can work with the team's young pitchers as well as mentor catching prospects Jorge Alfaro and Andrew Knapp in Spring Training. Don't rule out the possibility that Knapp, who the Phillies named their Minor League Player of the Year, sees time with the Phillies at some point. Teams rarely use only two catchers over the course of a season, and if Knapp is playing well, he could get a shot. Alfaro is promising, but he missed much of the season with an ankle injury. He needs more seasoning in the Minors.
First base: Will Ryan Howard return? He will make $35 million next season, which includes a $10 million buyout on a 2017 club option. Howard performed well against right-handed pitchers this year, but he struggled terribly against lefties. He is a platoon player at this point of his career. But if Howard and Darin Ruf return, they could form a pretty respectable duo as Ruf hit left-handers very well.
Second base: Cesar Hernandez is expected to open next season at second base. The Phillies saw enough potential offensively to give him a longer look. But Hernandez is going to have to perform because there are prospects coming through the system that could force the club to make some position changes.
Shortstop: Galvis will open the season as the team's shortstop, but top prospect J.P. Crawford is breathing down his neck. Crawford finished the season in Double-A Reading, but he is expected to open next season with Triple-A Lehigh Valley. If Crawford continues to progress, it will be difficult to keep him in the Minors. And if Crawford is promoted at some point next season, he will be promoted to play shortstop and play every day. If that happens, Galvis could move to second base if Hernandez is not performing. Or he could fall into a super utility role.
Third base: Maikel Franco has this job locked up, assuming he is healthy. He showed he can be a productive bat in the middle of the lineup, which the Phillies desperately need. Of all the positions on the roster, this is the easiest one to predict.
Outfield: Odubel Herrera is expected to be the Opening Day center fielder. He earned it. But who plays the corners? Domonic Brown is gone. Aaron Altherr has earned a longer look. Cody Asche will get another look, although he really must pick up his production. The Phillies see Asche as somebody who could hit 15-20 home runs with 75-90 RBIs. He fell woefully short in RBIs this year. The Phillies could re-sign Francoeur, which makes sense. (If Francoeur is not re-signed, they are likely to pursue another veteran outfielder.) Philadelphia needs a vocal veteran to show the team's young players how to act during a long season and how to react to adversity. Top outfield prospect Nick Williams finished his season in Double-A. Like Crawford, he is expected to open the season in Triple-A. He could join the team at some point.
Todd Zolecki is a reporter for MLB.com. Read his Phillies blog The Zo Zone, follow him on Twitter and listen to his podcast. This story was not subject to the approval of Major League Baseball or its clubs.