Pitching through pain, Simon finishes season strong
Right-hander allows two runs in complete-game loss vs. White Sox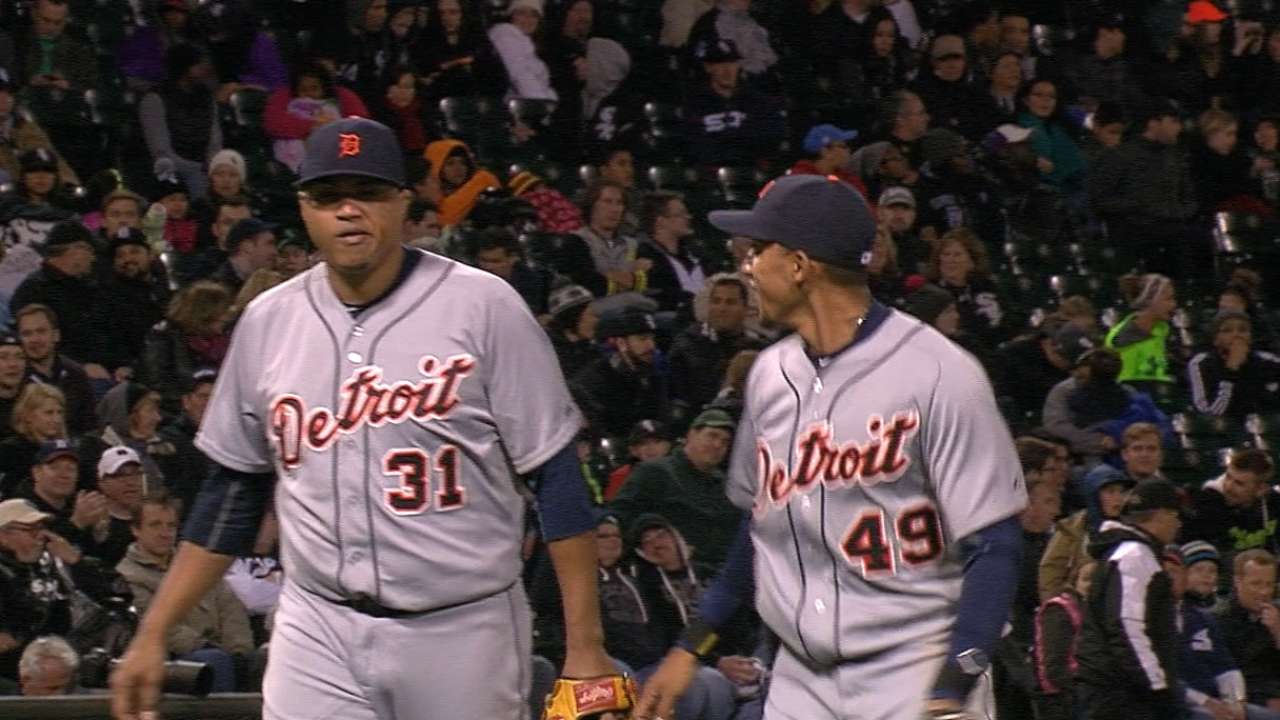 CHICAGO -- The final turn on Alfredo Simon's roller-coaster season was an upswing, which most rides do not have at their end. His eight innings of two-run ball weren't good enough to top Chris Sale and the White Sox, but it was good enough to remind people what Simon can do when he's on.
"He's been real good and real bad, and tonight he was real good," manager Brad Ausmus said after Friday's 2-1 loss to the White Sox. "Unfortunately, he was going up against a real good pitcher on the other side, but he pitched outstanding."
The final twist to this Simon ride, though, was a bump that went unnoticed at the start.
"It was a tough season for me," Simon said. "I've been pitching while my knee was hurt. That was a tough situation for me. I thank God to help me finish the season strong, and then I'm going to work hard to come back strong."
Simon has iced his left knee after outings, but downplayed it in Spring Training as part of his routine. During his dominant start, going 4-0 with a 1.65 ERA over his first four outings, he was the picture of health before a midseason downturn sent his ERA and hit totals soaring.
"I've been pitching hurt all year," he said. "My knee, it's not 100 percent. I don't want to go on the DL because I want to throw 32 games. I was hurt all year, but I try to keep pitching, no matter if I pitch good or not. I just thank god that I'm feeling strong now."
He'd been up and down for the past couple months, from a one-hit shutout of the Rangers in mid-August to eight runs in 4 1/3 innings the next time out. He took the mound Friday at U.S. Cellular Field knowing this was his last chance to make an impression ahead of free agency. Whether it was the blustery fall weather or an aggravation of the knee, he said it wasn't great on this night either, and he had a heat pack on it between innings.
He mixed a good number of fastballs and curveballs this time, rather than leaning heavily on his splitter, and ended up with 12 ground-ball outs on a night when the winds played havoc with fly balls. His one mistake was an 0-2 fastball that Adam Eaton hit into the gap in left-center, scoring two runs that had reached on a ground-ball single and a hit-by-pitch.
"I just tried to get out of there like it was a quick game," Simon said. "I tried to throw the ball down and get a lot of ground balls."
His next outing, he said, will be a trip to the doctor for a platelet rich plasma injection into the knee to help it heal.
"Last year, I just got a PRP there in December," he said, "but when I got traded here [from Cincinnati later in the month], I don't have a chance to make it strong. There was an injury, and then when I come to Spring Training, that's why I had to ice it all the time."
What impact that has on free agency is unclear. He'll hit the market with a 5.05 ERA over 31 starts on the season, tied with Baltimore's Chris Tillman for highest in the American League among qualified pitchers. With the Tigers reportedly in the market for two free-agent starters or trade acquisitions this offseason to put alongside Justin Verlander and Anibal Sanchez, leaving one spot open for one of their young arms, Simon would have to convince them he's worth one of the two spots.
"I like this team here, and [I'd be] pretty happy to come back here," he said. "It's a good group of guys. I hope that they talk to me before I sign with somebody else. I just want to come back here next year, but my agent's going to talk to whatever teams call him and see what is the best deal for me."
Jason Beck is a reporter for MLB.com. Read Beck's Blog, follow him on Twitter @beckjason and listen to his podcast. This story was not subject to the approval of Major League Baseball or its clubs.