Iwakuma uncertain of future with Mariners
Pitcher turns in solid outing in what could be last start with team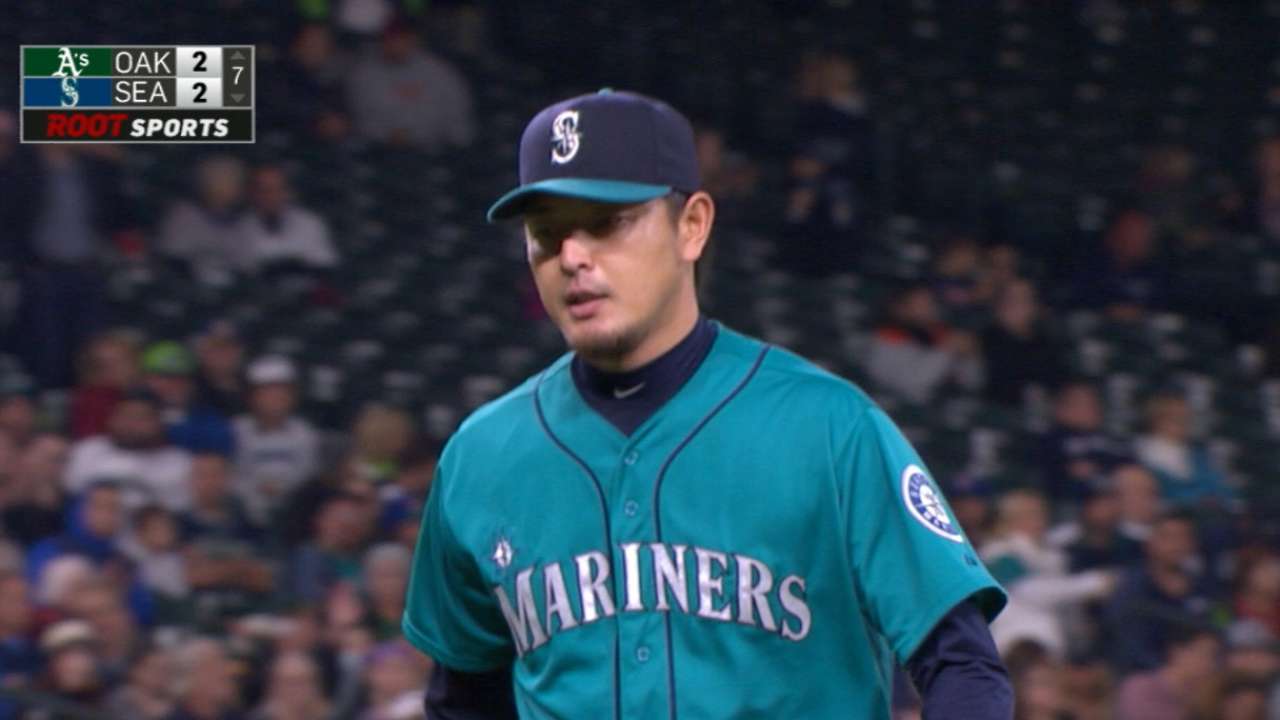 SEATTLE -- Hisashi Iwakuma, who has quietly been one of the American League's top right-handed starters over the past four seasons, did his job again Friday night in a 4-2 loss to the A's. But the question now is whether or not it was the last start for the 34-year-old in a Mariners uniform.
Iwakuma, who'll become a free agent this offseason, allowed two runs (one earned) over seven innings and turned a 2-2 tie over the bullpen in his last start of the year.
He insisted he didn't think about whether or not this might be his last outing for the Mariners and declined to get very specific when asked whether he preferred to stay with Seattle, the only team he's played for in the Majors.
"I don't know what to say," Iwakuma said through translator Antony Suzuki. "This is the team that gave me a chance and I was able to play here for four years. I met a lot of good friends here, we have a lot of good teammates. I feel like I have a good relationship here. All I can do now is wait."
New general manager Jerry Dipoto has already indicated that re-signing Iwakuma would be one of his priorities and manager Lloyd McClendon certainly would be a fan of that as well, though there figures to be some strong competition on the free-agent market.
"When he's healthy, he's very good," McClendon said. "Last year I think he won 15 games and then the year before that he was in the Cy Young Award mix. He's a very solid two or three [starter] in the big leagues and he knows what he's doing and he knows how to win.
"Our challenge is to make sure we have Kuma for an entire year and we need to keep him healthy so he can go out and make 32, 33 starts a year."
After missing 11 weeks in the first half with a strained lat muscle, the Japanese standout finished 9-5 with a 3.54 ERA in 20 starts. Since joining the Mariners in 2012, he has gone 47-25 with a 3.17 ERA.
That's the fourth-lowest ERA in the AL in that span for any pitcher with at least 500 innings, trailing only David Price (2.90), teammate Felix Hernandez (2.91) and Chris Sale (2.97).
Iwakuma finished the year strong, going 7-3 with a 2.63 ERA over his last 12 starts, including his no-hitter against the Orioles on Aug. 12.
In his final outing he worked around nine hits with no walks and eight strikeouts. Iwakuma would have loved to finish his year with a win and get to 10 for a third straight season, but felt good about coming back strongly following his injury.
"I missed a lot of the first half and I regret getting hurt," he said. "But that's nothing you can do anything about. You just have to move forward. I feel I was able to contribute to the team in the second half. We didn't win today, but I felt I was able to come back and help the team."
Whether he'll continue helping the Mariners in the future remains to be seen and he said he's not even aware of whether talks with the club have begun.
"I don't know. I leave that up to the agent," he said. "If they do talk, I'm sure they'll talk to me soon. But I don't know much."
Greg Johns is a reporter for MLB.com. Follow him on Twitter @GregJohnsMLB, read his Mariners Musings blog, and listen to his podcast. This story was not subject to the approval of Major League Baseball or its clubs.