Five keys for the Dodgers in the postseason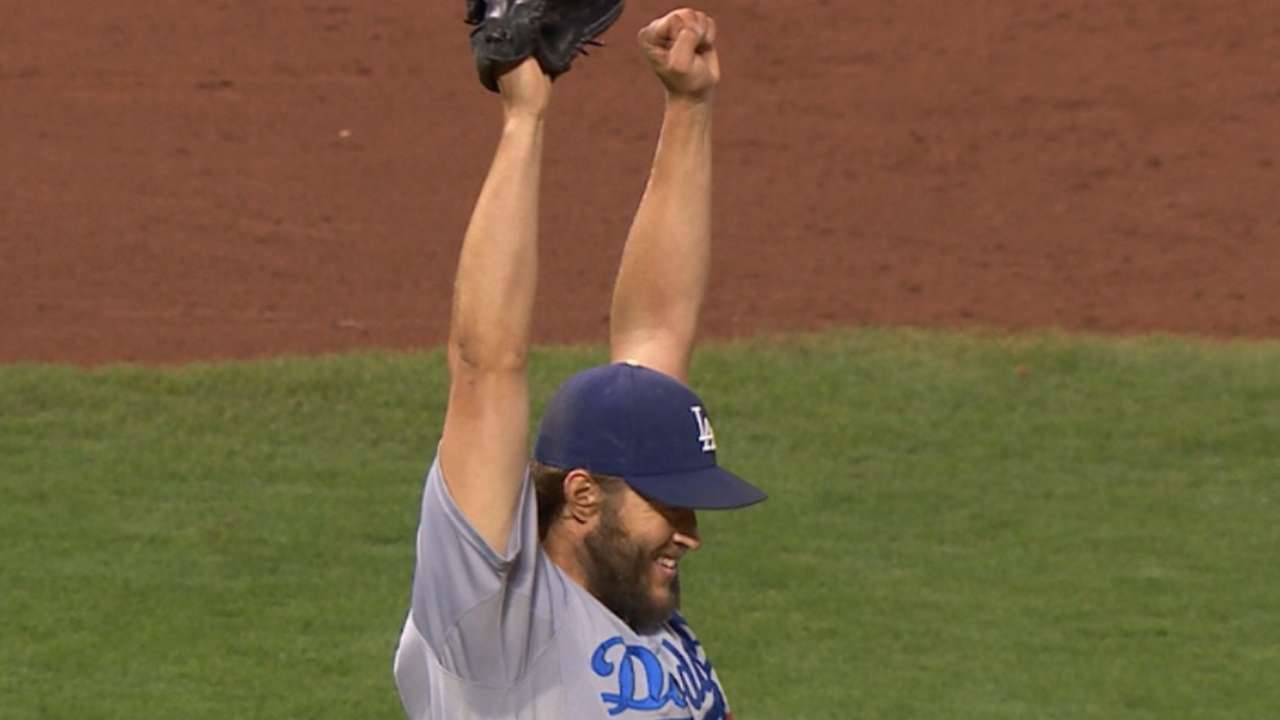 LOS ANGELES -- The best way to predict how the Dodgers can win the World Series this year is to study how they didn't win it the last two years.
With that in mind, here's what they couldn't do then and need to do now to finally end a 27-year World Series drought:
1. Clayton Kershaw needs to be Clayton Kershaw: Kershaw's spotty postseasons are the only true blemish on an otherwise stunning career resume. And he hasn't pitched badly as much as he's hit a wall in a particular inning with the end coming quickly. As he showed once again in the clincher against the Giants, he can be absolutely dominating with a lot on the line. He gets another chance to show he can do it in October, too.
2. Get a lead to closer Kenley Jansen: Don Mattingly has said he's more confident about the bullpen going into this postseason than last year's, when his setup man was a worn-out Brian Wilson, who didn't pitch this year. After a season-long tryout, Chris Hatcher seems to have that role at this point. Mattingly has been more comfortable with Luis Avilan joining fellow left-hander J.P. Howell, but the hard-throwing young right-handers behind Jansen and Hatcher have been erratic.
3. Jansen needs to be Game Over: As the Dodgers have seen from Tom Niedenfuer to Jonathan Broxton, defeat can be snatched from the jaws of victory by the failure of a closer. Jansen can be utterly dominating, and he will need to be to protect precious leads. He's shown more willingness to mix in a slider and give opponents more to think about than the Mariano Rivera-like cutter, but that's still the money pitch.
4. Scratch out runs: The Dodgers don't have an MVP candidate in the lineup, but they didn't need one to reach the postseason. Most fans don't love Mattingly's lineup-by-matchup, but as a former hitter, it's what Mattingly (and the front office) believes in. It also has become almost mandatory with the brittleness of the roster, as the Dodgers finished second in the league in player days on the disabled list. It's a lineup that relies on spreading contributions up and down the order. They are a fastball-hitting team, but many of the league's best pitchers have contained them.
5. Proper roster selection: One reason for this year's success was the elaborate roster manipulation by the front office that covered for numerous injuries. But the Dodgers will go into the postseason with frozen 25-man rosters that prevent in-series churn, except to replace an injured player for the entire postseason. And they will need to be mindful of the many injuries they are nursing, such as Adrian Gonzalez's back, Justin Turner's knee, Howie Kendrick's hamstring and any other minor injuries on the club.
Ken Gurnick is a reporter for MLB.com. This story was not subject to the approval of Major League Baseball or its clubs.