Alderson presides over 1st postseason with Mets
GM sits down for Q&A with MLB.com before NLDS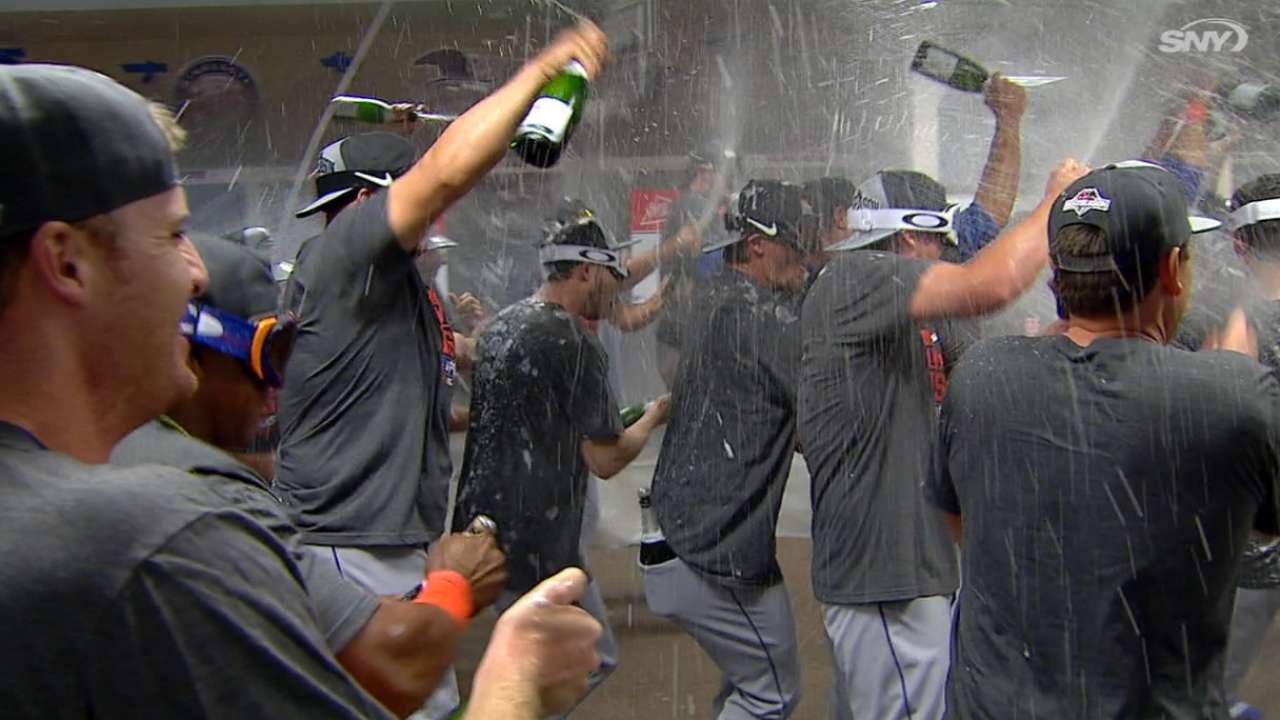 NEW YORK -- The 12th general manager in Mets history, Sandy Alderson took over after a disappointing 2010 season led to the dismissal of Omar Minaya. Since that time, Alderson's work has included hiring manager Terry Collins, trading away veterans Carlos Beltran and R.A. Dickey for prospects, signing David Wright, not signing Jose Reyes, and so on and so forth.
Five years later, Alderson's Mets are about to enter the postseason for the first time in his tenure. MLB.com sat down with the GM for a question-and-answer session about his construction of the 2015 Mets, who will take on the Dodgers in the National League Division Series, with Game 1 scheduled for Friday at 9:30 p.m. ET (TBS).
MLB.com: What was the biggest challenge you had to make over the last five years?
Alderson: I think the biggest challenge was being patient, allowing the farm system to mature and to develop some payroll flexibility given some of the contracts that we had. You have a sense of the appropriate direction, and then you just have to be patient enough to allow time to pass without being tempted to take shortcuts.
MLB.com: How much different did you find this process than when you were GM of the A's in the 1980s?
Alderson: Well, I took over in '83 and we didn't get to the postseason until '88. It took us a while. What took us to that postseason were a number of young players that had developed, together with some acquisitions that turned out to be more than complementary than those players. We had a farm system that developed Terry Steinbach and Mark McGwire and Walt Weiss and Jose Canseco, but we also had made some acquisitions along the way. We signed some very good players. So it was a combination of player development and acquisitions, similar to here.
MLB.com: Which was the most difficult transaction you made in New York?
Alderson: I'm always reluctant to give up young talent, which we've only done in recent months. But given where we were and what we were trying to achieve, those weren't all that difficult decisions to make. You have to have a plan in the back of your mind regarding what direction you want to go, and then you make decisions along the way. Hopefully, they're consistent with your overall direction. I don't have one deal that was particularly difficult. Probably the one that was more instinctive than any of the others was retaining Lucas Duda vs. Ike Davis [in 2014].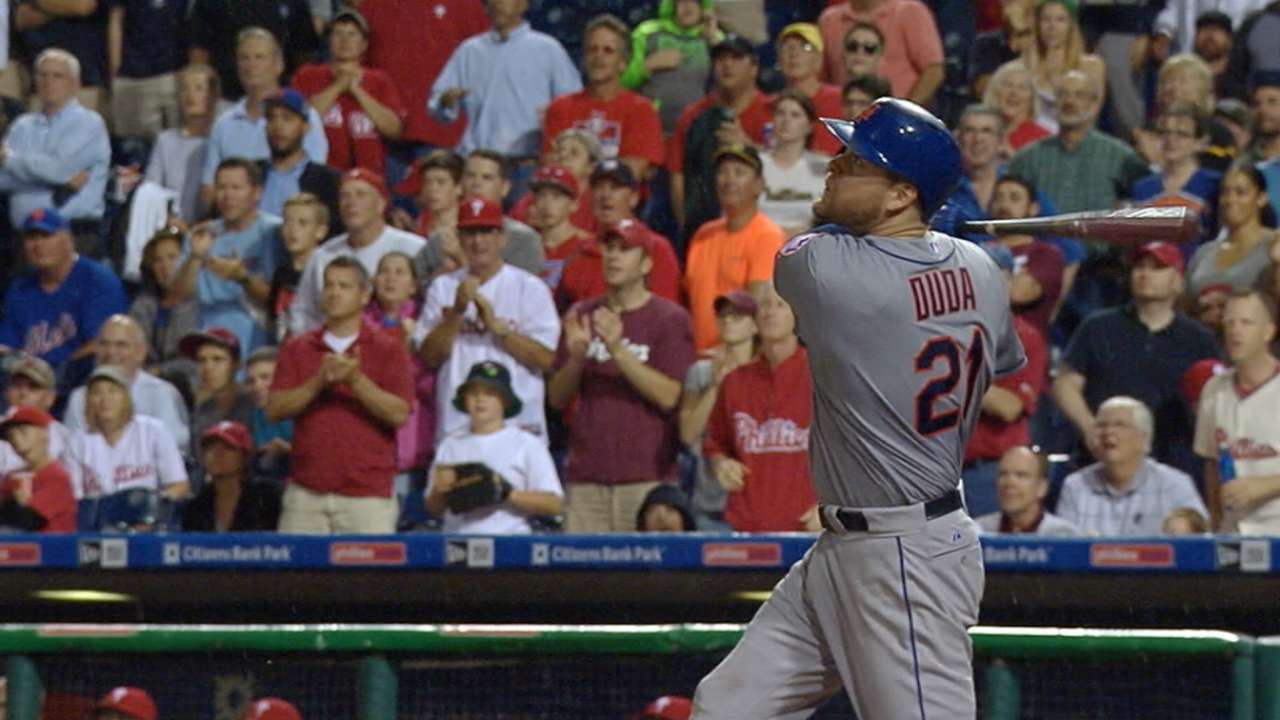 MLB.com: Why does that one stick out?
Alderson: We liked some of the peripherals on Lucas. That was probably the first time that velocity off the bat came into play significantly for us. He had an ability to hit left-handed pitching -- just a lot of little things.
MLB.com: Coming into Spring Training, what were your realistic expectations for this team?
Alderson: I thought we could be pretty good. You never quite know what's going to happen. We hadn't added a lot in the offseason, but we had Matt Harvey coming back. We had an inexperienced but youthful rotation with great potential. I thought the bullpen was improved. I liked our lineup with [Travis] d'Arnaud and Duda and [Daniel] Murphy and Wright. Juan Lagares had shown promise. Curtis Granderson, we thought had an underappreciated year the previous year. So we felt good coming in.
MLB.com: We all know what happened with Wilmer Flores and, ultimately, Yoenis Cespedes at the Trade Deadline. What were those 48 hours like for you?
Alderson: When the deal for Carlos Gomez fell through, that put us back at square one. The next day, we lost to the Padres in a tough game, but the Deadline was there on Friday, so we had to keep moving ahead, trying to put those things out of your mind. With respect to acquiring someone, we had to try to work a deal and ignore the emotional hit that you take losing a game as we did on that Thursday, and recognize you only have so much time to address the situation.
MLB.com: How much pressure did you feel as the hours ticked away?
Alderson: There wasn't a sense of pressure. The only thing I was trying to do over the course of, particularly Friday, was make sure we had options that we could choose if we wanted to. And then at the same time, as you're maintaining options, just try to evaluate what those options are and which ones to pursue.
MLB.com: What was the front office's reaction when you finally acquired Cespedes with 13 minutes until the Deadline?
Alderson: I was happy we were able to do it, definitely, as was the entire office. We were all happy to get it done. But it's, 'OK, we did it, now we have to go out and play.' We were three games out of first place. Had we been swept in that series [against the Nationals], we would have been six out. So we were right on the precipice at that point. But it worked out.
MLB.com: What can this team achieve in October?
Alderson: I think we're pretty well-equipped. We've got some young players, particularly young pitchers in our rotation, but we also have some veteran leadership. I think we'll be as competitive as anybody in the postseason.
Anthony DiComo is a reporter for MLB.com. Follow him on Twitter @AnthonyDiComo and Facebook, and listen to his podcast. This story was not subject to the approval of Major League Baseball or its clubs.