Cano to have surgery to repair sports hernia
Mariners second baseman will be ready for Spring Training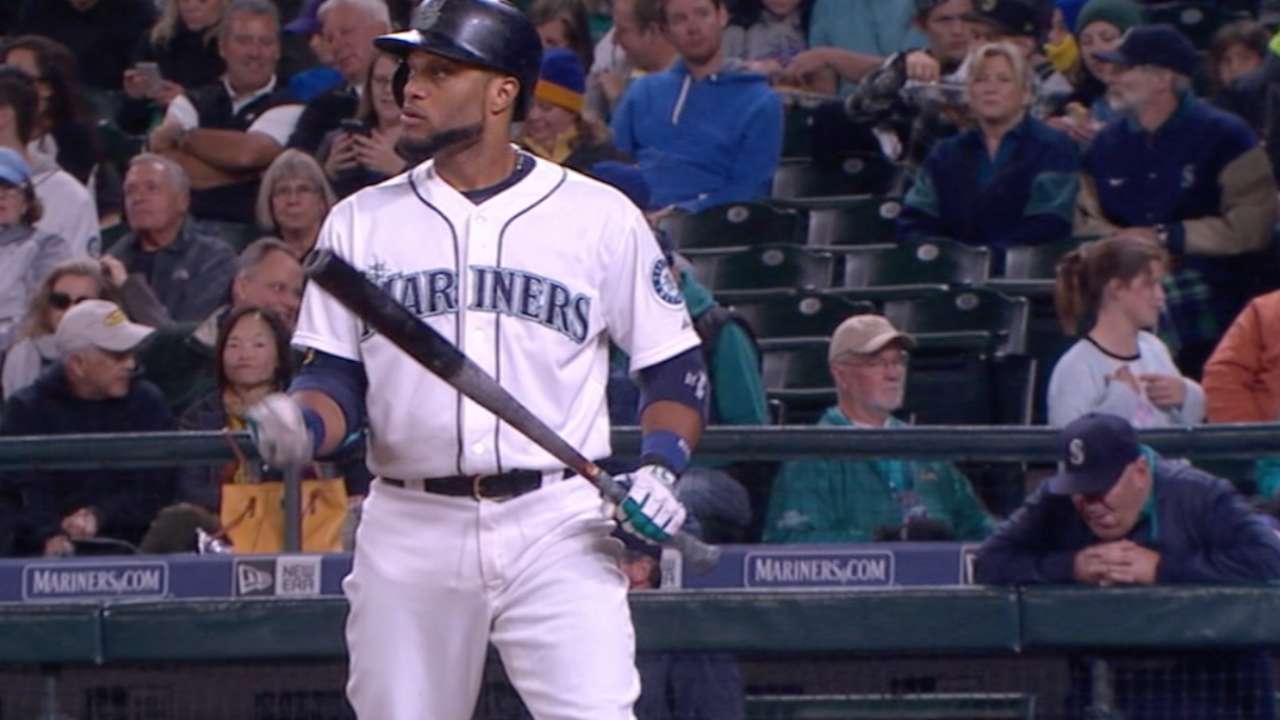 SEATTLE -- Mariners second baseman Robinson Cano will undergo surgery to repair a sports hernia Oct. 13 in Philadelphia, Mariners Medical Director Dr. Edward Khalfayan announced Friday.
Cano said he will play in Seattle's final three games. Khalfayan said the recovery process for the surgery, which will be performed by Philadelphia-based specialist Dr. William Meyers, is approximately six weeks, after which Cano is expected to be able to continue regular baseball motions.
Cano was initially diagnosed with an abdominal strain on July 28, but recent tests confirmed the sports hernia.
"Robbie's been playing with this and he's playing very well. It's one of those conditions that athletes can continue to play with for some time, if they're comfortable enough, and at some point we usually perform surgery to repair it," Khalfayan said.
The surgery will be Cano's first. The 32-year-old second baseman said the injury will not have a significant impact on his offseason workouts as he usually takes four to six weeks off to recover from the season. The injury is one that has been painful when he makes quick movements, but the pain hasn't gotten any worse over the last couple months, allowing Cano to play through it.
"I mean, I love to play baseball and I've been playing like that for the last two months so why would you sit down for the next three days and just watch a game?" Cano said. "I love to be out there."
Mariners manager Lloyd McClendon had said he would try to find off-days for Cano and Nelson Cruz, who missed a week in early September with a right quad injury, in series without playoff implications toward the end of the season. But both were in the lineup for Friday's game and will continue to play through the weekend.
"They want to keep playing. We're continuing to try to win games," McClendon said. "I think they set a shining example for young players. You have to understand that you're not going to always be at your best when you're trying to compete at this level, but for the good of the team you have to get out there and compete."
While Cano would have preferred to avoid surgery altogether, he said he takes satisfaction in knowing he'll show up to Spring Training next year with a clean bill of health.
"It's good that we found out what it is compared to going home and wondering if it's gonna heal 100 percent," Cano said. "Now we'll go get surgery and go back to Spring Training and don't have to worry about anything."
Worth noting
• McClendon said he and new general manager Jerry Dipoto didn't meet Thursday during the team's off-day, but would talk through this week as they continue getting to know each other after Dipoto's hiring Monday.
"I would imagine [it's an ongoing process]," McClendon said. "We just finished up meetings the [previous] two days, going over our club. That was pretty productive. He's got a busy schedule and obviously my schedule is busy during the day. But we'll get together and talk."
Andrew Erickson is an associate reporter for MLB.com. This story was not subject to the approval of Major League Baseball or its clubs.