Arenado's breakout year paces 2015 Rockies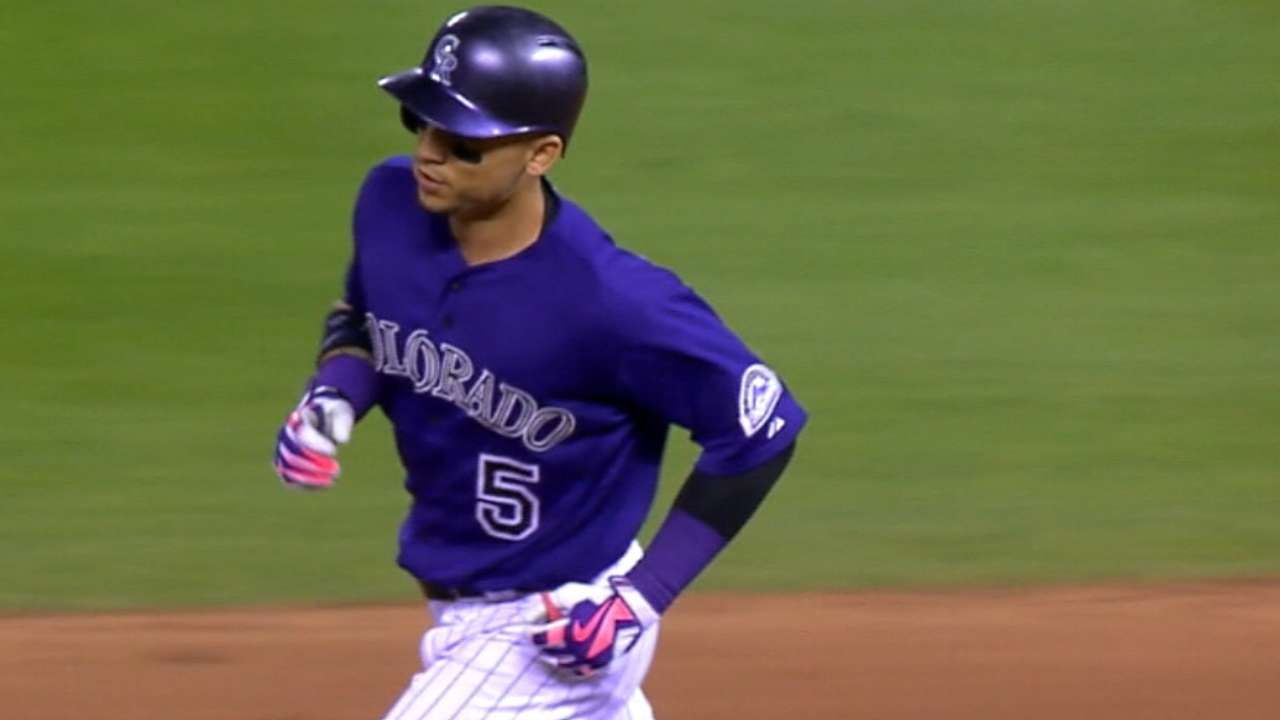 DENVER -- Heading toward a third last-place National League West finish in five years, the Rockies took a step toward doing something different.
The club began the change process last offseason by promoting former player development director Jeff Bridich to general manager. However, the roster formation -- putting out a potent offense and hoping pitching would emerge from within -- didn't change. That was until the ninth inning of a close game vs. the Cubs on July 27, when the club traded their most recognizable player, shortstop Troy Tulowitzki, and veteran bullpen leader LaTroy Hawkins to the Blue Jays.
• Rockies need to bolster pitching staff for 2016
The Rockies received veteran shortstop Jose Reyes, but are staking their future on three young right-handed pitchers -- Jeff Hoffman, the seventh pick in the 2014 MLB Draft, who returned from Tommy John surgery this year and displayed electric stuff at Double-A New Britain; Miguel Castro, who finished the season in the Rockies' bullpen; and Jesus Tinoco, who finished his first full professional season in the U.S. by going 5-0 with a 1.80 ERA at Class A Asheville.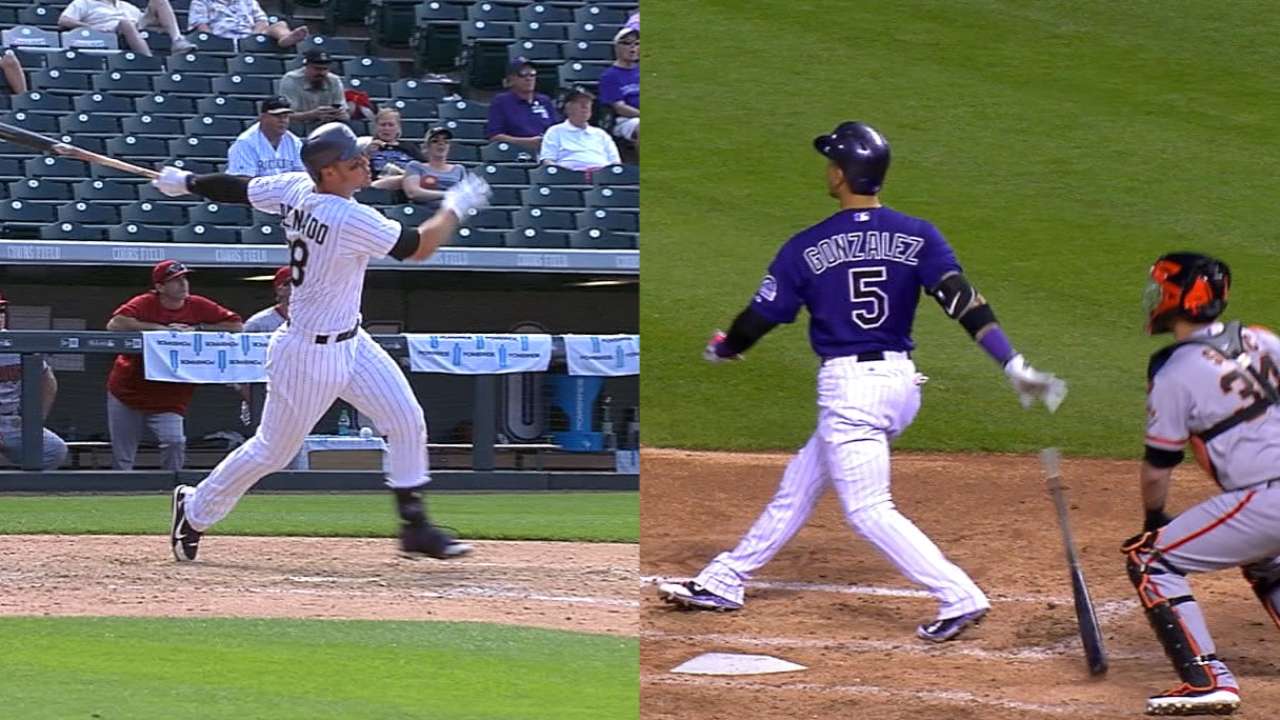 But that's the future. The present was another frustrating year in which the offense was strong, thanks to career performances by third baseman Nolan Arenado, who has received some NL Most Valuable Player consideration and a nomination for the Esurance MLB Award for Best Everyday Player, as well as leadoff man Charlie Blackmon, All-Star second baseman DJ LeMahieu and catcher Nick Hundley. The resurgence of right fielder Carlos Gonzalez, after undergoing left index finger and left knee surgeries last year, became one of the team's biggest stories.
However, too many games spun out of control because of poor pitching, either from the starter or relievers, and sometimes from both.
Record: 68-94, fifth place, NL West
Defining moment: The Rockies slumped in all phases during an 11-game losing streak April 28-May 13. On May 6, they suffered a home sweep at the hands of the D-backs that pushed them into last place for good.
What went right: Arenado found the power that the Rockies envisioned when they selected him in the second round in 2009. Gonzalez turned hot in late May, and by August and September he and Arenado were putting on their personal home run derby.
Center fielder Blackmon, a 2014 All-Star who tailed off during the second half, developed consistency and had his best basestealing season. LeMahieu had dominant months and joined Arenado and Tulowitzki in representing the Rockies at the All-Star Game. Arenado and LeMahieu are threats to repeat as Rawlings Gold Glove Award winners. Ben Paulsen also was potent enough against right-handed pitching to be part of the future at first base.
Hundley paid off in the first year of a two-year deal by posting a career-best .807 OPS before being lost for the season in September with a neck injury.
But by season's end, the biggest developments may have come with pitchers.
As a starter, one-time reliever Chad Bettis made strides with his fastball and curve and added a cutter/slider -- the pitch that could make him a key to the future. Righty Jon Gray, the third pick in the 2013 MLB Draft, was eased into the Majors for the final two months, under a tight pitch count. By the end, righties Brooks Brown, Justin Miller and Jairo Diaz were late-inning complements to closer John Axford.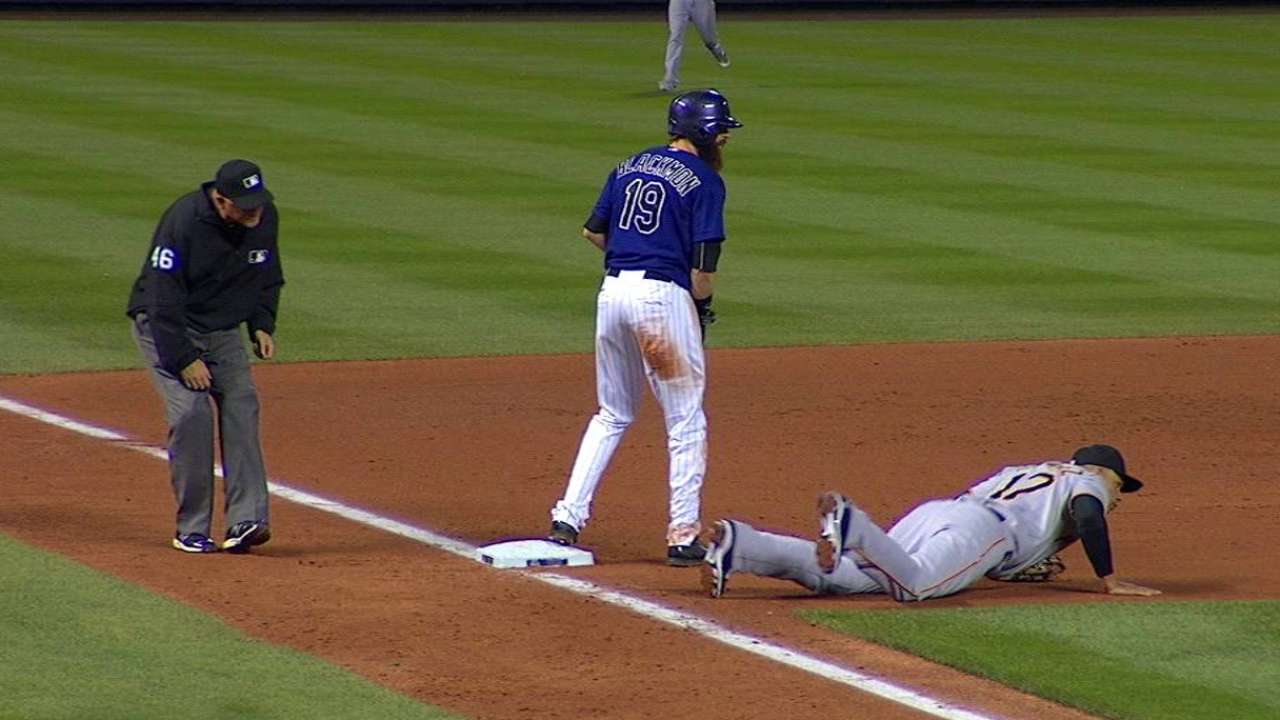 What went wrong: Pitching, of course.
Veteran righty Kyle Kendrick, signed for one year, struggled with poor location and developed shoulder problems, and never provided the necessary steadiness. Righty starter Jordan Lyles, after missing much of 2014 with a broken left hand, needed season-ending left big toe surgery and didn't pitch after May.
Those injuries and the out-of-control skids of lefty Tyler Matzek, who was sent down after six starts because of wildness that continued in the Minors, and righty Eddie Butler, who was sent down twice (the second time for good), left the rotation searching for quality.
The bullpen also had its problems. Adam Ottavino took over as closer the first week of the season and was unblemished before suffering a right elbow injury that required Tommy John surgery. Lefty Boone Logan battled consistency and elbow health issues, and Brown was limited by injuries. Rex Brothers, one of the top lefties in the game in 2013, continued his 2014 struggles, but this time he spent most of the year in the Minors. Tommy Kahnle, Scott Oberg, Miller and Diaz had growing pains and spent time in the Minors. Lefty Christian Friedrich went through high and low periods in his first full year in the bullpen.
Biggest surprise: One of Bettis' worst days of 2014, when he was sent to Triple-A to finish the year, turned out the best thing that happened to him. Manager Walt Weiss came away with the impression that deep in Bettis' heart, he was a starter. This spring, the Rockies held Bettis out of competition early while he worked on some delivery flaws. He proved he was ready in May, and the Rockies won his first five starts.
Hitter of the Year: Arenado showed signs last year by hitting for a high percentage of line drives. He doesn't walk much, but hits line drives and tape-measure home runs. He was every bit as powerful away from Coors as at home.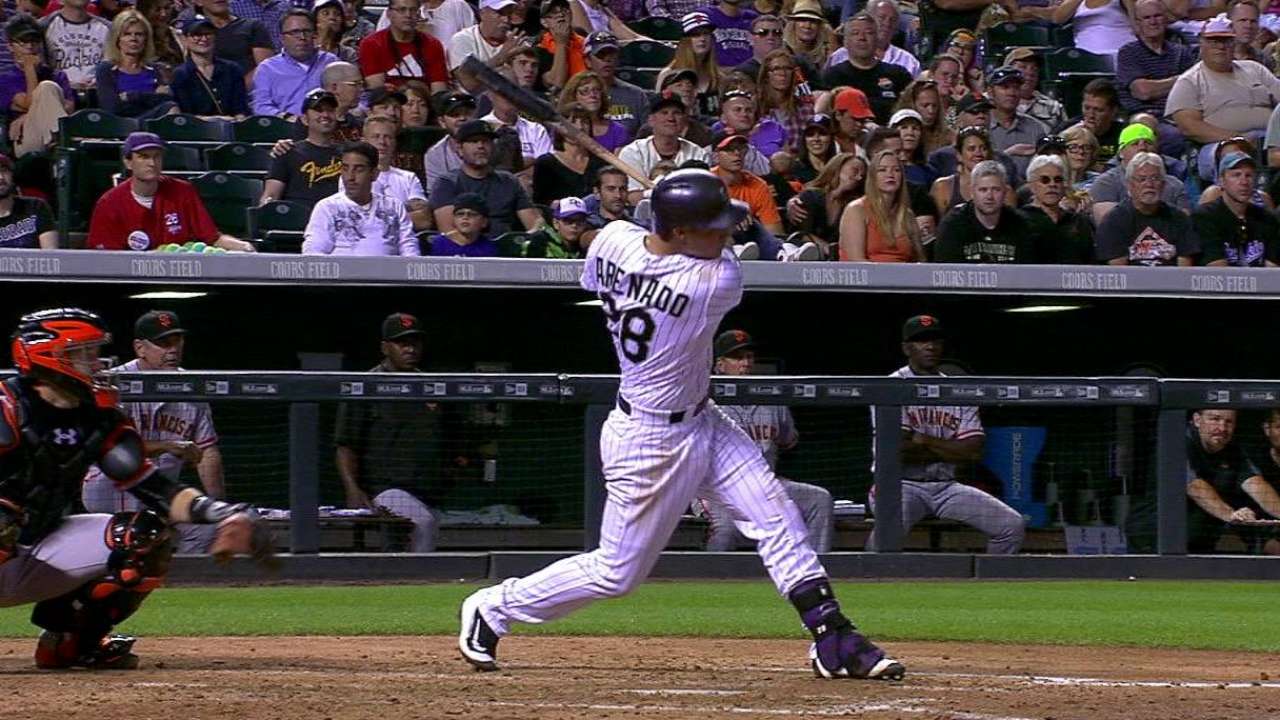 Pitcher of the Year: Although lefty Jorge De La Rosa became the team's leader in career wins, Bettis not only found effectiveness, but coaches and teammates began to see him as a future rotation leader.
Rookie of the Year: Paulsen hit well enough during a callups last season that the Rockies asked him to develop as an outfielder and first baseman to increase his usefulness. After a disappointing spring, Paulsen was ready when first baseman Justin Morneau and left fielder Corey Dickerson were injured.
Thomas Harding is a reporter for MLB.com. Follow him on Twitter @harding_at_mlb, and like his Facebook page. This story was not subject to the approval of Major League Baseball or its clubs.