Scioscia prepared for any and all scenarios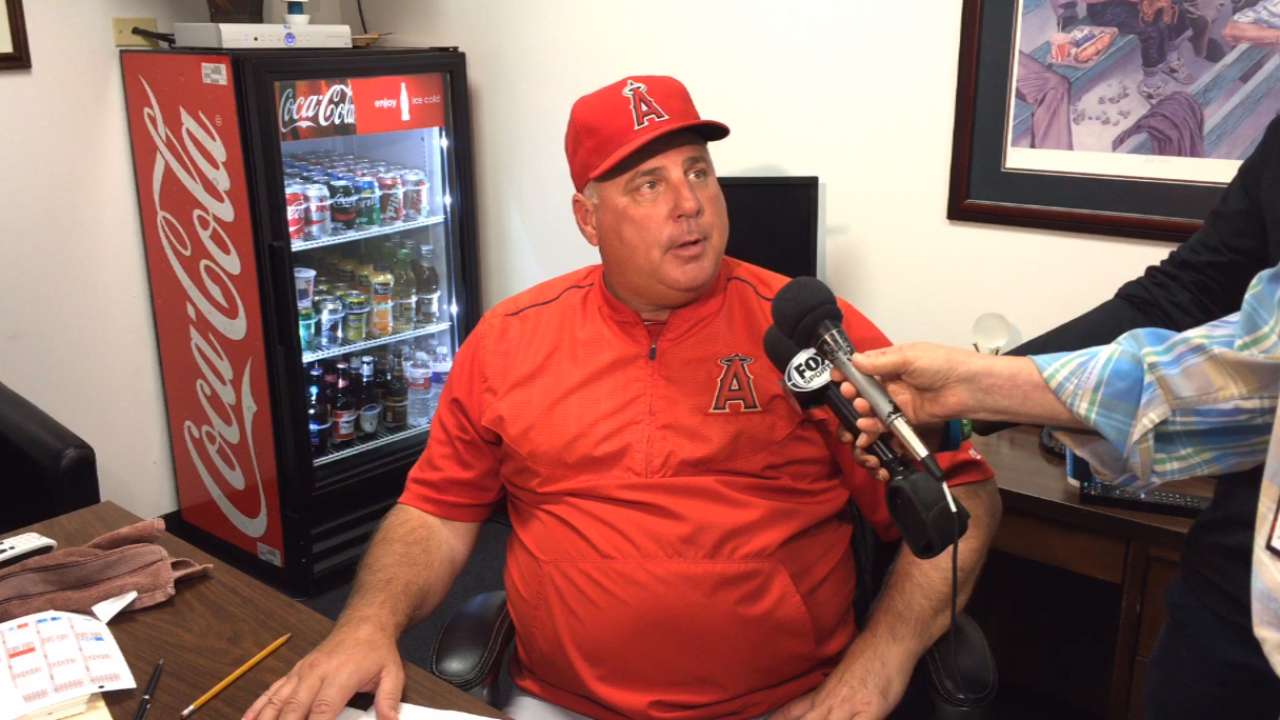 ARLINGTON -- The Angels entered Friday with five potential outcomes from this four-game series against the Rangers, four of which would not be resolved by the end of the night: They could be eliminated from postseason contention, play a tiebreaker in Houston on Monday, play a tiebreaker at home against the Twins on Monday, earn the second American League Wild Card spot outright and play in New York on Tuesday or be involved in a three-team tiebreaker, at which point they'd likely travel for Game 163 on Tuesday.
Somewhere manager Mike Scioscia has pitching contingencies written out for all those scenarios.
"I don't know if there's anything more that can happen that we haven't worked through," Scioscia said before Friday's game from Globe Life Park, the second of four.
"It's simple to say you're going to bring a guy back on three days, you're going to do this, you're going to do that. It depends on where the player is after Day 1 or 2, how many pitches he threw, if there's a problem bouncing back. It's not always a slam-dunk decision."
The Angels entered Friday mathematically eliminated from the AL West title and a game behind the Astros -- playing in Arizona over the weekend -- for the second Wild Card spot, tied with the Twins.
One scenario could involve three of Scioscia's starters pitching on short rest just for the chance to advance to the AL Division Series.
Garrett Richards will likely pitch on three days' rest if the Angels have to win Sunday's regular-season finale. If they have to play a tiebreaker on Monday -- the only possibility is in Houston against the Astros, since the Twins lost on Friday -- rookie Andrew Heaney can be an option to pitch on three days' rest.
"We haven't really talked about it," Heaney said, "but I'd love to pitch."
If the Angels advance to the AL Wild Card Game presented by Budweiser, Jered Weaver can also start on three days' rest.
But Richards and Heaney have never made two starts over a four-day stretch, and Weaver has only done that twice in his 10-year career. And Nick Tropeano, lined up to start Sunday on normal rest, is coming off a very strong outing against the A's, giving up just one run and striking out 11 in 6 2/3 innings on Tuesday.
An ideal scenario would actually be the three-way tiebreaker.
Since they'd have the better record against the two teams with which they're tied -- the Angels are a combined 14-12 against the Astros and Twins this season -- they'd get to pick whether to win two home games or one road game to grab the second AL Wild Card spot. They'd probably pick the one road game, which wouldn't take place until Tuesday and which would give them a day off.
With that, Scioscia wouldn't have to bring everybody back on short rest.
"It's based on the health of a player -- that's it," Scioscia said of pitching his starters on three days' rest. "We're not going to put guys at risk. We'll never put guys at risk."
Worth noting
• Right-hander Matt Shoemaker (strained right forearm) has been playing catch but has yet to throw off a mound since his last start, in Minnesota on Sept. 20. Shoemaker is still trying to make himself available for a potential ALDS.
• Closer Huston Street (left groin) is expected to play catch over the weekend, but Scioscia said it's "nothing close to what he would need to do" to be ready to return. Street is still hoping to be available for the postseason at some point.
Alden Gonzalez is a reporter for MLB.com. Follow him on Twitter @Alden_Gonzalez and listen to his podcast. This story was not subject to the approval of Major League Baseball or its clubs.