Wolf undecided about returning for another season
39-year-old lefty made 7 starts this season for Tigers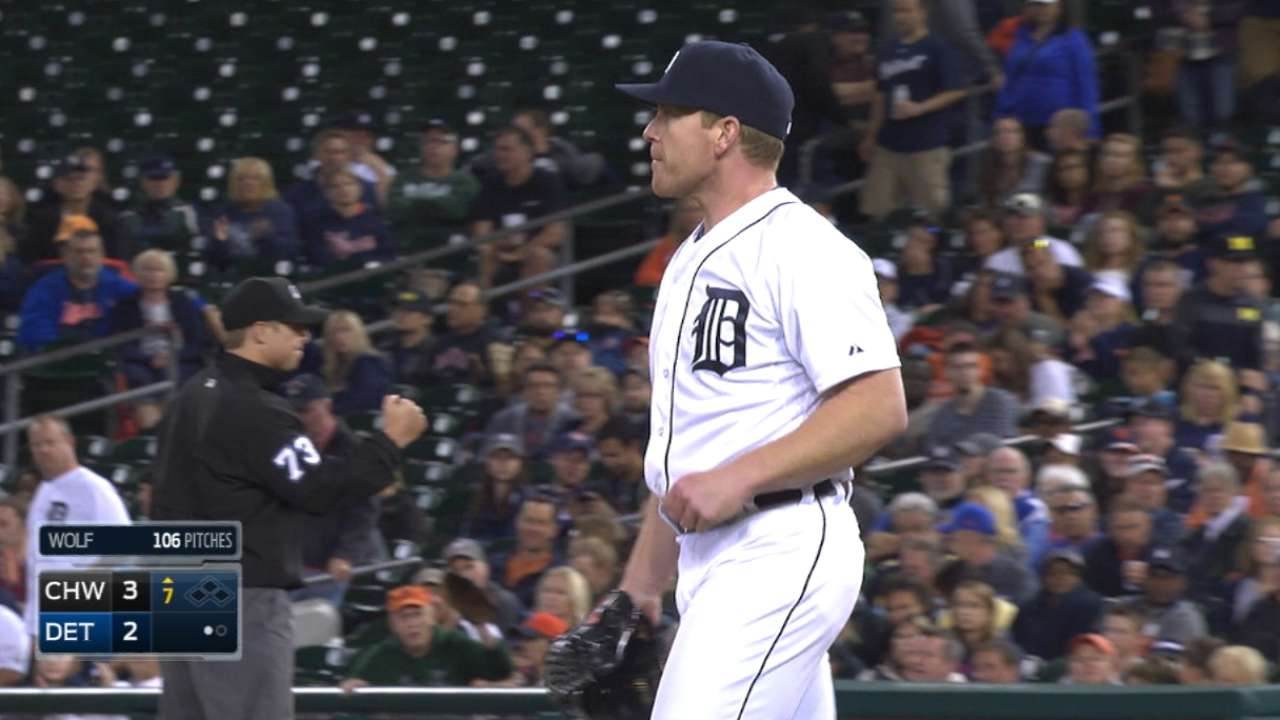 CHICAGO -- Randy Wolf endured nearly a full season riding the bus at Triple-A to get another shot in the big leagues. He didn't get a win, but he proved he could still pitch at age 39. It remains to be seen whether he wants to go through that again in 2016.
Wolf (0-5, 6.42 ERA) said he hasn't made a decision whether he'll try to pitch again next season, but after fighting his way back to big leagues, he's much more at peace if his 16th Major League season ends up being his last.
He felt too good when he threw last offseason not to try to come back. After seven starts with the Tigers, he feels good.
"For me, to just battle to get back to the big leagues, obviously I really wish I could've done better, but mentally, I'm in a much better place going through what I did," Wolf said Friday. "Regardless of what happens, I'm good with it. If I don't play again, I'm fine. If I do, I'm fine as well. Last year, I didn't feel that way. It was a very unsettling feeling. I think it would've driven me nuts. Now, I'm in a much better place."
Wolf spent the 2014 season in five different organizations, making four starts and two relief appearances with the Marlins. He signed with the Blue Jays in the middle of Spring Training, agreed to go to Triple-A Buffalo, then made 23 starts there without a call while the Blue Jays brought up their youngsters.
It took a pair of Tigers starters going on the DL the same day for Wolf to get his shot, going to Detroit in a Minor League trade for cash considerations. He had quality starts in his first two outings, including seven innings of one-run ball against the Angels in a 2-0 loss, then went seven quality innings against the White Sox on Sept. 21 in a 3-2 loss. The other outings ended up being a struggle, capped by six Twins runs -- four earned -- on seven hits with just five outs recorded.
"I felt like here, I had two bad games. Other than that, I felt OK, had some good games," Wolf said. "It's unfortunate to have a zero in the win column, but to me it was an accomplishment at my age, after two Tommy Johns, to come back and be throwing at the same velocity as I did when I was 25 years old, and battle back to get here with the Tigers. To me, I felt like it's a personal accomplishment. I know what I did to get there, and the battle I fought to get there. That, to me, is gratifying in itself. That helps out my mental frame."
It's a battle that might be difficult for him to push through once more. He made his Tigers debut on Aug. 22 on his 39th birthday.
"I feel like I could do it, physically, but there's just a lot of factors," Wolf said. "The past two years have been a grind. Baseball's easy. It's the grind of battling in Triple-A, not knowing if you're going to the big leagues, last year bouncing between five different teams. It's a mental grind. I think that's what my main issue is."
If this is it for Wolf, barring a relief appearance this weekend, he would finish with a 133-125 record in 389 career appearances, 379 of them starts. His 2,237 1/3 innings rank 11th among active pitchers, his 19.4 Wins Above Replacement ranks 42nd.
Jason Beck is a reporter for MLB.com. Read Beck's Blog, follow him on Twitter @beckjason and listen to his podcast. This story was not subject to the approval of Major League Baseball or its clubs.