Royals top Twins, keep pace in home-field chase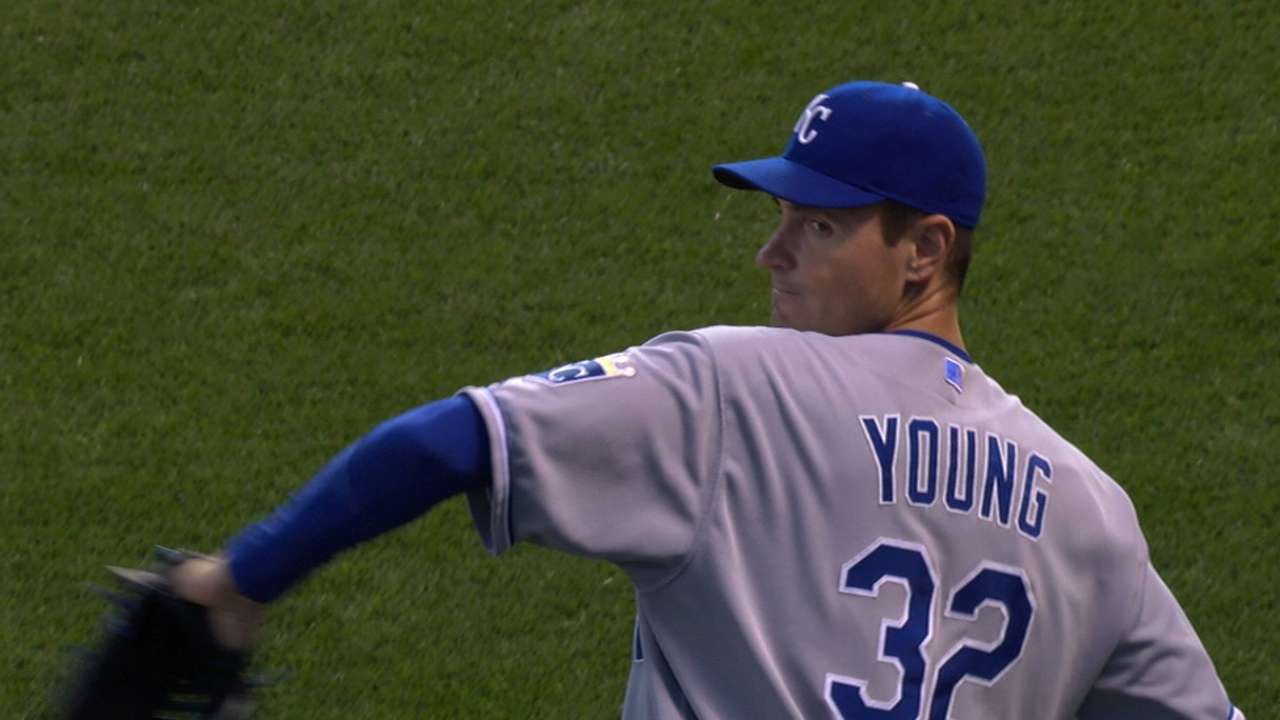 MINNEAPOLIS -- The Royals dealt the Twins a critical blow to their postseason chances, as Ben Zobrist connected on a go-ahead RBI double in the eighth in a 3-1 win on Friday night at Target Field.
With the loss, the Twins (83-77) dropped two games back of the Astros and a game behind the Angels in the race for the second American League Wild Card spot.
The Royals (93-67) remain tied with the Blue Jays, who hold the tiebreaker for overall home-field advantage.
"It's deflating for sure," Twins manager Paul Molitor said. "We know what's happening in the other games. We have 14 hours or so to figure out how to post a win. We need a lot more help than we did headed into tonight, that's for sure. But we still have to try to win tomorrow and hopefully have to cause the other teams to win as well."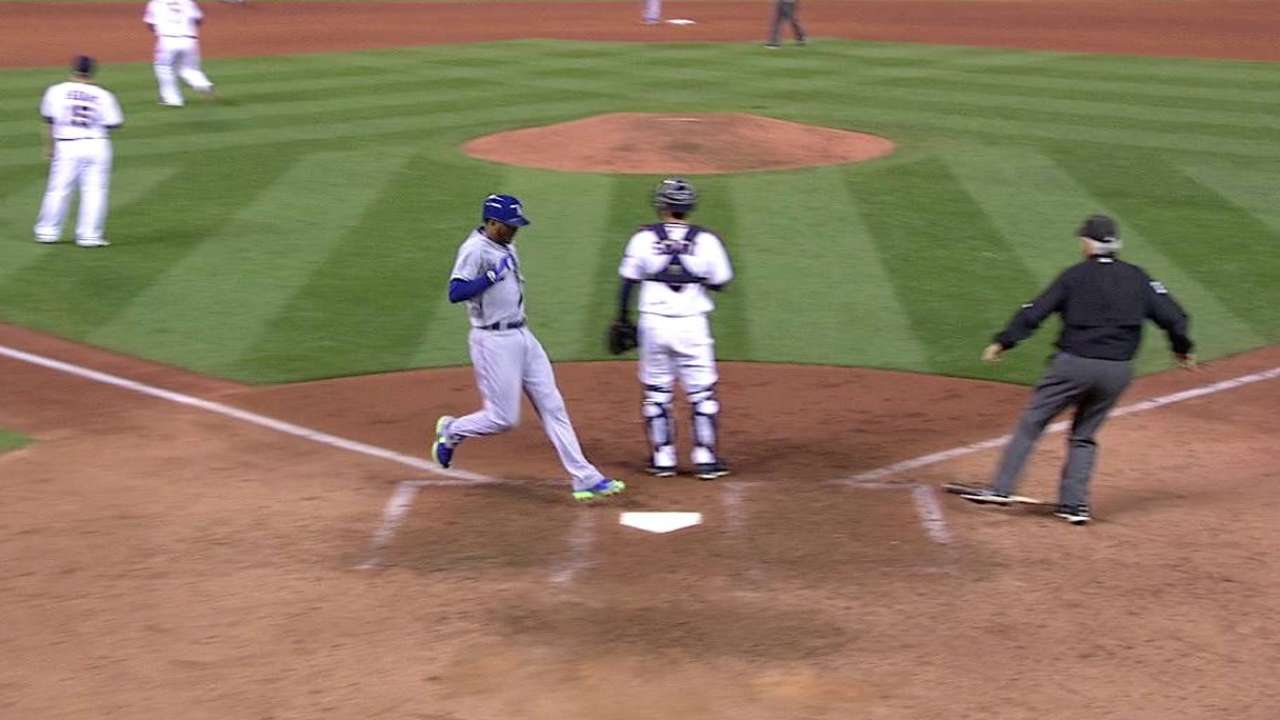 Twins right-hander Ervin Santana continued his impressive run, going at least seven innings for a seventh straight start, but he took the hard-luck loss after giving up a leadoff single to Alcides Escobar in the eighth on his 110th and final pitch of the night. Twins left-hander Glen Perkins, who entered with a 6.98 ERA in the second half, gave up the go-ahead RBI double to Zobrist. Mike Moustakas followed with a single to right that allowed Zobrist to score, as Torii Hunter mishandled the play for an error.
Royals right-hander Chris Young was solid in a no-decision, allowing one run on four hits and two walks over 6 1/3 innings. He didn't give up a hit after a two-out single from Kurt Suzuki in the second. Relievers Louis Coleman, Ryan Madson and closer Wade Davis combined to throw 2 2/3 scoreless innings to preserve the win. It was the 16th save of the year for Davis.
"I was just trying to be aggressive," Young said. "I made enough good pitches and I made some bad ones, too -- other nights those bad ones get punished. A great team win, a great environment. A fun time of year and fun to be part of it."
MOMENTS THAT MATTERED
Big Ben's ambush: Zobrist didn't waste any time against Perkins. He smoked the first pitch he saw and rocketed it off the left-center-field wall. That plated Escobar, who got the two-run eighth-inning rally started with a single to right.
Royals manager Ned Yost was pleased with his team's offense effort.
"You knew it would be a tight game because Ervin had his good stuff," Yost said.
Santana's effort goes for naught: The righty finished the regular season on a tear, posting a 1.62 ERA over his last seven starts to finish 7-5 with a 4.00 ERA in 17 starts. He was left in for the eighth, but gave up a leadoff single to Escobar that proved costly. Perkins continued his second half struggles and couldn't come through in a pivotal spot to get Santana saddled with the loss. Perkins has been bothered by a lower back strain in the second half, but Molitor insisted his former closer is healthy. More >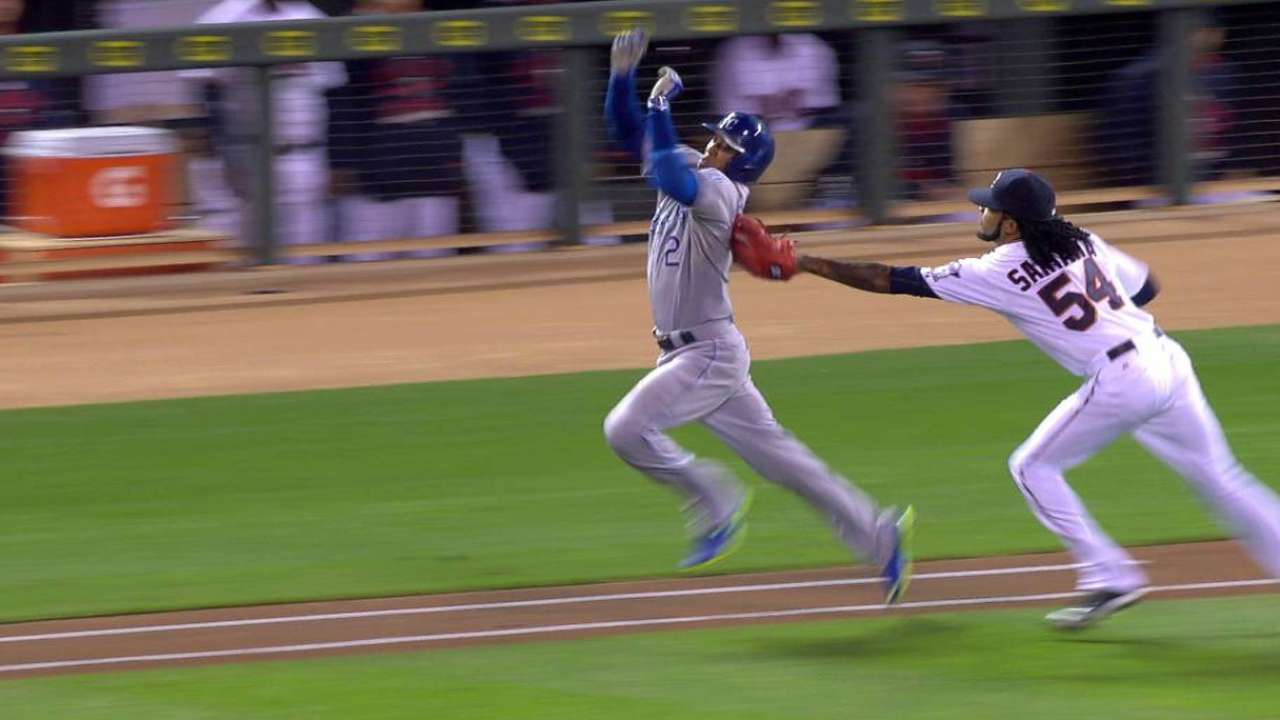 "I think we all are aware it's not coming out the same, but physically he's fine," Molitor said. "He says his physical issues are behind him, but for whatever reason, we're not seeing the numbers we're accustomed to. And when you're pitching at lower velocity, pitch location and execution are a little bit more important. I think he was trying to get in on Zobrist there and he left it out. But I think he's feeling OK."
The double-play ball: The Royals' bullpen wiggled out of two potential late jams. In the seventh, Young left with a runner on first and one out. But Coleman came on in relief and got Suzuki to tap into a 1-6-3 double play. In the next inning, Madson gave up a single to Eduardo Escobar. But Madson got Brian Dozier to hit a comebacker and Madson started a 1-6-3 double play. More >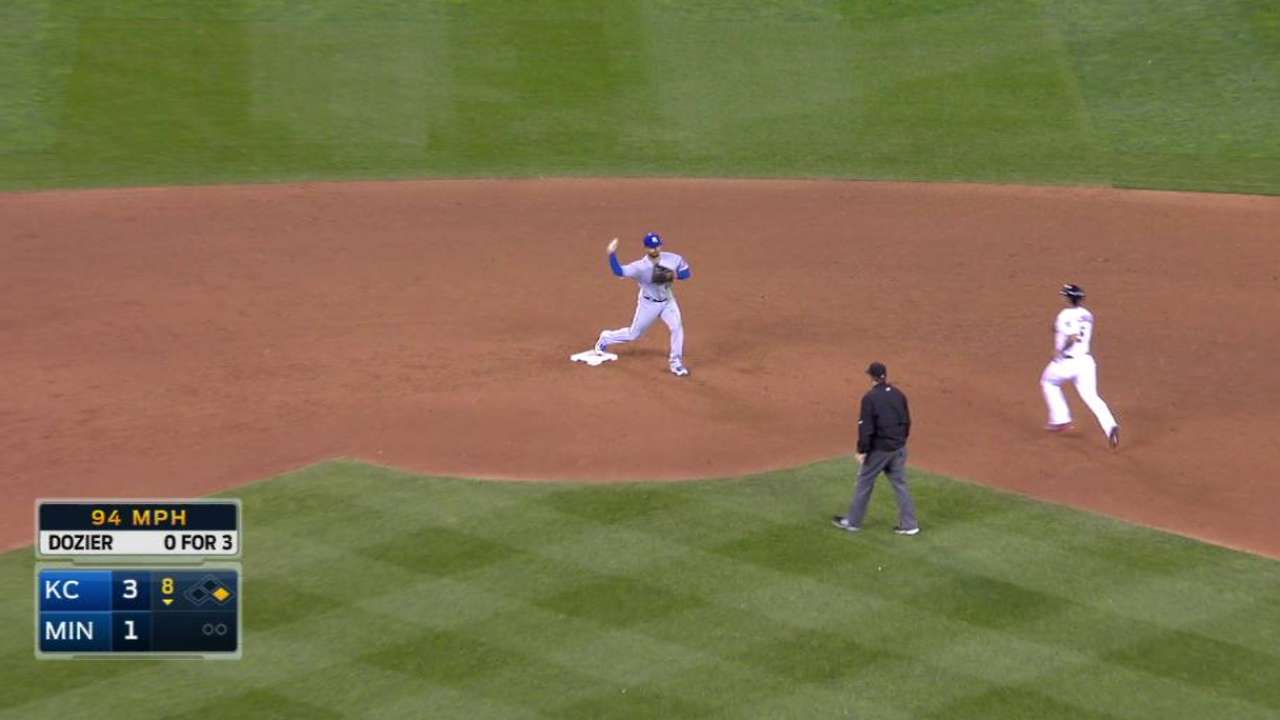 "Both of those were huge," Yost said. "The key is making the first throw because that's the one you can mess up and pull the guy off the bag."
Birthday boy comes through: Aaron Hicks, celebrating his 26th birthday, gave the Twins an early 1-0 lead with an RBI single in the second to score Eddie Rosario with two outs. Hicks also made an impressive running over-the-shoulder catch in right-center in the sixth to rob Moustakas of a hit with Eric Hosmer at first base. But Hicks' RBI single was the all the Twins could muster.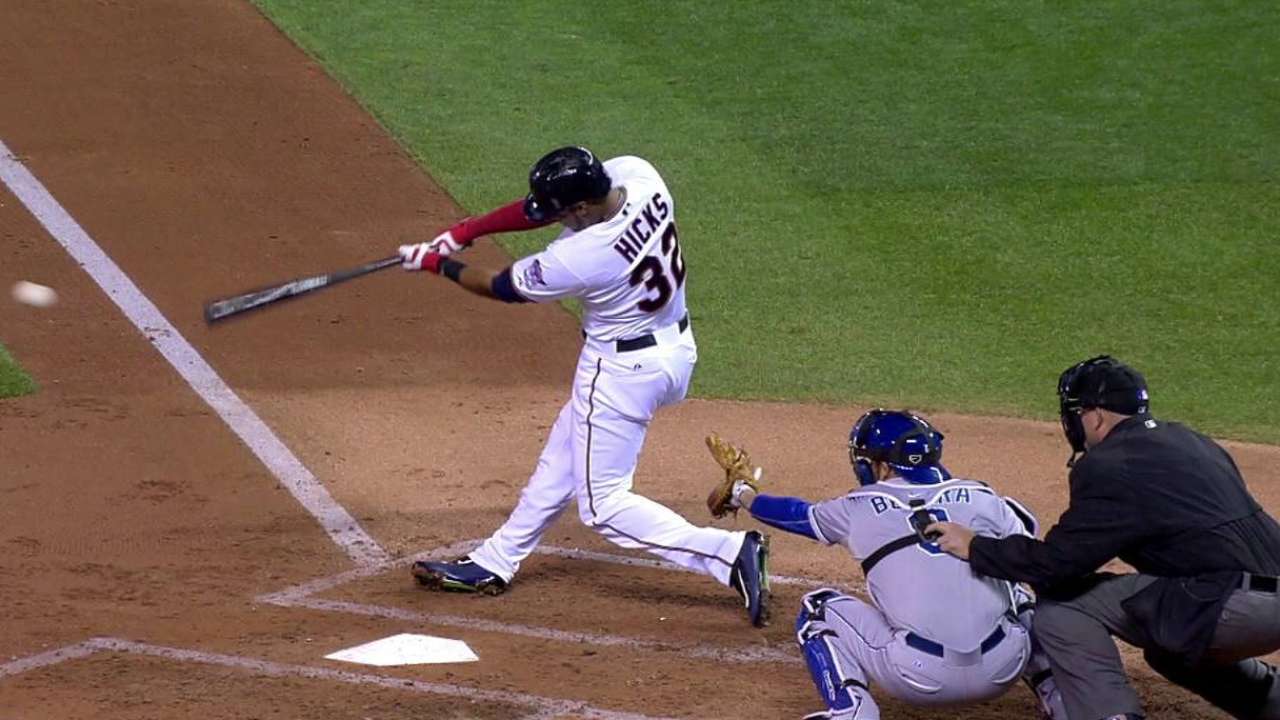 "Offensively, it was a rough night," Molitor said. "We talked about the approach we needed to have against a guy like that, but we just don't pick up his offspeed pitches very well. A couple lefties had good at-bats, but righties had a tough time."
QUOTABLE
"I don't like it, but all we can do is keep battling and see what happens. The scenario is those guys lose two, we win two. So we have to go out there tomorrow, but this one was a hard one to swallow." -- Hunter
UPON FURTHER REVIEW
Alex Gordon led off the second with a double high off the wall in right-center and a crew chief review was called to see if it was a homer. After a review, the call was confirmed. Gordon was eventually stranded at second.
After a leadoff double from Jarrod Dyson in the third, Escobar dropped down a sacrifice bunt and Santana attempted to tag him as he ran to first. He was ruled safe by first-base umpire Larry Vanover, but the Twins successfully challenged the play and Escobar was ruled out.
The Royals also won a challenge in the ninth, as Dyson was originally ruled out on a pickoff play from Kevin Jepsen by Vanover, but the call was overturned.
WHAT'S NEXT
Royals: Right-hander Yordano Ventura (12-8, 4.20 ERA) will get the ball on Saturday at 12:05 p.m. CT for the middle game in this series at Target Field. Ventura logged his seventh quality start in 10 outings with seven scoreless innings against the Cubs on Monday.
Twins: Left-hander Tommy Milone (9-5, 4.04) will start the rematch in this three-game set on Saturday at 12:05 p.m. CT. Milone is 2-0 with a 3.75 ERA vs. Kansas City this season.
Watch every out-of-market regular-season game live on MLB.TV.
Rhett Bollinger is a reporter for MLB.com. Read his blog, Bollinger Beat, follow him on Twitter @RhettBollinger and listen to his podcast. Jeffrey Flanagan is a reporter for MLB.com. Follow him on Twitter at @FlannyMLB. This story was not subject to the approval of Major League Baseball or its clubs.