Twins plan for possible postseason scenarios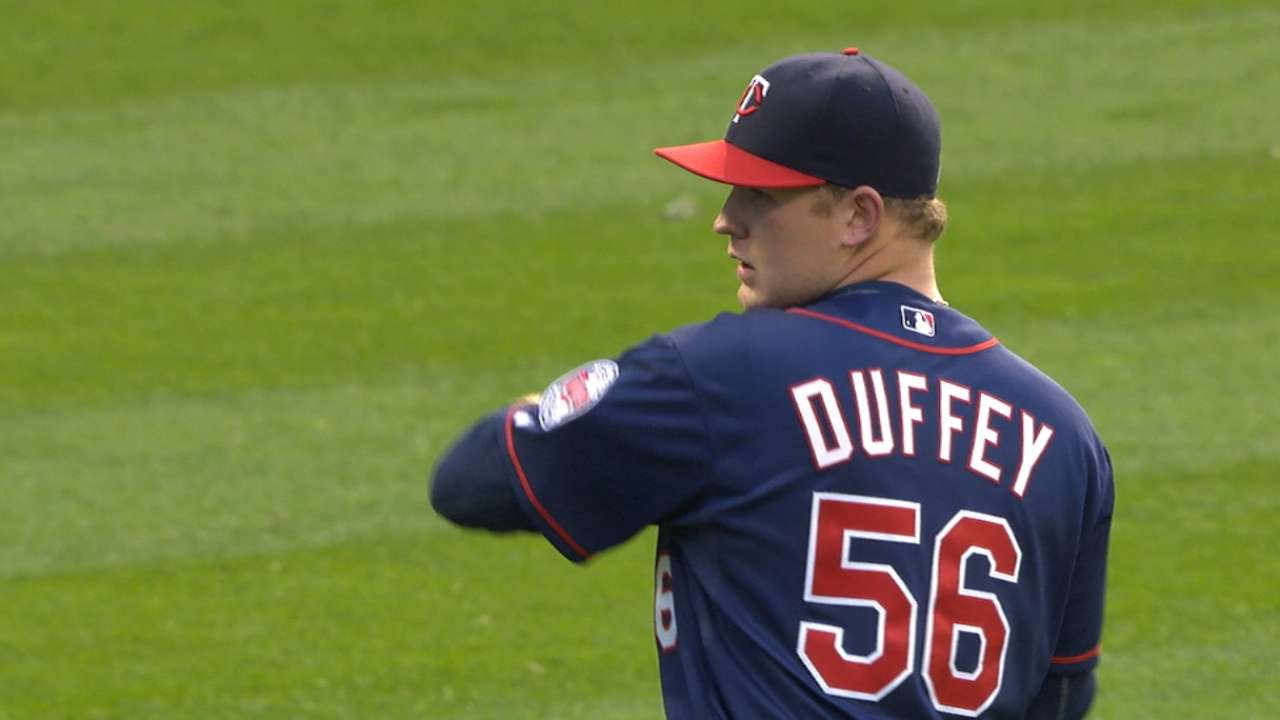 MINNEAPOLIS -- While the Twins will need some help if they're to make the postseason for the first time since 2010, it hasn't stopped them from planning ahead.
Minnesota has an advance scout watching every possible postseason opponent, and manager Paul Molitor has already started to look at his options for starters in potential tiebreak games and the American League Wild Card Game presented by Budweiser. Entering Friday night's opener of a key three-game series against the Royals, the Twins were tied with the Angels and one game back of the Astros for a postseason spot.
• Watch the races live on MLB.TV.
"I'm not superstitious about that," Molitor said. "It would be foolish for that not to be in your mind as far as how many pitchers you need for a one-day situation. If you get to [Games] 163 or 164, you keep your roster as an extension of the season, but the Wild Card changes that. That would be only a one-day roster. You don't want to cram at the last minute in case you get that opportunity."
Several interesting scenarios could play out for the Twins this weekend. If Minnesota, Houston and Los Angeles all tie, the Angels own the tiebreaker and would have the option of playing one game on the road or two games at home. If the Angels decide they'd rather play one game on the road, as expected, the Twins would travel to Houston to play on Monday, with a chance to host the Angels on Tuesday with a win. But if it's just the Twins and Astros who finish in a tie, Minnesota would host Houston on Monday with the winner advancing to play in New York against the Yankees on Tuesday in the Wild Card Game.
"It's natural for your mind to look at all the different scenarios, and the fact with the extra Wild Card potential and the play-ins to get in, you have the potential of playing three games in three days in different cities," Molitor said. "I think people like talking about that. It's kind of a unique circumstance and potentially we could be one of those teams."
Molitor, though, said he can't afford to look too far ahead, as the Twins have to do whatever is necessary to win since they likely might be not able to afford a loss the rest of the regular season. Right-hander Kyle Gibson remains likely to start on short rest in Sunday's series finale if it has postseason implications.
"I have to emphasize winning the games we're playing in at that particular time," Molitor said. "Even if you have to ad-lib along the way because you win today. I'm willing to do that. I can't get ahead of the importance of winning today."
If the Twins were to simply advance to the Wild Card Game, rookie Tyler Duffey is likely to get that start at Yankee Stadium on Tuesday. But if they have to play on Monday in a tiebreaker, Molitor said he's not afraid to use Friday's starter, Ervin Santana, even if he has a limited pitch count on just two days' rest. Right-hander Phil Hughes, who was scratched from his start on Monday with flu-like symptoms but pitched an inning in relief on Wednesday, is also an option.
Rhett Bollinger is a reporter for MLB.com. Read his blog, Bollinger Beat, follow him on Twitter @RhettBollinger and listen to his podcast. This story was not subject to the approval of Major League Baseball or its clubs.