Free-agent-to-be Pena hopes to stay with Reds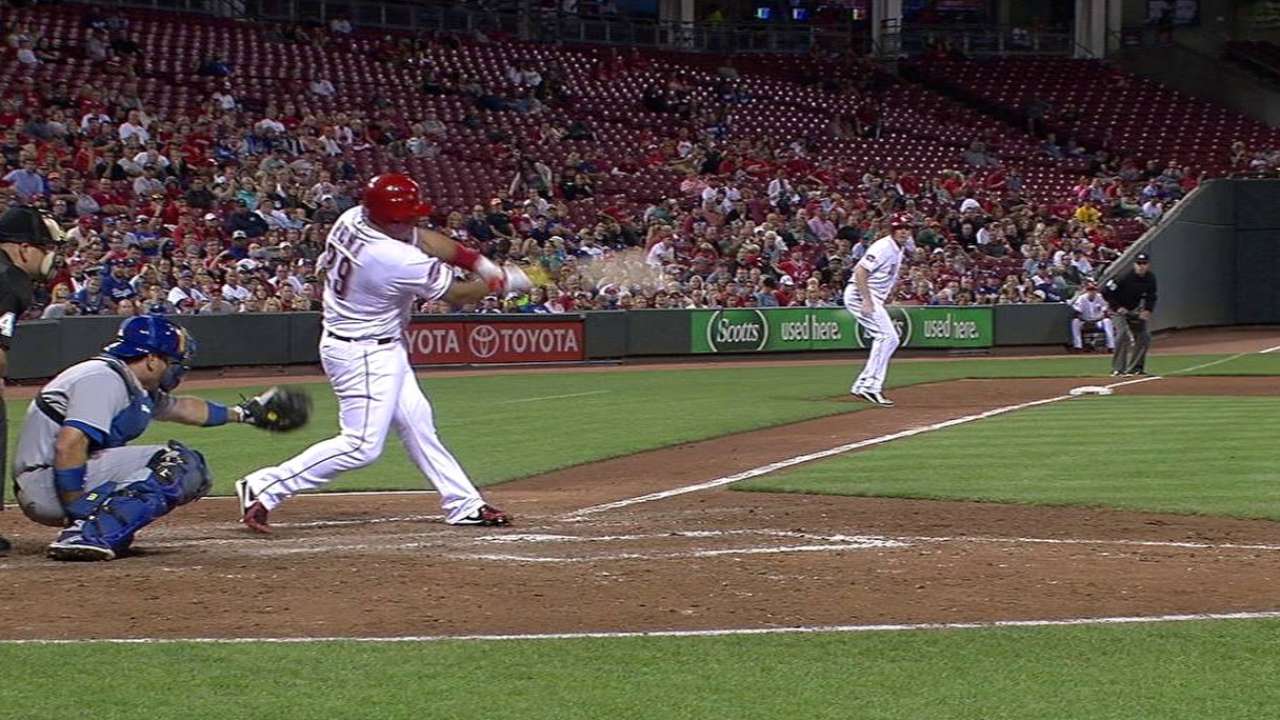 PITTSBURGH -- Veteran Reds catcher Brayan Pena will be heading to the large unknown of the free-agent market after the season. Pena took to Twitter on Friday to let fans know his top preference was to remain in Cincinnati.
The prospects of the 33-year-old Pena being re-signed by the Reds seem diminished, however. Primary catcher Devin Mesoraco is expected to make a full recovery from hip surgery. In Mesoraco's absence, rookie Tucker Barnhart joined Pena to form a strong catching tandem. September callup Ramon Cabrera also made a positive impression.
There is no doubt in my ❤️ that i want to be a Red next year , that is not a SECRET ,this is a great organization & have a lot of LOYAL FANS

— Brayan Pena (@cuban2727) October 2, 2015
"When you're willing to come back to a place that you feel great, that you enjoy, you're willing to do whatever it takes," Pena said. "That being said, I'm willing to listen to them if they give me the opportunity to come back here. Of course, I understand the situation and the depth of the position here, especially with Devin coming back. I don't know what they have in mind but I want to make sure they know I'm available to come back here. I am willing to put them first, then everything else."
It will be Pena's second time as a free agent. The Reds signed him to a two-year, $2.28 million contract on Nov. 20, 2013.
"This is the place that I want to be," he said. "At the end of the day, it's not my call anymore. It's whatever decision the team makes. I want to make sure the fans know how much I appreciate it here. That was the last game I played at Great American Ball Park for this year and I wanted to make sure [the fans] really know how much they meant to me and my family."
Pena is not going to be a top-dollar signing, which would aid his desire to return to the Reds. But he is seeking a Major League contract.
"I feel like I've earned that," Pena said. "I'm not trying to be disrespectful. My numbers definitely show I can play at this level, and do a lot of stuff for the ballclub."
Entering Friday, Pena was batting .275/.334/.326 with no homers and 18 RBIs in 107 games, including 83 starts behind the plate. He played a lot more than expected during his two seasons with the Reds. Because first baseman Joey Votto was limited by injuries last season, Pena filled in at first base a lot and played 115 games overall. He averaged 71 games over the four seasons he played before arriving in Cincinnati.
Pena plans to work with a nutritionist this offseason and wants to lose 25 pounds. He also wants to learn other positions to increase his versatility.
"I haven't hit any homers, but I've been hitting pretty good for a switch-hitting catcher," Pena said. "I bring experience. It's not just things on the field. There are a lot of things behind the scenes that I'm capable of doing. There's no doubt in my mind that I will have an opportunity to see what's out there because I've earned it. I know my role. It's something I understand and I play it very well. I don't try to be somebody I'm not. I know what I am. I know what I can do. I know what I bring to the table. I know there are not too many guys like me out there."
Mark Sheldon is a reporter for MLB.com. Read his blog, Mark My Word, follow him on Twitter @m_sheldon and Facebook and listen to his podcast. This story was not subject to the approval of Major League Baseball or its clubs.