Perez learning, thriving in backup catcher role
Backstop proving himself behind dish, with bat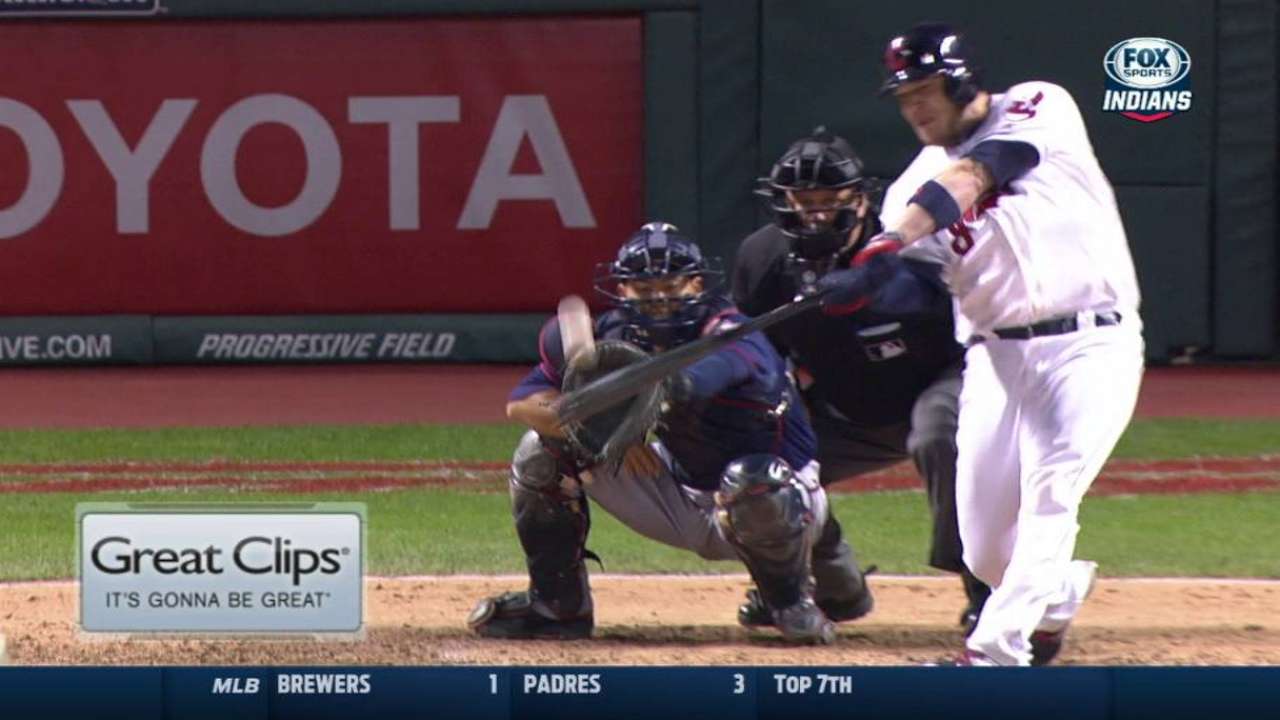 CLEVELAND -- Roberto Perez is still adjusting to being a backup catcher. It's a tough gig, to go from being an everyday player your entire life to a guy who only gets in the lineup every third or fourth day.
He says the transition is tough. Perhaps making it easier is that while Perez adjusts to life as a backup catcher, he's proving along the way that he's good enough to be a starter.
"To be a backup catcher's a hard job, especially for a young guy," Indians manager Terry Francona said. "But he's handled himself really well."
Throughout the season, Francona has noted the luxury of having Perez as a backup, stressing that he believes Perez could be a starter for many teams in the Major Leagues.
Scouting reports of Perez coming up through the Minor Leagues suggested that his game-calling and defensive abilities behind the plate were Major League caliber. His work at the dish alone was enough to make him a quality backup. What he's done at the plate is what's made him perhaps the game's best backup, and one worthy of a starting position.
On Thursday, Perez hit a screaming line drive that cleared the center field wall at Progressive Field in less than four seconds. According to Statcast™, it came off the bat at 112 mph, making it the hardest-hit homer by an Indians player all season.
"I told [Michael] Brantley, I said, 'I know how it feels now to hit the ball really good,'" Perez said with a smile after the game.
Then consider this: Tribe starting catcher Yan Gomes was last year's American League Silver Slugger Award winner at the position. His career OPS is .744. Perez's career OPS is .725. Granted, Gomes has nearly 1,000 more plate appearances than Perez and has perhaps posted misleading numbers this year due to an early-season knee injury that threw him into an offensive funk. But despite differing approaches at the plate, their contributions aren't too far apart.
"Roberto's got some strikeouts and walks, and certainly some power," Francona said. "The walks certainly drive his OPS up. Gomer's much different than that."
Perez entered Friday ranked 15th among catchers in Wins Above Replacement, according to FanGraphs, and 17th according to Baseball-Reference, suggesting that nearly half the teams in baseball could have benefited from Perez being their starter this year. Looking only at backups, Perez ranks second in the Major Leagues, trailing Oakland's Josh Phegley in WAR. His on-base percentage of .349 leads all backups, and his .746 OPS is tied for fourth.
Perez's defense and game-calling remains his priority, and he's rated as an above-average pitch framer and blocker by Baseball Prospectus. The bat -- consistently impressive since recovering from his 2013 battle with Bell's Palsy -- is just the icing on the cake.
"I try to [lead] my pitching staff and try to get them through the whole game. That's my first thing," Perez said. "Offense is second. If I hit, it's just a plus."
August Fagerstrom is an associate reporter for MLB.com. This story was not subject to the approval of Major League Baseball or its clubs.