DeShields says knee is close to 100 percent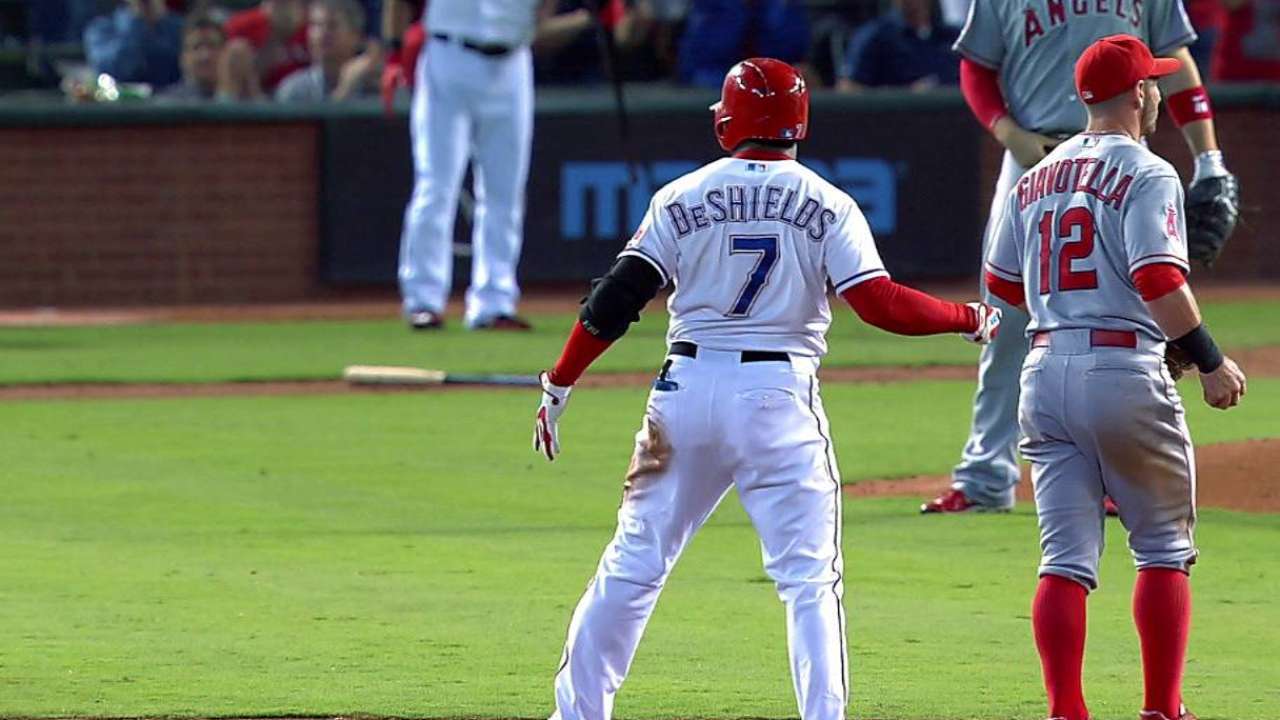 ARLINGTON -- Rangers outfielder Delino DeShields is just about over the soreness in his left knee he has been dealing with for the past 3 1/2 weeks.
"I'm not wearing my brace any more, so that's a good thing," DeShields said before Friday's game with the Angels. "It gets tight sometimes, but other than that, I am close to 100 percent."
DeShields suffered a mild sprain in the knee on Sept. 7 against the Mariners and missed three games. He has missed just one game since Sept. 11 and is hitting .278 with 17 runs scored in his last 19 games.
But he is still being replaced defensively by Drew Stubbs late. The knee had been a factor, but now manager Jeff Banister admits that he likes Stubbs' vast edge in defensive experience in later innings. Stubbs is in his eighth season in the Major Leagues; DeShields is in his first. DeShields also split time between second base and the outfield in the Minor Leagues.
"I like the defense Delino plays," Banister said. "Delino is a good center fielder. But with Stubbs, he is a veteran center fielder, has great jumps off the bat and direct routes. He won't get caught up in the moment of the game. Delino is a kid that is still learning. The bulk of his experience is not very big. I just think the ability of Stubbs to play center field, plus his experience, it's a big plus for us."
DeShields admitted that it's tough to be pulled from a game.
"But we're a team, and whatever [Banister] wants to do, you have to respect it," DeShields said. "From a personal standpoint, I don't want to feel I can't be out there and finish a game. When you contribute, you want to finish the game and be a part of the hugs and handshakes. But we are a team and want to win ballgames, so it's what's best for the team."
Worth noting
• Outfielder Josh Hamilton was a little sore on Friday after crashing into the wall making a terrific catch on Thursday, but he was still in the lineup. Said Hamilton: "Sore everywhere, but good."
• Derek Holland pitched 6 1/3 innings to get the win on Thursday despite dealing with a bruised middle finger on his left hand. Said Holland: "I was just being me. I can't let pain be a factor. I've still got to pitch. These guys have all been through injuries, I've been through them, too. You have to be able to tune out the pain."
• Entering Friday's game, Elvis Andrus had 42 career stolen bases against the Angels, second most among active players. The Marlins' Ichiro Suzuki has 54.
T.R. Sullivan is a reporter for MLB.com. Read his blog, Postcards from Elysian Fields, follow him on Twitter @Sullivan_Ranger and listen to his podcast. This story was not subject to the approval of Major League Baseball or its clubs.