Ozuna looking to build on strong September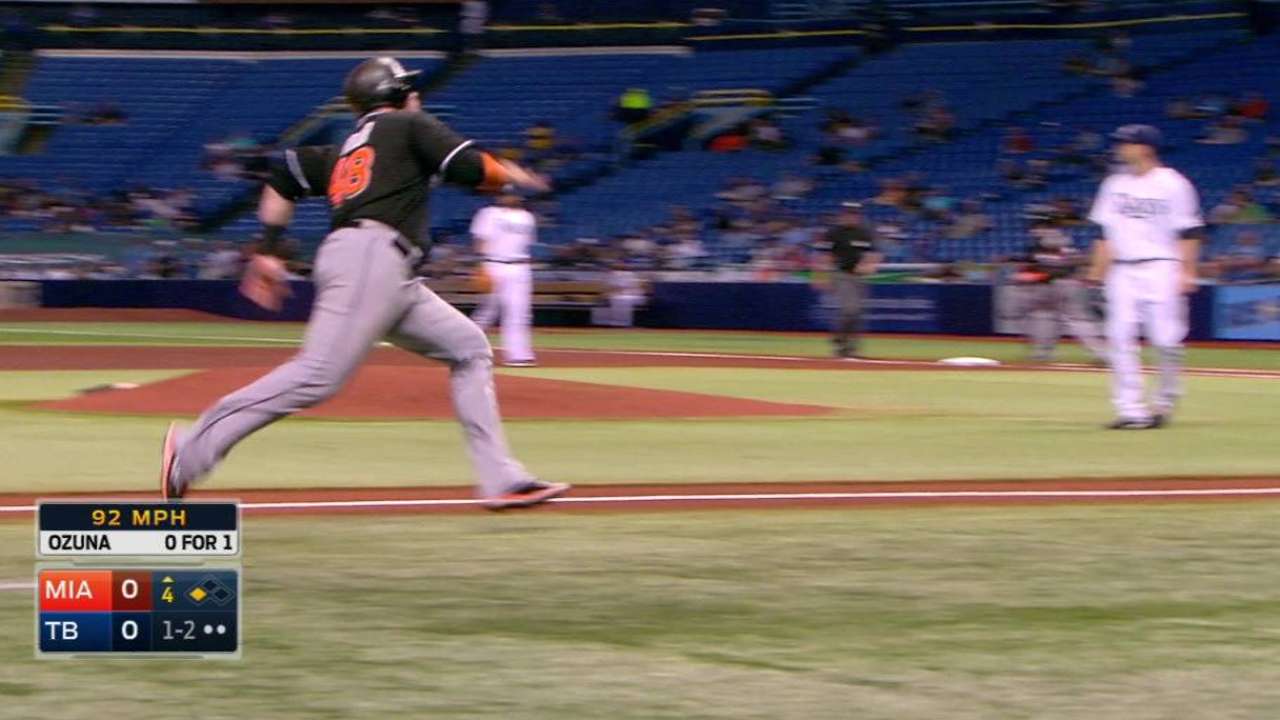 PHILADELPHIA -- Young players sometimes have to take a couple of steps backwards before moving forward. Marlins outfielder Marcell Ozuna finds himself in that situation.
The 24-year-old, who showed so much promise a year ago, is winding down a difficult 2015. Although Ozuna didn't meet expectations, he enjoyed a strong September, which could help springboard him into next season.
Manager Dan Jennings points out Ozuna going through growing pains, which is common for players in their first few big league seasons. So often, a player will have immediate success, before the league starts figuring him out. Ozuna is in the process of countering.
Jennings recently spoke with veteran third baseman Martin Prado about Miami's young players and their adjustments.
"One night talking with Prado, we talked about how it's a game of adjustments," Jennings said. "The young guys, in that zero to three service years time, the league adjusts to them and they adjust back."
A promising sign for Ozuna is he rebounded nicely in September -- .299/.358/.494 with three homers, eight doubles and 12 RBIs.
For the season, Ozuna is hitting .257/.306/.385 with 10 homers and 42 RBIs. His 27 doubles, though, are second on the team to Christian Yelich's 28.
It's been a season of adversity for Ozuna, who batted .269/.317/.455 with 23 home runs and 85 RBIs in 2014.
But in the first half, Ozuna's swing was off, as his lower half was lunging to the plate before his hands. In 79 games before the All-Star Break, he batted. 249 with four homers and 26 RBIs.
Ozuna was optioned to Triple-A New Orleans in early July and returned in mid-August.
"The biggest thing, No. 1, has been the balance, and No. 2, is shrinking the strike zone," Jennings said. "He's not chasing some of the pitches he did earlier in the year that got him in trouble.
"You're starting to see that, especially in run-producing situations. That's where he needs to make his money and be clutch. It's those opportunities to drive runs in. He has that ability. He's done it his entire career. It's good to see him, with runners in scoring position, take that kind of approach."
In July, there was speculation that Ozuna could be traded, and that remains a possibility in the offseason. But there is sentiment among his teammates to keep Ozuna, and chalk up 2015 as a down year.
All players go through struggles. The Marlins saw it with rookie Justin Bour, who has made a case to be the everyday first baseman next season. Like Ozuna, he had to adjust.
"We got to see it first hand this year with Bour," Jennings said. "He jumped out on fire, then the league made some adjustments to him. He went through a little rut, and since that time, he's adjusted, and is putting up the results."
Joe Frisaro is a reporter for MLB.com. He writes a blog, called The Fish Pond. Follow him on Twitter @JoeFrisaro and listen to his podcast. This story was not subject to the approval of Major League Baseball or its clubs.