O's-Yankees postponed; split DH today
BALTIMORE -- The Yankees had a chance to capture home-field advantage in the American League Wild Card Game presented by Budweiser without even throwing a pitch on Friday.
But it wasn't to be. Hours after New York's game against the Orioles was postponed due to rain at Camden Yards, setting up a split-admission, day-night doubleheader on Saturday (12:05 p.m. ET and 7:05), the Astros defeated the D-backs in Phoenix.
That kept Houston in the running to potentially host the Wild Card Game at Minute Maid Park on Tuesday at 8 p.m. ET (watch on ESPN), albeit barely. If the Yankees win any of their three remaining games, or the Astros lose either of their final two, the Wild Card Game will be played at Yankee Stadium.
• Shop for postseason gear | Schedule
Yankees manager Joe Girardi said after Friday's game was postponed that he had dual goals for the final series of the regular season.
"The most important thing is to clinch the home field for us," he said. "And in saying that, I don't have plans to play one player in both games tomorrow. To me that doesn't make a lot of sense that you would do that to the guys and risk injury, fatigue, blah, blah, blah."
Yankees right-hander Ivan Nova is slated to get the start against Orioles left-hander Wei-Yin Chen in the first game. If the Yankees lose that one, rookie sensation Luis Severino will be given the ball against veteran Baltimore right-hander Ubaldo Jimenez in the regularly scheduled nightcap. Watch the games for free on MLB.TV.
Michael Pineda has been tabbed to go for the Yankees on Sunday no matter what the circumstance.
The Yankees clinched a spot in the Wild Card Game by defeating the Red Sox, 4-1, on Thursday night in the final game of the regular season at Yankee Stadium. It was also the 10,000th victory in the 112-year history of the franchise.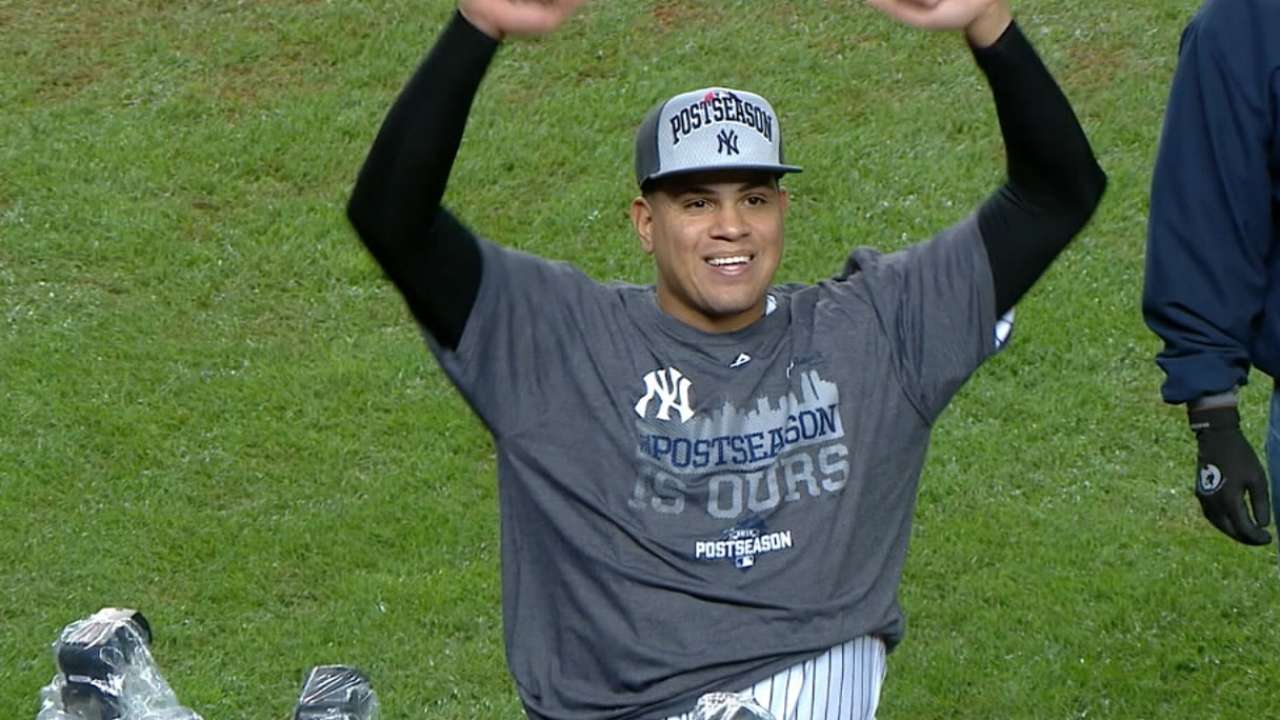 The Astros would have to win out and the Yankees would have to lose their last trio of games to force a tie in the standings. Houston would then host the Wild Card Game since they won the season series against New York, 4-3.
As unlikely as that may be, Girardi is keeping all his options open. He said Severino's start would hinge on whether the Yankees have already clinched home field in the opener.
"Nova would still do the first, but with Sevy, we might do something different," Girardi said.
There's a possibility that Girardi might hold Severino as a backup for probable Wild Card Game starter Masahiro Tanaka, who has made one start in the last two weeks while recuperating from a Grade 1 strain of his right hamstring. That injury was sustained breaking out of the box on a bunt in a loss to the Mets at Citi Field on Sept. 18. Tanaka allowed four runs to the Red Sox over five innings on Wednesday.
When asked if he was considering Severino as a bullpen option for the Wild Card Game, Girardi responded: "Maybe."
The Angels, who defeated the Rangers on Friday night, are still in contention for that second Wild Card spot at a game behind the Astros, but the Yankees have already clinched home-field advantage over the Halos. The Yanks also hold home-field advantage over the Twins, who have an outside chance of securing the second Wild Card.
Worth noting
• Girardi said the back stiffness plaguing Jacoby Ellsbury and Chase Headley had abated enough for them both to be able to play this weekend. Girardi held the veteran players out of Thursday night's game for that reason. Headley has a chronic lower back issue that dates to his days with the Padres, and Ellsbury sustained the injury slamming into the center-field fence at Yankee Stadium on Wednesday night.
"They're both better," Girardi said. "They were both available to me last night. I didn't want to use them. For right now I have plans of playing them in one game each tomorrow."
• The tests came back on infielder Stephen Drew after he saw a specialist in Pittsburgh, and they confirmed that he is suffering a vestibular concussion. The vestibular system plays a role in stability and quickness of movement, and someone with a vestibular concussion is highly susceptible to another one.
Drew returned to New York, and he has not played in a game since Sept. 22, with his last start coming on Sept. 15. Drew may have suffered the concussion when he was hit in the face by a hard ground ball that deflected off his glove during a game on Sept. 9.
"It's above my pay grade, but my understanding is that it can be caused by a number of things," Girardi said about Drew's injury.
It's doubtful that Drew will be available anytime soon "because he still has the symptoms," Girardi added.
Barry M. Bloom is a national reporter for MLB.com and writes an MLBlog, Boomskie on Baseball. Follow @boomskie on Twitter. This story was not subject to the approval of Major League Baseball or its clubs.