MLB.com Columnist
Jonathan Mayo
Constructing a winner: Yankees
How New York used the Draft, trades, free agency and international signings to build its playoff team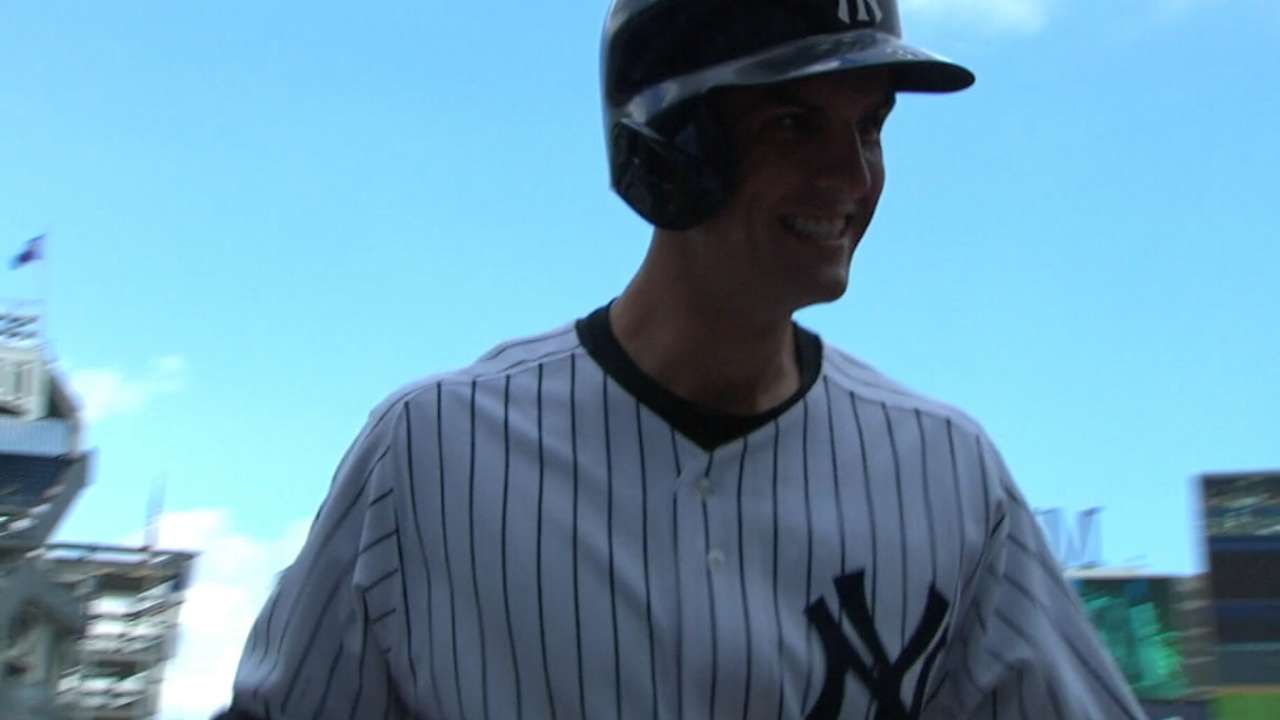 MLBPipeline.com is breaking down how each of the postseason teams was built, looking at the composition of projected Division Series rosters.
It's now standard operating procedure for teams to have both scouting and analytics departments. While it can lead to some Hatfield vs. McCoy type arguments, when the two sides of the baseball coin can come together, good things can happen.
That's what has happened with the 2015 Yankees, back in the postseason for the first time since 2012. Saddled with some very large long-term contracts and unable to add significantly to one of the highest payrolls in baseball, it became even more important for general manager Brian Cashman to rely on those "factions" to make savvy personnel decisions.
"We have an exceptional pro scouting department and analytical department to help guide me into some maybe low-profile, but upside acquisitions," Cashman said.
There's been a lot of disagreement, for instance, between assistant GM Mike Fishman, who headed up the quantitative analysis team previously, and assistant pro scouting director Steve Martone. Cashman described that diplomatically as creating "some great conversation."
But he also said they both pushed for additions like free agent Chris Young and non-waiver Trade Deadline acquisition Dustin Ackley, both of whom have made substantial, albeit more low-profile than the Yankees' moves of the past, contributions to this playoff-bound club.
HOMEGROWN
Player, how acquired, year
Dellin Betances, Draft, 2006 (8th)
Greg Bird, Draft, 2011 (5th)
Brett Gardner, Draft, 2005 (3rd)
John Ryan Murphy, Draft, 2009 (2nd)
Ivan Nova, Int'l sign, 2004
Rob Refsnyder, Draft, 2012 (5th)
Luis Severino, Int'l sign, 2011
Masahiro Tanaka, Int'l sign, 2014
Adam Warren, Draft, 2009 (4th)
Bryan Mitchell, Draft, 2009 (16th)
Back in the day -- the mid-to-late-'90s, to be precise -- the Yankees built a dynasty around a core of homegrown players. Since the time of Derek Jeter and company, there have been some promoted from within, but there has been a lack of true impact talent making its way up from the club's farm system and onto the big league roster.
That changed in 2015 with a pair of second-half callups who are as responsible for the Yankees being playoff-bound as perhaps any players. The first to arrive was right-hander Severino, who made his big league debut on Aug. 5. He's arguably been the Yankees' top starting pitcher since and will likely start Game 1 of the American League Division Series, should New York advance beyond the Wild Card Game presented by Budweiser.
First baseman Bird came next, debuting on Aug. 13. His callup was made necessary due to Mark Teixeira's injury. With the veteran done for the season, Bird's power production became even more important.
"We felt if we had an injury, he could handle it," Cashman said about Bird. "And he has. Obviously, he's not Tex, but Bird is just 22. He's provided quality at-bats with power and has a bright future."
"This winter, we thought if things went well, Severino could play a part in the second half," Cashman continued. "Things don't always shake out, but in his case, he has. He's one of the big reasons we're heading to the postseason. He and Bird were our second-half trade acquisitions."
TRADES
Player, year, acquired from
Dustin Ackley, 2015, Mariners
Chris Capuano, 2014, Rockies
Chase Headley, 2014, Padres
Didi Gregorius, 2014, D-backs
Michael Pineda, 2012,Mariners
Alex Rodriguez, 2004, Rangers
Brendan Ryan, 2013, Mariners
Chasen Shreve, 2015, Braves
Justin Wilson, 2014, Pirates
While it's true the Yankees didn't make any big-splash Deadline deals, that doesn't mean Cashman didn't pull the trigger on any trades to help build this playoff-bound club. The Yankees did add Ackley at the Deadline, and the former Mariner has performed well at a number of positions, with the front office also pleased he's under control for another few years.
Complete breakdown of how this year's 10 @MLB #postseason teams built their rosters: http://t.co/6739SMacE6 pic.twitter.com/MRTg8nAnrw

— MLB Pipeline (@MLBPipeline) October 5, 2015
They also addressed a potential weakness, the bullpen, especially after the loss of David Robertson to free agency. This offseason, they traded from a position of strength (catching) to add a valuable arm in Wilson, another point where both the pro scouting and analytic departments were in harmony.
The largest trade acquisition for this season, of course, was the one made to fill the gaping hole at shortstop: Gregorius. Both Tim Naehring and Eric Chavez, former big leaguers who are now scouts for the organization (Chavez played with Gregorius in Arizona in 2014), pushed to bring in the young infielder.
That transition didn't start off so well, with Gregorius hitting .206 with a .499 OPS in April (.619 OPS in the first half). But he turned it on, especially in July and August, and the Yankees look like they could have their shortstop under control until 2020.
"It just looks like he settled in and got his sea legs under him," Cashman said. "I'm sure in the grand scheme of things, he tried too much, too soon. He hadn't had a full season in the big leagues before and now he's replacing Derek Jeter. We said he wasn't a finished product, but what we saw in April and May was nothing close to what we thought we were going to see. You keep running him out there, putting him in the lineup, supporting him."
FREE AGENTS
Player, year
Carlos Beltran, 2013
Jacoby Ellsbury, 2013
Brian McCann, 2013
Andrew Miller, 2014
Rico Noel, 2015
Chris Young, 2014
Baseball typically isn't a game of delayed gratification, but in terms of playing the free-agent market, it seems to be just that for the 2015 Yankees.
Cashman was aggressive on this front prior to the 2014 season, bringing in McCann, Ellsbury and Beltran to help quickly turn things around from a 2013 season that saw the Yankees finish 12 games out of first. The 2014 team did end in second place, but again was 12 games behind the division leader and out of the playoffs for the second consecutive year.
It's been a mixed bag from the big acquisitions this season, especially with Ellsbury scuffling after a terrific start to the year as he's tried to return from injury. But there's no question there's been more of a return on investment in 2015.
"We expected huge contributions from them last year," Cashman admitted. "We certainly are seeing the McCann this year that we signed from Atlanta. In Ellsbury's case, up until June when he got injured, he was one of the top 10 offensive players in the game in our league. He was a difference maker and an MVP candidate until his knee injury.
"He hasn't come back well from that and we just started getting him going here. We signed him to be a top-of-the-lineup duo with Gardner and provide great defense. That was awesome to watch early. Hopefully, we can get that up and running when it counts as the postseason hits."
Jonathan Mayo is a reporter for MLBPipeline.com and writes a blog, B3. Follow @JonathanMayo on Twitter. This story was not subject to the approval of Major League Baseball or its clubs.