MLB.com Columnist
Jonathan Mayo
Constructing a winner: Pirates
How Pittsburgh used the Draft, trades, free agency and international signings to build its playoff team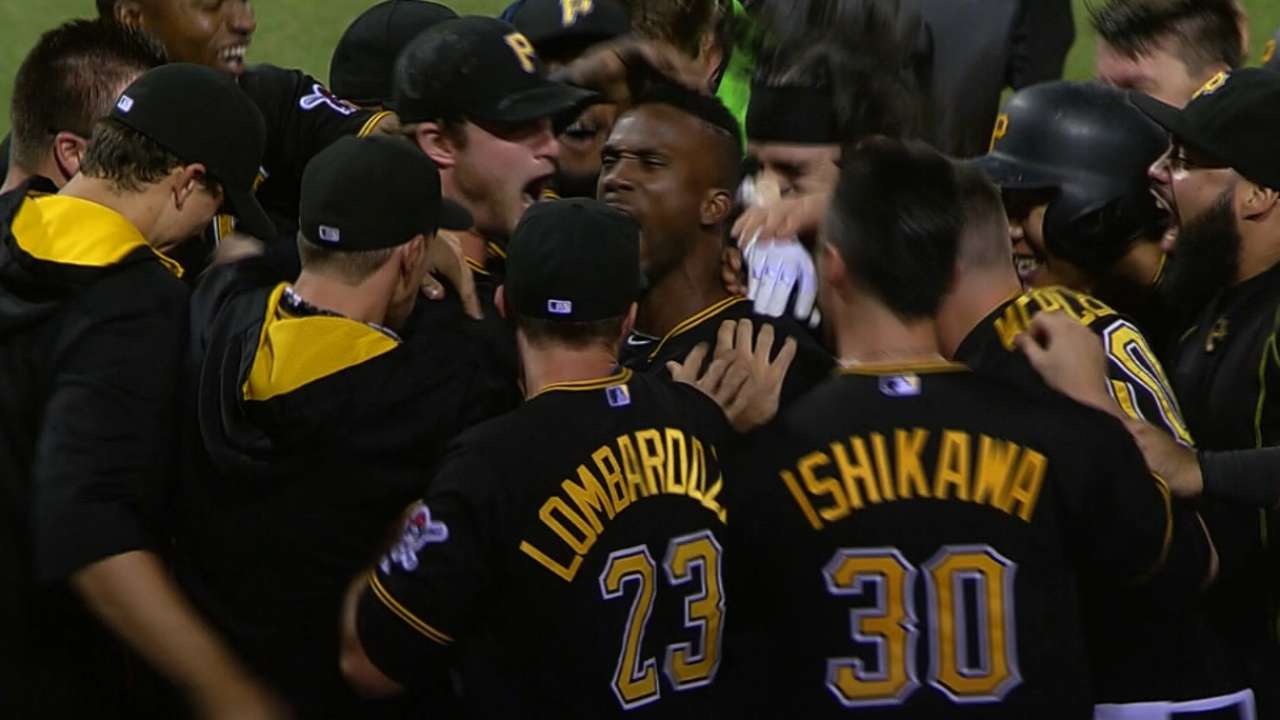 MLBPipeline.com is breaking down how each of the postseason teams was built, looking at the composition of projected Division Series rosters.
There is a line of thinking, probably prevalent among most baseball fans, that the Pittsburgh Pirates are a strictly homegrown operation. While there is an important core of players signed and developed entirely by the organization that has been vital to this extended stretch of success, the truth is if it weren't for the trade market, the Pirates wouldn't be headed to the postseason for the third year in a row.
"The reality of a small market is you have to be creative in finding talent everywhere," Pirates general manager Neal Huntington said. "Our amateur scouts have done a nice job, our pro scouts have done a nice job. We've made some trades here and there. Our coaches and support staff have done a great job to help those players get better. It's that collective effort -- we look to add talent in any way we can."
That ability to creatively acquire talent has certainly been effective. The Pirates are one of just three teams to make the postseason in each of the past three seasons.
HOMEGROWN
Player, how acquired, year
Pedro Alvarez, Draft, 2008 (1st)
Gerrit Cole, Draft, 2011 (1st)
Jared Hughes, Draft, 2006 (4th)
Starling Marte, Int'l sign, 2007
Andrew McCutchen, Draft, 2005 (1st)
Jordy Mercer, Draft, 2008 (3rd)
Gregory Polanco, Int'l sign, 2009
Neil Walker, Draft, 2004 (1st)
Tony Watson, Draft, 2007 (9th)
The Pirates do have four former first-rounders on the roster, starting with perennial National League MVP Award candidate McCutchen. He and Walker became Bucs when Dave Littlefield was general manager. Huntington and his staff took Alvarez in their first Draft, then got Cole with the No. 1 overall pick three years later.
The Pirates' entire starting outfield is homegrown, with McCutchen the anchor in center field, flanked by two international signees. Both Marte ($85,000) and Polanco ($150,000) were bargains, and they still have upside potential. Adding to that core is something important to the organization, as it allows players to grow up with the philosophy preached from the top all the way down.
"As more of the guys are coming through our system, they've understood the culture we're working to create," Huntington said. "The one challenge when bringing players from outside the organization, they haven't been raised in the culture. It takes more energy and effort to have them become a part of that culture.
"As the Cardinals show every year, the more players you can develop in your culture, the stronger your culture becomes. We're working to do that."
TRADES
Player, year, acquired from
Antonio Bastardo, 2014, Phillies
Joe Blanton, 2015, Royals
Arquimedes Caminero, 2015, Marlins
Francisco Cervelli, 2014, Yankees
J.A. Happ, 2015, Mariners
Josh Harrison, 2009, Cubs
Mark Melancon, 2012, Red Sox
Michael Morse, 2015, Dodgers
Charlie Morton, 2009, Braves
Aramis Ramirez, 2015, Brewers
Sean Rodriguez, 2014, Rays
Joakim Soria, 2015, Tigers
Chris Stewart, 2013, Yankees
These aren't blockbuster deals, but rather the Pirates recognizing value on the trade market. It's become a nearly regular occurrence to see a player come in and be more productive than they had been previously.
"Our scouts do a really good job of identifying tools and talent," Huntington said. "Our analysts do a good job of guys on the upswing or who are bounce-back candidates or guys who could benefit from an approach change. We identify guys we feel we can help reach that next level."
That's been evident particularly with pitching. The Bucs have been masterful at cobbling together bullpens, with five names on the list of above relievers who have come via trade, several of whom were reclamation projects. But the biggest one might be Happ, the quietest non-waiver Trade Deadline deal that's had as much impact as any July trade this year. The mantra "In Ray Searage We Trust," regarding the well-respected pitching coach, carries a lot of weight in Pittsburgh.
"Ray, and he'd be the first one to defer to bullpen coach Euclides Rojas, they work in tandem to do a tremendous job with all of our pitchers," Huntington said. "Our catchers, our advanced guys, it's a fantastic situation as a GM, even though you know it's not going to happen every time."
Complete breakdown of how this year's 10 @MLB #postseason teams built their rosters: http://t.co/6739SMacE6 pic.twitter.com/MRTg8nAnrw

— MLB Pipeline (@MLBPipeline) October 5, 2015
This past offseason, the Pirates needed to replace a crucial part of that puzzle when Russell Martin departed via free agency. Huntington went back to the organization where they got Martin, as well as backup Chris Stewart: the New York Yankees. That's where they found Cervelli, who has been everything Pittsburgh expected and more.
"The Yankees have been out front in identifying things with catchers; they identify traits in catchers we also admire," Huntington said. "Cervelli was on our short list a couple of years ago when we signed Martin. He does the things we think are important.
"He's had a better offensive season than we would've anticipated, and he's been everything we hoped for in terms of defense, energy and leadership."
FREE AGENTS
Player, year
A.J. Burnett, 2015
Francisco Liriano, 2013
Travis Snider, 2015
No one expected Cervelli to replace Martin, but once that deal was made and the Pirates knew they wouldn't have to spend free-agent dollars for catching help (Cervelli made $987,500 in 2015), they were aware they could reallocate resources to help the team in other areas, particularly in the starting rotation.
Being able to bring Liriano back for three more years at $39 million was a huge step. Getting veteran Burnett to return for $8.5 million has also paid dividends. Both pitchers knew what it was like to play in Pittsburgh and for manager Clint Hurdle, making the decision even easier.
As the Bucs continue their winning ways and word spreads about the environment, they are starting to get more inquiries about coming to be a part of a good thing. That's a big departure from when Huntington first came over and tried to get free agents interested about life in Pittsburgh.
"There have been guys who have sought us out because of what they've heard of Clint, the pitchers especially, because of the success we've had in reinvigorating guys' careers here," Huntington said. "The fact we're winning, we may not be top of the sphere [financially], but we do everything we can to create a supportive culture."
Being able to make these incremental additions to the big league club does have an added benefit to the long-term health of the organization. Each successful acquisition allows for the Pirates' farm system to develop fully.
"The ability to make a small or moderate move here or there allows our players to grow at their pace, so when they get to the big leagues, they're there because we feel they're ready to be in the big leagues, rather than when we needed them to be there," Huntington said.
Jonathan Mayo is a reporter for MLBPipeline.com and writes a blog, B3. Follow @JonathanMayo on Twitter. This story was not subject to the approval of Major League Baseball or its clubs.