October Confidential: Pirates
Rival players offer inside look at facing the NL Wild Card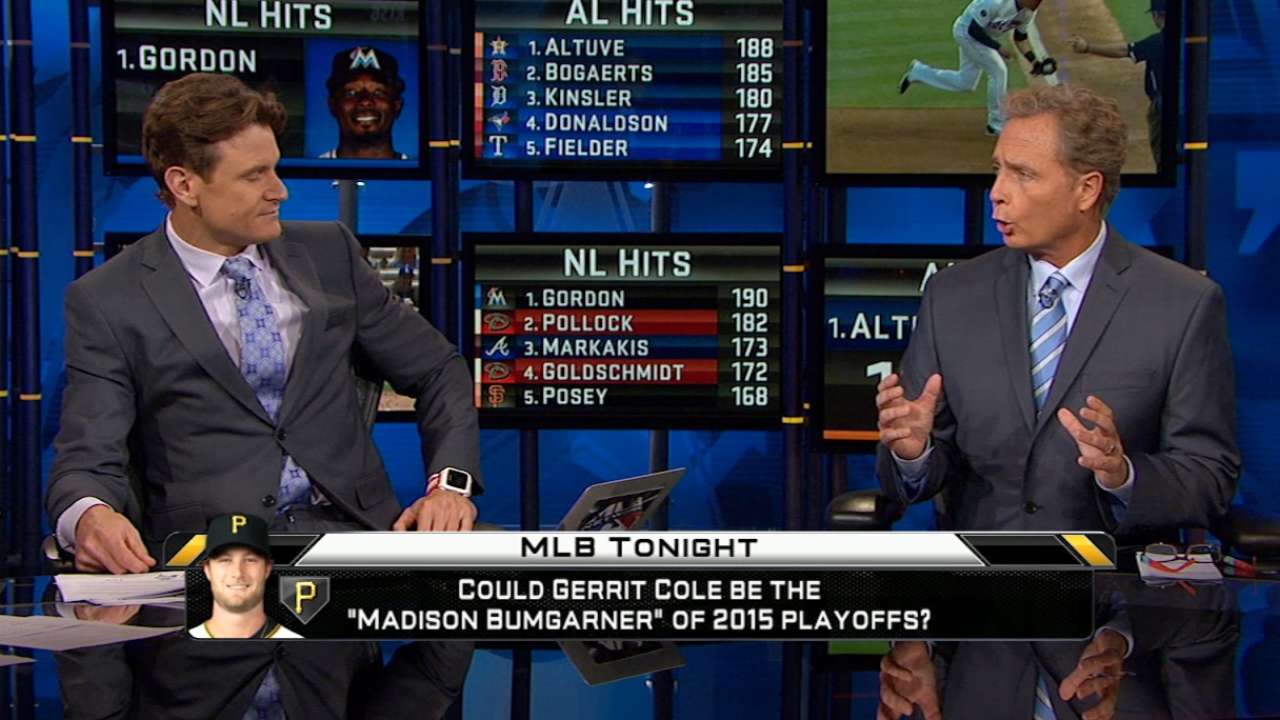 How do you beat the Pirates? A catcher on a National League club offers an inside look at how best to face one of the NL Wild Card teams.

Gerrit Cole
"I'm looking for a ball right down the middle. He throws the ball hard. If he throws that breaking ball for a strike, you've got to see it up. For me, I'm looking for a mistake up, because he'll give you one. He has some trouble locating inside pitches, too, so if you see something in, you know most likely it's going to be a ball."

Francisco Liriano
"Liriano is tough. He's a guy that is effectively wild. His ball-to-strike ratio is high, so for me, I'm going to wait him out and wait for a mistake to hit. He'll give you one, but if you swing at him early in the count, he's not going to give you a good pitch to hit. "
Mark Melancon
"He throws that cutter and the big curveball. The worst thing you can do with him is try to pull the ball. You have to try to hit the ball the other way and see the ball deep. If you try to pull it, you'll swing and miss it or you'll roll over it."
Tony Watson
"Tony loves to pitch in, especially to right-handed batters. He's going to come right at you with that heater. He likes to keep the ball down, so you have to try to get him up in the zone."
Andrew McCutchen
"Cutch is a guy you pretty much have to stay down and away from. If you go in on him, it's got to be up and in or off the plate. He's such a good fastball hitter, and there's not a fastball that he can't hit. I don't care how hard it is; the guy has the quickest hands and the best hands you're ever going to see. You have to be able to locate down and away and mix off-speed pitches in fastball counts. If you can't, he's going to make you pay."
October Confidential
Starling Marte
"He'll occasionally ambush early in counts, trying to get the head of the bat out, especially if you're going to come inside. So if you go in on him, you either have to go in for a ball or go in with two strikes. You can't hang curveballs to him; he's pretty good on those. And when throwing a slider, make sure you go down and away. He's susceptible to the changeup because he sees fastball and he'll swing at it."
Francisco Cervelli
"Early in the count, he is looking for a fastball out over the plate or in. If he's looking in, he'll try to ambush on you and pull it. You can throw him offspeed pitches early because he'll take a curveball on 0-0."
Neil Walker
"You have to pitch Neil in. He's looking for a ball out over the plate, but if you get him looking in, you can soften him up away. Or you can backwards pitch him, throwing the changeup in fastball counts. Down and away is an OK place to pitch him if you have movement. But inside pitches, for me, is a good place to get him out as long … as he's not looking for it."

Josh Harrison
"His swing is best for pitches up in the zone or down and in, so you have to make sure to stay down and away. If you go in late, make sure it's up, because you have to get it up over his swing path. You can also bury the slider or bury the curveball with two strikes, but don't throw it in the zone, because he'll hit it."