Questions didn't stop Yanks from finding a way
New York brushed off uncertainty in spring to reach postseason for 1st time since '12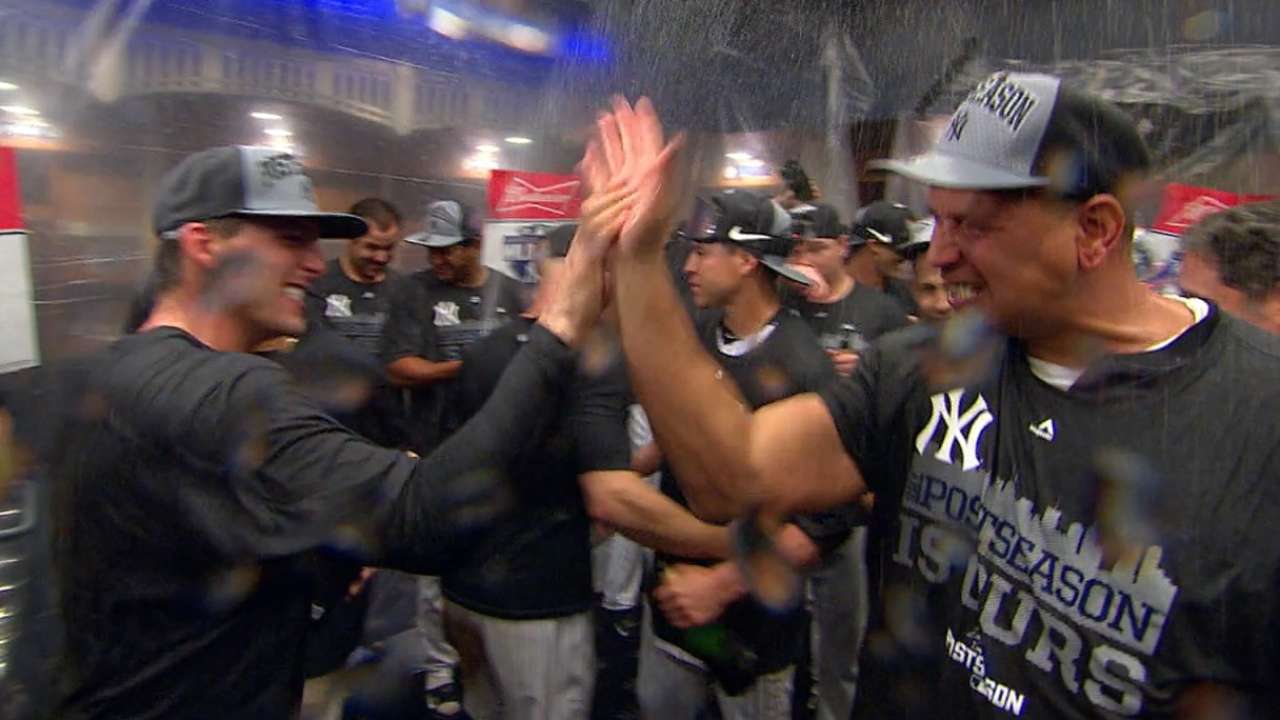 NEW YORK -- The Yankees entered 2015 riddled with uncertainty. They admittedly held no expectations for Alex Rodriguez, while banking on healthier seasons from Mark Teixeira, Carlos Beltran and Jacoby Ellsbury. No one seemed ready to predict how Didi Gregorius would respond to the challenge of replacing Derek Jeter at shortstop.
There was more on manager Joe Girardi's mind when the team headed north from Tampa, Fla. Masahiro Tanaka was coming back from an elbow injury that still threatened to require surgery, CC Sabathia's best days appeared to be in the past and Andrew Miller was preparing to try his hand as a first-time big league closer.
• Offseason chance for Yanks to assess needs
Expectations were mixed, with the Yankees believing they would have to catch some breaks in order to end their two-year playoff drought. It certainly did not go perfectly, but enough went right for the 2015 Yanks that they once again were able to earn a trip to the postseason.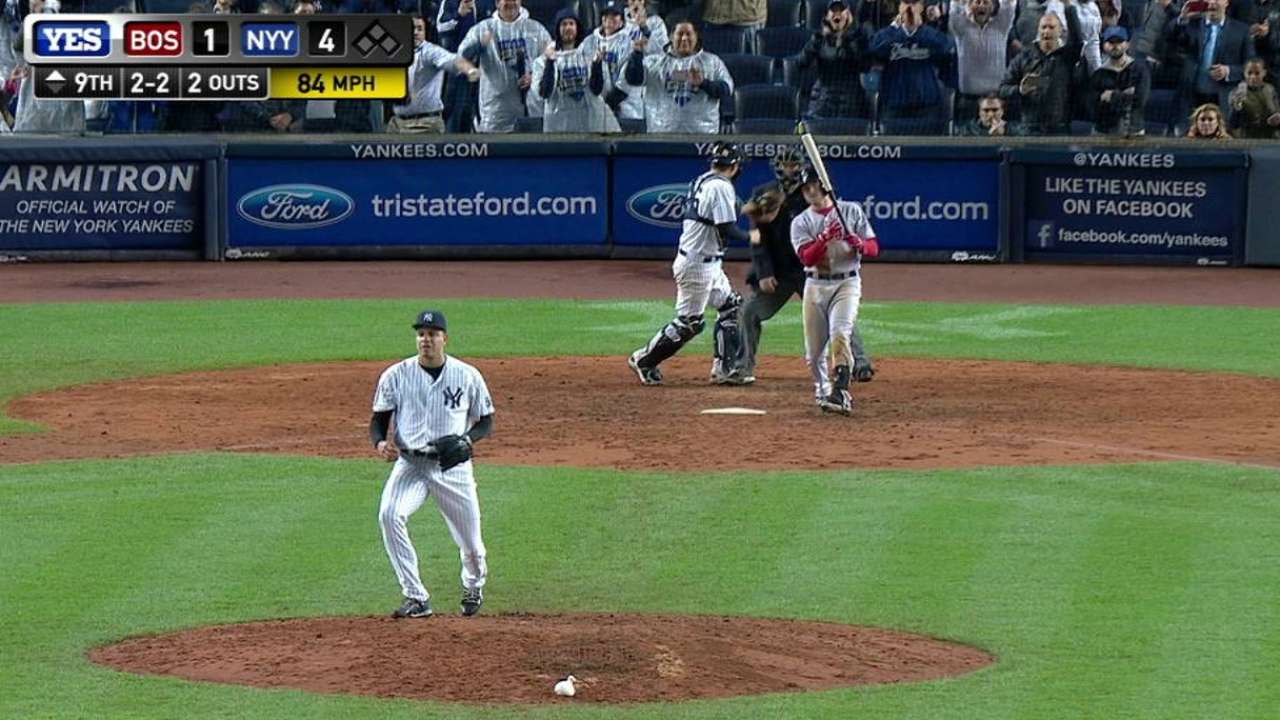 "I think you can start in Spring Training, where there were a lot of question marks in our rotation; the health of our rotation and how we were going to get through that," Girardi said. "Everything surrounding Alex -- was he going to be productive? You had Tex returning from an injury. We had a lot of stuff going on."
The Yankees had to get creative. Due to injuries, none of their starting pitchers cracked the 170-inning mark, the first time in a non-strike season that any Yankees club dealt with that issue. Fortunately, their dominant tandem of All-Star Dellin Betances and the electric Miller gave the Yanks a lockdown bullpen to preserve leads.
Building an advantage in the American League East that stood at seven games over the Blue Jays on July 28, the Yankees leaned on the strength of a lineup that ranked near the top of the Majors in runs scored, thanks in large part to Rodriguez and Teixeira, as well as an improved second season in New York for catcher Brian McCann.
But that lead frittered away after the Blue Jays loaded up at the non-waiver Trade Deadline while the Yankees passed, preferring to keep young players like Greg Bird and Luis Severino. Teixeira was lost for the season to a fractured right shin, Rodriguez's bat cooled and Nathan Eovaldi -- the one pitcher Girardi said he hadn't been concerned about, injury-wise -- was shelved, forcing the Yanks to weather inconsistency from other choices like Ivan Nova.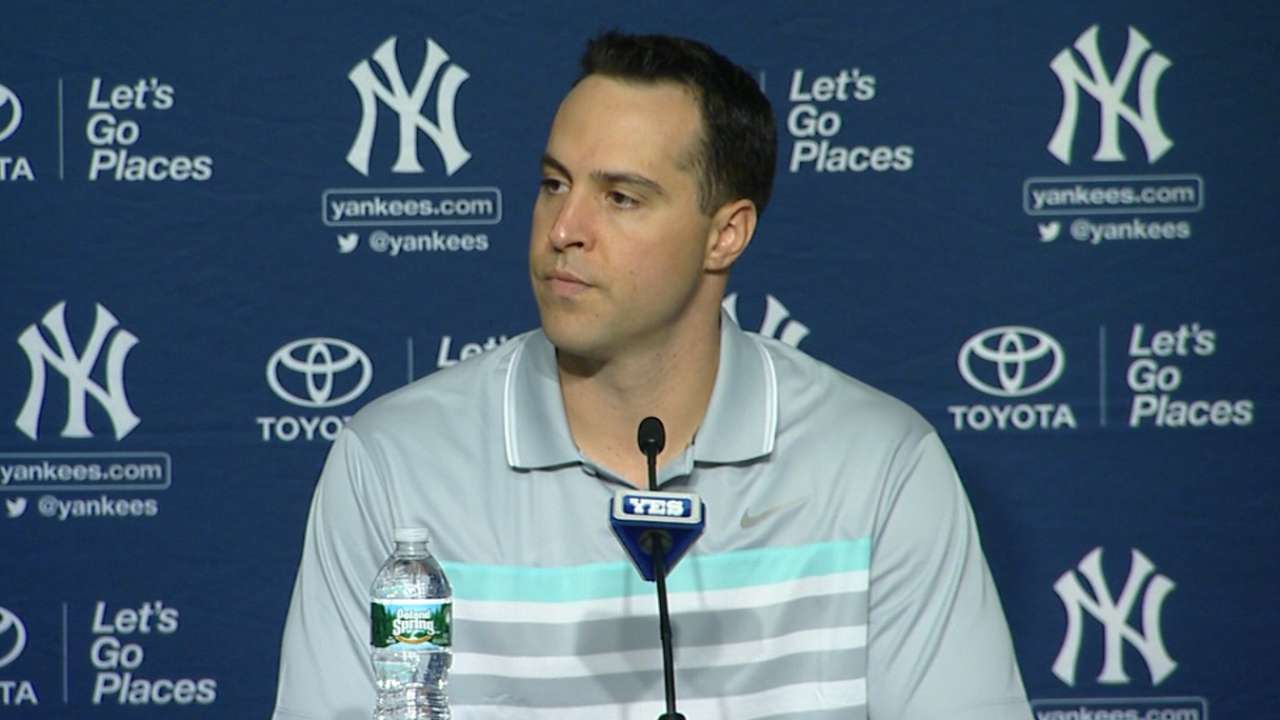 Yet, against the predictions of many, having accomplished their goal of extending the season beyond Oct. 4.
"It's been fun. The whole year's been fun," Rodriguez said near the end of the regular season. "This has been a year when no one expected much from us and the team has stayed together. It's stayed hard. This team doesn't give up."
Record: 87-75, second place, American League East.
Defining moment: A dreary doubleheader on Sept. 12 at Yankee Stadium saw the Yankees drop both ends to the Blue Jays by scores of 9-5 and 10-7, accepting an 11-inning loss in the first game and falling short in the nightcap despite coming back from an early six-run deficit with the help of a pair of Brett Gardner three-run homers. The second loss dropped them a season-high 4 1/2 games behind Toronto.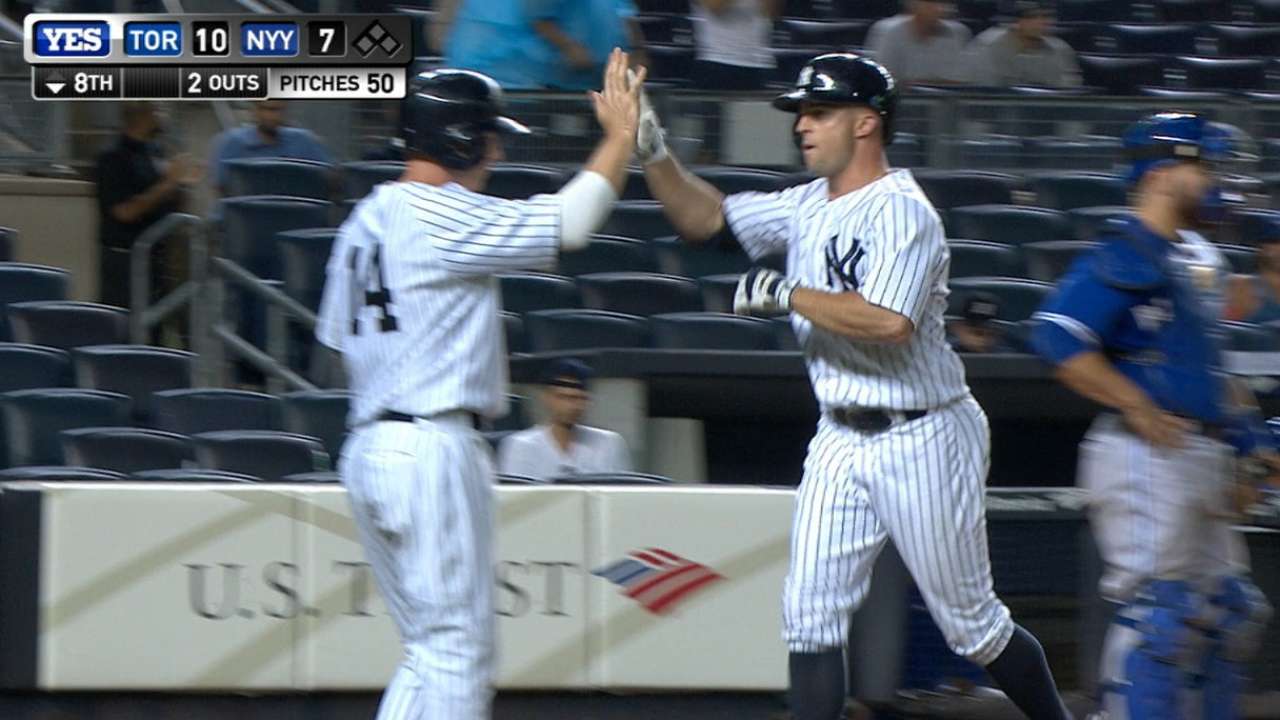 Though they salvaged the next day's series finale, the sense was that the Blue Jays had leapfrogged them as the AL East's best team. The Yanks surged two days later at Tropicana Field, where rookie Slade Heathcott hit a memorable three-run homer. That kept hope alive for the division title, but given their dismal head-to-head record against Toronto, the AL Wild Card seemed to be a more realistic goal.
What went right: A-Rod called it a blessing to be able to put the uniform back on and treated it that way, doing and saying all the right things both on and off the field. It was a welcome development considering his past litigious relationship, and Rodriguez even embraced the idea of serving as a full-time DH without complaint, saying he placed all of his trust in Girardi.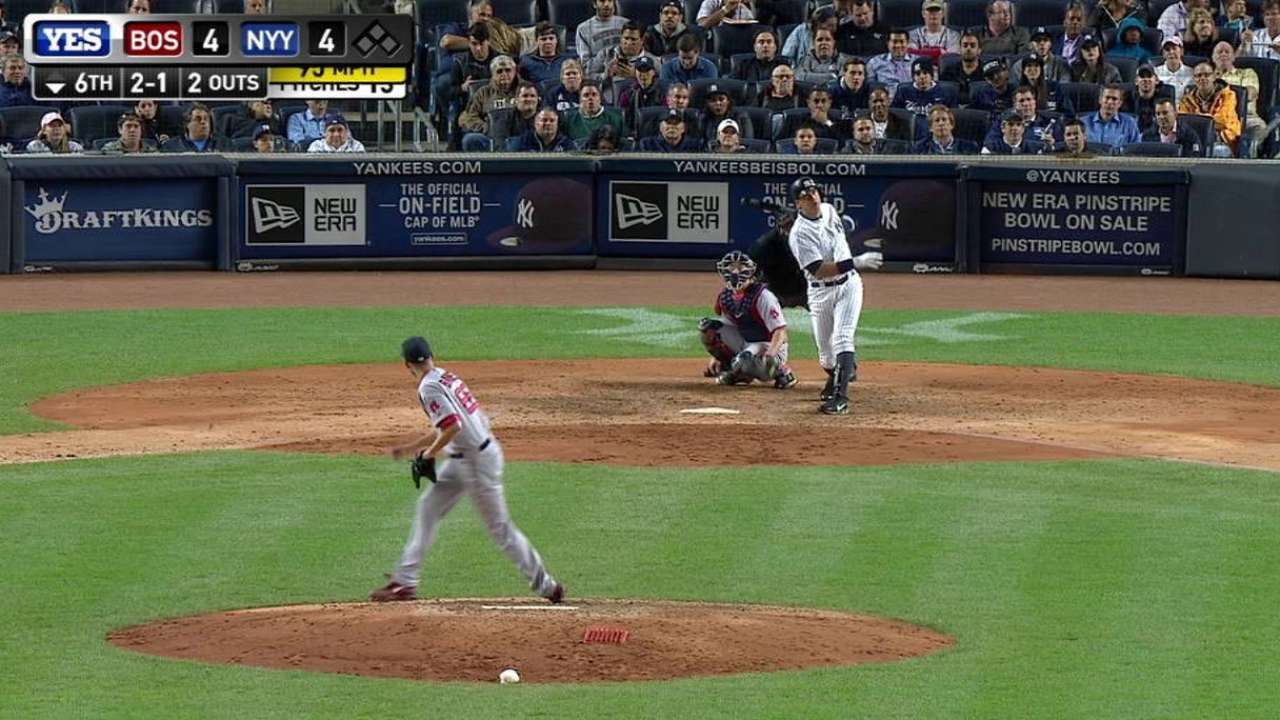 Less surprising was Teixeira's resurgence, finally healthy after a full offseason of rehabilitation from right wrist surgery as well as a gluten-free diet. He was leading the team in home runs (31) at the time of his injury and was named an AL All-Star, joined in Cincinnati by Gardner and Betances.
Chris Young was a lefty-mashing machine through four months, but the most-improved player of the season may have been Gregorius, who developed into a dependable shortstop after a shaky April. The bullpen was formidable, anchored by the reliable trio of Justin Wilson, Betances and Miller and setting an AL mark for strikeouts.
Tanaka spent a month on the disabled list, but the feared Tommy John diagnosis never materialized and he stood tall as the team's best starter. Eovaldi was backed by consistent run support and developed his splitter into a legitimate out pitch, enjoying a 14-win season. Adam Warren excelled, first as a starter and then out of the bullpen -- then back again.
When the Yankees had to dip into their farm system, they were pleased to find it stocked with talent ready to help. First baseman Bird and right-hander Severino each played big parts down the stretch, and second baseman Rob Refsnyder performed well when given the opportunity. The Yanks enjoyed a late-season surge from Beltran, who was one of their most consistent hitters down the stretch.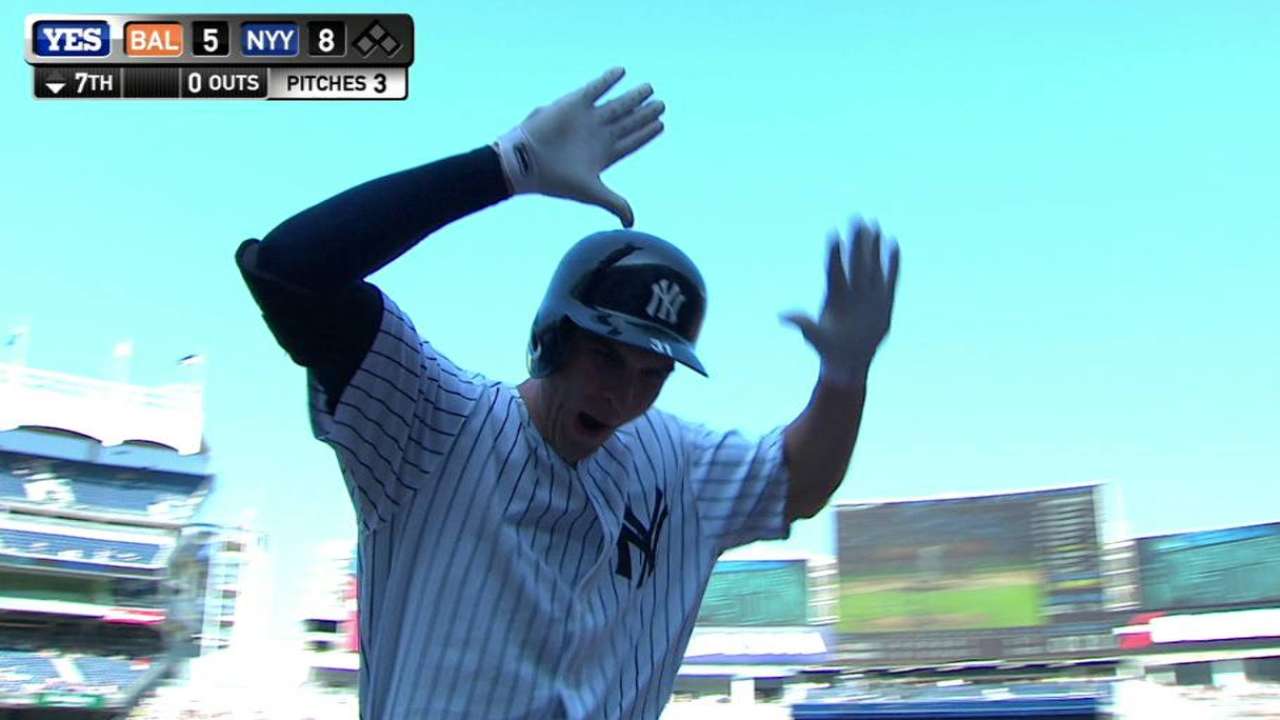 What went wrong: Second base was an issue for the Yankees most of the year, as Stephen Drew battled the Mendoza Line but continued to retain the team's trust because of his defensive ability and occasional power. Over at third base, Chase Headley battled inconsistent throwing all year and set a career high for errors. Ellsbury was excellent through seven weeks, then went on the disabled list with a knee injury that sapped his performance even after he returned.
Chris Capuano provided little value for his $5 million contract and was designated for assignment four times, ultimately relegated to a mop-up role. The Yanks looked forward to getting Nova back from Tommy John surgery, but he was inconsistent. So was Michael Pineda, who tantalized with performances like a 16-strikeout effort on Mother's Day but also dealt his share of clunkers.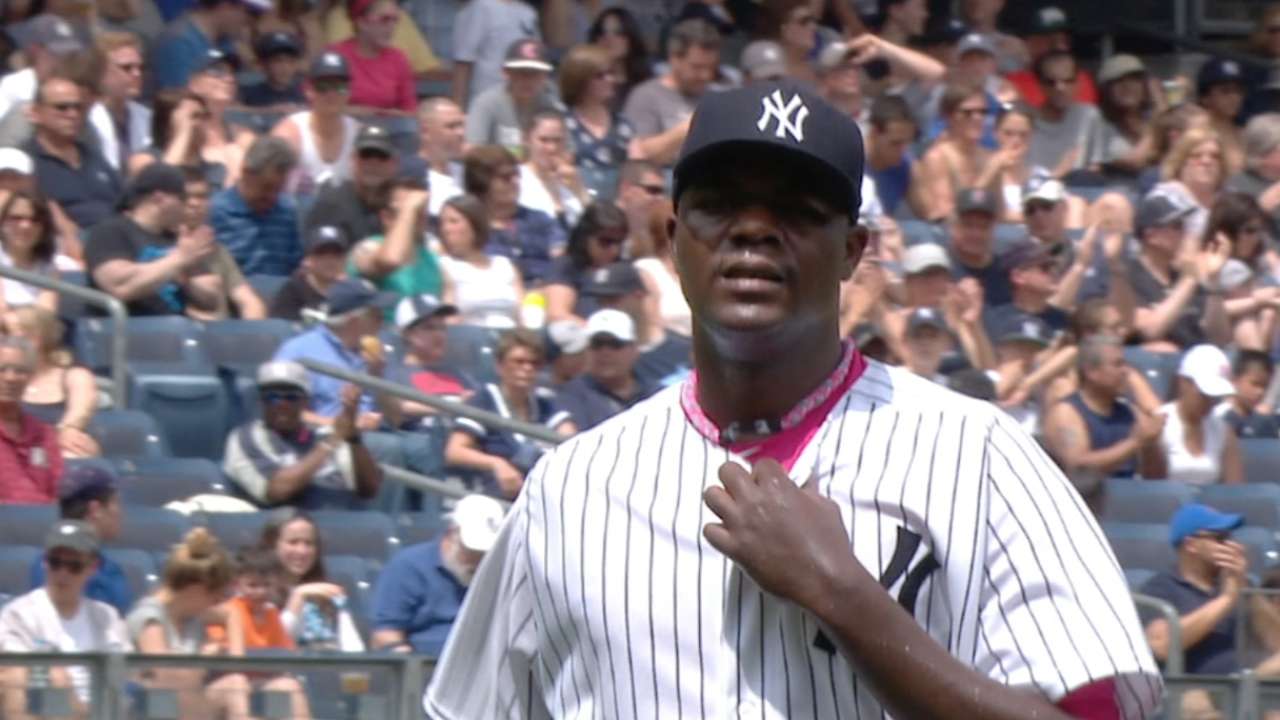 Before he discovered a knee brace that allowed him to pitch without discomfort, Sabathia seemed to be turning random right-handed hitters into a lineup of Mike Trouts. Upstairs, Brian Cashman was not able to upgrade the team at the Trade Deadline, having informed clubs that he was not willing to deal top prospects. That left the Yankees largely standing pat while the Blue Jays loaded up.
Hitter of the Year: Solid cases can be made for A-Rod, McCann and even Beltran, but the Yankees' most productive hitter was likely Teixeira, who hit .255/.357/.548 with 22 doubles, 31 homers and 79 RBIs in 111 games (147 OPS+) before sustaining a season-ending injury in mid-August. The Yanks missed Teixeira's switch-hitting presence down the stretch, particularly against left-handers.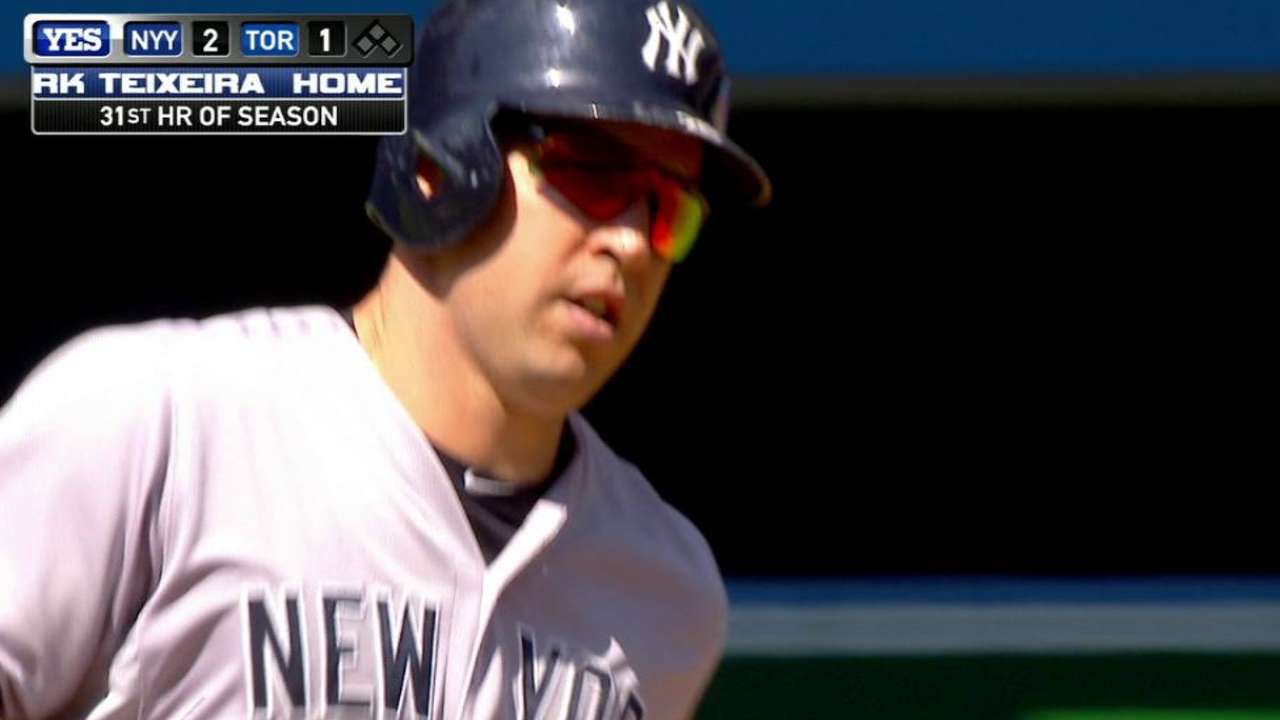 Pitcher of the Year: Miller followed Mariano Rivera and David Robertson in the closer's role and did a solid job. Signed to a four-year, $36 million deal, Miller made good on the investment by becoming the first Yankees pitcher to convert his first 24 saves with the club. He didn't stop there, joining Dave Righetti and Sparky Lyle as the only left-handers to record 30 or more saves in a season for the Yanks.
Rookie of the Year: Call it a coin flip between Bird and Severino. Bird displayed some serious big league power after his callup, including a two-homer game against the Twins, and could challenge the Yankees to find a spot for him on next year's roster. Severino, at just 21, impressed with his mature demeanor and ability to compete against stacked lineups. There's a chance that he may have made his final Minor League appearance.
Bryan Hoch is a reporter for MLB.com. Follow him on Twitter @bryanhoch, on Facebook and read his MLBlog, Bombers Beat. This story was not subject to the approval of Major League Baseball or its clubs.