MLB.com Columnist
Jesse Sanchez
Manfred meets with Mexican baseball officials
Commissioner says an MLB team there is 'long-term project' but 'realistic'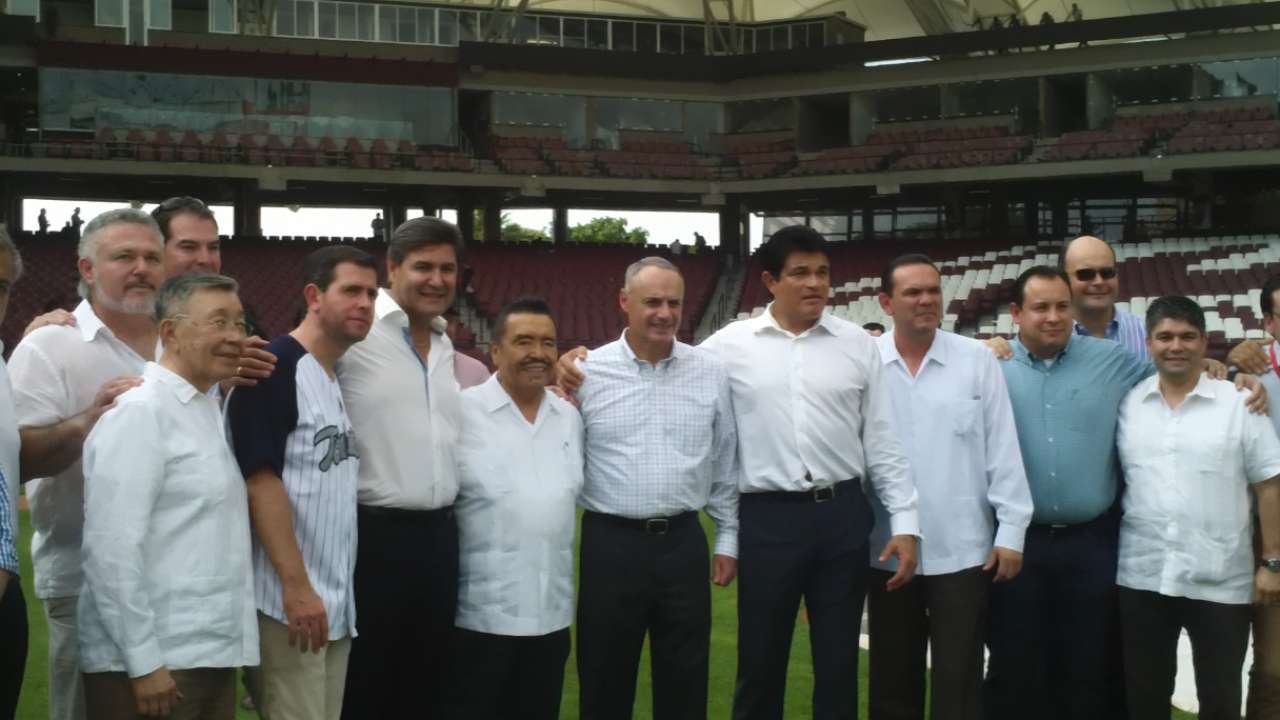 CULIACAN, Mexico -- Commissioner Rob Manfred traveled south of the U.S. border on Thursday to build on a dialogue with Mexico's top baseball officials and strengthen the relationship between Major League Baseball and the country's leagues.
The Commissioner shared his vision to grow the game in Mexico, a strategy that might lead to more exhibition games in the country and a Major League Baseball team in Mexico in the distant future.
"The prospects of having a Major League team here in Mexico are realistic. The difficult issue is the time frame," Manfred said. "I think it's important that prior to trying to bring a Major League team here is that we go through a period of years where we have more regular exhibition games, and Spring Training games. Then move on to a more regular series of visits with regular-season games and make sure that we find the best possible location in Mexico before we try to bring a team here full time. I think it's a long-term project, but it's a realistic project."
Manfred was greeted by Sinaloa governor Mario Lopez Valdez, national minister of sports Alfredo Castillo, Culiacan team owner Juan Manuel Ley and hordes of media at the entrance of the new stadium for the Tomateros de Culiacan. Manfred discussed One Baseball -- his idea for a partnership between all professional and amateur groups -- with team owners and officials from Mexico's summer and winter leagues. He also reiterated plans to send instructors from the United States to Mexico to help develop young players.
The Commissioner was later given a tour of the 20,000-seat facility, which is set to open next week.
"I had a really positive exchange with representatives of both leagues," Manfred said. "I think we have a lot of shared goals and values. I think there is a foundation for us to do a lot of great things with baseball here in Mexico. With respect to the timing of the exhibition games, I could not be more impressed with the quality of the facility that Mr. Ley and his family have built here [in Culiacan]. Because this facility is so fantastic, I'm excited to bring exhibition games here just absolutely as a soon as we can possibly work out the business arrangements."
Manfred's presence will always be in Mexico. A permanent plaque honoring his visit was unveiled in a ceremony on the second-floor concourse behind home plate.
"This is not only a great day for our organization, it's a great day for baseball in Mexico and it's a great day for sports in Mexico," said Jesus Rojo, the general manager of the Tomateros. "Having the Commissioner here conveying and transmitting his vision of One Baseball is just a great accomplishment for the whole country. We are all going in the same direction and we all have the same goals and objectives. We want more Mexicans in Major League Baseball and we are working with the league on different developmental strategies to get more guys out there."
Manfred later answered a range of questions about MLB's relationship with Mexico, including queries about the country's possible role in an international draft, during a news conference with local media.
"I have always been an advocate of the idea that there should be a single method of entry into Major League Baseball via draft," Manfred said. "My principle reason for that is I think it's good for competitive balance for teams in Major League Baseball and the talent gets distributed fairly. Whether or not there is an international draft and whether or not Mexico is a part of that is something that we will have to bargain with the Major League Baseball Players Association, and I just can't predict the outcome of those negotiations at this point."
Manfred was also asked about the possibility of television programming in Spanish.
"I'm a huge fan of MLB Network, as you might imagine. I have one of the few jobs where you are actually allowed to keep the television set on in your office," he said. "We are extremely interested in all of our platforms being available in Spanish. As you may know, we translated our At Bat [app] to Spanish for the first time and it has been a tremendously successful undertaking for us, and we will continue to explore opportunities to make all of our platforms available in Spanish."
Manfred praised Mexico's passion for baseball and cited MLB's long history with the country and its players, using Fernando Valenzuela, the left-hander who was a national sensation as a Cy Young Award-winning rookie in 1981, as an example.
"I came to Mexico because I believe Mexico presents a tremendous business opportunity for Major League Baseball," Manfred said. "I think that if we do a good job in Mexico, it also presents an opportunity for us to grow our business among the Hispanic community in the United States. Equally important, I think this is fertile ground for us to find great players and we need to make sure that we provide every possible support in a location like Mexico so those players can develop and make it to the Major Leagues and make our product even better."
Manfred wrapped up the two-day visit in Culiacan with an informal chat with Mexican journalist Luis Alberto Martinez and a Q&A at the National Convention of Professional Baseball on Friday. He announced the opening of an MLB office in Mexico City next year.
"This has been a tremendously successful trip for us and I hope representatives from both leagues feel the same way," Manfred said. "This is my first trip to Mexico and it gets an A-plus from me."
Jesse Sanchez is a national reporter for MLB.com. Follow him on Twitter @JesseSanchezMLB. This story was not subject to the approval of Major League Baseball or its clubs.