Yankees cherish return trip to postseason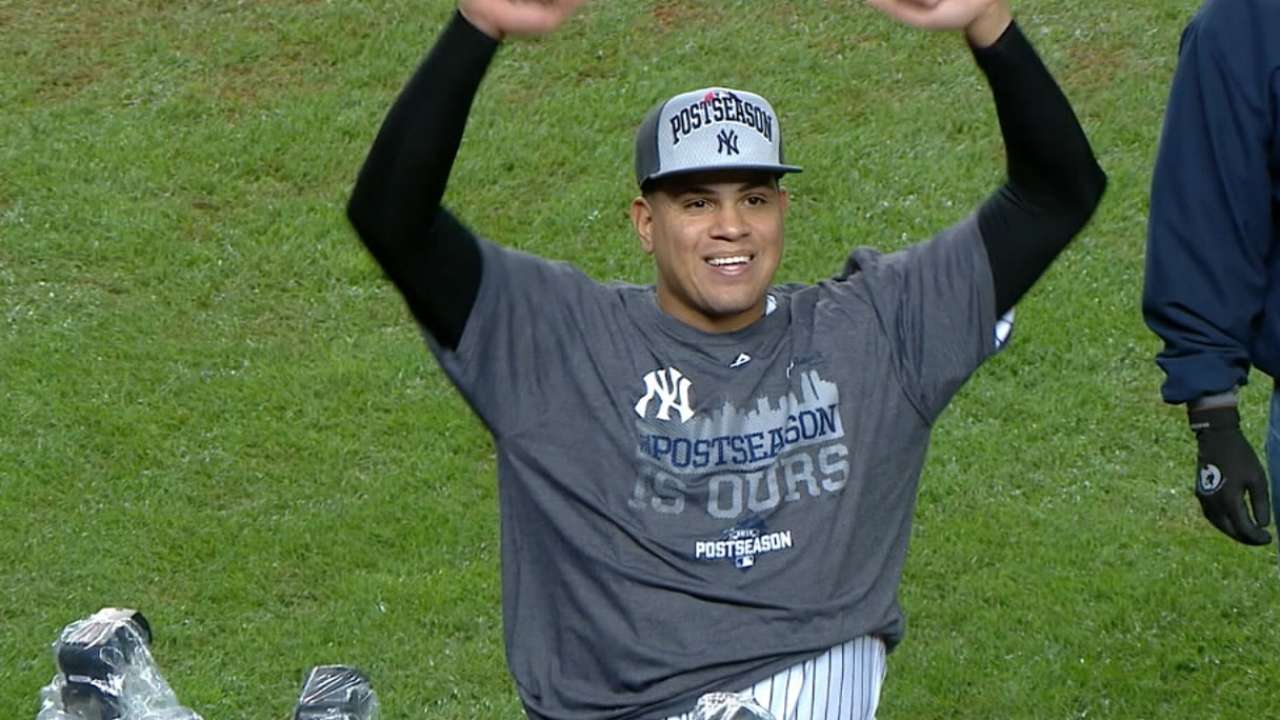 NEW YORK -- The Yankees had secured their place in the 2015 postseason and John Ryan Murphy did not know how to react. Murphy, listed at 5-foot-11 inches, rushed toward the mound and leaped to give reliever Dellin Betances, listed at 6-foot-8, a chest-bump.
Betances did not expect Murphy's celebration, so the two collided awkwardly. "I had no idea what to do," Murphy said later with a laugh.
With a 4-1 victory over Boston at Yankee Stadium on Thursday, New York clinched a spot in the AL Wild Card Game presented by Budweiser on Tuesday. It is the Yankees' first postseason berth since 2012 and 10,000th win in franchise history, sending the loyal crowd remaining into a frenzy on a cold and rainy night in the Bronx.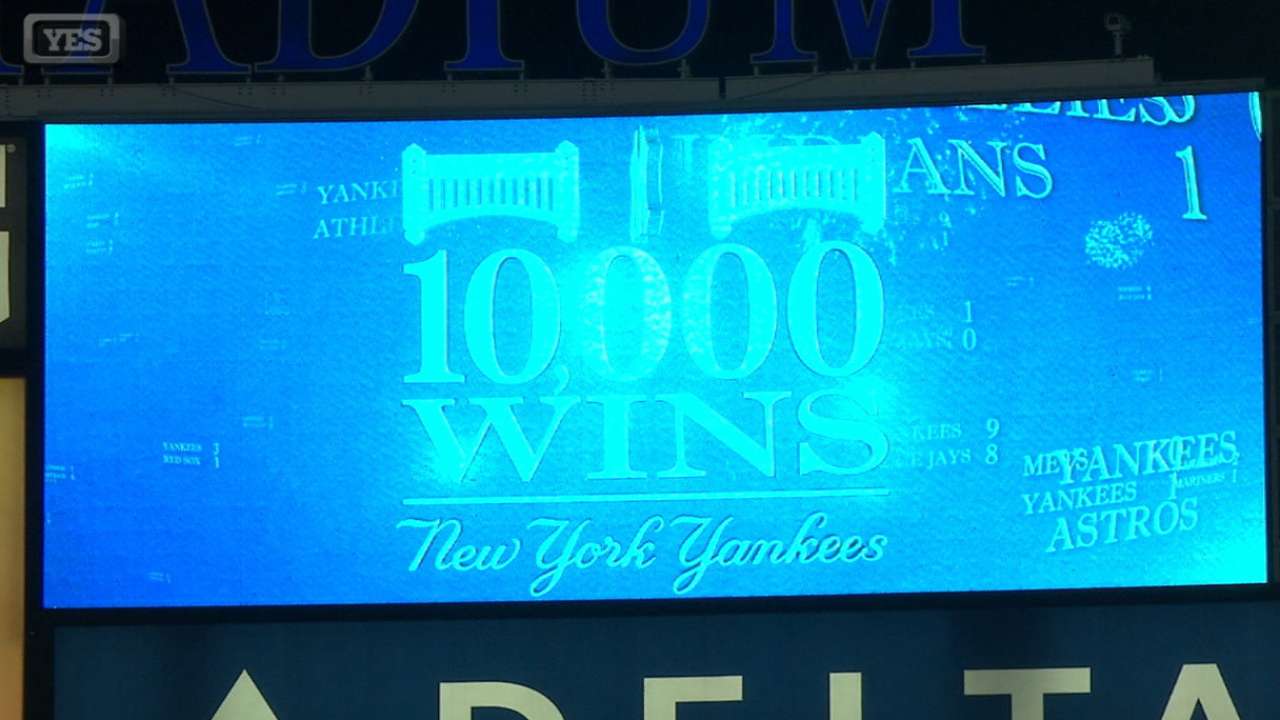 The Yankees need one more win or losses by the Astros and Angels to secure home-field advantage in the Wild Card Game, and could face one of four opponents. Houston currently holds a one-game lead over Los Angeles and Minnesota, while Texas -- which also secured a playoff berth Tuesday -- is just one win away from clinching the AL West.
After celebrating on the field, the Yankees grabbed their postseason shirts and headed to the clubhouse. Several players had goggles waiting in their locker before the game, and three bottles of champagne had been ordered for each player.
"A lot of people asked me, 'Were we going to celebrate?'" Alex Rodriguez said. "My answer was, 'You're darn right we're going to celebrate.'"
And so they celebrated.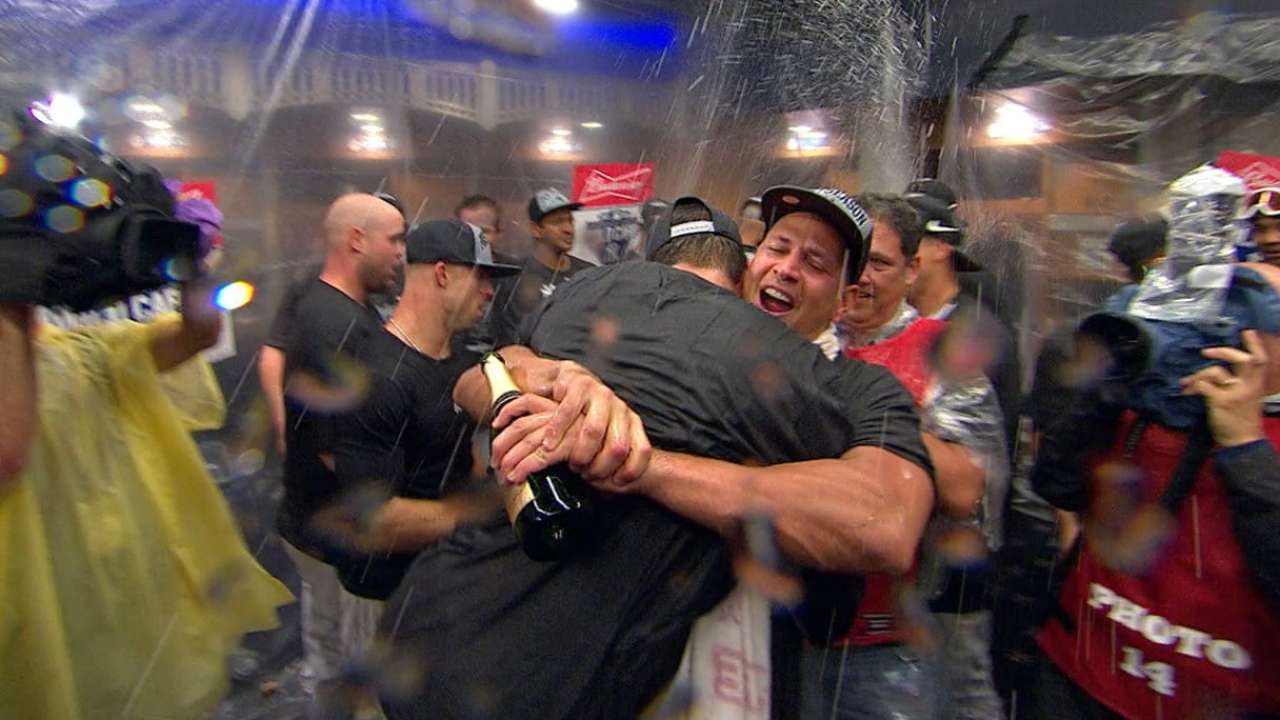 Didi Gregorius, the shortstop tasked with following Derek Jeter, mockingly swam across a sea of beer and champagne on the clubhouse floor.
Brett Gardner, who has been on the team since 2008, made other players remove the goggles from their eyes during the celebration.
"It feels good feeiing the champagne burning your eyes," Gardner said. "I made them take it off because it's a good feeling."
Masahiro Tanaka made the mistake of showering during the midst of the celebration. When he returned to his locker, he was greeted by a group of teammates, who doused him -- still in a towel -- in champagne and chanted, "Don't shower first. Don't shower first."
"I wanted them to feel it and get the full experience," Gardner said. "My first few years, I probably took it for granted. I just assumed it would be like this every year. After the last two years, you realize how hard it is to get there."
The Yankees understand there is still work to be done. But after the game Thursday night, none of that mattered.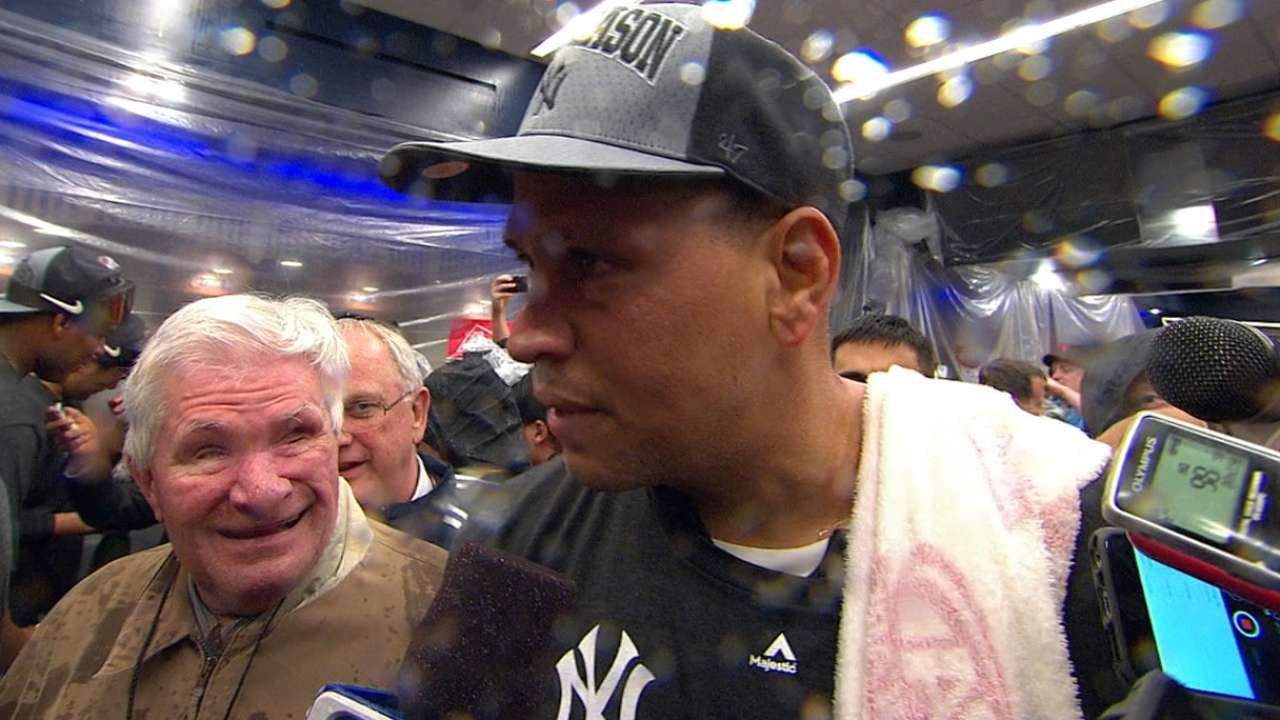 Two seasons without a postseason berth feels like a drought for a franchise that just became the first American League team to win 10,000 games and will make its 52nd postseason appearance.
"It feels like an eternity," CC Sabathia said. "To be able to pop champagne, and celebrate to exhale for a second -- I feel like it's been two years. This is good."
Jamal Collier is a reporter for MLB.com. Follow him on Twitter at @jamalcollier. This story was not subject to the approval of Major League Baseball or its clubs.