Tough call clips Angels' wings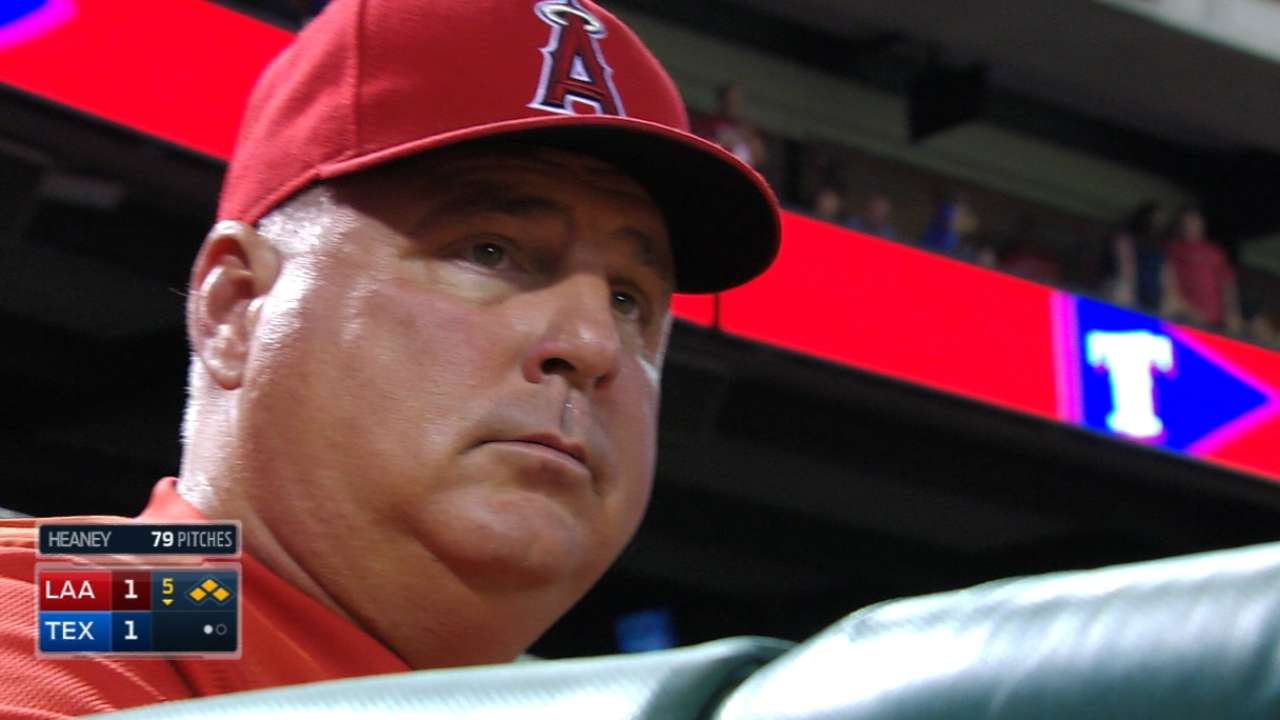 The pitch, from Andrew Heaney in the fifth inning, was called a ball, the second of three consecutive borderline pitches the rookie left-hander did not get in his favor. Angels manager Mike Scioscia chirped at home-plate umpire Quinn Wolcott, then watched Heaney walk Choo, loading the bases and setting up the Beltre line drive that ultimately broke the Angels.
"Man, I mean, I'm not one to complain about umpires, but it sure looked like a strike to me," Heaney said of that 2-2 pitch. "When you're in the heat of the moment, you think every pitch that you make is the one you want to make, so I'll have to go take a look at it, for sure, but when I threw it, I felt like it was a strike."
The Angels, Scioscia said, "are not going to hang our hat on one call." If Heaney puts Choo away on his ensuing full-count pitch, or retires Beltre with the bases loaded and one out, the game would have remained tied, 1-1, and it's a non-issue. Instead, it led to the hit that mathematically eliminated the Angels from the American League West race.
They're now a full game back of the Astros for the last available Wild Card spot, while tied with the Twins and, perhaps, in need of three straight wins to extend their season.
"We can't lose anymore," Mike Trout said. "It's plain and simple."
Heaney was admittedly erratic on Thursday night, on his way to a career-high five walks in an outing that lasted only 4 1/3 innings. But he located three sliders to Choo with first base open and one out in the fifth inning. If one of them is called a strike, Heaney can intentionally walk Beltre -- or pitch around him -- in favor of the platoon advantage against a left-handed-hitting Prince Fielder.
With Beltre up, and nowhere to put him, Heaney spun a low, 2-2 slider that nearly hit the dirt and instead went down the line that turned a tied game into a 4-1 Rangers lead.
It still wasn't low enough.
"That ball needs to be in the dirt," Heaney said. "I know he's able to get that. It's the middle of the plate. I need to bounce that. I'm not surprised. That guy is really freaking good."
Alden Gonzalez is a reporter for MLB.com. Follow him on Twitter @Alden_Gonzalez and listen to his podcast. This story was not subject to the approval of Major League Baseball or its clubs.