Despite highs, Mariners undone by inconsistency
Dominant seasons from Cruz, Felix overshadowed by club's lack of rhythm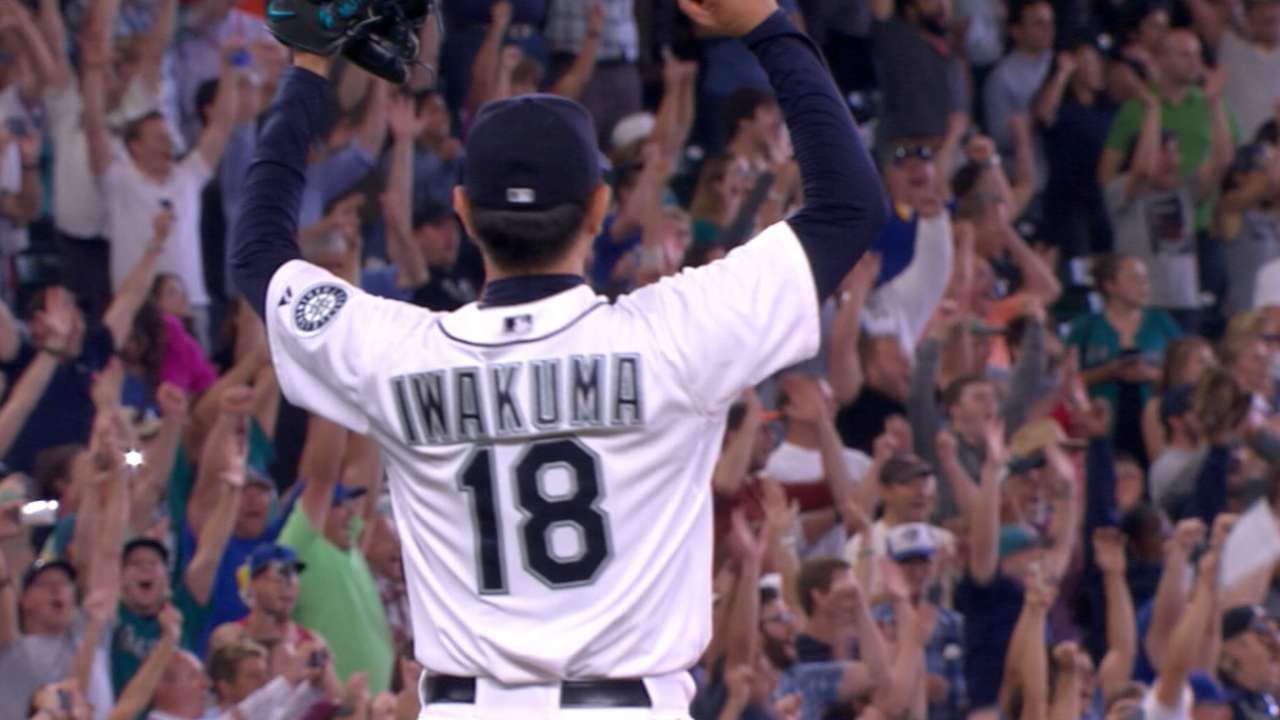 SEATTLE -- A season of high expectations for the Mariners was waylaid by first-half offensive struggles and bullpen woes that cost general manager Jack Zduriencik his job and proved too much to overcome despite a September surge.
Most frustrating for the Mariners, the American League West and AL Wild Card battles appeared open for the taking, but Seattle wasn't able to take the next step after falling just one win shy of a postseason berth in 2014.
"We're a talented team that played a horrible first half," said Lloyd McClendon, who was dismissed as manager after the regular season ended.
The Mariners got a great season out of free-agent addition Nelson Cruz, who seemingly would have been the missing piece for a team trying to bring its offense up enough to take advantage of what had been one of the best pitching staffs in baseball the prior year.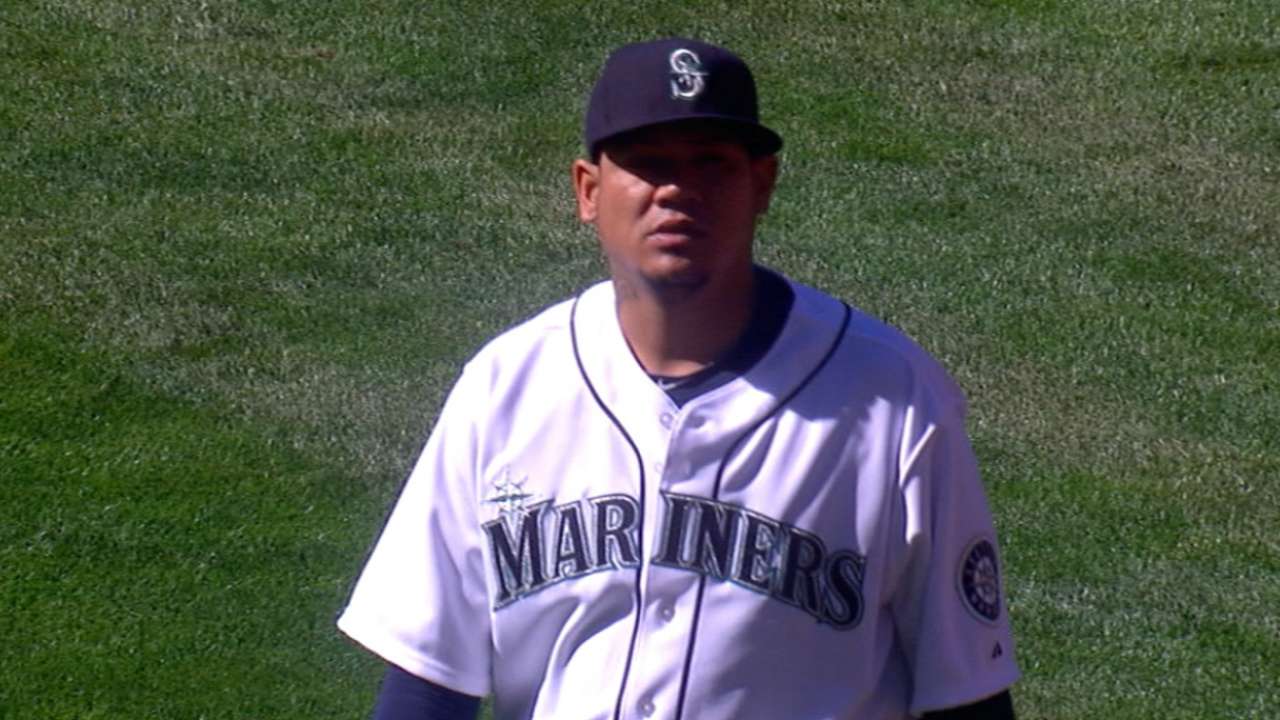 But even with Felix Hernandez putting together another strong season atop the rotation and Taijuan Walker making big strides in his first full season in the Majors, the Mariners couldn't maintain any consistency once Hisashi Iwakuma and James Paxton ran into injury problems and veteran closer Fernando Rodney couldn't follow up on his team-record 48-save 2014 season.
Iwakuma's return in July, combined with the Mariners' offensive turnaround following the hiring of new hitting coach Edgar Martinez on June 20, offered hints of why many felt this would be the Mariners' year to shine. Iwakuma provided the season's brightest moment when he no-hit the Orioles on Aug. 12, and Robinson Cano led the midseason about-face for the offense.
But the Mariners never strung together more than three wins in a row until after Zduriencik was dismissed in August when it became apparent the club was going to miss the postseason for a seventh straight year under his leadership.
Record: 76-86, fourth place, American League West.
Defining moment: The Mariners played .500 ball through the first two months of the season, returning home in second place in the AL West on May 28 with a 23-23 record after a 6-3 road trip through Baltimore, Toronto and Tampa Bay. But Seattle's Achilles' heel the past two seasons has been its trouble at home, and the wheels came off in a 2-9 homestand against the Indians, Yankees and Rays during which the Mariners totaled just 21 runs in 11 games.
By the time that skid ended, the Mariners were in fourth place in the division, and they spent the rest of the year unable to dig out of that hole. While the club played .500 ball the rest of the way, it never could piece together a big run until September and thus never mounted a significant challenge until it was too late.
What went right: Cruz turned in the best season by a free-agent signee in franchise history. Hernandez won 18 games, the second-highest total of his 11-year career. Walker overcame a slow start to turn in a strong first full season in the rotation, looking like a big part of the club's future pitching plans.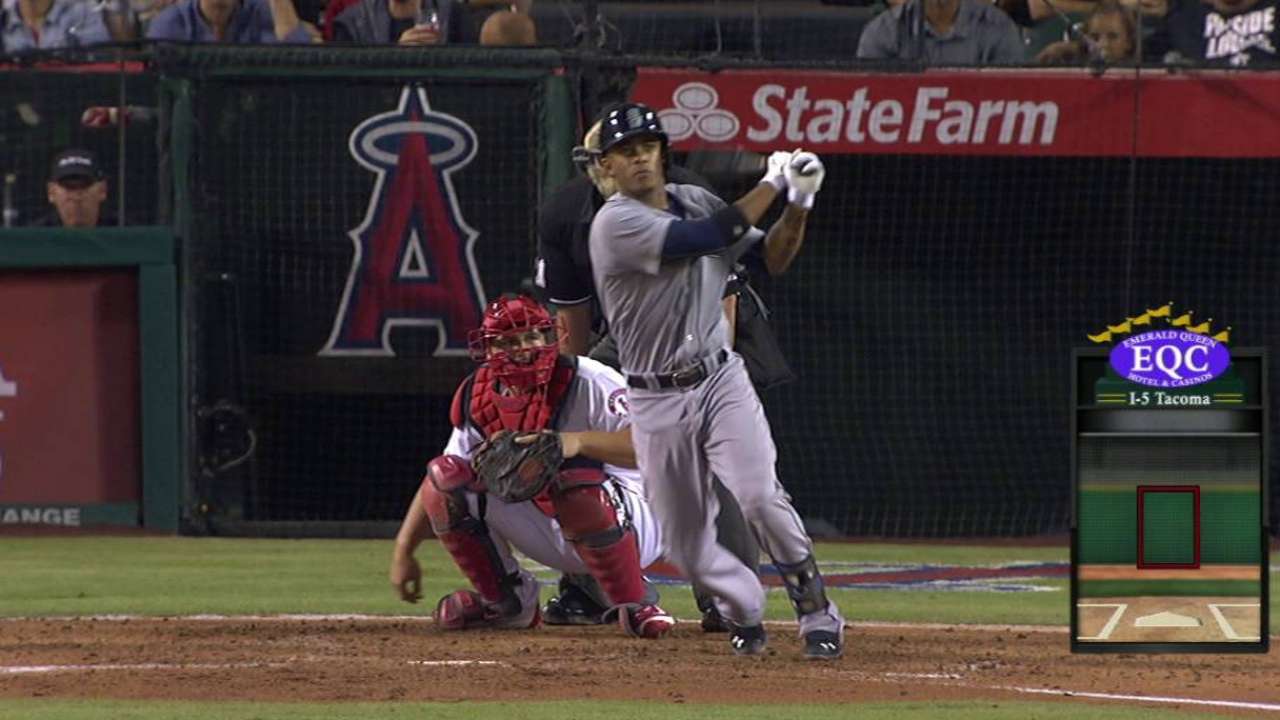 The midseason addition of Martinez as hitting coach helped spark an offensive turnaround, as did the second-half promotion of shortstop and leadoff hitter Ketel Marte.
Tom Wilhelmsen moved into the closer's role on Aug. 24 and was near-perfect, solidifying a season-long bullpen issue after Rodney and then Carson Smith struggled in that spot. Smith proved extremely valuable as a right-handed setup man, setting a club record for strikeouts by a rookie reliever.
After a midseason promotion, Franklin Gutierrez provided a big boost to the offensive output, while Kyle Seager was strong again at both third base and the plate.
What went wrong: The pieces just never quite seemed to fit together with this club. The starting pitching had issues early, then Iwakuma and Paxton got hurt. Once the rotation solidified, the offense soured. At midseason, the hitting started to heat up, but by then the bullpen was floundering.
Finding itself in seller's mode after the sluggish first half, the club dealt starter J.A. Happ, key setup man Mark Lowe and outfielders Dustin Ackley and Austin Jackson. While the pitching subtractions hurt for a bit, the club eventually found its footing in early September, but by then it was too late.
Cano's first-half struggles proved too much for the offense to overcome, even with Cruz performing at a high level, because there were too many holes elsewhere. Catcher Mike Zunino didn't develop offensively as hoped and finished the season with Triple-A Tacoma, and no other catchers in the system provided any offense whatsoever in his stead.
Outfielders Ackley and Jackson and a veteran bench that included Rickie Weeks, Justin Ruggiano and Willie Bloomquist didn't help as hoped, and all were gone by midseason. And the biggest issue of all was that a bullpen that had the lowest ERA in baseball in 2014 suddenly sprung leaks.
Biggest surprise: Gutierrez opened the season in Tacoma after sitting out all of 2014 to deal with an arthritic nerve condition, but after he was promoted in June, the 32-year-old delivered big pop and several game-winning hits as a platoon left fielder. Gutierrez was a smooth-striding AL Gold Glove Award-winning center fielder in 2010. After four injury- and illness-plagued seasons, he returned with far less speed but much greater power and hitting ability.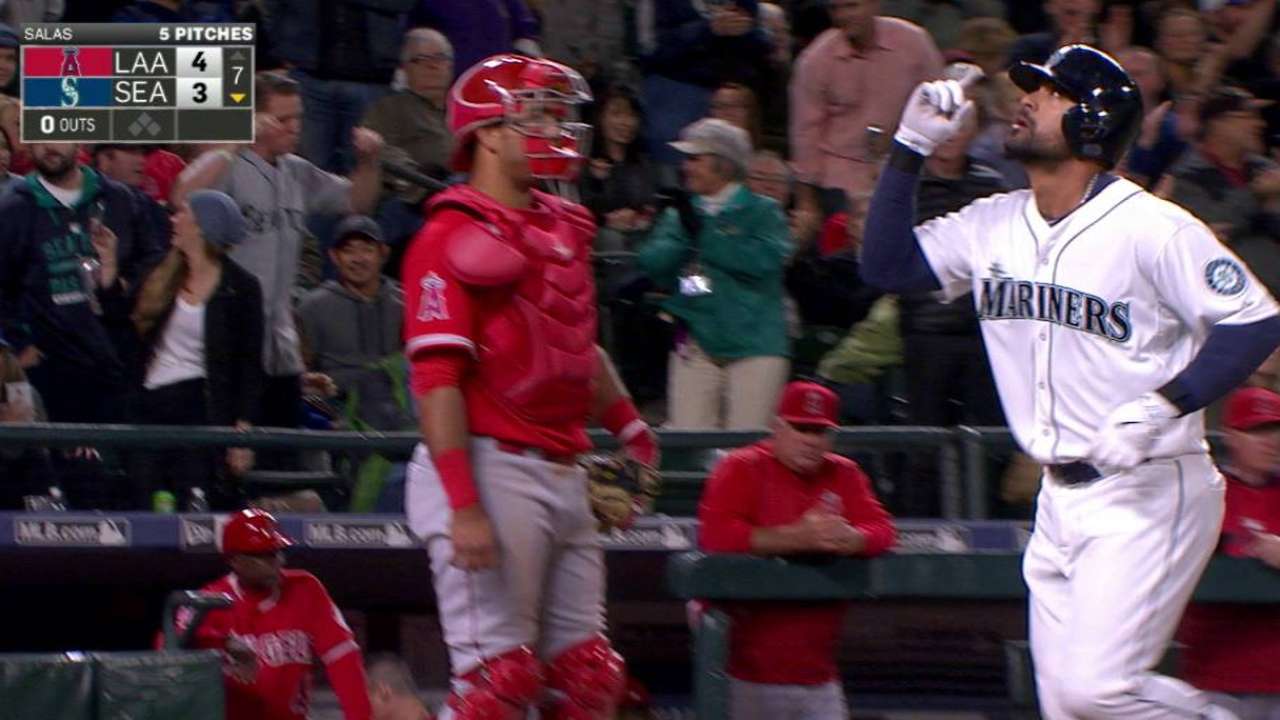 Hitter of the Year: Cruz left little question in this department, opening the season with eight homers in the first 12 games and never letting his foot off the gas in one of the most prolific power seasons in Mariners history.
But more than just home runs, Cruz showed he was a complete hitter and led the Mariners in average and RBIs as well while earning his fourth All-Star bid. And while many wondered how the big man would fare in Safeco Field after leading the Majors in home runs while playing half his games at hitter-friendly Camden Yards in 2014, Cruz handled his new park just fine in the first year of his four-year, $57 million contract.
Pitcher of the Year: Hernandez has stamped his name on this honor for many years, and 2015 was no different, as the King again proved his durability and dominance by posting his 10th straight season with 30 or more starts and his eighth straight with 200-plus innings. Though he had a couple uncharacteristic blowups that raised his ERA a little higher than normal, Hernandez was sharp as ever for most of the season and racked up 18 wins, the second-highest mark of his career.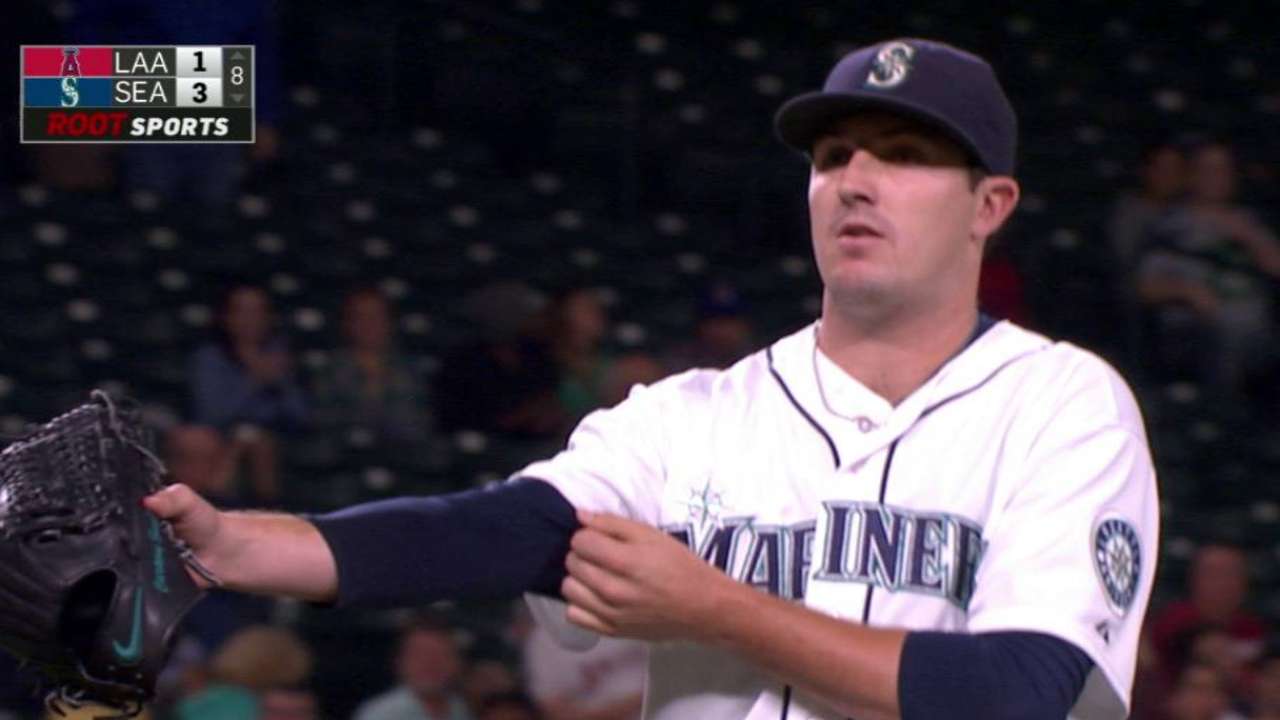 Rookie of the Year: While Marte made a late push with his strong play at shortstop and in the leadoff role for the final 2 1/2 months of the season and appears to be a key piece moving forward, reliever Smith had the biggest season-long impact, filling a huge role for a bullpen that needed someone to step up. Smith was nearly perfect in the right-handed setup role early, pitching so well that he was chosen to replace Rodney when the veteran closer struggled. Smith then saved 13 games before wearing down in that high-stress situation, but he again proved dominant when moved back to the setup role in support of Wilhelmsen over the final two months in what turned into an impressive duo at the back end of the bullpen.
Greg Johns is a reporter for MLB.com. Follow him on Twitter @GregJohnsMLB, read his Mariners Musings blog, and listen to his podcast. This story was not subject to the approval of Major League Baseball or its clubs.