Weber shows 'no fear' in impressive final start
Atlanta hurler fans career-high 10 but misses first win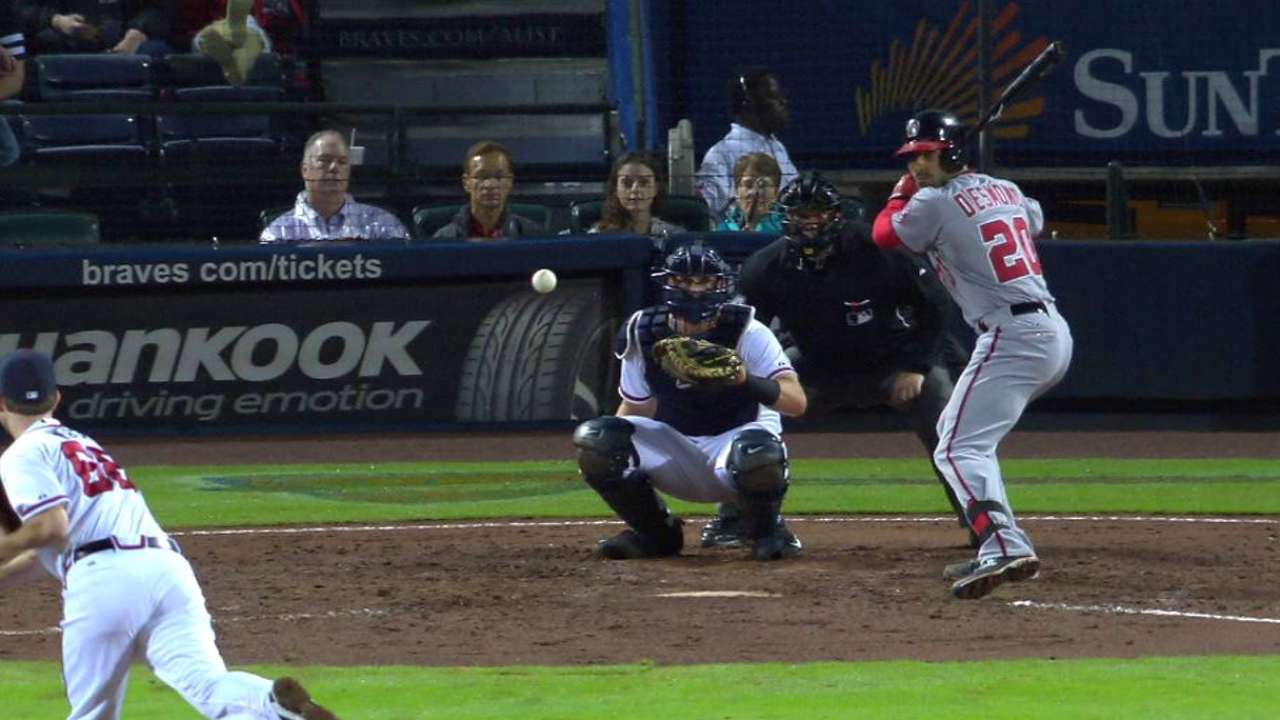 ATLANTA -- When Ryan Weber made his Major League debut on Sept. 8, he was playfully viewed as essentially the only pitcher the Braves had not previously promoted from Triple-A Gwinnett this season. But despite the fact that it is never wise to put much stock in evaluations completed over the regular season's final month, Weber has at least given the Braves something to think about this offseason.
Weber concluded his season in impressive fashion as he recorded a career-high 10 strikeouts over seven innings on Thursday night at Turner Field. Unfortunately, the solo homer he surrendered to Clint Robinson in the second inning proved to be enough to doom him and the Braves in a 3-0 loss to the Nationals.
"I proved to myself that I can compete at this level and I can give a Major League team a chance to win when I'm out there pitching," Weber said.
At the same time Weber erased some of the frustration he felt last Friday, when he allowed the Marlins seven earned runs over just two innings. The short outing combined with a mechanical adjustment to the alignment of his delivery helped him strike out 10 of the 25 Nationals he faced.
This certainly was a welcome, unexpected development given that he had registered just nine strikeouts in the previous 21 1/3 innings he had compiled at the Major League level.
"Especially after what happened last outing, being able to finish strong like that has given me something to look forward to when I head into [next year's Spring Training]," Weber said.
Weber allowed two earned runs or less in three of the five starts he made for Atlanta. Not bad results for anybody, especially a pitcher who began the season with Double-A Mississippi and did not become a regular starter with Gwinnett until Aug. 25.
Matt Wisler, Manny Banuelos, Mike Foltynewicz, Williams Perez and even Tyrell Jenkins, who has yet to make his Major League debut, are stronger candidates than Weber to fill out the final available spots in Atlanta's rotation next year.
"I've really enjoyed watching him pitch," Braves center fielder Cameron Maybin said. "He's one of those guys who throws whatever the catcher puts down. He's got a good rhythm and a good pace. He goes right at guys. As defensive guys, those are the guys we say we like playing behind, guys with no fear."
Mark Bowman is a reporter for MLB.com. This story was not subject to the approval of Major League Baseball or its clubs.