Weekend packed with drama free on MLB.TV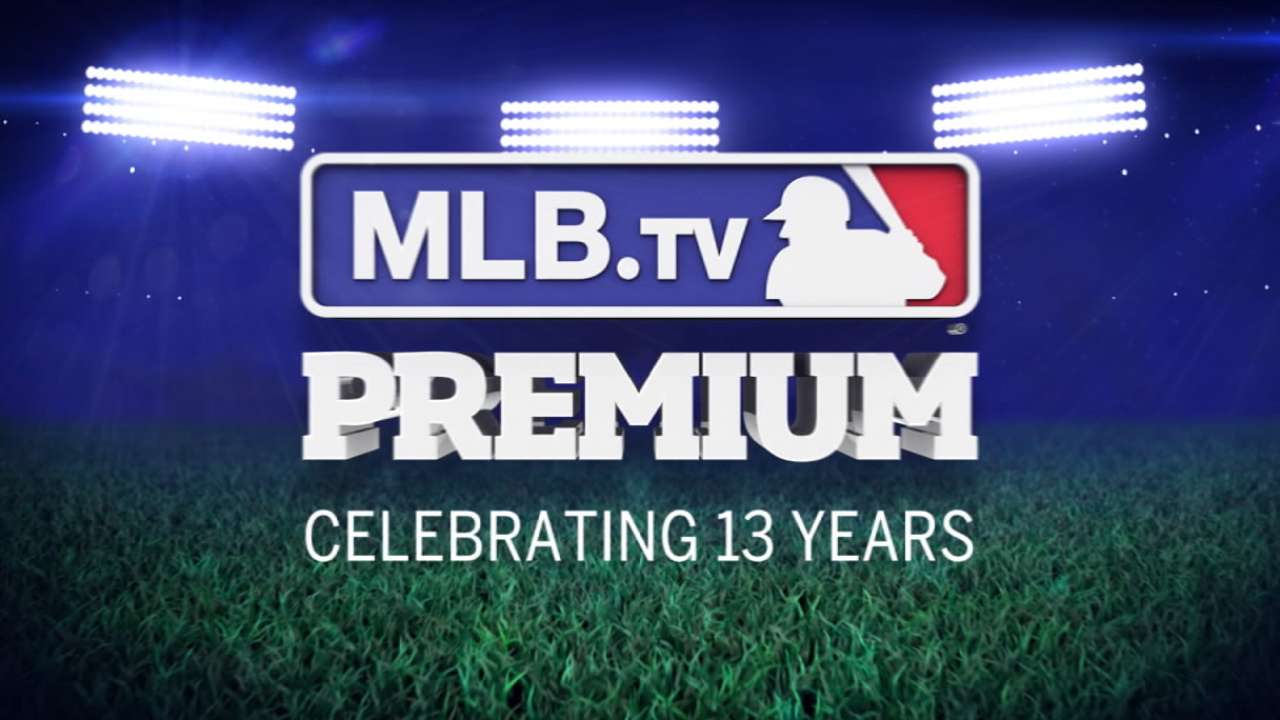 Welcome to Fan Appreciation Weekend, MLB.TV Premium-style.
There are 45 remaining scheduled games in this Major League Baseball regular season, starting with a full slate tonight, and signups are underway to watch the live out-of-market action through Sunday's finales free with an MLB.com login, sponsored by AT&T.
It is an important weekend no matter how you look at the standings.
Still to come are the American League West and AL Wild Card clinchers, postseason home-field positioning in both leagues, crucial last starts tonight by aces Jake Arrieta of the Cubs and Dallas Keuchel of the Astros, final chances to make a case for awards and individual stat titles, including Bryce Harper's bid to win two-thirds of a National League Triple Crown.
Still to come are those bittersweet goodbyes until next Spring Training. Maybe you will watch the last three free to give your favorite players a proper sendoff. The Giants are throwing a farewell party for retiring pitchers Tim Hudson and Jeremy Affeldt, for example, and you might catch a last glimpse of the latter on the mound for last year's World Series champs.
After the free weekend is over, the live streaming will go on. For the first time, all 2015 postseason games telecast on MLB Network, TBS and FOX will be available to MLB.TV subscribers who are authenticated subscribers to the applicable network through a participating pay TV provider. That will include every FOX broadcast of the 111th World Series.
Here are some key things to watch for free this weekend:
• Keuchel's last start ... at least of the regular season. Tonight, the Astros left-hander goes after No. 20 as Houston starts a weekend series at Arizona. Will it clinch a Cy Young Award for him, now that Blue Jays ace David Price is being rested until the AL Division Series instead of making a final weekend start? Keuchel's teammate, Collin McHugh, will go after his 19th win a night later.
• Angels vs. Rangers. This series at Globe Life Park is thick with meaning. While the postseason chase is what matters most, from a personal standpoint, these remaining games could make a difference in Mike Trout's tight race with Toronto's Josh Donaldson for AL MVP. Leading Houston by three games, Texas will start October-tested Colby Lewis and Cole Hamels back-to-back on Saturday and Sunday, respectively, so expect fireworks. The Angels and Twins are tied, one game behind the Astros for the second AL Wild Card spot.
• There is still some intrigue surrounding Mark Buehrle's scheduled start tonight. Buehrle is 8 2/3 innings shy of reaching 200 for a 15th consecutive year. It seems unlikely that Blue Jays manager John Gibbons will let Buehrle go that long, given the decision to rest Price, but some history is on the line: Warren Spahn, Don Sutton and Gaylord Perry are the only pitchers to have reached 200 innings in 15 straight years.
• Just when it seemed safe to book a flight to Pittsburgh for a Cubs-Pirates National League Wild Card Game presented by Budweiser, the Cubs have won five in a row and are only two games behind Pittsburgh in the Wild Card standings. Pittsburgh hosted the game in 2013 and '14, winning the first and losing the second. Will the Bucs host again?
The Cubs hold the head-to-head tiebreaker with the Pirates, but any combination of Pirates wins or Cubs losses adding up to two would guarantee that the Bucs finish a game ahead of the Cubs and earn the right to host the NL Wild Card Game. If they finish with the same record, the Cubs would host the game.
• Among Cubs single-season pitching leaders, Arrieta won't top the marks set by Mordecai Brown of 29 wins in 1908 and a 1.04 ERA in 1906. But the Cubs righty does have a chance to finish with 22 wins when he takes the mound tonight in Milwaukee. It will likely be Arrieta's tuneup start for a matchup with the Pirates.
• Lining up for the postseason. The Mets will face the Dodgers in one NLDS next week, and the Cardinals will open against either the Cubs or Pirates. In the AL, the Royals and Blue Jays have clinched and are jostling for home-field advantage throughout the postseason. Kansas City and Toronto have identical 92-67 records, but the Blue Jays hold the tiebreaker, so in the event of a tie, the postseason would go through Rogers Centre. In all cases, you can watch free on MLB.TV Premium as each club hopes to build momentum into the chase. After all, hot teams usually survive.
• Yankees. Can they make a run at a 28th World Series title? They're at Baltimore this weekend, and one eye is on the poor weather up and down the East Coast.
• NL batting title. While Miguel Cabrera of the Tigers is a virtual lock for a fourth AL batting title, there is a possible classic finish on the NL side. Harper of the Nationals entered Friday ahead of Dee Gordon of the Marlins, .3307 to .3289.
• Home run title. Chris Davis of the Orioles leads with 45, one more than Seattle's Nelson Cruz atop the AL standings. In the NL, Nolan Arenado of the Rockies was deadlocked with Harper at 41 apiece, and Colorado's Carlos Gonzalez was just one behind.
A subscription to MLB.com At Bat Premium is included for free with MLB.TV Premium, a $19.99 value. So you can enjoy complete mobile portability to compatible smartphones and tablets, and that includes more than 400 supported devices. Among new features is a Web-based HD media player (version 5.0) that has an in-page layout with simplified user controls, so it all happens in your browser with no need for an additional download.
"It's great for fans to watch the games and be able to replay them, and just enjoy baseball," said Astros shortstop Carlos Correa, who relied on MLB.TV early this season to scout Major League pitching before his callup. The only question now is whether Correa will continue playing in 2015 after this weekend, or whether he'll be another MLB.TV viewer again.
Mark Newman is enterprise editor of MLB.com. Read and join other baseball fans on his MLB.com community blog. This story was not subject to the approval of Major League Baseball or its clubs.