Kiermaier hits 100 mph with throw from outfield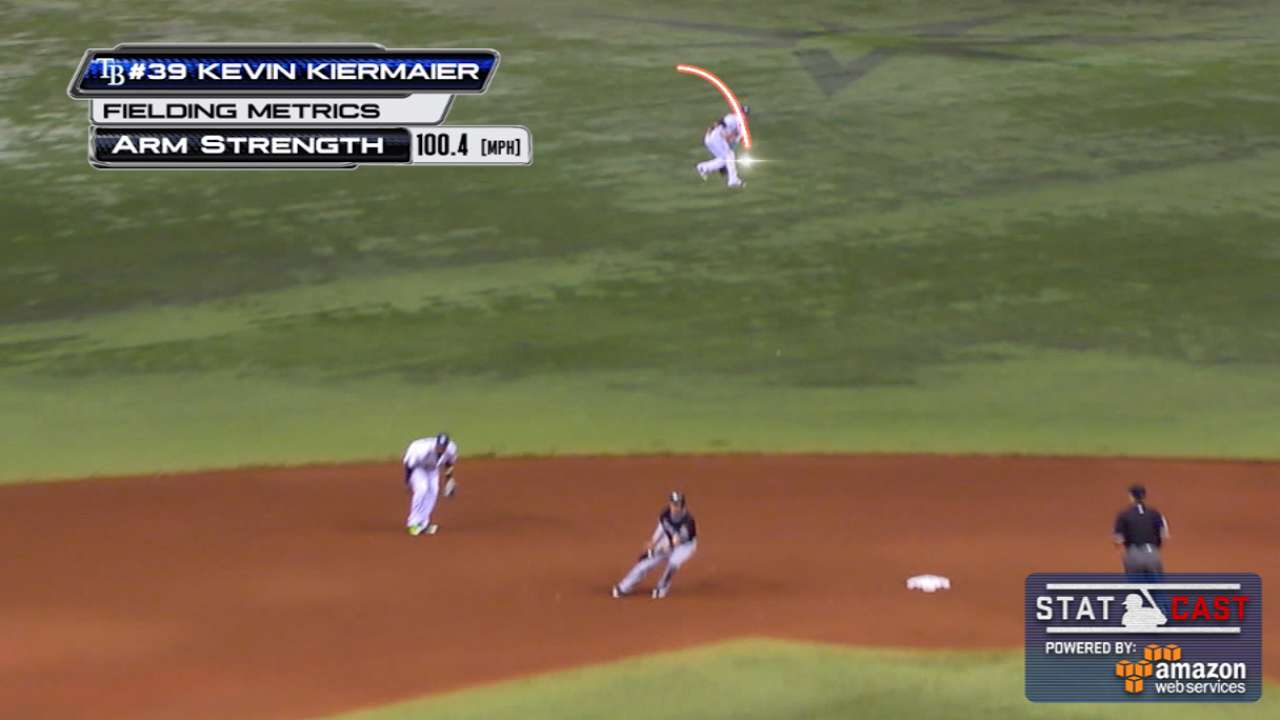 It's not that unusual these days to see a pitcher throw 100 mph, particularly if that pitcher is Aroldis Chapman. But triple-digit heat from an outfielder? That's a little more rare.
Rays center fielder Kevin Kiermaier, no stranger to impressive defensive feats, provided just that on Thursday night at Tropicana Field, and Statcast™ was there to document it. Even better, Kiermaier's play came at a crucial moment, helping his club to a 4-1 win over the Marlins.
Tampa Bay and right-hander Jake Odorizzi were clinging to a 2-1 lead in the top of the seventh inning, but Miami was threatening, with runners on first and second and two outs. Ichiro Suzuki lined a single to center, which could have brought J.T. Realmuto home from second with the tying run.
That's when Kiermaier sprang into action, charging the ball and fielding it on one hop. Statcast™ already had measured five of his throws at 95 mph or faster this season, including one at 99.1 mph, so his ability to unleash rockets was well established. He got a little extra on this one, however. His 233-foot heave got to catcher J.P. Arencibia on the fly and was clocked at a blistering 100.4 mph.
The ball beat Realmuto to the plate by a couple of steps, and Arencibia easily slapped the tag on him to end the inning and give Kiermaier his 15th outfield assist.
"I think it's a crime if he doesn't win a Gold Glove," Odorizzi said. "I think we all kind of take him for granted that the plays he makes are routine when they're really not. To have that kind of guy in center field, it shortens the game. It got me out of a jam right there and saved the team from tying it up. He's a Gold Glove winner."
But Kiermaier wasn't the only guy to come up with a noteworthy play on Thursday. Here are some others that Statcast™ tracked.
Hamilton goes all out
The Rangers clinched a postseason berth with a 5-3 win over the Angels, and they got a huge play from left fielder Josh Hamilton along the way. The Halos had runners on first and third with one out in the top of the second inning when Shane Victorino pulled a deep fly ball to left. Hamilton took his first step in 0.41 seconds, then traveled a bit of a circuitous path, reflected in his 90.9 percent route efficiency. He made up for it by racing straight back, reaching out and making an over-the-shoulder grab on the warning track, before sliding on his knees into the base of the wall. Hamilton hung on after his 95-foot journey and fired to cutoff man Elvis Andrus, who nearly threw out Albert Pujols at home to prevent the sacrifice fly. While the Angels took a 1-0 lead, the play helped prevent a potentially big inning.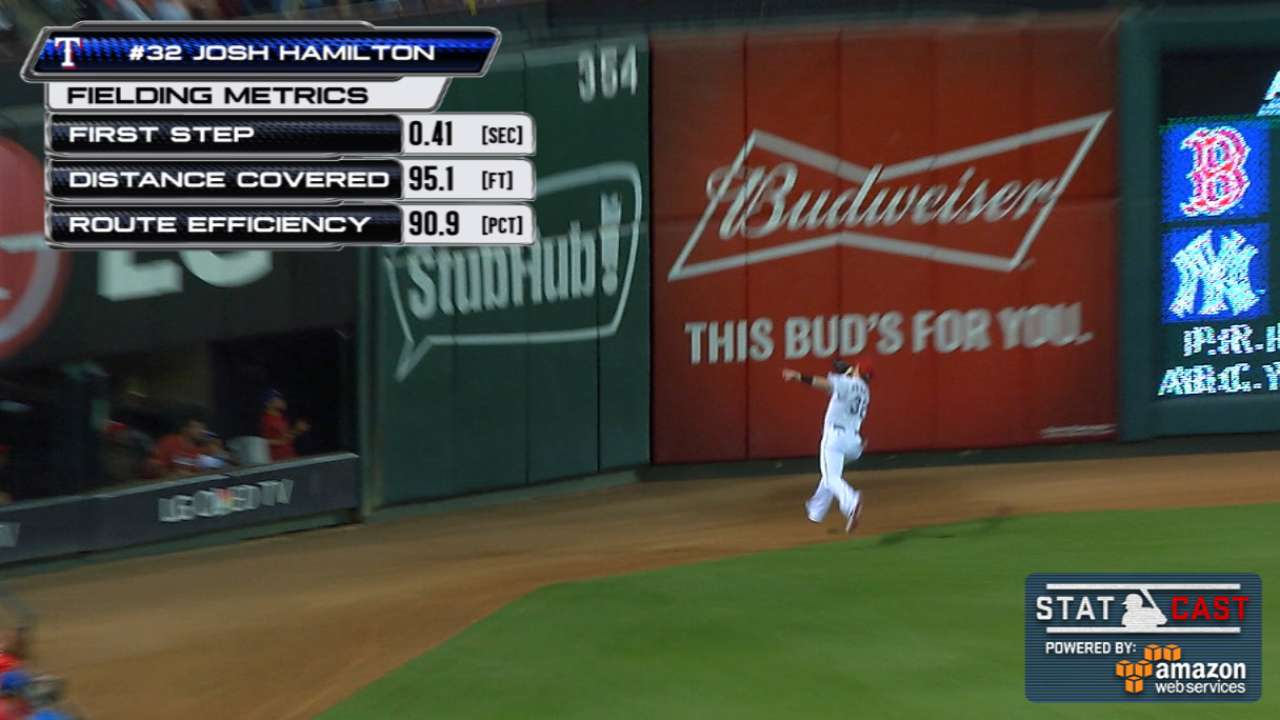 Trout reels one in
In the bottom of that same inning, Angels center fielder Mike Trout matched his former teammate with a brilliant grab that preserved his team's 1-0 advantage. With one out and Hamilton on second, Andrus ripped a deep fly ball to center. Trout hustled back at a maximum speed of 17.1 mph, covering 77 feet and turning over his left shoulder to haul in the ball a step before slamming into the padded wall. Statcast™ measured Trout's route efficiency at 98.2 percent -- and his effort kept the Angels in front, at least temporarily.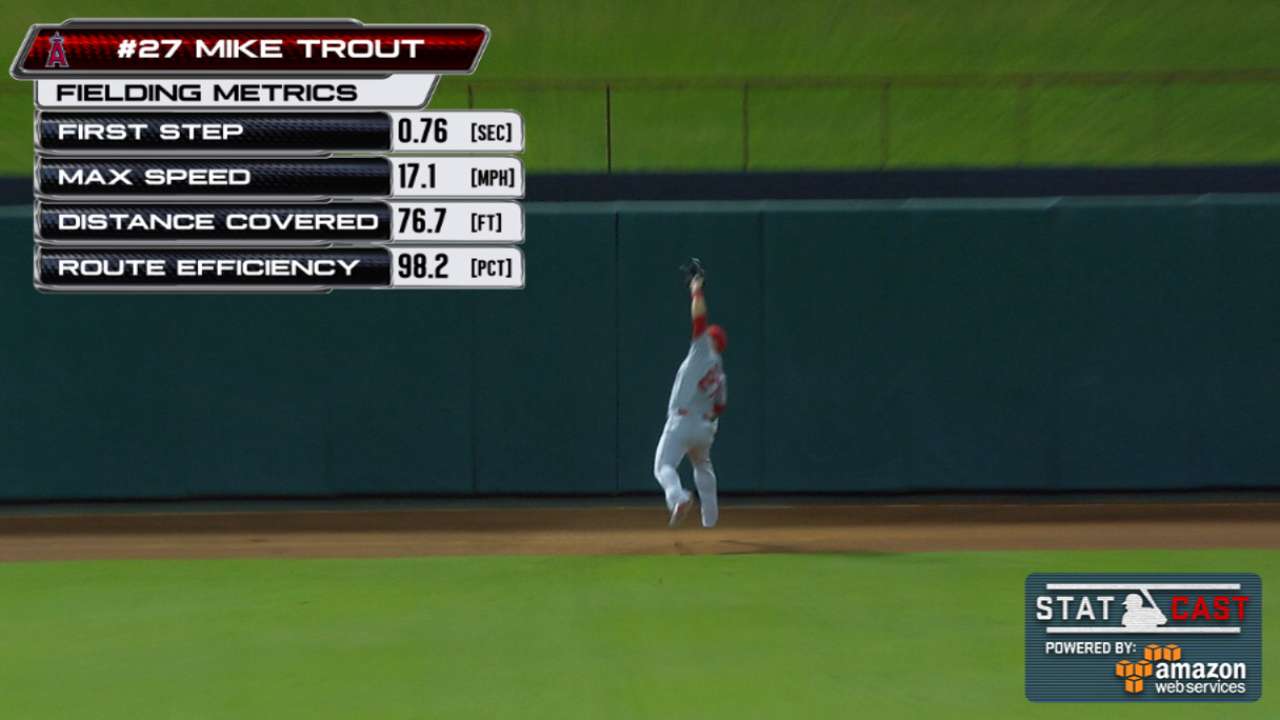 A Bronx bomb
Thursday also was clinch night for the Yankees, who locked up a Wild Card berth (and their 10,000th victory) by beating the Red Sox, 4-1. They already led, 3-1, in the bottom of the eighth when rookie Rob Refsnyder pounded a 93.4-mph fastball from Heath Hembree off the back wall of Yankee Stadium's left-field bullpen. Refsnyder connected on his second career homer at 106.5 mph and sent it a projected distance of 436 feet to add an important insurance run. It was the 11th-longest Yankees homer of the season tracked by Statcast™.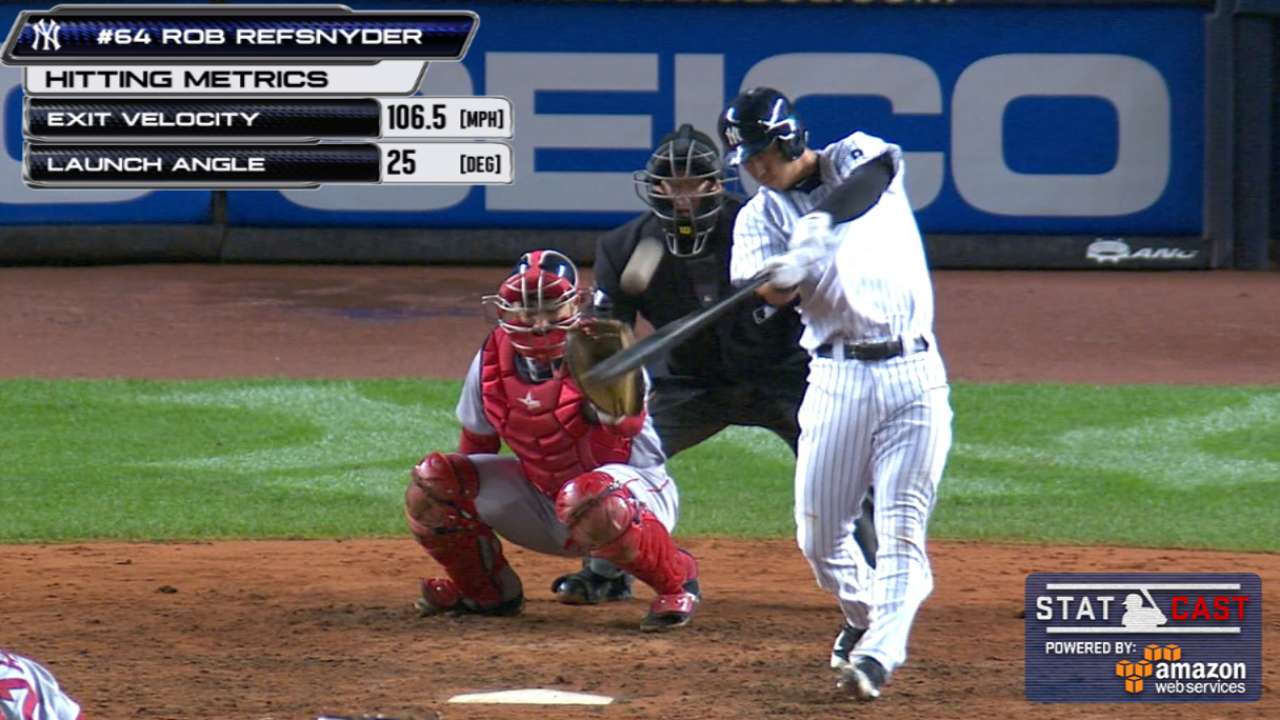 Andrew Simon is a reporter for MLB.com. Follow him on Twitter @AndrewSimonMLB. This story was not subject to the approval of Major League Baseball or its clubs.