Vogelsong sharp in potential final Giants outing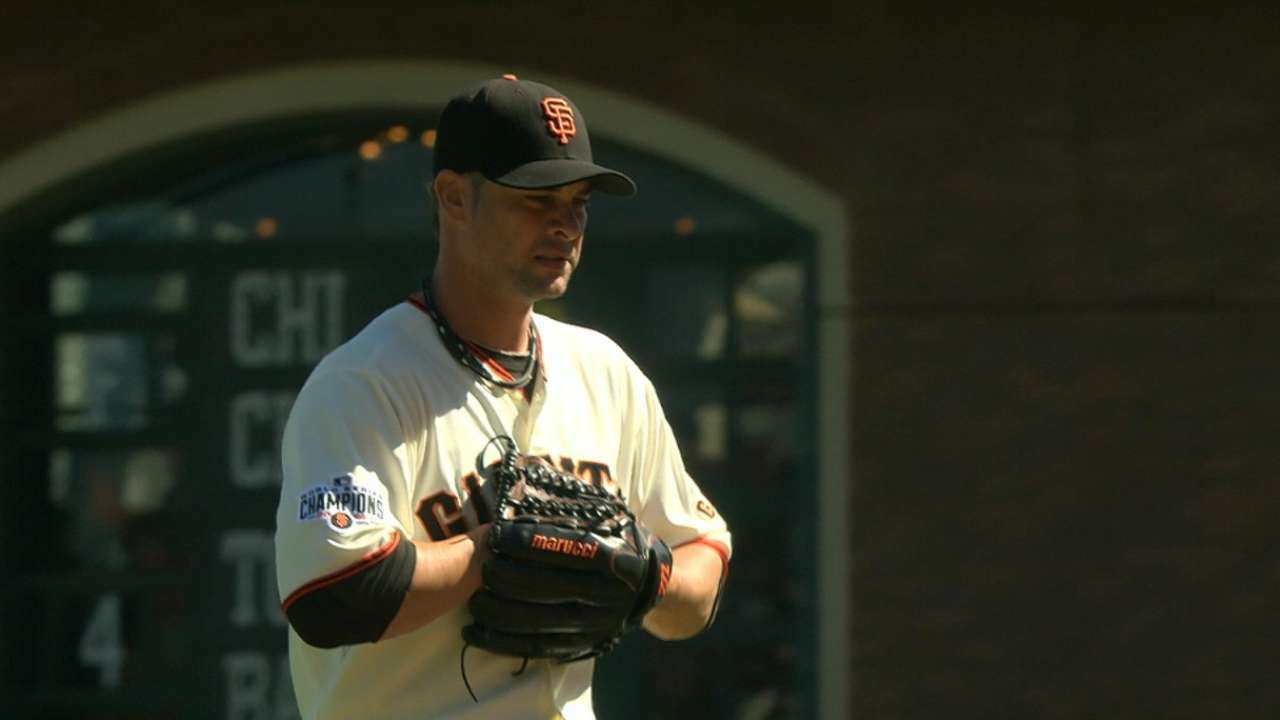 SAN FRANCISCO -- Giants right-hander Ryan Vogelsong chimed in with the farewells issued Thursday by Jeremy Affeldt, who announced his retirement, and Tim Hudson, who made his final career start.
Unlike Affeldt and Hudson, Vogelsong has no intention of quitting baseball yet. But his performance in the Giants' 3-2 loss to the Dodgers may have been his last in a San Francisco uniform, since he's eligible for free agency once the season ends.
If this was indeed Vogelsong's Giants finale, he propelled himself nicely into the open market. He yielded just one hit in four shutout innings, walking none and striking out six.
"I'm playing somewhere," Vogelsong, 38, said. "First and foremost, I don't think I'm done. I think today proved that."
Vogelsong faced a similar situation last offseason and seemed to have no chance of returning to the Giants after Jake Peavy signed a two-year, $24 million deal. But after an apparent agreement with the Houston Astros dissolved, Vogelsong signed a one-year, $4 million contract with the Giants.
This time, however, Vogelsong conveyed his belief that his San Francisco tenure has ended.
"I would say after the last month without getting a lot of time on the mound, I would say I'm probably not on the high priority list, as much as I hate to say that," Vogelsong said. "Because everyone knows how much I love it here and love these guys in the clubhouse. I think as many times as I've seen the field in the last month kind of puts the writing on the wall. That being said, crazier things have happened."
Before Thursday, Vogelsong had appeared twice since Sept. 3, when he made his final start of the season. He's 9-11 with a 4.67 ERA in 33 games, including 22 starts. He particularly excelled in May, when he went 4-0 with a 1.14 ERA in five starts.
Vogelsong acknowledged that his 2014 season featured "streaks of outings being bad and streaks of outings being real good." Having reviewed video of the starts he made in 2011, when he rose from anonymity to the National League All-Star team, and '12, when he was San Francisco's leading postseason winner (3-0), Vogelsong believes that he has recaptured some of the mechanical techniques that prompted his success.
"I want a chance to start," said Vogelsong, the 2011 Willie Mac Award winner as the club's most inspirational player. "I feel like I could still take the ball for 32 starts in a season, and we'll see where the wind blows."
If it doesn't blow him back to AT&T Park, Vogelsong shall remain thankful for his Giants tenure.
"It's been an amazing ride," he said. "Things have happened to me here with this team in this city that I never thought would happen to me and my career. The fans have been great to me and my family. I couldn't ask for more from them. If this is the last one, it was a good one to go out with."
Chris Haft is a reporter for MLB.com. Read his blog, Haft-Baked Ideas, follow him on Twitter at @sfgiantsbeat and listen to his podcast. This story was not subject to the approval of Major League Baseball or its clubs.