Anderson continues to make case for Game 3 start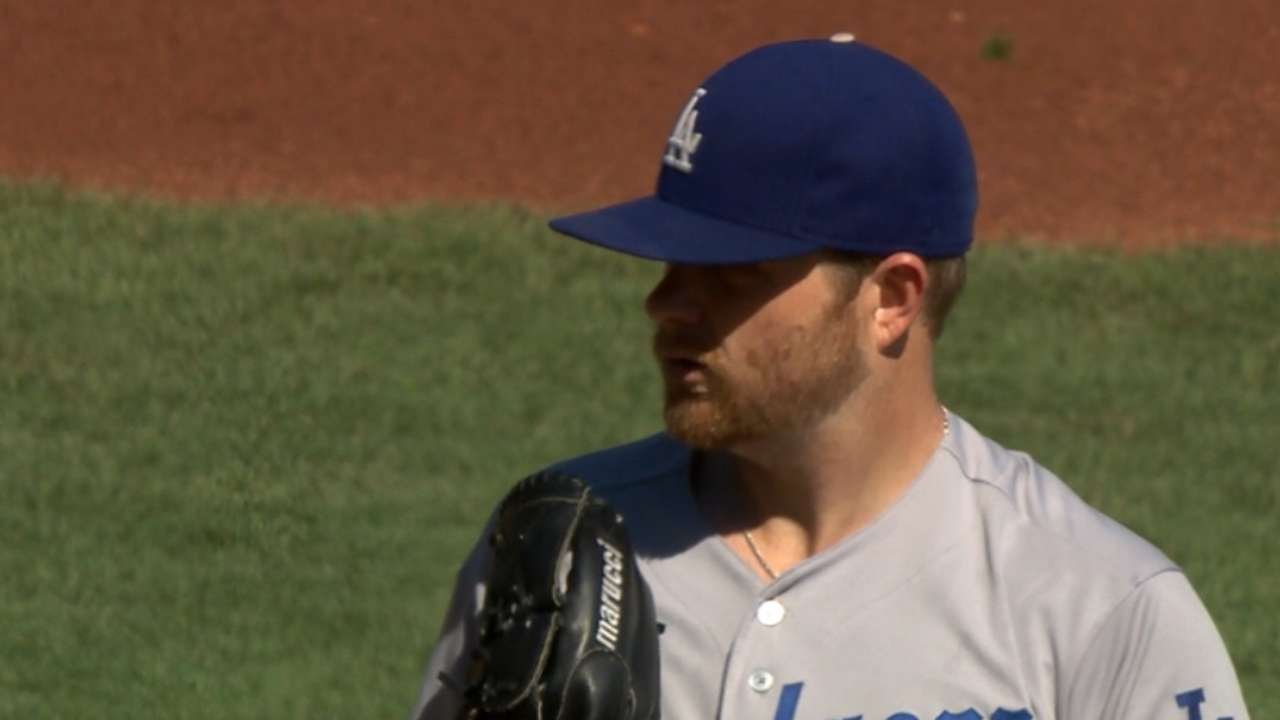 SAN FRANCISCO -- Dodgers manager Don Mattingly didn't say whether Brett Anderson needed to bolster his claim to the third-starter spot for the National League Division Series that begins next Friday.
But it will be hard not to give the Game 3 ball to Anderson, who lifted the Dodgers into a tie with the Mets for home-field advantage of that series with 7 2/3 innings in a 3-2 win over the Giants on Thursday. The Mets in effect still lead by a game, as they own the head-to-head tiebreaker.
Mattingly wouldn't offer hints whether Anderson or Alex Wood would follow Clayton Kershaw and Zack Greinke. In fact, Mattingly hasn't even said when Kershaw and Greinke will start, although it would be a shock if it isn't Games 1 and 2, respectively.
Since season-ending injuries to Hyun-Jin Ryu and Brandon McCarthy, Anderson has been No. 3, even after the acquisition of Wood.
"Brett's thrown the ball good all year long," said Mattingly. "He's been our guy, so we'll let you know when we set it."
Mattingly said the Dodgers will announce their rotation when they are ready to announce it, and will tell the pitchers involved before the public. But he had good things to say about Anderson's start, particularly timely in the wake of two previous starts in which the lefty allowed 11 runs on 20 hits in his two previous outings.
"I thought it was good for him, for his confidence, good for Brett to pitch that way," Mattingly said.
After holding the Giants to two runs on four hits, Anderson didn't sound like a pitcher worried about losing his role after making every start this season.
"This was a little better than the last two, and it's always a positive going into the postseason," he said. "I hope I can carry that over. I was down in the zone, getting ground balls. The best I've thrown in a while. I think I should pitch in the postseason. But I'll pitch when they tell me to pitch."
Anderson, who earned a reputation of freakish injuries, finished his healthiest and most productive season. He set personal bests of 31 starts and 180 1/3 innings, with a 10-9 record and a 3.69 ERA.
"For what I've been through, to make every start is pretty special," he said. "Other than the last two, I felt I was pretty consistent and gave us a chance to win pretty much every start. Zack and Clayton make it look easy, but double-digit wins is not that easy to do."
Catcher Yasmani Grandal said Anderson took a different approach to the mound.
"He was just attacking hitters a little bit differently," Grandal said. "He was throwing inside a lot, especially to the big guys like [Buster] Posey. His breaking ball got a lot of swings and misses and he had a lot of quick innings."
Ken Gurnick is a reporter for MLB.com. This story was not subject to the approval of Major League Baseball or its clubs.