Murphy's role limited by Rangers' lefties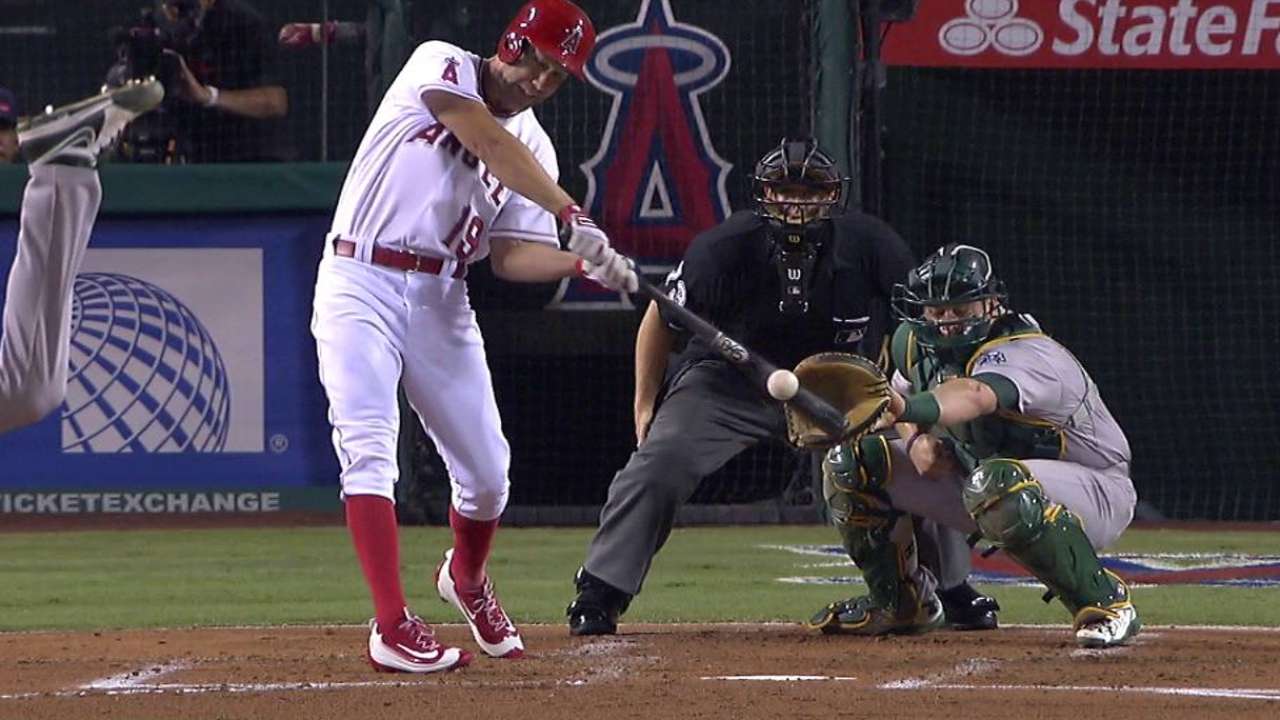 ARLINGTON -- David Murphy, one of the most important members of the Angels' limited offense, will probably only get one start in this make-or-break four-game series against the Rangers. That's because Murphy bats left-handed, has spent the last two months starting exclusively against righties and Angels manager Mike Scioscia doesn't seem inclined to alter his blueprint.
On Thursday, the Angels faced a lefty in Derek Holland and the right-handed-hitting Shane Victorino -- 16-for-78 since coming over from the Red Sox -- started in left field, as has been the case since late July. He'll likely do the same on Friday (against lefty Martin Perez) and on Sunday (against lefty Cole Hamels), relegating Murphy to the bench.
"Do I want to be in there? Yes," Murphy said. "But between Shane and [fellow right-handed hitter Collin] Cowgill, I know they've been doing a good job against lefties. It's hard to have a game plan, and then in the last four games just kind of scrap it. I'm ready in whatever capacity I'm needed."
Murphy sports an above-average .744 OPS this season. Only 26 of his 385 plate appearances have come against lefties, but as Scioscia himself pointed out, two of those produced walk-off hits -- against Brian Matusz of the Orioles on Aug. 9 and against Fernando Abad of the A's on Monday.
Against righties, though, Scioscia likes having the added range in the outfield with Victorino and the luxury of being able to use Murphy as a late-game pinch-hitter.
"Was David in some lineups we looked at? Sure," said Scioscia, who bats Murphy fifth against lefties. "But I think right now, the way we're going with righties and lefties is the way we'll ride it out."
Murphy's approach is vastly different against lefties. Since the offspeed pitches typically break away from him and the fastballs get up on him quicker, the 33-year-old left-handed hitter is more prone to wait back and look to slap the ball to the opposite field, as opposed to pulling the ball for power like he would against righties.
"I expect myself to do more damage against righties," Murphy said. "You see the ball better, you see the offspeed stuff better."
But Murphy believes he can succeed against lefties, too. Sometimes seeing southpaws is actually beneficial for him, because it helps him keep his front side closed and stay through the baseball with his swing path, as opposed to having his hips flare out or over swinging because he's trying to pull a ball over the fence.
Murphy's career splits are pretty extreme, though.
He sports a .796 OPS against righties and a .655 OPS against lefties, in about a quarter of the chances.
"I know that I don't do as much damage against lefties as I do against righties," Murphy said, "but I feel like I can go up there and give you a solid, professional at-bat."
Alden Gonzalez is a reporter for MLB.com. Follow him on Twitter @Alden_Gonzalez and listen to his podcast. This story was not subject to the approval of Major League Baseball or its clubs.